Abstract
The present study investigates the spatiotemporal characteristics of rainfall events during the summer monsoon season over Odisha (one of the vulnerable zone for heavy rainfall) with the main aim for heavy-to-extreme rainfall events. India Meteorological Department (IMD) station observations and gridded rainfall analysis datasets for a period of 34 years (1980–2013) are used and four frequency indices (heavy-to-extreme, light-to-moderate, dry days, and wet spells) and four intensity indices (daily maximum rainfall, 5-day maximum rainfall, seasonal rainfall total, and daily intensity index) from both the datasets are evaluated. Furthermore, the above-stated indices are analysed over the four meteorological zones of Odisha, as classified by IMD.
The analysis reveals that both the heavy-to-extreme rainfall days and dry days are increasing, while the light-to-moderate rainfall days and wet days are decreasing. It is also found that the rate of increase in rainfall amount and number of wet-day are higher in the southern than northern Odisha. This implies that the climate is becoming drier as one move from south to north and the gradient is also increasing with time. The climatological analysis suggests not only the heavy-to-extreme rainfall days and intensity are more in urban (Khordha) and highly elevated (Eastern Ghat; height ~ 1.6 km) areas but also the trend is increasing over those regions. The Murphy skill score of daily rainfall between two datasets is 0.94; however, the number of the extreme rainfall events is more in station data (297) than the gridded data (150) during the study period.
This is a preview of subscription content,
to check access.
Access this article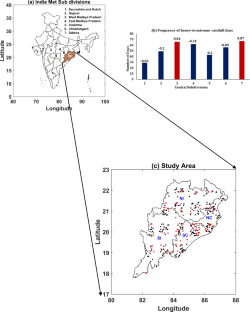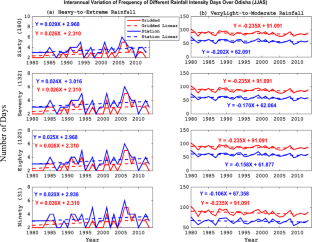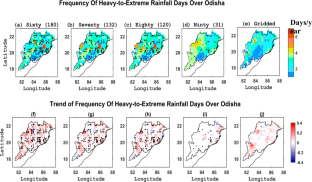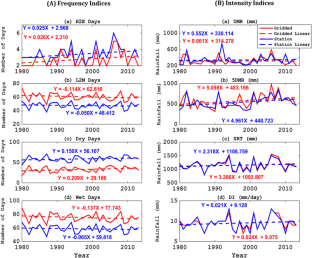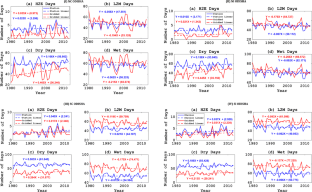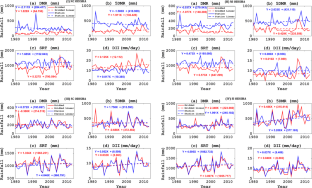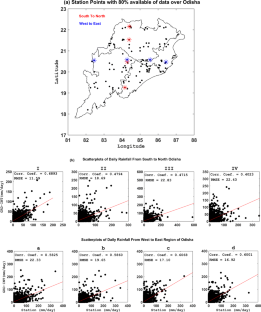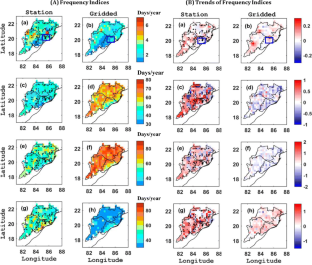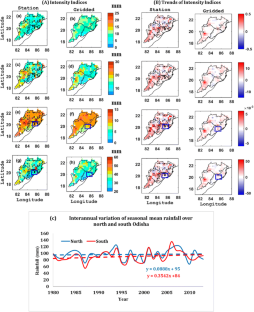 Similar content being viewed by others
References
Annual Mausam report (from 1982 to 2013) Weather in India, Mausam. India Meteorological Department, New Delhi, India

Attri SD, Tyagi A (2010) Climate profile of India, contribution to the Indian network of climate change assessment (National Communication - II) Ministry of Environment and Forests

Bisht DS, Chatterjee C, Raghuwanshi NS, Sridhar V (2017) Spatio-temporal trends of rainfall across Indian river basins. Theor Appl Climatol 1–18

Carvalho L, Jones C, Liebmann B (2002) Extreme precipitation events in south-eastern South America and large-scale convective patterns in the South Atlantic Convergence Zone. J Clim

Dash S, Kumar J, Shekhar M (2004) On the decreasing frequency of monsoon depressions over the Indian region. Curr Sci 86(10):1404–1411 http://www.jstor.org/stable/24109213. Accessed 25 May 2004

ENVIS Newsteller (2007) Center of Environmental Studies, Odisha, Volume 08

Gadgil S, Gadgil S (2006) The Indian monsoon, GDP and agriculture. Econ Polit Wkly 41(47):4887–4895 http://www.jstor.org/stable/4418949. Accessed 25 Nov 2006

Goswami BN, Venugopal V et al (2006) Increasing trend of extreme rain events over india in a warming environment. J Sci Rep 314:1442–1444

Guhathakurta P, Sreejith OP, Menon PA (2011) Impact of climate change on extreme rainfall events and flood risk in India. J Earth Syst Sci 120(3):359–373

Guhathakurta P, Rajeevan M, Sikka DR, Tyagi A (2014) Observed changes in southwest monsoon rainfall over India during 1901–2011. Int J Climatol 35(8):1881–1898

Jin Q, Wang C (2017) A revival of Indian summer monsoon rainfall since 2002. Nat Clim Chang 7:587–594. https://doi.org/10.1038/nclimate3348

Kendall MG (1975) Rank correlation methods. Griffin, London

Kishtawal CM, Niyogi D et al (2010) Urbanization signature in the observed heavy rainfall climatology over India. Int J Climatol 30:1908–1916. https://doi.org/10.1002/joc.2044

Klein Tank AMG et al (2002) Daily dataset of 20th-century air temperature and precipitation series for the European Climate Assessment. Int J Climatol 22:1441–1453

Krishnamurthy V, Shukla J (2000) Intraseasonal and interannual variability of rainfall over India. J Clim 13(24):4366–4377

Mann H B, (1945) Nonparametric tests against trend. Econometrica 245–259

Mason SJ, Waylen PR, Mimmack GM, Rajaratnam B, Harrison M (1999) Changes in extreme rainfall events in South Africa. Clim Chang 41:249–257

Mohapatra M, Mohanty UC (2004) Some characteristics of low pressure systems and summer monsoon rainfall over Orissa. Curr Sci 87:9

Mohapatra M, Mohanty UC (2005) Some characteristics of very heavy rainfall over Orissa during summer monsoon season. J Earth Syst Sci 114(1):17–36

Mohapatra M, Mohanty UC, Behera S (2003) Spatial Variability of daily rainfall over Orissa, India, during the southwest summer monsoon. Int J Climatol 23:1867–1887

Murphy AH (1988) Skill scores based on the mean square error and their relationships to the correlation coefficient. Mon Weather Rev 116(12):2417–2424

Nigussie TA, and Altunkaynak A (2018) Impacts of climate change on the trends of extreme rainfall indices and values of maximum precipitation at Olimpiyat Station, Istanbul, Turkey. Theor Appl Climatol 1-15

Pai DS, Sridhar L et al (2014) Development of a new high spatial resolution (0.25° × 0.25°) long period (1901–2010) daily gridded rainfall dataset over India and its comparison with existing datasets over the region. Mausam 65(1):1–18

Pal I, Al-Tabbaa A (2011) Monsoon rainfall extreme indices and tendencies from 1954–2003 in Kerala, India. Clim Chang 106(3):407–419

Patnaik S (2004) Orissa's urban population: an overview, Orissa Review

Piper SC, Stewart EF (1996) A gridded global data set of daily temperature and precipitation for terrestrial biospheric modeling. Glob Biogeochem Cycles

Rajeevan M, Bhate J (2009) A high resolution daily gridded rainfall dataset (1971–2005) for mesoscale meteorological studies. Curr Sci:558–562

Rajeevan M, Gadgil S, Bhate J (2010) Active and break spells of the Indian summer monsoon. J Earth Syst Sci 119:229. https://doi.org/10.1007/s12040-010-0019-4

Ramesh KV, Goswami P. (2007) The shrinking Indian summer monsoon. CSIR report RR CM, 709

Ramos MC, Martinez-Casasnovas JA (2006) Trends in precipitation concentration and extremes in the mediterraneanPenedés-Anoia Region, NE Spain. Clim Chang 74:457–474

Re M, Barros VR (2009) Extreme rainfalls in SE South America. Clim Chang 96(1-2):119–136

Roxy MK, Ghosh S et al (2017) A threefold rise in widespread extreme rain events over central India. Nat Commun 708. https://doi.org/10.1038/s41467-017-00744-9

Sharma PJ, Loliyana VD, Resmi SR, Timbadiya PV, Patel PL (2017) Spatiotemporal trends in extreme rainfall and temperature indices over Upper Tapi Basin, India. Theor Appl Climatol 1–26

Silva VBS, Kousky VE, Shi W, Higgins RW (2007) An improved gridded historical daily precipitation analysis for Brazil. J Hydrometeorol 8:847–861

Singh D, Tsiang M, Rajaratnam B, Diffenbaugh NS (2014) Observed changes in extreme wet and dry spells during the South Asian summer monsoon season. Nat Clim Chang 4:456–461

Sinha P, Mohanty UC, Kar SC, Kumari S (2013) Role of Himalayan orography in simulation of the Indian summer monsoon using RegCM3. Pure Appl Geophys. https://doi.org/10.1007/s00024-013-0675-9

Sinha P, Maurya RKS, Mohanty MR, Mohanty UC (2019) Inter-comparison and evaluation of mixed-convection schemes in RegCM4 for Indian summer monsoon simulation. Atmos Res 215:239–252

Sluiter R (2009) Interpolation methods for climate data Literature review.KNMI, R&D Information and Observation Technology, De Bilt

Turner AG, Annamalai H (2012) Climate change and the South Asian summer monsoon. Nat Clim Chang 2:587–595. https://doi.org/10.1038/nclimate1495

Worku G, Teferi E, Bantider A, andDile YT (2018) Observed changes in extremes of daily rainfall and temperature in Jemma Sub-Basin, Upper Blue Nile Basin, Ethiopia. Theor Appl Climatol 1–16

World Meteorological Organisation (1996) Guide to Meteorological Instruments and methods of observation (WMO No: 8), Geneva

Yatagai A, Kamiguchi K, Arakawa O, Hamada A, Yasutomi N, Kitoh A (2012) APHRODITE: Constructing a long-term daily gridded precipitation dataset for Asia based on a dense network of rain gauges. Bull Am Meteorol Soc 93:1401–1415. https://doi.org/10.1175/BAMS-D-11-00122.1

Yazid M, Humphries U (2015) Regional observed trends in daily rainfall indices of extremes over the Indochina peninsula from 1960 to 2007. J Clim 3:168–192
Acknowledgements
The authors duly acknowledge the partial financial support given by the Department of Agriculture, Cooperation & Farmers Welfare (DAC&FW), Government of India to carry out the present research work. The authors especially thank IMD for providing gridded and station datasets and also annual Mausam report. The authors are thankful to the anonymous reviewer for his/her valuable suggestions/comments which are helpful in improving the manuscript to the present state.
Additional information
Publisher's note
Springer Nature remains neutral with regard to jurisdictional claims in published maps and institutional affiliations.
About this article
Cite this article
Swain, M., Sinha, P., Pattanayak, S. et al. Characteristics of observed rainfall over Odisha: An extreme vulnerable zone in the east coast of India. Theor Appl Climatol 139, 517–531 (2020). https://doi.org/10.1007/s00704-019-02983-w
Received:

Accepted:

Published:

Issue Date:

DOI: https://doi.org/10.1007/s00704-019-02983-w
Keywords