Abstract
Lying in the north boundary of China, the Inner Mongolia Autonomous Region is highly sensitive to climate change, which is greatly influenced by the new features of present-day and future extreme temperature events. Based on daily temperature records of 108 meteorological station from 1961 to 2009 and future projections under the representative concentration pathway (RCP) scenarios from the regional climate modeling system PRECIS in high-resolution (~ 50 km in horizon), the observed and projected changes in temperature-related extreme climate events over Inner Mongolia are investigated for the present day, the mid-twentieth (2041~2060) century, and the late twenty-first (2071–2090) century. Temperature extremes associated with a warming tendency all show as increasing trend by a slope of around 0.2, especially for growing season length which has a slope of 0.36 at present, and these extreme events are projected to increase with an extension of 5 more warm days during the mid-twenty-first century before increasing less sharply in the late twenty-first century under the RCP2.6 scenario, while the increase of warming extremes are projected as around 15, 30 over most Inner Mongolia, particularly for southwest parts, with an increase over 30, 45 at the end of twenty-first century under the RCP4.5 and 8.5 scenarios respectively. Temperature extremes concomitant with a cooling tendency change with a slope of − 0.261 and − 0.421 for icing and frost days in present-day, and are likely to display a contrary trend as warm extremes over two periods under the RCP2.6 scenario, with a decrease of 10 cold days over the whole Inner Mongolia. While the mid-twenty-first century would go through minor changes of cold extreme as the RCP2.6 scenario under both the RCP4.5 and 8.5 scenarios, the late twenty-first century would witness most dramatic decrease of cold extremes, more specifically, with over 20 and 30 less cold days separately over most areas and particularly over 35 less cold days in central and southwest regions. Since the control of greenhouse gas emissions halts the increase of warming extremes and higher emission scenarios lead to more warm extremes, the benefits and risks of warming trend for central plantation areas and southwest desert regions of Inner Mongolia should be considered comprehensively by local policy making and social-economic development planning.
This is a preview of subscription content,
to check access.
Access this article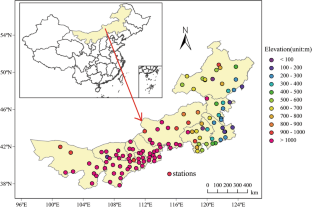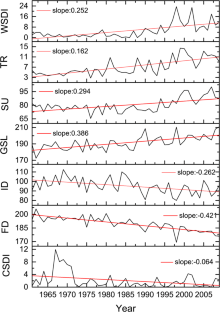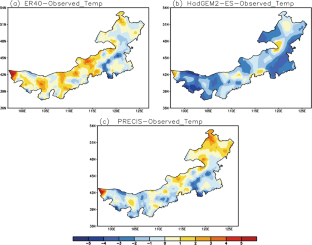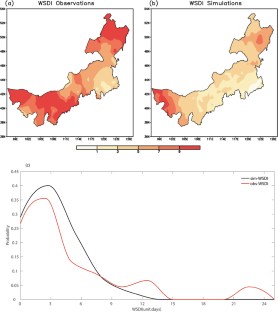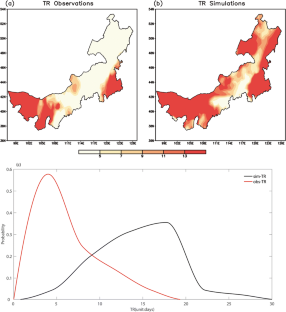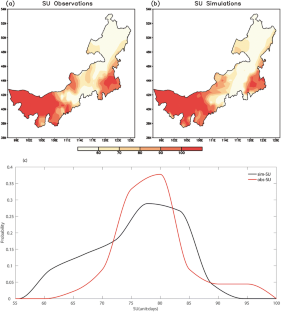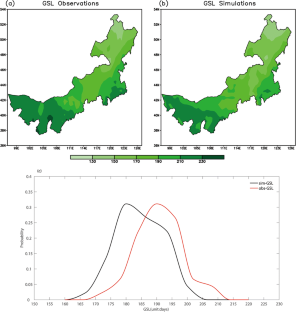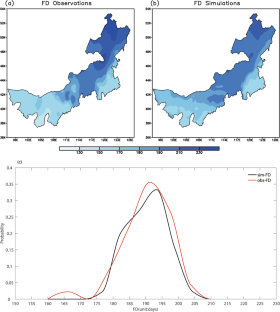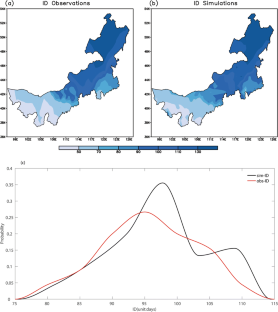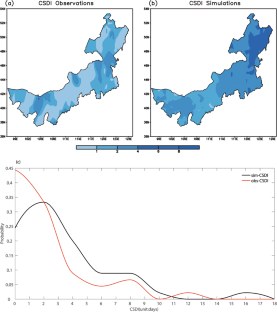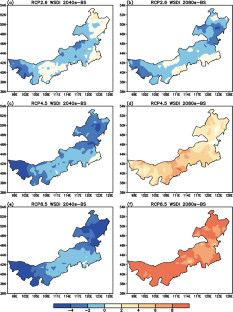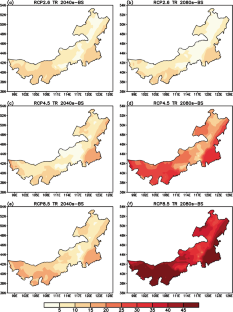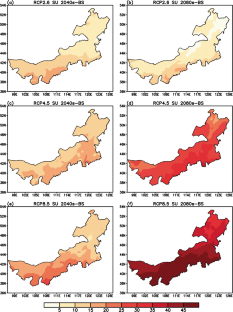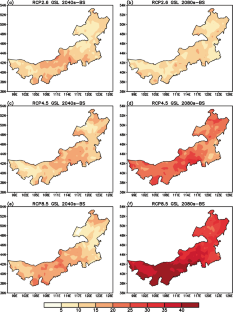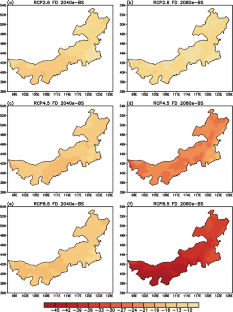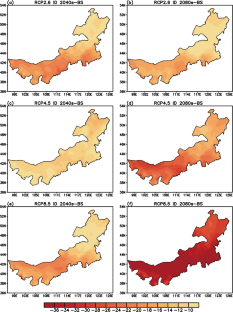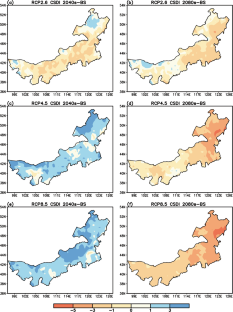 References
Bai M, Hao R, Xicang LI et al (2014) Variable characteristics of extreme climate events during 1961-2010 in Inner Mongolia. J Arid Meteorol 32(2):189–193 (in Chinese)

Donat MG, Alexander LV, Yang H, Durre I, Vose R, Caesar J (2013) Global land-based datasets for monitoring climatic extremes. Bull Am Meteorol Soc 94(7):997–1006

Editorial Committee of National Assessment Report of Climate Change (2015) Third National Assessment Report of climate change. Science Press, Beijing (in Chinese)

Frich P, Alexander LV, Dellamarta P et al (2002) Observed coherent changes in climatic extremes during the second half of the twentieth century. Clim Res 19:19(3)–19212

Gao X, Zhao Z, Giorgi F (2002) Changes of extreme events in regional climate simulations over East Asia. Adv Atmos Sci 19(5):927–942

Gao T, Xiao S, Wulan (2009) Temporal-spatial characteristics of precipitation and temperature in inner Mongolia for the last 47 Years (1961–2007). Meteorol J Inner Mongolia 1:3–8 (in chinese)

Giorgi F, Diffenbaugh N, Gao X et al (2008) The regional climate change hyper-matrix framework. EOS Trans Am Geophys Union 89(45):445–446

Gregory D, Rowntree PR (1990) A mass flux convection scheme with representation of cloud ensemble characteristics and stability-dependent closure. Mon Weather Rev 118(7):1483–1506

Huang J, Sun S, Xue Y, Zhang J (2015a) Changing characteristics of precipitation during 1960–2012 in Inner Mongolia, northern China. Meteorol Atmos Phys 127(3):257–271

Huang J, Xue Y, Sun S, Zhang J (2015b) Spatial and temporal variability of drought during 1960–2012 in Inner Mongolia, north China. Quat Int 355:134–144

IPCC (2012) In: Field CB, Barros V, Stocker TF, Qin D, Dokken DJ, Ebi KL, Mastrandrea MD, Mach KJ, Plattner G-K, Allen SK, Tignor M, Midgley PM (eds) WGI/WGII Special Report on Managing the Risks of ExtremeEvents and Disasters to Advance Climate Change Adaptation (SREX). Cambridge University Press, Cambridge 582 pp

IPCC (2013) Climate Change 2013: The Physical Science Basis. Contribution of Working Group to the Fifth Assessment Report of the Intergovernmental Panel on Climate Change [Stocker T F, Qin D, Plattner G-K, Tignor M, Allen S K, Boschung J, Nauels A, Xia Y, Bex V, Midgley P M(eds.)]. Cambridge and New York, Cambridge University Press 1535 pp

Ji Z, Kang S (2015) Evaluation of extreme climate events using a regional climate model for China. Int J Climatol 35(6):888–902

Jiang Z, Li L, Chen W et al (2012) Extreme climate events in China: IPCC-AR4 model evaluation and projection. Clim Chang 110(1–2):385–401

Jones C, Hughes, JK, Bellouin, N et al (2011) The HadGEM2-ES implementation of CMIP5 centennial simulations. Geoscientific Model Development 4(3):543–570

Koffi B, Koffi E. Heat waves across Europe by the end of the 21st century: Multiregional climate simulations. Clim Res, 2008, 36(2)

Ma Z, Fu C, Ren X et al (2003) Trend of annual extreme temperature and its relationship to regional warming in northern China. Acta Geograph Sin 58(suppl):11–20 (in Chinese)

Ma T, Wu Z, Jiang Z (2012) How does coldwave frequency in China respond to a warming climate? Clim Dyn 39(9–10):2487–2496

Moss RH, Edmonds JA, Hibbard KA, Manning MR, Rose SK, van Vuuren DP, Carter TR, Emori S, Kainuma M, Kram T, Meehl GA, Mitchell JFB, Nakicenovic N, Riahi K, Smith SJ, Stouffer RJ, Thomson AM, Weyant JP, Wilbanks TJ (2010) The next generation of scenarios for climate change research and assessment. Nature 463(7282):747–756

Myneni RB, Keeling CD, Tucker CJ, Asrar G, Nemani RR (1997) Increased plant growth in the northern high latitudes from 1981 to 1991. Nature 386(6626):698–702

Nakicenovic N, Alcamo J, Davis G et al (2000) Special report on emissions scenarios: a special report of the Working Group III of the Intergovernmental Panel on Climate Change. Cambridge University Press, Cambridge

Park C, Min SK, Lee D et al (2015) Evaluation of multiple regional climate models for summer climate extremes over East Asia. Clim Dyn 46:1–18

Suzuki R, Nomaki T, Yasunari T (2003) West–east contrast of phenology and climate in northern Asia revealed using a remotely sensed vegetation index. Int J Biometeorol 47(3):126–138

Van den Besselaar EJM, Klein Tank AMG, Buishand TA (2013) Trends in European precipitation extremes over 1951–2010. Int J Climatol 33(12):2682–2689

Wang Z, Lin L, Zhang X, Zhang H, Liu L, Xu Y (2017) Scenario dependence of future changes in climate extremes under 1.5 °C and 2 °C global warming. Sci Rep 7:46432. https://doi.org/10.1038/srep46432

Xu Y, Richard J (2004) Validating PRECIS with ECMWF reanalysis data over China. Chin J Agrometeorol 25(01):5–9 (in Chinese)

Xu Y, Gao X, Giorgi F et al (2018) Projected changes in temperature and precipitation extremes over China as measured by 50-yr return values and periods based on a CMIP5 ensemble. Adv Atmos Sci 35(4):376–388

Yan H, Chen W, Yang F et al (2014) The spatial and temporal analysis of extreme climatic events in Inner Mongolia during the past 50 years. Geogr Res 33(1):13–22 (in Chinese)

Yang HL, Xu YL, Lei Z et al (2010) Projected change in heat waves over China using the PRECIS climate model. Clim Res 42(1):79–88

Zhai P, Pan X (2003) Trends in temperature extremes during 1951–1999 in China. Geophys Res Lett 30(17):1913. https://doi.org/10.1029/2003GL018004

Zhang Y, Xu Y, Dong W et al (2006) A future climate scenario of regional changes in extreme climate events over China using the PRECIS climate model. Geophys Res Lett 33(24):194–199

Zhang X, Alexander L, Hegerl GC et al (2011) Indices for monitoring changes in extremes based on daily temperature and precipitation data. Wiley Interdiscip Rev Clim Chang 2(6):851–870

Zhang Y, Fu L, Pan J, Xu Y (2017) Projected changes in temperature extremes in China using PRECIS. Atmosphere 8(1):15

Zhao Z, Gao X, Tang M (2002) Projection of climate change. In: Ding Y (ed) Projection of environment change in West China. Science Press, Beijing, pp 16–46 (in Chinese)
Acknowledgments
We would like to thank Dr. Changgui Wang for helping us with the PRECIS 2.0 modeling, and Dr. Bing Rong for his assistance with the RclimDex package.
Funding
This study was financially supported by the Key Projects of China's National Twelfth 5-year Science & Technology Pillar Program (2013BAC09B04), the CAS "Hundred Talents" program (Dr. Weiqiang Ma), and the National Natural Science Foundation of China (NSFC) (91637313, 91737205).
Additional information
Publisher's note
Springer Nature remains neutral with regard to jurisdictional claims in published maps and institutional affiliations.
Electronic supplementary material
About this article
Cite this article
Meng, C., Xu, Y., Li, Q. et al. Analyses of observed features and future trend of extreme temperature events in Inner Mongolia of China. Theor Appl Climatol 139, 577–597 (2020). https://doi.org/10.1007/s00704-019-02969-8
Received:

Accepted:

Published:

Issue Date:

DOI: https://doi.org/10.1007/s00704-019-02969-8