Abstract
Examining the physical mechanisms through which large-scale climate indicators, e.g., El Niño–Southern Oscillation and Indian Ocean Dipole, affect hydroclimatic variables in the tropics and extratropics is a forefront scientific challenge. We examined climatic teleconnections between large-scale climate indices and temperature variability over South Korea. To do this, we calculated not only leading patterns of observed monthly mean and extreme temperature through an empirical orthogonal teleconnection (EOT) decomposition technique but also statistical correlations on a monthly basis using cross-correlation and lag regression analyses for the leading modes and global atmospheric circulation dataset. As a result, the spatial pattern of the leading EOT modes for mean (extreme high) temperature represents an eastern (southern) coastal mode for boreal summer and a northern (middle) inland mode in boreal winter, while extreme low EOTs exhibit a northern inland mode in summer and a western coastal mode in winter. The temporal evolution of the leading EOT modes exhibits a mostly increasing trend and an interdecadal oscillation. The leading EOT modes of mean temperature explain more variance than those of extreme temperature during warm and cold seasons. The findings from this study illustrate that tropical ENSO forcing has a coherent association with August and December temperature patterns, while the Indian Ocean Dipole is identified as a driver for temperature variability during fall season. The monsoon circulation over the western North Pacific also exhibits a significant negative correlation with the December temperature EOTs. The leading EOTs for October temperature exhibit the positive correlation with the tropical cyclone variability, while the leading EOTs for mean and extreme high temperature exhibit significant negative correlations with the snow depth over northeastern Eurasia in November. The leading patterns of the August and December mean temperature time series are predictable at up to 5-month lead time from the tropical Pacific sea surface temperatures (SSTs), while a predictable response from Indian Ocean SSTs was detected at up to 4-month lead time.
This is a preview of subscription content,
to check access.
Access this article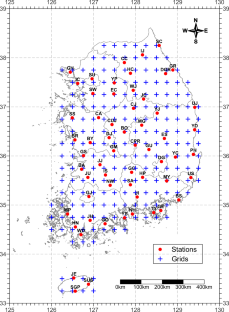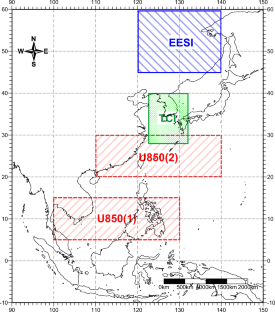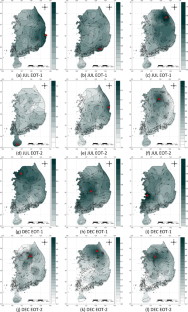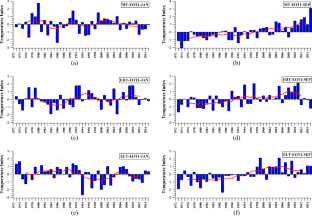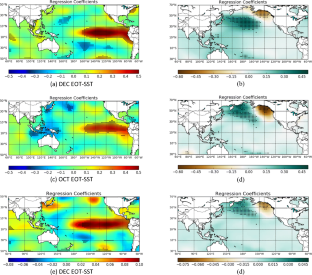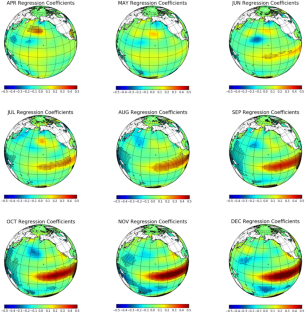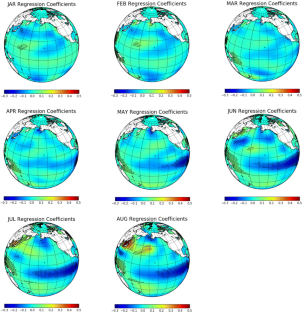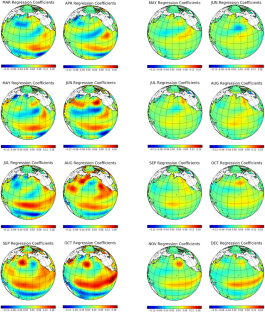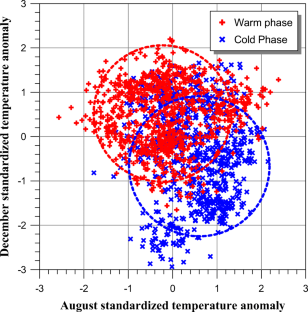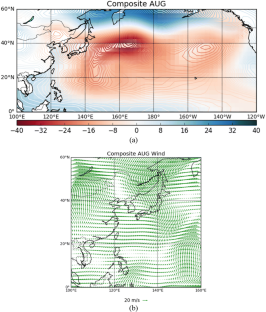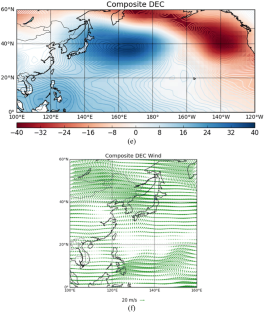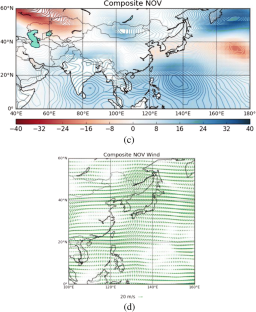 References
Ahn JB, Ryu JH, Cho EH, Park JY (1997) A study of correlations between air-temperature and precipitation in Korean and SST over the tropical Pacific. J Korean Meteor Soc. 33(3):487–495

Bradley RS, Diaz HF, Kiladis GN, Eischeid JK (1987) ENSO signal in continental temperature and precipitation records. Nature 327:487–501

Cha EJ (2007) El Niño-Southern Oscillation, Indian Ocean Dipole mode, a relationship between the two phenomena, and their impact on the climate over the Korean Peninsula. J Korean Earth Sci Soc 28(1):35–44

Cha EJ, Jhun JG, Chung HS (1999) A study on characteristics of climate in South Korea for El Niño/La Niña years. J KMS 35(1):99–117

Daly C, Neilson PR, Phillips DL (1994) A statistical-topographic model for mapping climatological precipitation over mountainous terrain. J Appl Meteorol 33:140–158

Ha, K.J., 1995. Interannual variabilities of wintertime Seoul temperature and the correlation with Pacific Sea surface temperature. J Korean Meteorol Soc 31: 313–323 (in Korean)

Halpert MS, Ropelewski CF (1992) Surface temperature patterns associated with the Southern Oscillation. J Clim 5:557–593

Huang B, Banzon VF, Freeman E, Lawrimore J, Liu W, Peterson TC, Smith TM, Thorne PW, Woodruff SD, Zhang HM (2014) Extended Reconstructed Sea Surface Temperature version 4 (ERSST.v4): part I. Upgrades and intercomparisons. J Clim. https://doi.org/10.1175/JCLI-D-14-00006.1

Jung HS, Choi YE, Oh JH, Lim GH (2002) Recent Trends In Temperature And Precipitation Over South Korea. Int J Climatol 22:1327–1337

Kang IS (1998) Relationship between El-Niño and Korean climate variability. J Korean Meteor Soc 34(3):390–396

Karabörk MÇ, Kahya E (2007) The links between the categorized Southern Oscillation indicators and precipitation patterns over Turkey. Hydrol Days 2007 87–89

Kiladis GN, Diaz HF (1989) Global climatic anomalies associated with extremes in the Southern Oscillation. J Clim 2:1069–1090

Kiladis GN, van Loon H (1988) The Southern Oscillation. Part VII: meteorological anomalies over the Indian and Pacific sectors associated with the extremes of the oscillation. Mon Weather Rev 116:120–136

Kim MK, Kang IS, Park CK, Kim KM (2004) Super ensemble prediction of regional precipitation over Korea. Int J Climatol 24:777–790

King AD, Klingaman NP, Alexander LV, Donat MG, Jourdain NC, Maher P (2014) Extreme rainfall variability in Australia: patterns, drivers, and predictability. J Clim 27:6035–6050

Klingaman NP, Woolnough SJ, Syktus J (2013) On the drivers of inter-annual and decadal rainfall variability in Queensland, Australia. Int J Climatol 33:2413–2430

Knapp KR, Kruk MC, Levinson DH, Diamond HJ, Neumann CJ (2010) The international best track archive for climate stewardship (ibtracs): Unifying tropical cyclone best track data. Bull Am Meteorol Soc 91:363–376

Korea Meteorological Administration (KMA) (2018) Annual Climatological Report. 13:11–12 (in Korean)

Kripalani RH, Oh JH, Chaudhari HS (2010) Delayed influence of the Indian Ocean Dipole mode on the East Asia–West Pacific monsoon: possible mechanism. Int J Climatol 30:197–209

Lee DR (1998) Relationships of El Niño and La Niña with both temperature and precipitation in South Korea. J Korea Water Resour Assoc 31(6):807–819 (in Korean)

Lee JH, Julien PY (2015) ENSO impacts on temperature over South Korea. Int J Climatol 10:1002/4581

Lee JH, Julien PY (2016) Teleconnections of the ENSO and South Korean precipitation patterns. J Hydrol 534:237–250

Lee JH, Julien PY (2017) Influence of the El Niño/Southern Oscillation on South Korean streamflow variability. Hydrol Process 10. https://doi.org/10.1002/hyp.11168

McKee, T.B., Doesken, N.J., Kleist, J., 1993. The relationship of drought frequency and duration to time series. 8th Conference on Applied Climatology, Anaheim, CA 1993 pp. 179–187

Min, W. K, Yang, J.S., 1998. A study on correlation between El-Nino and winter temperature and precipitation in Korea. J Korean Assoc Reg Geograph 4 (2): 151–164 (in Korean)

Redmond KT, Koch RW (1991) Surface climate and streamflow variability in the western United States and their relationship to large circulation indices. Water Resour Res 27(9):2381–2399

Ropelewski CF, Halpert MS (1986) North American precipitation and temperature patterns associated with El-Niño Southern Oscillation (ENSO). Mon Weather Rev 114:2165–2352

Saji NH, Yamagata T (2003) Possible impacts of Indian Ocean Dipole Mode events on global climate. Clim Res 25:151–169

Saji NH, Goswami BN, Vinayachandran PN, Yamagata T (1999) A dipole mode in the tropical Indian Ocean. Nature 401:360–363

Son HY, Park JY, Kug JS, Yoo J, Kim CH (2014) Winter precipitation variability over Korean Peninsula associated with ENSO. Clim Dyn 42:3171–3186

Stephan CC, Klingaman NP, Vidale PL, Turner AG, Demory M-E, Guo L (2018a) A comprehensive analysis of coherent rainfall patterns in China and potential drivers. Part I: interannual variability. Clim Dyn 50:4405–4424

Stephan CC, Klingaman NP, Vidale PL, Turner AG, Demory M-E, Guo L (2018b) A comprehensive analysis of coherent rainfall patterns in China and potential drivers. Part II: Intraseasonal variability. Clim Dyn 51:17–33

Van den Dool HM, Saha S, Johansson Å (2000) Empirical orthogonal teleconnections. J Clim 13:1421–1435

van Loon H, Madden R (1981) The Southern Oscillation. Part I: global associations with pressure and temperature in northern winter. Mon Weather Rev 109:1150–1162

Walker GT (1923) Correlation in seasonal variations of weather, VIII: a preliminary study of world weather. Mem Indian Meteorol Dep 24:75–131

Wang B, Wu R, Fu X (2000) Pacific–East Asian teleconnection: How does ENSO affect east Asian climate. J Clim 13:1517–1536

Wang B, Xiang B, Lee J (2013) Subtropical high predictability establishes a promising way for monsoon and tropical storm predictions. Proc Natl Acad Sci U S A 110:2718–2722

Wu R, Wang B (2002) A Contrast of the East Asian Summer Monsoon–ENSO Relationship between 1962–77 and 1978–93. J Clim 15:3266–3279
Additional information
Publisher's note
Springer Nature remains neutral with regard to jurisdictional claims in published maps and institutional affiliations.
About this article
Cite this article
Lee, J.H., Julien, P.Y. & Maloney, E.D. The variability of South Korean temperature associated with climate indicators. Theor Appl Climatol 138, 469–489 (2019). https://doi.org/10.1007/s00704-019-02842-8
Received:

Accepted:

Published:

Issue Date:

DOI: https://doi.org/10.1007/s00704-019-02842-8