Abstract
Previous studies indicate that vegetation and lakes in arid and semi-arid regions are closely related to climate change. However, the responses of vegetation and lakes to climate-related variables have rarely been contrastively studied. The Hulun Lake (HLL) and its surrounding grasslands in Northeast Inner Mongolia of China comprise a semi-arid region that has experienced intense climate change over the last several decades. This study aims to understand the key factors that control the variations in the lake area and vegetation cover over the last five decades in the HLL region, as well as contrastively investigate the different responses of the lake area and vegetation cover to climate-related variables. Analysis results indicate that the variations with increasing change rates in the HLL area were mainly controlled by precipitation fluctuation. Moreover, an increase or decrease in the air temperature and relative humidity could affect the response time of the HLL area to the change in precipitation. The Normalized Difference Vegetation Index (NDVI) variations from 1990 to 1999 around the HLL region were mainly controlled by the intense local grazing rather than climatic restrictions. The fluctuation in NDVI after 1999 reflects the response of the vegetation cover to climatic change. The correlation analysis shows that the variations in the HLL area were closely related to the multi-year tendency of precipitation amount and to the Standardized Precipitation Evapotranspiration Index (SPEI) with a long timescale. However, NDVI is sensitive to changes in short-term precipitation amount, such as seasonal precipitation, and in SPEI with a monthly timescale. The soil moisture at shallow depths (< 0.1 m) was the key root–zone soil moisture that could influence NDVI, whereas soil moisture at depths of 0.4 to 1.0 m and the HLL area were closely related and had similar responses to climatic change.
Access options
Buy single article
Instant access to the full article PDF.
USD 39.95
Price includes VAT (USA)
Tax calculation will be finalised during checkout.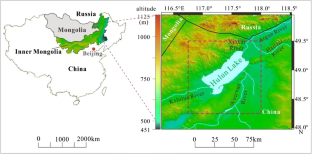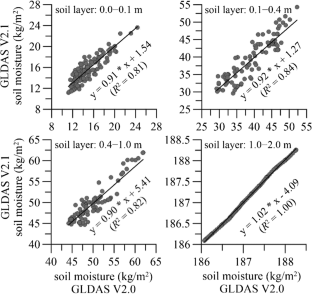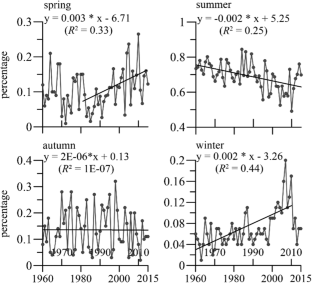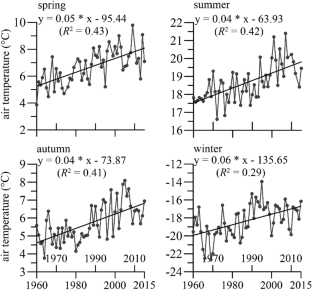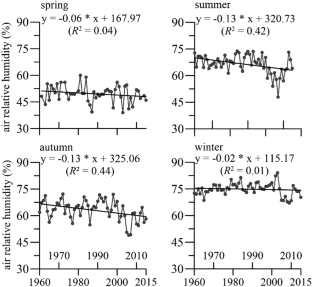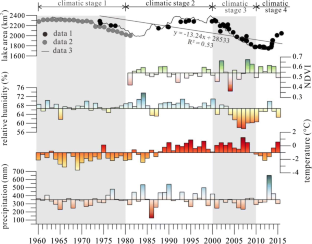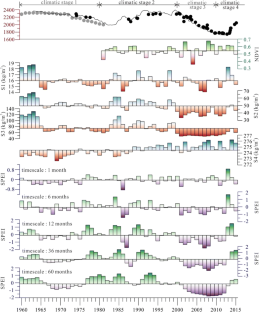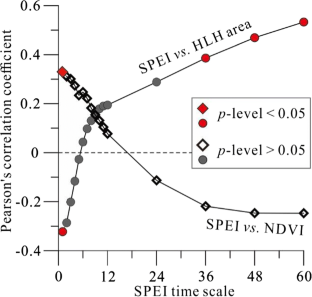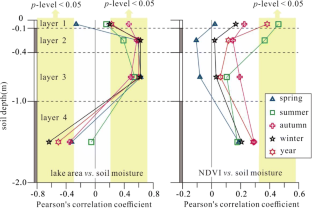 References
Ashraf A, Naz R, Iqbal MB (2017) Altitudinal dynamics of glacial lakes under changing climate in the Hindu Kush, Karakoram, and Himalaya ranges. Geomorphology 283:72–79

Bai J, Chen X, Li JL, Yang L, Fang H (2011) Changes in the area of inland lakes in arid regions of central Asia during the past 30 years. Environ Monit Assess 178(1–4):247–256

Bao G, Qin ZH, Bao YH, Zhou Y, Li WJ, Sanjjav A (2014) NDVI-based long-term vegetation dynamics and its response to climatic change in the Mongolian Plateau. Remote Sens 6(9):8337–8358

Cai ZS, Jin TY, Li CY, Ofterdinger U, Zhang S, Ding A-Z, Li JC (2016) Is China's fifth-largest inland lake to dry-up? Incorporated hydrological and satellite-based methods for forecasting Hulun lake water levels. Adv Water Resour 94:185–199

Chuai XW, Huang XJ, Wang WJ, Bao, G (2013) NDVI, temperature and precipitation changes and their relationships with different vegetation types during 1998–2007 in Inner Mongolia, China. Int J Climatol 33(7):1696–1706

Debnath M, Syiemlieh HJ, Sharma MC, Kumar R, Chowdhury A, Lal U (2018) Glacial lake dynamics and lake surface temperature assessment along the Kangchengayo-Pauhunri Massif, Sikkim Himalaya, 1988–2014. RSASE 9:26–41

Fang L, Tao S, Zhu J, Liu Y (2018) Impacts of climate change and irrigation on lakes in arid northwest China. J Arid Environ 154:34–39

Gong DY, Ho CH (2003) Detection of large-scale climate signals in spring vegetation index (normalized difference vegetation index) over the Northern Hemisphere. J Geophys Res Atmos 108:D16

Gong DY, Shi PJ (2004) Inter-annual changes in Eurasian continent NDVI and its sensitivity to the large-scale climate variations in the last 20 years. Acta Bot Sin 46(2):186–193

Im ST, Kharuk VI, Rakityanskaya NM, Golyukov AS (2015) Climate-induced lake dynamics in the Trans-Baikal forest-steppe ecotone. Contemp Probl Ecol 8(6):680–686

Jing Y, Zhang F, Wang X (2018) Monitoring dynamics and driving forces of lake changes in different seasons in Xinjiang using multi-source remote sensing. EuJRS 51(1):150–165

Jones BM, Grosse GD, Arp CD, Jones MC, Anthony KW, Romanovsky VE (2011) Modern thermokarst lake dynamics in the continuous permafrost zone, northern Seward Peninsula, Alaska. J Geophys Res Biogeosci 116(G2)

Kaiser K, Heinrich I, Heine I, Natkhin M, Dannowski R, Lischeid G (2015) Multi-decadal lake-level dynamics in north-eastern Germany as derived by a combination of gauging, proxy-data and modelling. J Hydrol 529:584–599

Kang S, Lee G, Togtokh C, Jang K (2015) Characterizing regional precipitation-driven lake area change in Mongolia. J Arid Land 7(2):146–158

Karlsson JM, Lyon SW, Destouni G (2014) Temporal behavior of lake size-distribution in a thawing permafrost landscape in Northwestern Siberia. Remote Sens 6(1):621–636

Kobayashi H, Dye DG (2005) Atmospheric conditions for monitoring the long-term vegetation dynamics in the Amazon using normalized difference vegetation index. Remote Sens Environ 97(4):519–525

Li C, Sun B, Jia K, Zhang S, Li WP (2013) Multi-band remote sensing based retrieval model and 3D analysis of water depth in Hulun Lake, China. Math Comput Model 58(3–4):765–775

Lobo FL, Costa MP, Novo EM (2015) Time-series analysis of Landsat-MSS/TM/OLI images over Amazonian waters impacted by gold mining activities. Remote Sens Environ 157:170–184

Lu N, Wilske B, Ni J, John R, Chen J (2009) Climate change in Inner Mongolia from 1955 to 2005−trends at regional, biome and local scales. Environ Res Lett 4(4):45006–45006

Markham BL, Barker JL (1986) Landsat MSS and TM post-calibration dynamic rangers, exoatmospheric reflectance and at-satellite temperatures. Landsat Technical Notes 3–8

McFeeters SK (1996) The use of the Normalized Difference Water Index (NDWI) in the delineation of open water features. Int J Remote Sens 17(7):1425–1432

Nitze I, Grosse G, Jones BM, Arp CD, Ulrich M, Fedorov A, Veremeeva A (2017) Landsat-based trend analysis of lake dynamics across northern permafrost regions. Remote Sens 9(7):640

Olthof I, Fraser RH, Schmitt C (2015) Landsat-based mapping of thermokarst lake dynamics on the Tuktoyaktuk Coastal Plain, Northwest Territories, Canada since 1985. Remote Sens Environ 168:194–204

Piao SL, Mohammat A, Fang JY, Cai Q, Feng JM (2006) NDVI-based increase in growth of temperate grasslands and its responses to climate changes in China. Glob Environ Chang 16(4):340–348

Polishchuk YM, Sharonov DS (2013) Studying the dynamics of thermokarst lake fields in Altai mountain valleys. Izvestiya, Atmospheric and Oceanic Physics 49(9):1074–1077

Prentice IC (2001) Interactions of climate change and the terrestrial biosphere. Geosphere–biosphere interactions and climate. Cambridge University Press, New York

Qian WH, Lin X (2004) Regional trends in recent temperature indices in China. Clim Res 27(2):119–134

Qin DH, Ding YH, Su JL, Ren JW (2005) Assessment of climate and environment changes in China (I): climate and environment changes in China and their projection. Adv Clim Chang Res 1(1):4–9

Rodell M, Houser PR, Jambor U, Gottschalck J, Mitchell K, Meng CJ, Arsenault K, Cosgrove B, Radakovich J, Bosilovich M, Entin JK, Walker JP, Lohmann D, Toll D (2004) The global land data assimilation system. Bull Am Meteorol Soc 85(3):381–394

Smith LC, Sheng Y, MacDonald GM, Hinzman LD (2005) Disappearing arctic lakes. Science 308(5727):1429–1429

Sun YL, Guo P, Yan XD, Zhao TB (2010) Dynamics of vegetation cover and its relationship with climate change and human activities in Inner Mongolia. J Nat Resour 25(3):407–414

Tao S, Fang J, Zhao X, Zhao S, Shen H, Hu H, Tang Z, Wang Z, Guo Q (2015) Rapid loss of lakes on the Mongolian Plateau. Proc Natl Acad Sci 112(7):2281–2286

Thornthwaite CW (1948) An approach toward a rational classification of climate. Geogr Rev 38(1):55–94

Tucker CJ, Slayback DA, Pinzon JE, Los SO, Myneni RB, Taylor MG (2001) Higher northern latitude normalized difference vegetation index and growing season trends from 1982 to 1999. Int J Biometeorol 45(4):184–190

Vallet-Coulomb C, Legesse D, Gasse F, Travi Y, Chernet T (2001) Lake evaporation estimates in tropical Africa (Lake Ziway, Ethiopia). J Hydrol 245(1-4):1–18

Vicente–Serrano SM, Beguería S, López–Moreno JI (2010) A multiscalar drought index sensitive to global warming: the standardized precipitation evapotranspiration index. J Clim 23(7):1696–1718

Wang J, Rich PM, Price KP (2003) Temporal responses of NDVI to precipitation and temperature in the central Great Plains, USA. Int J Remote Sens 24(11):2345–2364

Wang J, Sheng Y, Tong TSD (2014) Monitoring decadal lake dynamics across the Yangtze Basin downstream of Three Gorges Dam. Remote Sens Environ 152:251–269

Xiao J, Chang Z, Wen R, Zhai D, Itoh S, Lomtatidze Z (2009) Holocene weak monsoon intervals indicated by low lake levels at Hulun Lake in the monsoonal margin region of northeastern Inner Mongolia, China. The Holocene 19(6):899–908

Xing L, Tang X, Wang H, Fan W, Wang G (2018) Monitoring monthly surface water dynamics of Dongting Lake using Sentinal-1 data at 10 m. PeerJ 6:e499

Xu HQ (2006) Modification of normalised difference water index (NDWI) to enhance open water features in remotely sensed imagery. Int J Remote Sens 27(14):3025–3033

Xu Z-J, Jiang F-Y, Zhao H-W, Zhang Z-B, Sun L (1989) Annals of Hulun Lake. Jilin Literature and History Publishing House, Changchun

Yang K, Yao F, Wang J, Luo J, Shen Z, Wang C, Song C (2017) Recent dynamics of alpine lakes on the endorheic Changtang Plateau from multi-mission satellite data. J Hydrol 552:633–645

Yao J, Chen Y, Zhao Y, Yu X (2018) Hydroclimatic changes of Lake Bosten in Northwest China during the last decades. Sci Rep 8(1):9118

Zhang Z, Jiang F, Wang S, Yu S, Jiang M (1998) Continuation of Annals of Hulun Lake. Inner Mongolia Culture Publishing House, Hohhot

Zhang BW, Cui LL, Shi J, Wei PP (2017) Vegetation dynamics and their response to climatic variability in China. Adv Meteorol 2017(14):1–10
Acknowledgements
We thank the anonymous reviewers for their comments that resulted in a greatly improved manuscript.
Funding
This study was financially supported by the Fundamental Research Fund of the China Institute of Water Resources and Hydropower Research (MK2017J01 and MK2016J15) and the National Natural Science Foundation of China (No. 41807215).
Additional information
Publisher's note
Springer Nature remains neutral with regard to jurisdictional claims in published maps and institutional affiliations.
About this article
Cite this article
Zhang, Y., Liang, W., Liao, Z. et al. Effects of climate change on lake area and vegetation cover over the past 55 years in Northeast Inner Mongolia grassland, China. Theor Appl Climatol 138, 13–25 (2019). https://doi.org/10.1007/s00704-019-02802-2
Received:

Accepted:

Published:

Issue Date: