Abstract
Here, an evaluation of nine simulations of the regional climate models (RCM) performed within the frame of CORDEX-Africa Project to reproduce the Volta Basin climatology (1971–2005) is presented. Performance metrics of climatological means were computed from annual, seasonal, and monthly total values which detect differences in the spatial and temporal structures of the model outputs with observational datasets for precipitation and temperature evaluated over three sub-domains (the Guinea Coast, the Soudano-Sahel, and the Sahel) within the basin. The results reveal pronounced influence of the GCM-derived boundary conditions at homogeneous zones, for example, CNRM-induced model overestimations over the Sahel. A good replica of the spatial distribution of climatic parameters particularly for temperature with biases within 0.1 °C and obvious wet bias for precipitation up to 40% is detected predominantly over the Sahel with widespread differences in spatial extent and intensities. A better performance is obtained for summer and fall but worse in spring for precipitation. The analysis showed that the basic characteristics of the West African climate are reasonably reproduced by the models, including its variability in sign, amplitude, and spatial extent, but also, there are recognized deficiencies of the model simulations for some selected metrics, regions, and seasons. The study emphasizes on individual model skills than in ensemble performance, and CanESM2-RCA4 and NorESM1-RCA4 RCMs were realized to replicate best the observed dataset so these models are recommended for impact studies over the basin for most seasons. Results achieved will be valuable in the choice of GCMs/RCMs for impact study over the basin, and we conclude that this may also depend on the focus of interest, whether it is a study on variability and process representation or region of study or timescales.
Access options
Buy single article
Instant access to the full article PDF.
USD 39.95
Price includes VAT (USA)
Tax calculation will be finalised during checkout.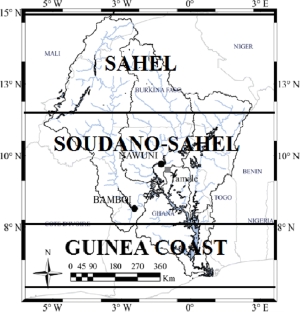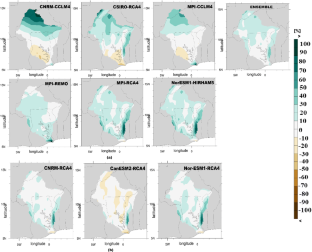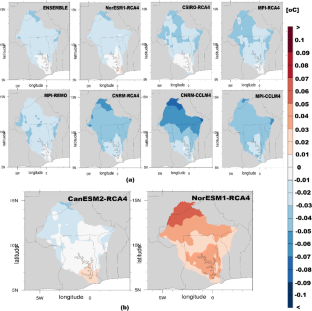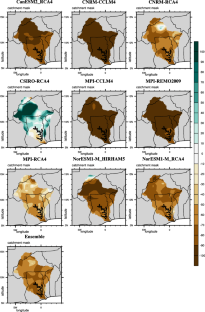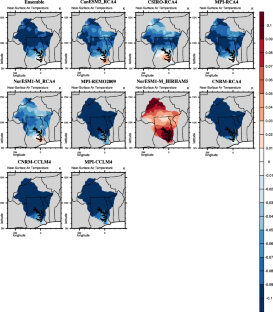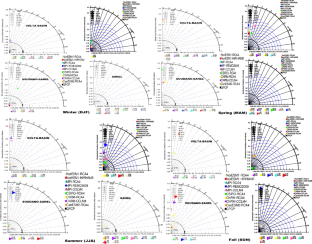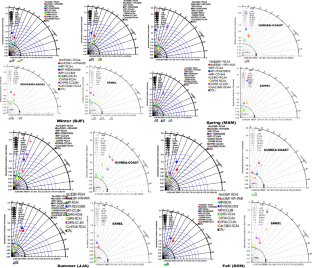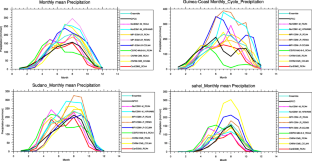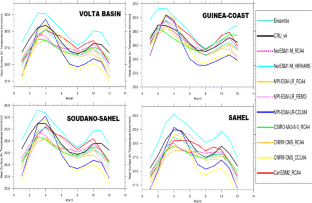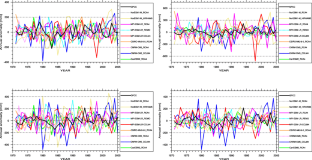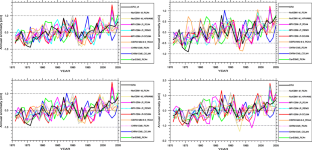 References
Agyeman RYK, Annor T, Lamptey B, Quansah E, Agyekum J, Tieku SA (2017) Optimal physics parameterization scheme combination of the weather research and forecasting model for seasonal precipitation simulation over Ghana. Adv Meteorol 2017:15. https://doi.org/10.1155/2017/7505321

Akinsanola AA, Ogunjobi KO (2017) Evaluation of present-day rainfall simulations over West Africa in CORDEX regional climate models. Environ. Earth Sci. Springer Berlin Heidelberg 76(10). https://doi.org/10.1007/s12665-017-6691-9.

Akinsanola AA, Ogunjobi KO, Gbode IE, Ajayi VO (2015) Assessing the capabilities of three regional climate models over CORDEX Africa in simulating West African summer monsoon precipitation. Adv Meteorol 2015:13. https://doi.org/10.1155/2015/935431

Akinsanola A, Ajayi V, Adejare A, Adeyeri O, Gbode I, Ogunjobi K, Nikulin G, Abolude AT (2017) Evaluation of rainfall simulations over West Africa in dynamically downscaled CMIP5 global circulation models. Theor Appl Climatol 132:437–450. https://doi.org/10.1007/s00704-017-2087-8

Amisigo BA (2005) Modeling riverflow in the Volta Basin of West Africa: a data-driven framework. Ecology and Development Series No 34, Cuvillier Verlag Göttingen, pp. 175.

Annor T, Lamptey B, Wagner S, Oguntunde P, Arnault J, Heinzeller D, Kunstmann H (2017) High-resolution long-term WRF climate simulations over Volta Basin Part 1: validation analysis for temperature and precipitation. Theor Appl Climatol 133:1–21. https://doi.org/10.1007/s00704-017-2223-5

Bokke AS, Taye MT, Willems P, Siyoum SA (2017) Validation of general climate models (GCMs) over Upper Blue Nile River Basin Ethiopia. Atmos Clim Sci 7(1):65–75. https://doi.org/10.4236/acs201771006

Browne NAK, Sylla MB (2012) Regional climate model sensitivity to domain size for the simulation of the West African summer monsoon rainfall. Int J Geophys 2012(625831):17. https://doi.org/10.1155/2012/625831

Diallo I, Sylla MB, Camara M, Gaye AT (2013) Interannual variability of rainfall over the Sahel based on multiple regional climate models simulations. Theor Appl Climatol 113(1–2):351–362. https://doi.org/10.1007/s00704-012-0791-y

Dosio A, Panitz HJ, Schubert-Frisius M, Lüthi D (2015) Dynamical downscaling of CMIP5 global circulation models over CORDEX-Africa with COSMO-CLM: evaluation over the present climate and analysis of the added value. Clim Dyn 44(9–10):2637–2661. https://doi.org/10.1007/s00382-014-2262-x

Druyan LM, Fulakeza M (2010) Regional climate model applications for West Africa and the Tropical Eastern Atlantic. INTECHOPEN. Available at: www.intechopen.com. Accessed 12 Dec 2017

Fenech A, Comer N, Gough B (2007) Selecting a global climate model for understanding future projections of climate change in linking climate models to policy and decision-making. Available at: http://www.projectsupeica.com/climate/files/2012/10/Book-1_Paper-5pdf. Accessed 4 Nov 2017

Fowler HJ, Blenkinsopa S, Tebaldi C (2007) Linking climate change modeling to impacts studies: recent advances in downscaling techniques for hydrological modeling. Int J Climatol 4:1549–1555. https://doi.org/10.1002/joc1556

Frei C, Christensen JH, Déqué M, Jacob D, Jones RG, Vidale PL (2003) Daily precipitation statistics in regional climate models: evaluation and intercomparison for the European Alps. J Geophys Res Atmos 108(D3):n/a. https://doi.org/10.1029/2002JD002287

Gbobaniyi E, Sarr A, Sylla MB, Diallo I, Lennard C, Dosio A, Dhiédiou A, Kamga A, Klutse NAB, Hewitson B, Nikulin G, Lamptey B (2013) Climatology annual cycle and interannual variability of precipitation and temperature in CORDEX simulations over West Africa. Int J Climatol 34(7):2241–2257. https://doi.org/10.1002/joc3834

Giorgi F, Jones C, Asrar GR (2009) Addressing climate information needs at the regional level: the CORDEX framework. World Meteorol Organ Bulle 58(3):175–183

Harris I, Jones PD, Osborn TJ, Lister DH (2014) Updated high-resolution grids of monthly climatic observations - the CRU TS310 Dataset. Int J Climatol 34(3):623–642. https://doi.org/10.1002/joc3711

Hewitson B, Lennard C, Nikulin G, Jones C (2012) CORDEX-Africa: a unique opportunity for science and capacity building in CLIVAR Exchanges. Available at: http://www.noranercacuk.com/444314/1/NOC_Clivar_Exchanges_Autumn_A4_36pppdf#page=6. Accessed 9 Dec 2017

Ibrahim B, Polcher J, Karambiri H, Rockel B (2012) Characterization of the rainy season in Burkina Faso and its representation by regional climate models. Clim Dyn 39(6):1287–1302. https://doi.org/10.1007/s00382-011-1276-x

Intergovernmental Panel on Climate Change (IPCC) (2013) The IPCCs fifth assessment report: Whats in it for Africa? Executive summary Climate change 2013: the physical science basis Contribution of Working Group I to the fifth assessment report of the Intergovernmental Panel on Climate Change p 33. http://www.cdknorg/wp-content/uploads/2014/04/J1731_CDKN_FifthAssesmentReport_WEBpdf. Accessed 22 Sep 2016

Jacob D, Barring L, Christensen O, Christensen J, de Castro M, Deque M, Giorgi F, Hagemann S, Hirschi M, Jones R, Kjellström E, Lenderink G, Rockel B, Sánchez E, Schär C, Seneviratne S, Somot S, Ulden AV, den Hurk BV (2007) An inter-comparison of regional climate models for europe: model performance in present-day climate. Clim Change 81:31–52

Jones CG, Samuelsson P, Kjellstrӧm E (2011) Regional climate modelling at the Rossby Centre. The International Meteorological Institute In Stockholm Tellus, pp. 1–3 https://doi.org/10.1111/j1600 Accessed 5 September 2017.

Jung G (2006) Regional climate change and the impact on hydrology in the Volta Basin of West Africa. Wissenschaftliche Berichte FZKA von der Fakultat fur Naturwissenschaften Universitat Augsburg. Available at: http://www.catinistfr/?aModele=afficheN&cpsidt = 18564340.

Jung G, Kunstmann H (2007) Modelling regional climate change and the impact on surface and sub-surface hydrology in the Volta Basin (West Africa) in quantification and reduction of predictive uncertainty for sustainable water resources management. Proceedings of Symposium HS2004 at IUGG2007 Perugia July 2007. IAHS Publ 313:1–8

Klutse NAB, Sylla MB, Diallo I, Sarr A, Dosio A, Diedhiou A, Kamga A, Lamptey B, Ali A, Gbobaniyi EO, Owusu K, Lennard C, Hewitson B, Nikulin G, Panitz HJ, Büchner M (2015) Daily characteristics of West African summer monsoon precipitation in CORDEX simulations. Theor Appl Climatol 123(1–2):369–386. https://doi.org/10.1007/s00704-014-1352-3

Kouadio K, Konare A, Diawara A, Dje BK, Ajayi VO, Diedhiou A (2015) Assessment of regional climate models over Côte D'Ivoire and analysis of future projections over West Africa. Atmos Clim Sci 5(4):63–81. https://doi.org/10.4236/acs201552005

Laprise R, Hernández-Díaz L, Tete K, Sushama L, Šeparović L, Martynov A, Winger K, Valin M (2013) Climate projections over CORDEX Africa domain using the fifth-generation Canadian Regional Climate Model (CRCM5). Clim Dyn 41(11–12):3219–3246. https://doi.org/10.1007/s00382-012-1651-2

Mann HB (1945) Nonparametric tests against trend. Econometrica 13:245–259. https://doi.org/10.2307/1907187

Maraun D, Wetterhall F, Chandler RE, Kendon EJ, Widmann M, Brienen S, Rust HW, Sauter T, Themeßl M, Venema VKC, Chun KP, Goodess CM, Jones RG, Onof C, Vrac M, Thiele-Eich I (2010) Precipitation downscaling under climate change: recent developments to bridge the gap between dynamical models and the end user. Rev Geophys 48(314):1–38. https://doi.org/10.1029/2009RG0003141

Nikiema PM, Sylla MB, Ogunjobi K, Kebe I, Gibba P, Giorgi F (2017) Multi-model CMIP5 and CORDEX simulations of historical summer temperature and precipitation variabilities over West Africa. Int J Climatol 37(5):2438–2450. https://doi.org/10.1002/joc4856

Pettitt AN (1979) A non-parametric approach to the change-point problem. Applied Statistics 28(2):126

Samuelsson P, Jones CG, Willen U, Ullerstig A, Gollvik S, Hansson U, Jansson C, Kjellstrom E, Nikulin G, Wyser K (2011) The Rossby Centre Regional Climate model RCA3: model description and performance. International Meteorological Institute In Stockholm pp. 4–23 https://doi.org/10.1111/j1600-0870201000478x.

Schamm K, Ziese M, Becker A, Finger P, Schneider U, Stender P (2014) Global gridded precipitation over land: a description of the new GPCC First Guess Daily product. Earth Syst Sci Data 6:49–60. https://doi.org/10.5194/essd-6-49-2014

Schmidli J, Goodess CM, Frei C, Haylock MR, Hundecha Y, Ribalaygua J, Schmith T (2007) Statistical and dynamical downscaling of precipitation: an evaluation and comparison of scenarios for the European Alps. J Geophys Res Atmos 112(4):1–20. https://doi.org/10.1029/2005JD007026

Schneider U, Becker A, Finger P, Meyer-christoffer A, Ziese M, Rudolf B (2014) GPCC's new land surface precipitation climatology based on quality-controlled in situ data and its role in quantifying the global water cycle. Theor Appl Climatol 115:15–40. https://doi.org/10.1007/s00704-013-0860-x

Sood A, Muthuwatta L, McCartney M (2013) A SWAT evaluation of the effect of climate change on the hydrology of the Volta River basin. Water Int 38(3):297–311. https://doi.org/10.1080/025080602013792404

Sylla MB, Gaye AT, Jenkins GS (2012) On the fine-scale topography regulating changes in atmospheric hydrological cycle and extreme rainfall over West Africa in a regional climate model projections. Int J Geophys 2012(981649):15. https://doi.org/10.1155/2012/981649

Taylor KE (2001) In a Single diagram. J Geophys Res 106(D7)):7183–7192. https://doi.org/10.1029/2000JD900719

Taylor KE, Stouffer RJ, Meehl GA (2012) An overview of CMIP5 and the experiment design. Bull Am Meteorol Soc 93(4):485–498. https://doi.org/10.1175/BAMS-D-11-000941

Thorncroft CD, Nguyen H, Zhang C, Peyrille P (2011) Annual cycle of the West African monsoon: regional circulations and associated water vapour transport. Q J R Meteorol Soc 137(654):129–147. https://doi.org/10.1002/qj728

Wetterhall F, Bádossy A, Chen D, Halldin S, Xu CY (2006) Daily precipitation-downscaling techniques in three Chinese regions. Water Resour Res 42(11):1–13. https://doi.org/10.1029/2005WR004573
Acknowledgements
We are grateful to the services that have operated the GPCC and CRU datasets for kindly making climate data used in this study available. We acknowledge the World Climate Research Programme's Working Group on Regional Climate and the Working Group on Coupled Modeling, former coordinating body of CORDEX and responsible panel for CMIP5. We also thank the climate modeling groups (listed in Table 1 of this paper) for producing and making available their model output. We also acknowledge the Earth System Grid Federation infrastructure an international effort led by the US Department of Energy's Program for Climate Model Diagnosis and Intercomparison, the European Network for Earth System Modeling, and other partners in the Global Organization for Earth System Science Portals (GO-ESSP). We thank the editor and the anonymous reviewers for their constructive comments and suggestions that helped to improve the quality of this paper.
Funding
This research was funded by Federal Ministry of Education and Research (BMBF) through the Graduate Research Program in Climate Change and Adapted Land Use (GRP-CCLU) of the West African Science Centre on Climate Change and Adapted Land Use (WASCAL) hosted by Kwame Nkrumah University of Science and Technology, Kumasi Ghana.
Additional information
Publisher's note
Springer Nature remains neutral with regard to jurisdictional claims in published maps and institutional affiliations.
About this article
Cite this article
Okafor, G., Annor, T., Odai, S. et al. Volta basin precipitation and temperature climatology: evaluation of CORDEX-Africa regional climate model simulations. Theor Appl Climatol 137, 2803–2827 (2019). https://doi.org/10.1007/s00704-018-2746-4
Received:

Accepted:

Published:

Issue Date: