Abstract
This study sought to improve general understanding on rainfall timing in Nigeria. Observed monthly rainfall data for 38 meteorological stations, spanning 30 years was utilized, and the dates of onset and cessation of rainfall were estimated using Walter's method. The interrelationships among the variables and the dependency of the amount of rainfall were calculated using Pearson's moment correlation coefficient and multiple regression, respectively. The variance of the Standardized Anomaly Index (SAI) was used as a measure of spatial coherence. The study revealed divergent characteristics between the onset and the cessation of rainfall; progressing in opposite direction, with a very high latitudinal variation in each. Rainfall onset has a relatively high interannual variability, with an average CV of 21%, compared to 3.9% for cessation. Onset also has a larger spatial range of 137 days, compared to 82 days for cessation. Additionally, rainfall cessation was found to be more spatially coherent than the onset, but both revealed a weak spatial coherence. The relative spatial incoherence and high interannual variability of onset contrive to make it much less predictable than cessation. Interestingly, rainfall amount shows greater association with, and dependency on, onset, cessation, and rainy season length in stations of the extreme north, than in southern stations.
Access options
Buy single article
Instant access to the full article PDF.
US$ 39.95
Tax calculation will be finalised during checkout.
Subscribe to journal
Immediate online access to all issues from 2019. Subscription will auto renew annually.
US$ 119
Tax calculation will be finalised during checkout.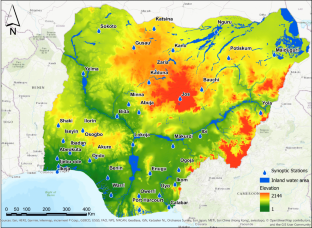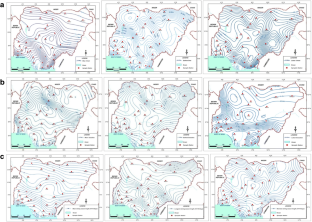 References
Adefisan EA, Abatan AA (2015) Agroclimatic zoning of Nigeria based on rainfall characteristics and index of drought proneness. J Environ Earth Sci 5:115–127

Adelekan IO, Adegebo BO (2014) Variation in onset and cessation of the rainy season in Ibadan. J Sci Res 13:13–21

Amanambu AC, Li L, Egbinola CN, Obarein OA, Mupenzi C, Chen D (2019) Spatio-temporal variation in rainfall-runoff erosivity due to climate change in the lower Niger Basin, West Africa. CATENA 172:324–334

Amekudzi LK, Yamba EI, Preko K, Asare EO, Aryee J, Baidu M, Codjoe SN (2015) Variabilities in rainfall onset, cessation and length of rainy season for the various agro-ecological zones of Ghana. Climate 3(2):416–434

Ati OF, Stigter CJ, Oladipo EO (2002) A comparison of the methods to determine the onset of the growing season in northern Nigeria. Int J Climatol 22:731–742

Ayoade JO (2004) Introduction to climatology for the tropics, 2nd edn. In: Spectrum Books

Ayoade JO (2008) Techniques in climatology. Stirling-Horden Publishers Ltd

Bello NJ (1996) An investigation of the characteristics of the onset and cessation of the rains in Nigeria. Theor Appl Climatol 54:161–173

Bello NJ (1997) Investigating the spatial pattern of the characteristics of the onset and cessation of the rains in Nigeria. GeoJournal 43:113–123

Benoit P (1977) The start of the growing season in northern Nigeria. Agric Meteorol 18:91–99

Camberlin P, Okoola RE (2003) The onset and cessation of the 'long rains' in eastern Africa and their inter-annual variability. Theor Appl Climatol 75:43–54

Camberlin P, Moron V, Okoola R, Philippon N, Gitau W (2009) Components of the rainy seasons' variability in Equatorial East Africa: onset, cessation, rainfall frequency and intensity. Theor Appl Climatol 98:237–249

Chen PY, Popovich PM (2002)Correlation: parametric and nonparametric measures. Sage publications

Dunning CM, Black EC, Allan RP (2016) The onset and cessation of seasonal rainfall over Africa. J Geophys Res: Atmos 121(19):11,405–11,424

Gebremichael A, Quraishi S, Mamo G (2014) Analysis of seasonal rainfall variability for agricultural water resource management in Southern Region, Ethiopia. J Nat Sci Res 4:56–80

Glass GV, Hopkins KD (1996) Statistical methods in education and psychology, 3rd edn. Allyn& Bacon

Hachigonta S, Reason CJC, Tadross M (2008) An analysis of onset date and rainy season duration over Zambia. Theor Appl Climatol 91:229–243

Kanemasu ET, Stewart JI, van Donk SJ, Virmani SM (1990) Agroclimatic approaches for improving agricultural productivity in semi-arid tropics. Adv Soil Sci 13:273–309

Katz RW, Glantz MH (1986) Anatomy of a rainfall index. Mon Weather Rev 114:764–771

Kowal JM, Knabe DT (1972) An agroclimatological atlas of the Northern States of Nigeria. Ahmadu Bello University Press, Zaria, p 111

Laux P, Kunstmann H, Bardossy A (2008) Predicting the regional onset of the rainy season in West Africa. Int J Climatol 28:329–342

Marteau R, Moron V, Philippon N (2009) Spatial coherence of monsoon onset over western and Central Sahel (1950–2000). J Clim 22:1313–1324

Moron V, Robertson AW, Ward MN (2006) Seasonal predictability and spatial coherence of rainfall characteristics in the tropical setting of Senegal. Mon Weather Rev 134:3248–3262

Moron V, Robertson AW, Ward MN, Camberlin P (2007) Spatial coherence of tropical rainfall at the regional scale. J Clim 20:5244–5263

Moron V, Robertson AW, Boer R (2009) Spatial coherence and seasonal predictability of monsoon onset over Indonesia. J Clim 22:840–850

Mubvuma MT (2013) Climate change: matching growing season length with maize crop varietal life cycles in semi-arid regions of Zimbabwe. Greener J Agric Sci 3:809–816

Mugalavai EM, Kipkorir EC, Raes D, Rao MS (2008) Analysis of rainfall onset, cessation and length of the growing season for western Kenya. Agric For Meteorol 148:1123–1135

Mupangwa W, Walker S, Twomlow S (2011) Start, end and dry spells of the growing season in semi-arid southern Zimbabwe. J Arid Environ 75:1097–1104

Nayagam LR, Janardanan R, Mohan HS (2008) An empirical model for the seasonal prediction of southwest monsoon rainfall over Kerala, a meteorological subdivision of India. Int J Climatol 28:823–831

Nieuwolt S (1982) Tropical climatology: an introduction to the climates of the low latitudes. John Wiley & Sons

Odekunle TO (2004) Rainfall and the length of the growing season in Nigeria. Int J Climatol 24:467–479

Odekunle TO (2006) Determining rainy season onset and retreat over Nigeria from precipitation amount and number of rainy days. Theor Appl Climatol 83:193–201

Odekunle TO, Adejuwon SA (2007) Assessing changes in the rainfall regime in Nigeria between 1961 & 2004. Geojournal 70:145–159

Oguntunde PG, Lischeid G, Abiodun BJ, Dietrich O (2014) Analysis of spatial and temporal patterns in onset, cessation and length of growing season in Nigeria. Agric For Meteorol 194:77–87

Oladipo EO, Kyari JD (1993) Fluctuations in the onset, termination and length of the growing season in Northern Nigeria. Theor Appl Climatol 47:241–250

Olaniran OJ (2002) Rainfall anomalies in Nigeria: the contemporary understanding. An Inaugural Lecture. Department of geography. University of Ilorin

Olaniran OJ, Sumner GN (1989) A study of climatic variability in Nigeria based on the onset, retreat, and length of the rainy season. Int J Climatol 9:253–269

Omotosho J, Balogun A, Ogunjobi K (2000) Predicting monthly and seasonal rainfall, onset and cessation of the rainy season in West Africa using only surface data. Int J Climatol 20:865–880

Recha CW, Makokha GL, Traore PS, Shinsanya C, Lodoun T, Sako A (2011) Determination of the seasonal rainfall variability, onset and cessation in semi-arid Tharaka district, Kenya. Theor Appl Climatol 108:479–494

Rutter J (2012) Variations in weather patterns on the ITCZ. Geofile online, No. 602. Nelson Thornes

Sivakumar MVK (1988) Predicting rainy season potential from the onset of rains in Southern Sahelian and Sudanian climatic zones of West Africa. Agric For Meteorol 42:295–305

Smithson P, Addison K, Atkinson K (2008) The physical environment, 4th edn. Routledge

Walter MW (1967) Length of the rainy season in Nigeria. Niger Geogr J 10:123–128
Acknowledgements
We would like to thank Professor J. O. Ayoade for his insight and comments that improved the paper. We are grateful to the reviewers for their intelligent input. We would also like to thank the Nigerian Meteorological Agency (NIMET) for the provision of the data used to complete this project.
Additional information
Publisher's note
Springer Nature remains neutral with regard to jurisdictional claims in published maps and institutional affiliations.
About this article
Cite this article
Obarein, O.A., Amanambu, A.C. Rainfall timing: variation, characteristics, coherence, and interrelationships in Nigeria. Theor Appl Climatol 137, 2607–2621 (2019). https://doi.org/10.1007/s00704-018-2731-y
Received:

Accepted:

Published:

Issue Date: