Abstract
Based on 1.5 °C and 2.0 °C warming experiments of Community Earth System Model, this study documents future changes in the East Asian summer monsoon (EASM) and associated monsoon precipitation. The model reproduces reasonably well the climatology of East Asian summer rainfall. All ensemble means show an increase in EASM intensity and associated precipitation over most parts of the East Asian region in 1.5 °C "never-exceed" (1.5degNE), 1.5 °C "overshoot" (1.5degOS), and 2.0 °C (2.0degNE) experiments. There is no significant difference in the future changes in EASM intensity, EASM precipitation, and its location among the three scenarios. A moisture budget analysis demonstrates that the increased precipitation over East Asia in three scenarios should be ascribed to the changes in evaporation, vertical motion, and humidity. The contributions of these three dominant terms increase sequentially under 1.5degNE, 1.5degOS, and 2degNE scenarios. However, the differences among the three scenarios are quite small in three dominant terms. Over East Asia, the contributions of evaporation and vertical motion are generally larger than that of humidity to the domain-averaged EASM rainfall in each scenario.
Access options
Buy single article
Instant access to the full article PDF.
USD 39.95
Price includes VAT (USA)
Tax calculation will be finalised during checkout.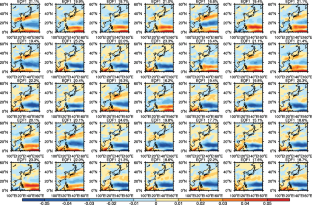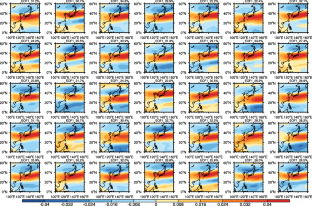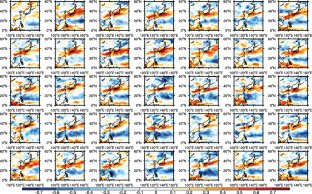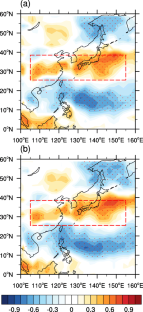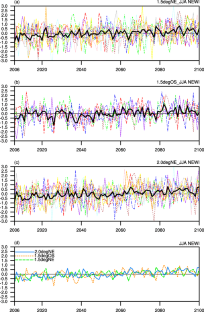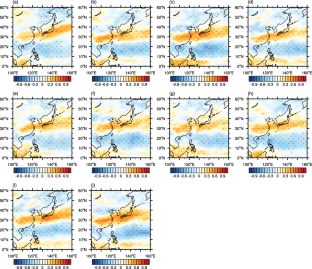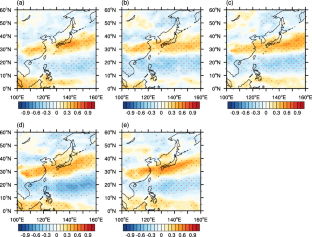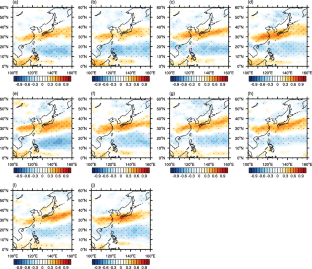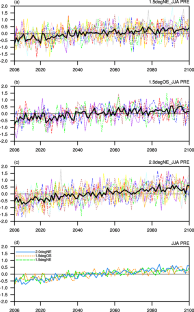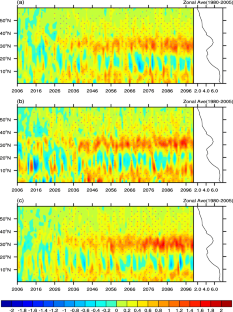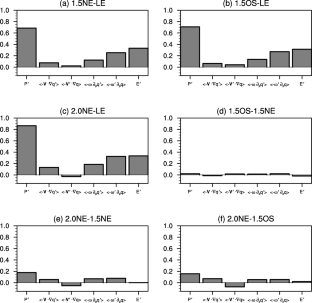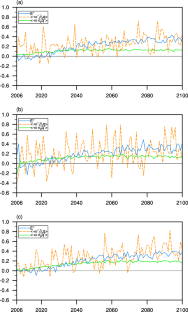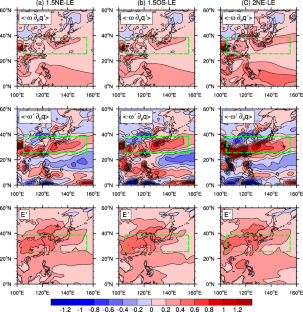 References
Bao Q (2012) Projected changes in Asian summer monsoon in RCP scenarios of CMIP5. Atmos Ocean Sci Lett 5:43–48. https://doi.org/10.1080/16742834.2012.11446959

Chadwick R, Wu P, Good P, Andrews T (2013) Asymmetries in tropical rainfall and circulation patterns in idealised CO2 removal experiments. Clim Dyn 40:295–316. https://doi.org/10.1007/s00382-012-1287-2

Chen H, Sun J (2013) Projected change in East Asian summer monsoon precipitation under RCP scenario. Meteorog Atmos Phys 121:55–77. https://doi.org/10.1007/s00703-013-0257-5

Chou C, Neelin JD (2004) Mechanisms of global warming impacts on regional tropical precipitation. J Clim 17:2688–2701. https://doi.org/10.1175/1520-0442(2004)017<2688:MOGWIO>2.0.CO;2

Chou C, Neelin JD, Chen CA, Tu JY (2009) Evaluating the "rich-get-richer" mechanism in tropical precipitation change under global warming. J Clim 22:1982–2005. https://doi.org/10.1175/2008jcli2471.1

Fan Y, Fan K, Xu Z, Li S (2018) ENSO–South China Sea summer monsoon interaction modulated by the Atlantic Multidecadal Oscillation. J Clim 31:3061–3076. https://doi.org/10.1175/JCLI-D-17-0448.1

Fu Y, Jiang D (2012) Climate change over China with a 2°C global warming. Chin J Atmos Sci 36:234–246. https://doi.org/10.3878/j.issn.1006-9895.2011.11074.(inChinese)

Held IM, Winton M, Takahashi K, Delworth T, Zeng FR, Vallis GK (2010) Probing the fast and slow components of global warming by returning abruptly to preindustrial forcing. J Clim 23:2418–2427. https://doi.org/10.1175/2009JCLI3466.1

Hu K, Huang G, Huang R (2011) The impact of tropical Indian Ocean variability on summer surface air temperature in China. J Clim 24:5365–5377. https://doi.org/10.1175/2011JCLI4152.1

Hu K, Huang G, Wu R (2013) A strengthened influence of ENSO on August high temperature extremes over the southern Yangtze River valley since the late 1980s. J Clim 26:2205–2221. https://doi.org/10.1175/JCLI-D-12-00277.1

Huang R, Zhang R, Yan B (1999) Progress in the studies on the interannual variability of climate system in East Asia and the problems to be studied further. China Basic Science Z1:66–75 (in Chinese)

Huang R, Cai R, Chen J, Zhou L (2006) Interdecadal variations of drought and flooding disasters in China and their association with the East Asian climate system. Chin J Atmos Sci 30:730–743 (in Chinese)

Huang RH, Chen JL, Huang G (2007) Characteristic's and variations of the East Asian monsoon system and its impacts on climate disasters in China. Adv Atmos Sci 24:993–1023. https://doi.org/10.1007/s00376-007-0993-x

Huffman GJ, Adler RF, Bolvin DT, Gu G (2009) Improving the global precipitation record: GPCP version 2.1. Geophys Res Lett 36:153–159. https://doi.org/10.1029/2009GL040000

Hurrell JW, Holland MM, Gent PR, Ghan S, Kay JE, Kushner PJ, Lamarque JF, Large WG, Lawrence D, Lindsay K, Lipscomb WH, Long MC, Mahowald N, Marsh DR, Neale RB, Rasch P, Vavrus S, Vertenstein M, Bader D, Collins WD, Hack JJ, Kiehl J, Marshall S (2013) The Community Earth System Model: a framework for collaborative research. Bull Am Meteorol Soc 94:1339–1360. https://doi.org/10.1175/BAMS-D-12-00121.1

IPCC (2013) Summary for policymakers. In: Stocker D, Qin G-K, Plattner M, Tignor SK, Allen J, Boschung A, Nauels Y, Xia V, Bex and Midgley PM (eds) Climate change 2013: the physical science basis. T. F. contribution of working group I to the fifth assessment report of the intergovernmental panel on climate Change. Cambridge, United Kingdom and New York, NY, pp 3-29. https://doi.org/10.1017/CBO9781107415324

Jiang DB, Tian ZP (2013) East Asian monsoon change for the 21st century: results of CMIP3 and CMIP5 models. Chin Sci Bull 58:1427–1435. https://doi.org/10.1007/s11434-012-5533-0

Jiang T, Kundzewicz ZW, Su B (2008) Changes in monthly precipitation and flood hazard in the Yangtze River basin, China. Int J Climatol 28:1471–1481. https://doi.org/10.1002/joc.1635

Kalnay E, Kanamitsu M, Kistler R, Collins W, Deaven D, Gandin L, Iredell M, Saha S, White G, Woollen J (1996) The NCEP/NCAR 40-year reanalysis project. Bull Am Meteorol Soc 77:437–471

Kay JE et al (2015) The Community Earth System Model (CESM) large ensemble project: a community resource for studying climate change in the presence of internal climate variability. Bull Am Meteorol Soc 96:197–210

Kitoh A, Endo H, Kumar KK, Cavalcanti IFA, Goswami P, Zhou T (2013) Monsoons in a changing world: a regional perspective in a global context. J Geophys Res-Atmos 118:3053–3065. https://doi.org/10.1002/jgrd.50258

Kusunoki S, Arakawa O (2012) Change in the precipitation intensity of the East Asian summer monsoon projected by CMIP3 models. Clim Dyn 38:2055–2072. https://doi.org/10.1007/s00382-011-1234-7

Kwon SH, Boo KO, Shim S, Byun YH (2017) Evaluation of the East Asian summer monsoon season simulated in CMIP5 models and the future change. Atmosphere 27:133–150 (in korean)

Lee JY, Wang B (2014) Future change of global monsoon in the CMIP5. Clim Dyn 42:101–119. https://doi.org/10.1007/s00382-012-1564-0

Lei Y, Hoskins B, Slingo J (2011) Exploring the interplay between natural decadal variability and anthropogenic climate change in summer rainfall over China. Part I: observational evidence. J Clim 24:4584–4599. https://doi.org/10.1175/2010JCLI3794.1

Li X, Ting M, Li C, Henderson N (2014) Mechanisms of Asian summer monsoon changes in response to anthropogenic forcing in CMIP5 models. J Clim 28:4107–4125. https://doi.org/10.1175/JCLI-D-14-00559.1

Long SM, Xie SP, Zheng XT, Liu QY (2014) Fast and slow responses to global warming: sea surface temperature and precipitation patterns. J Clim 27:285–299. https://doi.org/10.1175/Jcli-D-13-00297.1

Lu RY, Fu YH (2010) Intensification of East Asian summer rainfall interannual variability in the twenty-first century simulated by 12 CMIP3 coupled models. J Clim 23:3316–3331. https://doi.org/10.1175/2009JCLI3130.1

Qu X, Huang G, Zhou W (2014) Consistent responses of East Asian summer mean rainfall to global warming in CMIP5 simulations. Theor Appl Climatol 117:123–131. https://doi.org/10.1007/s00704-013-0995-9

Sanderson BM, O'Neill BC, Tebaldi C (2016) What would it take to achieve the Paris temperature targets? Geophys Res Lett 43:7133–7142. https://doi.org/10.1002/2016GL069563

Sanderson BM et al (2017) Community climate simulations to assess avoided impacts in 1.5 and 2 degrees C futures. Earth Syst Dynam 8:827–847. https://doi.org/10.5194/esd-8-827-2017

Seneviratne SI et al (2012) Changes in climate extremes and their impacts on the natural physical environment. In: Field CB et al (eds) Managing the risks of extreme events and disasters to advance climate change adaptation. Cambridge University Press, Cambridge

Seo K-H, Ok J, Son J-H, Cha D-H (2013) Assessing future changes in the East Asian summer monsoon using CMIP5 coupled models. J Clim 26:7662–7675. https://doi.org/10.1175/jcli-d-12-00694.1

Ueda H, Kamae Y, Hayasaki M, Kitoh A, Watanabe S, Miki Y, Kumai A (2015) Combined effects of recent Pacific cooling and Indian Ocean warming on the Asian monsoon. Nat Commun 6:8854. https://doi.org/10.1038/ncomms9854

UNFCCC (2015) Adoption of the Paris Agreement. FCCC/CP/2015/L.9/Rev.1

Wartenburger R, Hirschi M, Donat MG, Greve P, Pitman AJ, Seneviratne SI (2017) Changes in regional climate extremes as a function of global mean temperature: an interactive plotting framework. Geosci Model Dev Discuss 10:3609–3634. https://doi.org/10.5194/gmd-10-3609-2017

Xie P, Arkin PA (1997) Global precipitation: a 17-year monthly analysis based on gauge observations, satellite estimates, and numerical model outputs. Bull Am Meteorol Soc 78:2539–2558. https://doi.org/10.1175/1520-0477(1997)078<2539:GPAYMA>2.0.CO;2

Xu YY, Ramanathan V (2017) Well below 2 degrees C: mitigation strategies for avoiding dangerous to catastrophic climate changes. Proc Natl Acad Sci U S A 114:10315–10323. https://doi.org/10.1073/pnas.1618481114

Zhang Z, Sun X, Yang XQ (2018) Understanding the interdecadal variability of East Asian summer monsoon precipitation: joint influence of three oceanic signals. J Clim 31:5485–5506. https://doi.org/10.1175/JCLI-D-17-0657.1

Zhao G, Huang G, Wu R, Tao W, Gong H, Qu X, Hu K (2015) A new upper-level circulation index for the East Asian summer monsoon variability. J Clim 28:9977–9996. https://doi.org/10.1175/JCLI-D-15-0272.1

Zhou TJ, Yu R, Zhang J, Drange H, Cassou C, Deser C, Hodson DLR, Sanchez-Gomez E, Li J, Keenlyside N, Xin X, Okumura Y (2009) Why the western Pacific subtropical high has extended westward since the late 1970s. J Clim 22:2199–2215
Acknowledgments
We sincerely thank the Editor and the anonymous reviewer for their valuable comments and suggestions to improve the quality of this manuscript. We gratefully acknowledge the NCAR for the release of the CESM low warming experiment products.
Funding
This work was supported by the Strategic Priority Research Program of Chinese Academy of Sciences (XDA20060501), the National Natural Science Foundation of China (41831175, 41425019, 41721004 and 41661144016).
Additional information
Publisher's note
Springer Nature remains neutral with regard to jurisdictional claims in published maps and institutional affiliations.
About this article
Cite this article
Chen, L., Qu, X., Huang, G. et al. Projections of East Asian summer monsoon under 1.5 °C and 2 °C warming goals. Theor Appl Climatol 137, 2187–2201 (2019). https://doi.org/10.1007/s00704-018-2720-1
Received:

Accepted:

Published:

Issue Date: