Abstract
The impact on society of extreme temperature events is enormous. This study examines the temporal evolution and trends in mean temperatures (minimum temperature, TN; and maximum temperature, TX) and warm extremes in Nigeria as well as in three regions in Nigeria (Guinea, Savanna, and Sahel) using homogenized daily TN and TX for the period 1971–2012. Warm extremes are defined as days with TX > 35 °C (HotD) and nights with TN > 20 °C (TropN). The modified Mann–Kendall test is used to calculate and assess the statistical significance of trends in the indices. The results at annual and seasonal (JFM, AMJ, JAS, and OND) timescales indicate a significant positive increase in temperatures in Nigeria. The warming in annual and seasonal TN is greater than in TX. The temporal evolution in warm extremes is similar to those of the mean temperatures, with trends in TropN greater than those of the HotD. In all the regions, the temporal patterns of trends in mean temperatures and warm extremes are similar. The indices are characterized by positive trends, with the exception of HotD in Guinea with no data during JAS. Analysis of large-scale atmospheric fields during warm extreme days when both TX and TN exceed their respective 90th percentile thresholds shows that warm extreme days are associated with mid-tropospheric subsidence motion in vertical velocity anomaly that is connected with the core of the thermal low and the net convergent flow. These features are accompanied by positive surface shortwave radiation anomaly coupled with cloud cover reduction.
Access options
Buy single article
Instant access to the full article PDF.
USD 39.95
Price excludes VAT (USA)
Tax calculation will be finalised during checkout.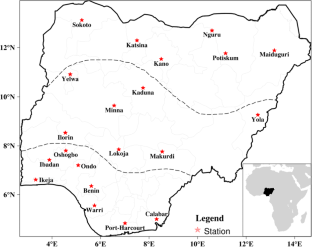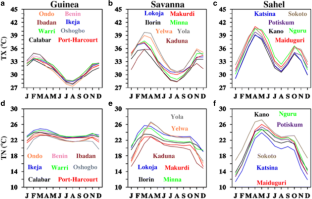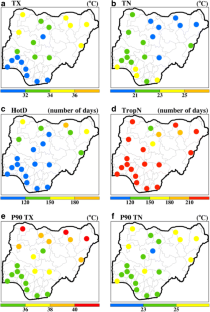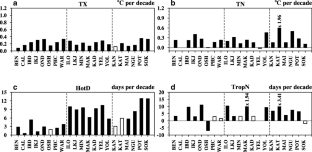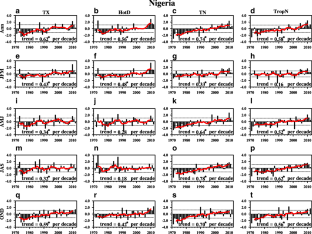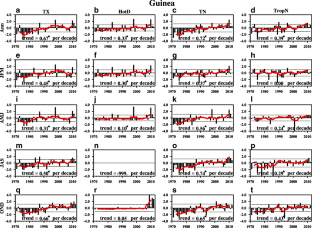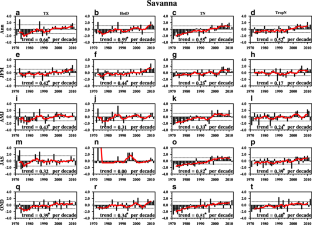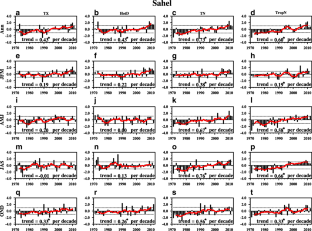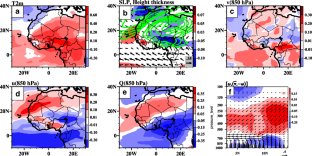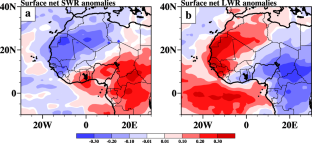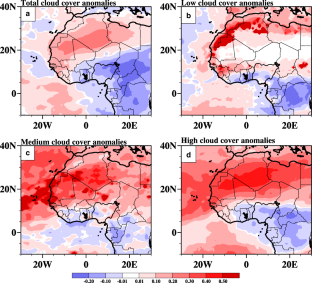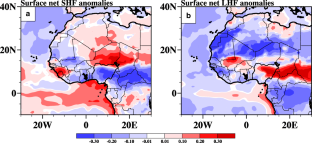 Notes
Expert Team on Climate Change Detection and Indices.
References
Abatan AA, Abiodun BJ, Omotosho BJ (2014) On the characteristics of sea breezes over Nigerian coastal region. Theor Appl Climatol 116:93–102. https://doi.org/10.1007/s00704-013-0931-z

Abatan AA, Abiodun BJ, Lawal KA, Gutowski WJ Jr (2016) Trends in extreme temperature over Nigeria from percentile-based threshold indices. Int J Climatol 36:2527–2540. https://doi.org/10.1002/joc.4510

Abatan AA, Abiodun BJ, Gutowski WJ Jr, Rasaq-Balogun SO (2018) Trends and variability in absolute indices of temperature extremes over Nigeria: linkage with NAO. Int J Climatol 38:593–612. https://doi.org/10.1002/joc.5196

Adefisan EA, Abatan AA (2015) Agroclimatic zoning of Nigeria based on rainfall characteristics and index of drought proneness. J Environ Earth Sci 5(12):2224–3216

Aguilar E, Barry AA, Brunet M, Ekang L, Fernandes A, Massoukina M, Mbah J, Mhanda A, do Nascimento DJ, Peterson TC, Umba OT, Tomou M, Zhang X (2009) Changes in temperature and precipitation extremes in western Central Africa, Guinea Conakry, and Zimbabwe, 1955–2006. J Geophys Res 114:DO2115. https://doi.org/10.1029/2008JD011010

Alexander LV, Zhang X, Peterson TC, Caesar J, Gleason B, Klein Tank AMG, Haylock M, Collins D, Trewin B, Rahimzadel F, Tagipour A, Rupa Kumar K, Revadekar J, Griffiths G, Vincent L, Stephenson DB, Burn J, Aguilar E, Brunet M, Taylor M, New M, Zhai P, Rusticucci M, Vazquez-Aguirre JL (2006) Global observed changes in daily climate extremes of temperature and precipitation. J Geophys Res 111:D05109. https://doi.org/10.1029/2005JD006290

Blain GC (2013) The modified Mann–Kendall test: on the performance of three variance correction approaches. Bragantia 72(4):416–425. https://doi.org/10.1590/brag.2013.045

Bouniol D, Couvreux F, Kamsu-Tamo P-H, Leplay M, Guichard F, Favot F (2012) Diurnal and seasonal cycles of cloud occurrences, types, and radiative impact over West Africa. J Appl Meteorol Climatol 51:543–553

Changnon SA, Kunkel KE, Reinke BC (1996) Impacts and responses to the 1995 heat wave: a call to action. Bull Am Meteorol Soc 77:1497–1506

Coley PF, Jonas PR (1999) Back to basic: clouds and the earth's radiation budget. Weather 54:66–70

Collins JM (2011) Temperature variability over Africa. J Clim 24:3649–3666

Dee D, Uppala SM, Simmons AJ, Berrisford P, Poli P, Kobayashi S, Andrae U, Balmaseda MA, Balsamo G, Bauer P, Bechtold P, Beljaars ACM, van de BL, Bidlot J, Bormann N, Delsol C, Dragani R, Fuentes M, Geer AJ, Haimberger L, Healy SB, Hersbach H, Hόlm EV, Isaksen L, Kållberg P, Köhler M, Matricardi M, McNally AP, Monge-Sanz BM, Morcrette J-J, Park B-K, Peubey C, de Rosnay P, Tavolato C, Thépaut J-N, Vitart F (2011) The ERA-interim reanalysis: configuration and performance of the data assimilation system. Quart J Roy Meteorol Soc 137:553–597. https://doi.org/10.1002/qj.828

Dittus AJ, Karoly DJ, Lewis SC, Alexander LV (2015) A multiregion assessment of observed changes in the areal extent of temperature and precipitation extremes. J Clim 28:9206–9220

Dittus AJ, Karoly DJ, Lewis SC, Alexander LV, Donat MG (2016) A multiregion model evaluation and attribution study of historical changes in the area affected by temperature and precipitation extremes. J Clim 29:8285–8299

Donat M, Alexander LV, Yang H, Durre I, Vose R, Dunn RJH, Willett KM, Aguilar E, Brunet M, Caesar J, Hewitson B, Jack C, Klein Tank AMG, Kruger AC, Marengo J, Peterson TC, Renom M, Oria Rojas C, Rusticucci M, Salinger J, Elrayah AS, Sekele SS, Srivastava AK, Trewin B, Villarroel C, Vincent LA, Zhai P, Zhang X, Kitching S (2013) Updated analyses of temperature and precipitation extreme indices since the beginning of the twentieth century: the HadEX2 dataset. J Geophys Res Atmos 118:2098–2118. https://doi.org/10.1002/jgrd.50150

Easterling DR, Evans JL, Groisman PY, Karl TR, Kunkel KE, Ambenje P (2000) Observed variability and trends in extreme climate events: a brief review*. Bull Am Meteorol Soc 81:417–425

Fontaine B, Janicot S, Monerie P-A (2013) Recent changes in air temperature, heat waves occurrences, and atmospheric circulation in northern Africa. J Geophys Res Atmos 118:8536–8552. https://doi.org/10.1002/jgrd.50667

Hamed KH, Rao AR (1998) A modified Mann–Kendall trend test for autocorrelated data. J Hydrol 204:182–196

Huber GD, Gulledge J (2011) Extreme weather and climate change: understanding the link and managing the risk. Science and Impacts Program. Center for Climate and Energy Solutions, Arlington, VA Available at: http://www.c2es.org/publications/extreme-weather-and-climate-change

IPCC (2007) Climate change: the physical science basis. Contribution of working group I to the fourth assessment report of the intergovernmental panel on climate change. Cambridge University Press, Cambridge

Kendall MG (1975) Rank correlation methods. Griffin, London

Klein Tank AMG, Peterson TC, Quadir DA, Dorji S, Zou X, Tang H, Santhosh K, Joshi UR, Jaswal AK, Kolli RK, Sikder AB, Deshpande NR, Revadekar JV, Yeleuova K, Vandasheva S, Faleyeva M, Gomboluudev P, Budhathoki KP, Hussain A, Afzaal M, Chandrapala L, Anvar H, Amanmurad D, Asanova VS, Jones PD, New MG, Spektorman T (2006) Changes in daily temperature and precipitation extremes in central and South Asia. J Geophys Res 111(D16105). doi:https://doi.org/10.1029/2005JD006316

Kruger AC, Sekele SS (2013) Trends in extreme temperature indices in South Africa: 1962–2009. Int J Climatol 33:661–676. https://doi.org/10.1002/joc.3455

Lake Chad, cited as (2016). http://www.unep.org/dewa/vitalwater/article116.html (last accessed December 10, 2016)

Lavaysse C, Flamant C, Janicot S, Parker DJ, Lafore J-P, Sultan B, Pelon J (2009) Seasonal evolution of the west African heat low: a climatological perspective. Clim Dyn 33:312–330

Mackellar N, New M, Jack C (2014) Observed and modelled trends in rainfall and temperature for South Africa: 1960–2010. South African J Sci 110(7/8):51–63

Mann HB (1945) Nonparametric tests against trend. Econometrica 13:245–259

Meehl GA, Tebaldi C, Walton G, Easterling D, McDaniel L (2009) The relative increase of record high maximum temperatures compared to record low minimum temperatures in the U.S. Geophys Res Lett 36(23):L23701. https://doi.org/10.1029/2009GL040736

Morak S, Hegerl GC, Kenyon J (2011) Detectable regional changes in the number of warm nights. Geophys Res Lett 38:L17703. https://doi.org/10.1029/2011GL048531

Moron V, Oueslati B, Pohl B, Rome S, Janicot S (2016) Trends of mean temperatures and warm extremes in northern tropical Africa (1961–2014) from observed and PPCA-reconstructed time series. J Geophys Res Atmos 121:5298–5319. https://doi.org/10.1002/2015JD024303

New M, Hewitson B, Stephenson DB, Tsiga A, Kruger A, Manhique A, Gomez B, Coelho CAS, Masisi DN, Kululanga E, Mbambalala E, Adesina F, Saleh H, Kayanga J, Adosi J, Bulane L, Fortunata L, Mdoka ML, Lajoie R (2006) Evidence of trends in daily climate extremes over southern and West Africa. J Geophys Res 111:D14102. https://doi.org/10.1029/2005JD006289

Oueslati B, Pohl B, Moron V, Rome S, Janicot S (2017) Characterization of heat waves in the Sahel and associated physical mechanisms. J Clim 30:3095–3115. https://doi.org/10.1175/JCLI-D-16-0432.1

Patra JP, Mishra A, Singh R, Raghuwanshi NS (2012) Detecting rainfall trends in twentieth century (1871–2006) over Orissa state. India Clim Change 111:801–817. https://doi.org/10.1007/s1058-011-0215-5

Peterson TC, Folland C, Gruza G, Hogg W, Mokssit A, Plummer N (2001) Report on the Activities of the Working Group on Climate Change detection and Related Rapporteurs 1998–2001. International CLIVAR Project Office: Southampton, UK, pp. 143

Rehman S, Al-Hadhrami LM, Mohandes MA (2012) Extreme temperature variability over high topography. Open J Air Pollut 1:1–11. https://doi.org/10.4236/ojap.2012.11001

Tabari H, Talaee PH (2011) Recent trends of mean maximum and minimum air temperatures in the western half of Iran. Meteorol Atmos Physics 111:121–131. https://doi.org/10.1007/s00703-011-0125-0

Thorncroft CD, Nguyen H, Zhang C, Peyrillé P (2011) Annual cycle of the west African monsoon: regional circulations and associated water vapour transport. Quart J Roy Meteorol Soc 137:129–147

Tomczyk AM, Piotrowski P, Bednorz E (2017) Warm spells in northern Europe in relation to atmospheric circulation. Theor Appl Climatol 128:623–634

Yue S, Pilon PJ, Phinney B, Cavadias G (2002) The influence of autocorrelation on the ability to detect trend in hydrological series. Hydrol Process 16:1807–1829. https://doi.org/10.1002/hyp.1095
Acknowledgements
We appreciate the editor and the three reviewers for their comments and contributions. All thanks to God for His infinite mercy.
Funding
Abiodun is supported by the National Research Foundation (NRF, South Africa). This work is supported by US National Science Foundation through Earth System Modeling (EaSM) grant number AGS-1243030 and partly by the US Department of Energy through grant DE-SC0016438.
Additional information
Publisher's note
Springer Nature remains neutral with regard to jurisdictional claims in published maps and institutional affiliations.
About this article
Cite this article
Abatan, A.A., Abiodun, B.J., Adefisan, E.A. et al. Hot days and tropical nights in Nigeria: trends and associated large-scale features. Theor Appl Climatol 137, 2077–2093 (2019). https://doi.org/10.1007/s00704-018-2713-0
Received:

Accepted:

Published:

Issue Date:

DOI: https://doi.org/10.1007/s00704-018-2713-0
Keywords
Hot days

Warm nights

Warm extreme days

Nigeria

Large-scale atmospheric fields