Abstract
Recent studies have reported contrasting inferences in the variability and trends of Indian summer monsoon rainfall (ISMR). These studies have analysed the ISMR variability from a seasonal perspective. The present study observed the monthly ISMR trends from June to September for the period 1980–2015.The results show a significant contrasting trend of rainfall over India (in the heavy, moderate as well as low rainfall regions) in each month of the summer season. A significant decline of rainfall is occurring in June over the monsoon onset regions of the southwest coast of India. The rainfall trend over India exhibits a pattern similar to active type (above normal rainfall over central India and below normal in the foothills of Himalayas and southeast India) in July and September, conversely, a pattern similar to break type occurs in August. The monthly variability of summer rainfall is due to the changing pattern of low pressure over the Indian landmass and the associated modulation of zonal and meridional moisture flow as well as low-level vertical motion. The study also observes widespread spatial variability in the monthly trends of ISMR and concludes that the seasonal trend analysis does not reveal the actual pattern in the monthly trends of ISMR.
Access options
Buy single article
Instant access to the full article PDF.
USD 39.95
Price excludes VAT (USA)
Tax calculation will be finalised during checkout.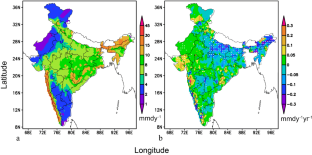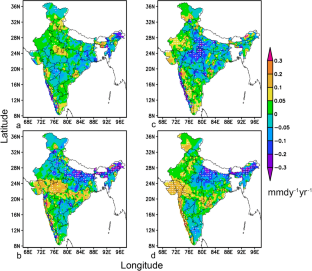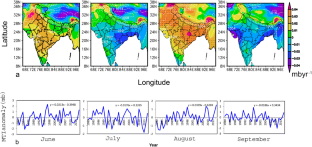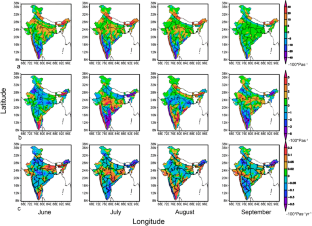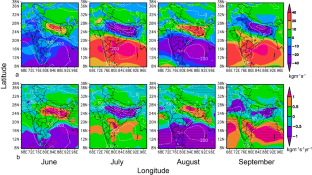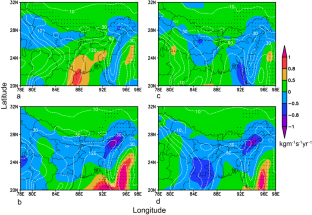 References
Ajayamohan R, Rao SA (2008) Indian Ocean dipole modulates the number of extreme rainfall events over India in a warming environment. J Meteorol Soc Japan Ser II 86:245–252

Annamalai H, Sperber KR (2016) South Asian summer monsoon variability in a changing climate. In: de Carvalho VLM, Jones C (eds) The monsoons and climate change: observations and modeling. Springer, Berlin, pp 25–46

Ashok K, Guan Z, Saji N, Yamagata T (2004) Individual and combined influences of ENSO and the Indian Ocean dipole on the Indian summer monsoon. J Clim 17:3141–3155

Chou C (2003) Land-sea heating contrasts in an idealized Asian summer monsoon. Clim Dyn 21:11–25

Decremer D, Chung CE, Ekman AML, Brandefelt J (2014) Which significance test performs the best in climate simulations? Tellus A 66:23139

Dee DP, Uppala SM, Simmons AJ, Berrisford P, Poli P, Kobayashi S, Andrae U, Balmaseda MA, Balsamo G, Bauer P, Bechtold P, Beljaars ACM, van de Berg L, Bidlot J, Bormann N, Delsol C, Dragani R, Fuentes M, Geer AJ, Haimberger L, Healy SB, Hersbach H, Hólm EV, Isaksen L, Kållberg P, Köhler M, Matricardi M, McNally AP, Monge-Sanz BM, Morcrette JJ, Park BK, Peubey C, de Rosnay P, Tavolato C, Thépaut JN, Vitart F (2011) The ERA-interim reanalysis: configuration and performance of the data assimilation system. Q J R Meteorol Soc 137(656):553–597

Dessler AE, Davis SM (2010) Trends in tropospheric humidity from reanalysis systems. J Geol Res 115:D19127

Fasullo J, Webster P (2003) A hydrological definition of Indian monsoon onset and withdrawal. J Clim 16:3200–3211

Findlater JA (1970) A major low-level air current near the Indian Ocean during northern summer: inter hemispheric transport of air in the lower troposphere over western Indian Ocean. Q J R Meteorol Soc 96:551–554

Ghosh S, Luniya V, Gupta A (2009) Trend analysis of Indian summer monsoon rainfall at different spatial scales. Atmos Sci Lett 10(4):285–290

Ghosh S, Das D, Kao S-C, Ganguly AR (2012) Lack of uniform trends but increasing spatial variability in observed Indian rainfall extremes. Nat Clim Chang 2:86–91

Ghosh S, Vittal H, Sharma T, Karmakar S, Kasiviswanathan KS, Dhanesh Y, Sudheer KP, Gunthe SS (2016) Indian summer monsoon rainfall: implications of contrasting trends in the spatial variability of means and extremes. PLoS One 11(7):e0158670

Goswami BN, Venugopal V, Sengupta D, Madhusoodanan MS, Xavier PK (2006) Increasing trend of extreme rain events over India in a warming environment. Science 314:1442–1444

Guhathakurta P, Rajeevan M (2008) Trends in the rainfall pattern over India. Int J Climatol 28(11):1453–1469

Jain SK, Kumar V, Saharia M (2013) Analysis of rainfall and temperature trends in northeast India. Int J Climatol 33(4):968–978

Jin Q, Wang C (2017) A revival of Indian summer monsoon rainfall since 2002. Nat Clim Chang 7:587–594

Kajikawa Y, Yasunari T, Yoshida S, Fujinami H (2012) Advanced Asian summer monsoon onset in recent decades. Geophys Res Lett 39:L03803

Konwar M, Parekh A, Goswami BN (2012) Dynamics of east-west asymmetry of Indian summer monsoon rainfall trends in recent decades. Geophys Res Lett 39:L10708

Krishnamurthy V, Shukla J (2000) Intraseasonal and interannual variability of rainfall over India. J Clim 13:4366–4377

Krishnamurti T, Bhalme H (1976) Oscillations of a monsoon system. Part I. observational aspects. J Atmos Sci 33:1937–1954

Kulkarni A (2012) Weakening of Indian summer monsoon rainfall in warming environment. Theor Appl Climatol 109:447–459

Kumar KK, Rajagopalan B, Hoerling M, Bates G, Cane M (2006) Unraveling the mystery of Indian monsoon failure during El Niño. Science 314:115–119

Kumar V, Jain SK, Singh Y (2010) Analysis of long-term rainfall trends in India. Hydrol Sci J 55(4):484–496

Li C, Yanai M (1996) The onset and interannual variability of the Asian summer monsoon in relation to land–sea thermal contrast. J Clim 9:358–375

Loo YY, Billa L, Singh A (2015) Effect of climate change on seasonal monsoon in Asia and its impact on the variability of monsoon rainfall in Southeast Asia. Geosci Front 6(6):817–823

Mallya G, Mishra V, Niyogi D, Tripathi S, Govindraju RS (2016) Trends and variability of droughts over the Indian monsoon region. Weather Clim Extremes 12:43–68

Mooley DA, Shukla J (1989) Index of activity of the monsoon trough over India. MAUSAM 40(247):258

Naidu CV, Durgalakshmi K, Muni Krishna K, Ramalingeswara Rao S, Satyanarayana GC, Lakshminarayana P, Malleswara Rao L (2009) Is summer monsoon rainfall decreasing over India in the global warming era? J Geophys Res 114:D24108

Pai D, Sridhar L, Badwaik M, Rajeevan M (2015) Analysis of the daily rainfall events over India using a new long period (1901–2010) high resolution (0.25° × 0.25°) gridded rainfall data set. Clim Dyn 45:755–776

Parthasarathy B, Yang S (1995) Relationships between regional Indian summer monsoon rainfall and Eurasian snow cover. Adv Atmos Sci 12:143–150

Prakash S, Sathiyamoorthy V, Mahesh C, Gairola RM (2013) Is summer monsoon rainfall over the west coast of India decreasing? Atmos Sci Lett 14:160–163

Preethi B, Mujumdar M, Kripalani RH, Prabhu A, Krishnan R (2017) Recent trends and tele-connections among South and East Asian summer monsoons in a warming environment. Clim Dyn 48(7–8):2483–2505

Priya P, Krishnan R, Mujumdar M, Houze RA (2016) Changing monsoon and midlatitude circulation interactions over the Western Himalayas and possible links to occurrences of extreme precipitation. Clim Dyn 49:2351–2364

Raghavan K (1973) Break monsoon over India. Mon Weather Rev 101:33–43

Rajeevan M, Bhate J, Jaswal A (2008) Analysis of variability and trends of extreme rainfall events over India using 104 years of gridded daily rainfall data. Geophys Res Lett 35:L1870

Raman RMR, Ratnam VM, Rajeevan M, Rao JVVM, Rao VBS (2011) Intriguing aspects of monsoon low level jet over peninsular India revealed by high-resolution GPS radiosonde observations. J Atmos Sci 68:1413–1423

Ramesh Kumar MR, Desai URP (2004) A new criterion for identifying breaks in monsoon conditions over the Indian subcontinent. Geophys Res Lett 31(18):1–3

Ratna SB, Cherchi A, Joseph PV, Behera SK, Abish B, Masina S (2016) Moisture variability over the Indo-Pacific region and its influence on the Indian summer monsoon rainfall. Clim Dyn 46:949–965

Roxy MK, Ritika K, Terray P, Murtugudde R, Ashok K, Goswami BN (2015) Drying of Indian subcontinent by rapid Indian Ocean warming and a weakening land-sea thermal gradient. Nat Commun 6:7423

Roxy MK, Ghosh S, Pathak A, Athulya R, Mujumdar M, Murtugudde R, Terray P, Rajeevan M (2017) A threefold rise in widespread extreme rain events over central India. Nat Commun 8:708

Sabeerali CT, Rao SA, Ajayamohan RS, Murtugudde R (2012) On the relationship between Indian summer monsoon withdrawal and Indo-Pacific SST anomalies before and after 1976/1977 climate shift. Clim Dyn 39:841–859

Saha A, Ghosh S, Sahana AS, Rao EP (2014) Failure of CMIP5 climate models in simulating post-1950 decresing trend of Indian monsoon. Geophys Res Lett 41:7323–7330

Sahana AS, Ghosh S, Ganguly A, Murtugudde R (2015) Shift in Indian summer monsoon onset during 1976/1977. Environ Res Lett IOP 10:054006

Sandeep S, Ajayamohan R (2014) Poleward shift in Indian summer monsoon low level jetstream under global warming. Clim Dyn 45:337–351

Sharma S, Mujumdar P (2017) Increasing frequency and spatial extent of concurrent meteorological droughts and heatwaves in India. Sci Rep 7:15582

Stephenson D (2001) Searching for a fingerprint of global warming in the Asian summer monsoon. Mausam 52:213–220

Subbaramayya I, Naidu CV (1992) Spatial variations and trends in the Indian monsoon rainfall. Int J Climatol 12:597–609

Syroka J, Toumi R (2004) On the withdrawal of the Indian summer monsoon. Q J R Meteorol Soc 130:989–1008

Turner AG, Annamalai H (2012) Climate change and the South Asian summer monsoon. Nat Clim Chang 2:587–595

Varikoden H, Revadekar JV, Kuttippurath J et al (2018) Contrasting trends in southwest monsoon rainfall over the Western Ghats region of India. Clim Dyn. https://doi.org/10.1007/s00382-018-4397-7 (pub online)

Viswambharan N, Mohanakumar K (2013) Signature of a southern hemisphere extratropical influence on the summer monsoon over India. Clim Dyn 41(2):367–379

Viswambharan N, Mohanakumar K (2014) Modulation of Indian summer monsoon through northern and southern hemispheric extra-tropical oscillations. Clim Dyn 43:925–938

Vittal H, Ghosh S, Karmakar S, Pathak A, Murtugudde R (2016) Lack of dependence of Indian summer monsoon rainfall extremes on temperature: an observational evidence. Sci Rep 6:31039

Wang B, Xiang B, Li J, Webster PJ, Rajeevan MN, Liu J, Ha KJ (2015) Rethinking Indian monsoon rainfall prediction in the context of recent global warming. Nat Commun 6:7154

Webster PJ, Magaña VO, Palmer TN, Shukla J, Tomas RA, Yanai M, Yasunari T (1998) Monsoons: processes, predictability, and the prospects for prediction. J Geophys Res Oceans 103:14451–14510
Acknowledgements
The author expresses his sincere thanks to IMD, CWC, Dibrugarh (India), Susana Barbosa, Vikraam, Suresh and anonymous reviewers. Sincere thanks to Amrutha Dilip, for the systematic editing of the manuscript.
Ethics declarations
Competing interests
The author declares that there are no competing interests.
Additional information
Publisher's Note
Springer Nature remains neutral with regard to jurisdictional claims in published maps and institutional affiliations.
Electronic supplementary material
a) Regional map of India, the four black boxed regions are the selected grid points for Monsoon trough Index (MTI), The area enclosed in red dotted region represent the selected low pressure region over India b) Linear trend of area average zonal moisture flow (ZMF), meridional moisture flow(MMF) [left axis] and vertical velocity at 850 mb [right axis] in summer months over Northeast India (880 E - 970 E, 260 N- 280 N), Central Northeast India (800 E - 840 E, 250 N- 280 N), Northwest India (700 E - 760 E, 240 N- 320 N), Central India (770 E - 800 E, 220 N- 280 N) and Southeast India (77.50 E - 800 E, 80 N- 130 N) for the period1980-2015. Area averaged synchronous correlation between the rainfall and ZMF, MMF and vertical velocity at 850 mb for the period 1980-2015 significant at the 95 % confidence level are denoted as (S) in the figure legend. The vertical velocity is multiplied by -100. The vertical velocity is in -100×Pas-1,ZMF and MMF is in kgm-1s-1. Positive value represents westerly ZMF, southerly MMF, low level upward motion (vertical velocity), whereas a negative value represents easterly ZMF, northerly MMF, low level sinking motion (vertical velocity) (PNG 2.08 MB)
About this article
Cite this article
Viswambharan, N. Contrasting monthly trends of Indian summer monsoon rainfall and related parameters. Theor Appl Climatol 137, 2095–2107 (2019). https://doi.org/10.1007/s00704-018-2695-y
Received:

Accepted:

Published:

Issue Date:

DOI: https://doi.org/10.1007/s00704-018-2695-y