Abstract
The Arabian Sea basin represents a minor component of global total cyclones annually and has not featured so prominently in cyclone research compared with other basins where greater numbers of cyclones are registered each year. This paper presents the results of exploratory analysis of various features of cyclone tracks in the Arabian Sea, with a particular focus on examining their temporal and spatial patterns. Track morphometry also reveals further information on track shape. The study indicates how cyclones spawned during May in the early pre-monsoon period (often strong events) have a tendency to follow more sinuous tracks, whereas cyclones occurring in October in the post-monsoon period tend to follow straighter tracks. Track sinuosity is significantly related to other attributes, including cyclone longevity and intensity. Comparisons are also drawn between the general characteristics of cyclone tracks in the Arabian Sea and other ocean basins, suggesting how the size and geography of the Arabian Sea basin exert influences on these characteristics.
Access options
Buy single article
Instant access to the full article PDF.
USD 39.95
Price includes VAT (USA)
Tax calculation will be finalised during checkout.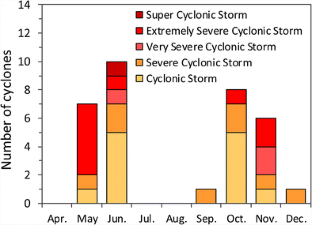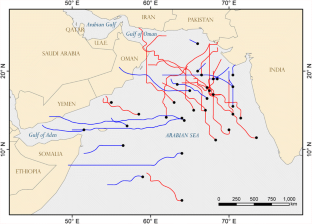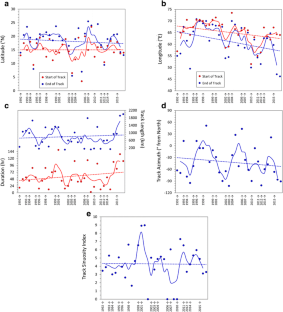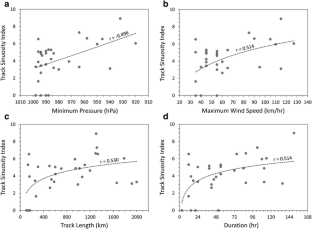 References
Bender MA, Knutson TR, Tuleya RE, Sirutis JJ, Vecchi GA, Garner ST, Held IM (2010) Modeled impact of anthropogenic warming on the frequency of intense Atlantic hurricanes. Science 327:454–458

Bhaskar Rao DV, Naidu CV, Srinivasa Rao BR (2001) Trends and fluctuations of the cyclonic systems over North Indian Ocean. MAUSAM: Q J Meteorol Hydrol Geophys 52:1–8

Camargo SJ, Robertson AW, Gaffney SJ, Smyth P, Ghil M (2007a) Cluster analysis of typhoon tracks. Part I: general properties. J Clim 20:3635–3653

Camargo SJ, Robertson AW, Gaffney SJ, Smyth P, Ghil M (2007b) Cluster analysis of typhoon tracks. Part II: large-scale circulation and ENSO. J Clim 20:3654–3676

Colbert AJ, Soden BJ (2012) Climatological variations in North Atlantic tropical cyclone tracks. J Clim 25:657–673

Elsner JB, Kossin JP, Jagger TH (2008) The increasing intensity of the strongest tropical cyclones. Nature 455:92–95

Evan AT, Camargo SJ (2011) A climatology of Arabian Sea cyclonic storms. J Clim 24:140–158

Evan AT, Kossin JP, Chung CE, Ramanathan V (2011) Arabian Sea tropical cyclones intensified by emissions of black carbon and other aerosols. Nature 479:94–97

Feng, C-C, Terry JP (2012) Exploratory spatial analysis of typhoon characteristics in the North Pacific basin. In: Natural hazards in the Asia–Pacific Region: recent advances and emerging concepts. Terry JP, Goff JR (eds), Geological Society of London, Special Publication no.361, 187–194

Fritz HM, Blount CD, Albusaidi FB, Al-Harthy AHM (2010) Cyclone Gonu storm surge in Oman. Estuar Coast Shelf Sci 86:102–106

Gray WM (1968) Global view of the origin of tropical disturbances and storms. Mon Weather Rev 96:669–700

Ho CH, Baik JJ, Kim JH, Gong DY, Sui CH (2004) Interdecadal changes in summertime typhoon tracks. J Clim 17:1767–1776

IPCC 2013. Climate change 2013: the physical science basis. Contribution of working group I to the fifth assessment report of the intergovernmental panel on climate change. T.F. Stocker, D. Qin, G.-K. Plattner, M. Tignor, S.K. Allen, J. Boschung, A. Nauels, Y. Xia, V. Bex and P.M. Midgley (Eds). Cambridge University Press, Cambridge, United Kingdom and New York, NY, USA, 1535 pp.

Kerr RA (2010) Models foresee more-intense hurricanes in the greenhouse. Science 327:399

Knapp KR, Kruk MC, Levinson DH, Diamond HJ, Neumann CJ (2010) The International Best Track Archive for Climate Stewardship (IBTrACS): unifying tropical cyclone best track data. Bull Am Meteorol Soc 91:363–376

Nakamura J, Lall U, Kushnir Y, Camargo SJ (2009) Classifying North Atlantic tropical cyclone tracks by their mass moments. J Clim 22:5481–5494

Nakazawa T, Rajendran K (2007) Relationship between tropospheric circulation over the western North Pacific and tropical cyclone approach/landfall on Japan. J Meteorol Soc Jpn 85:101–114

NOAA 2017. International Best Track Archive for Climate Stewardship (IBTrACS). National Oceanic and Atmospheric Administration. Retrieved January 2017 from <http://www.ncdc.noaa.gov/oa/ibtracs/>

Singh OP, Khan TMA, Rahman MS (2001) Has the frequency of intense tropical cyclones increased in the north Indian Ocean? Curr Sci 80:575–580

Terry JP, Feng CC (2010) On quantifying the sinuosity of typhoon tracks in the western North Pacific basin. Appl Geogr 30:678–686

Terry JP, Gienko G (2010) Climatological aspects of South Pacific tropical cyclones, based on analysis of the RSMC-Nadi (Fiji) regional archive. Clim Res 42:223–233

Terry JP, Gienko G (2011) Developing a new sinuosity index for cyclone tracks in the tropical South Pacific. Nat Hazards 59:1161–1174

Terry JP, Kim I-H, Jolivet S (2013) Sinuosity of tropical cyclone tracks in the South West Indian Ocean: spatio-temporal patterns and relationships with fundamental storm attributes. Appl Geogr 45:29–40

Terry JP, Kim I-H (2015) Morphometric analysis of tropical storm and hurricane tracks in the North Atlantic basin using a sinuosity-based approach. Int J Climatol 35:923–934

Tyagi A, Bandyopadhyay BK, Mohapatra M, Goel S, Kumar N, Mazumdar AB, Khole M (2011) A report on the super cyclonic storm "GONU" during 1–7 June, 2007. India Meteorological Department, Government of India, pp 82

Wang D, Zhao H (2008) Estimation of phytoplankton responses to Hurricane Gonu over the Arabian Sea based on ocean color data. Sensors 8:4878–4893

Wang B, Xu S, Wu L (2012) Intensified Arabian Sea tropical storms. Nature 489:E1–E2

Wu L, Wang B (2004) Assessing impacts of global warming on tropical cyclone tracks. J Clim 17:1686–1698

Xie L, Yan T, Pietrafesa L, Morrison J, Karl T (2005) Climatology and interannual variability of North Atlantic hurricane tracks. J Clim 18:5370–5381
Acknowledgements
J Terry duly acknowledges research funding support from Zayed University through Provost's Research Fellowship award no. R17095. Helpful comments on the original manuscript were provided by an anonymous reviewer.
About this article
Cite this article
Terry, J.P., Gienko, G. Quantitative observations on tropical cyclone tracks in the Arabian Sea. Theor Appl Climatol 135, 1413–1421 (2019). https://doi.org/10.1007/s00704-018-2445-1
Received:

Accepted:

Published:

Issue Date: