Abstract
Rainfall and temperature are the most important environmental factors influencing crop growth, development, and yield. The northwestern (NW) part of India is one of the main regions of food grain production of the country. It comprises of six meteorological subdivisions (Haryana, Punjab, West Rajasthan, East Rajasthan, Gujarat and Saurashtra, Kutch and Diu). In this study, attempts were made to study variability and trends in rainfall and temperature during 30-year climate normal periods (CN) and 10-year decadal excess or deficit rainfall frequency during the historical period from 1871 to 2016. The Mann-Kendall and Spearman's rank correlation (Spearman's rho) tests were used to determine significance of trends. Least square linear fitting method was adopted to find out the slopes of the trend lines. The long-term mean annual rainfall over North West India is 587.7 mm (standard deviation of 153.0 mm and coefficient of variation 26.0). There was increasing trend in minimum and maximum temperatures during post monsoon season in entire study period and current climate normal period (1991–2016) due to which the sowing of rabi season crops may be delayed and there may be germination problem too. There was a non-significant decreasing trend in rainfall during monsoon season and an increasing trend in rainfall during post monsoon over North West India during entire study period. During current CN5 (1991–2016), all the subdivision (except the Saurashtra region) showed a decreasing trend in rainfall during monsoon season which is a matter of concern for kharif crops and those rabi crops which are grown as rainfed on conserved soil moisture. The decadal annual and seasonal frequencies of excess and deficit years results revealed that the annual total deficit rainfall years (24) exceeded total excess rainfall years (22) in North West India during the entire study period. While during the current decadal period (2011 to 2016), single year was the excess year and 2 years were deficit rainfall years in all subdivisions (except East Rajasthan) on annual basis.
Access options
Buy single article
Instant access to the full article PDF.
USD 39.95
Price includes VAT (USA)
Tax calculation will be finalised during checkout.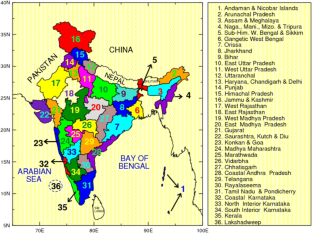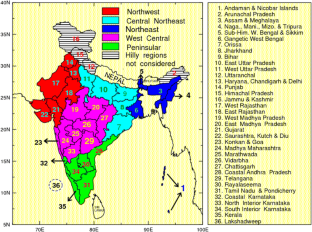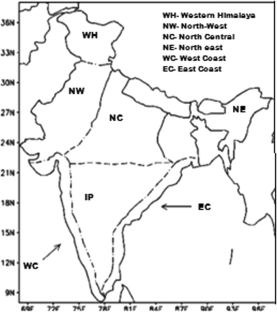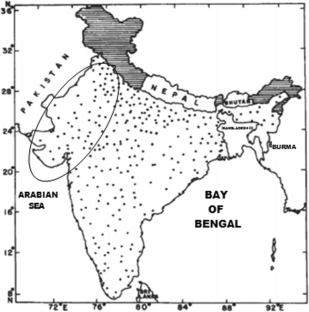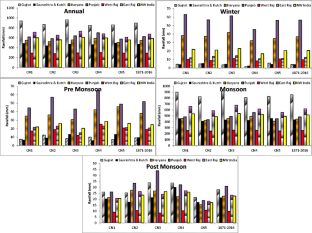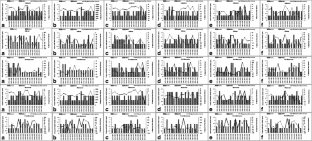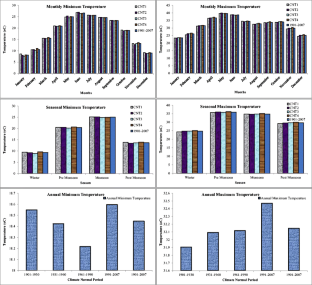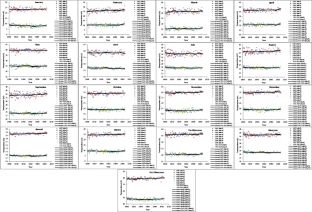 References
Chen LX, Dong M, Shao YN (1992) The characteristic of international variations on the east Asian monsoon. J Met Soc Jpn 70:397–421

Guhathakurta P, Rajeevan M (2007) Trends in the rainfall pattern over India. Int J Climatol 28(11):1453–1469. https://doi.org/10.1002/joc.1640

Hansen J, Ruedy R, Sato M, Imhoff M, Lawrence W, Easterling D, Peterson T, Karl T (2001) A closer look at United States and global surface temperature change. J Geo Res 106(23):947–1023

Inter-governmental Panel on Climate Change (IPCC) (2007) Climate change 2007: impacts, adaptations and vulnerability. In: Pany MJ, Canziani OF, Palutikof JP, van der Linden PJ, Hanson CE (eds) Cambridge University Press, Cambridge

Izrael Y, Anokin Y, Eliseev AD (1997) Vulnerability and adaptation assessments. Final report of the Russian country study on climate problem, Russian Federal service for hydrometeorology and environmental monitoring, Vol. 3, Task 3. Roshydromet, Moscow, p 105

Jagannathan P, Parthasarathy B (1973) Trends and periodicities of rainfall over India. Mon Weather Rev 101:371–375

Kadioglu M (1997) Trends in surface air temperature data over Turkey. Int J Climatol 17:511–520

Kendall MG (1975) Rank correlation methods. Charles Griffin, London

Koteswaram P, Alvi SMA (1969) Secular trends and periodicities in rainfall at west coast stations in India. Curr Sci 101:371–375

Kothawale DR, Revadekar JV, Rupa Kumar K (2010) Recent trends in pre-monsoon daily temp extremes over India. J Earth Sys Sci 119(1):51–65

Krishnakumar KN, Prasada Rao GSLHV, Gopakumar CS (2009) Rainfall trends in twentieth century over Kerala, India. Atmos Env 43:1940–1944

Mann HB (1945) Nonparametric tests against trend. Econometrica 13:245–259

Mirza MQ, Dixit A (1997) Climate change and water management in the GBM basins. Water Nepal 5:71–100

Mooley DA, Parthasarathy B (1983) Variability of Indian summer monsoon rainfall and tropical circulation features. Mon Weather Rev 111:967–968

Pant GB, Kumar KR (1997a) Clim Change Asia. Wiley, West Sussex

Pant GB, Kumar KR (1997b) Climates of South Asia. John Wiley & Sons Ltd., Chichester

Parthasarathy B (1984) Inter annual and long term variability of Indian summer monsoon rainfall. Proc Indian Acad Sci Earth Planet Sci 93:371–385

Parthasarathy B, Dhar ON (1974) Secular variations of regional rainfall over India. Quart J Royal Met Soc 100(424):245–257

Parthasarathy B, Rupakumar K, Munot AA (1993) Homogenous Indian monsoon rainfall: variability and prediction. Proc Indian Acad Sci Earth Planet Sci 102:121–115

Parthasarathy B, Munot AA, Kothawale DR (1995a) All India monthly seasonal rainfall series: 1871–1993. Theor Appl Climatol 49:217–224

Parthasarathy B, Munot AA, Kothawale DR (1995b) Monthly and seasonal rainfall series for all-India homogeneous regions and meteorological subdivisions: 1871–1994. Research Report No. RR-065. IITM, Pune, p 113

Peterson TC, Vose RS (1997) An overview of the Global Historical Climatology Network temperature database. Bull. Am Met Soc 78:2837–2849

Pramanik SK, Jagannathan P (1954) Climate change in India rainfall. Ind J Met Geophysics 4:291–309

Rankova E (1998) Climate change during the 20th century for the Russian Federation. In: Abstract Book of the 7th International Meeting on Statistical Climatology, Whistler, British Columbia, Canada, 25–29 May, Abstract 102:98

Ren G, Wu H, Chen Z (2000) Spatial pattern of precipitation change trend of the last 46 years over China. J Appl Met 11(3):322–330

Rupa Kumar K, Sahai AK, Krishna Kumar K, Patwardhan SK, Mishra PK, Revadekar JV, Kamala K, Pant GB (2006) High-resolution climate change scenarios for India for the 21st century. Curr Sci 90(3):334–345

Rupakumar K, Pant GB, Parthasarthy B, Sonatak NA (1992) Spatial and sub seasonal pattern of the long term trends of Indian summer monsoon rainfall. Int J Climatol 12:257–268

Sadhukhan I, Lohar D, Pal DK (2000) Pre-monsoon season rainfall variability over Gangetic West Bengal and its neighborhood, India. Int J Climatol 20(12):1485–1149

Salinger MJ, Griffiths GM (2001) Trends in New Zealand daily temperature and rainfall extremes. Int J Climatol 21:1437–1452

Singh N, Sontakke NA (2002) On climate change fluctuations and environmental changes of the Indo-Gangetic plains, India. Clim Chang 52:287–313

Singh OP, Ali K, Tariq M, Sazedur R (2001) Has the frequency of intense tropical cyclones increased in the north Indian ocean? Curr Sci 80(475):575–580

Subash N, Ram Mohan HS (2010) An investigation into observational characteristics of rainfall and temperature in Central Northeast India—a historical perspective 1889–2008. Theor App Clim 103:305–319. https://doi.org/10.1007/s00704-010-0299-2

Subash N, Ram Mohan HS, Sikka AK (2011a) Decadal frequency and trends of extreme excess/deficit rainfall during the monsoon season over different meteorological sub-divisions of India. Hyd Sci J 56(7):1090–1109. https://doi.org/10.1080/02626667.2011.608677

Subash N, Singh SS, Neha P (2011b) Variability of rainfall and effective onset and length of the monsoon season over a sub-humid climatic environment. Atm Res 99:479–487

Wibig J, Glowicki B (2002) Trends of minimum and maximum temperature in Poland. Clim Res 20:123–133

WMO (World Meteorological Organization) (1989) Calculation of monthly and annual 30-year standard normals. WCDP, No. 10,WMO-TD/No. 341, Geneva. https://www.imd.gov.in/hydrometweb/PRODUCTS/Publications/Rainfallreports
About this article
Cite this article
Saxena, R., Mathur, P. Recent trends in rainfall and temperature over North West India during 1871–2016. Theor Appl Climatol 135, 1323–1338 (2019). https://doi.org/10.1007/s00704-018-2416-6
Received:

Accepted:

Published:

Issue Date: