Abstract
During recent years, various studies have focused on investigating the direct and indirect impacts of climate changes in Iran while the noteworthy fact is the achievement gained by these researches. Furthermore, what should be taken into consideration is whether these studies have been able to provide appropriate opportunities for improving further studies in this particular field or not. To address these questions, this study systematically reviewed and summarized the current available literature (n = 150) regarding the impacts of climate change on temperature and precipitation in Iran to assess our current state of knowledge. The results revealed that while all studies discuss the probable changes in temperature and precipitation over the next decades, serious contradictions could be seen in their results; also, the general pattern of changes was different in most of the cases. This matter may have a significant effect on public beliefs in climate change, which can be a serious warning for the activists in this realm.
Access options
Buy single article
Instant access to the full article PDF.
USD 39.95
Price includes VAT (USA)
Tax calculation will be finalised during checkout.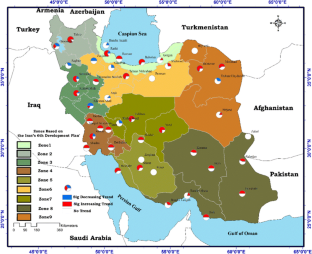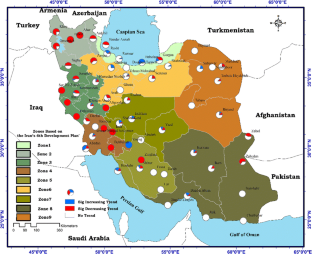 References
Abbasi F, Asmari M (2011) Forecasting and assessment of climate change over Iran during future decades by using MAGICC-SCENGEN model. J Water Soil 25(1):70–83 [In Persian]

Abbasi F, Malbusi S, Babaeian I, Asmari M, Borhani R (2010) Climate change prediction of South Khorasan province during 2010-2039 by using statistical downscaling of ECHO-G data. J Water Soil 24(2):218–233 [In Persian]

Abbasi F, Babaeian I, Malbusi S, Asmari M, Mokhtari LG (2012) Climate change assessment over Iran during future decades, using statistical downscaling of ECHO-G model. Geogr Res 27(1):205–230 [In Persian]

Ahani H, Kherad M, Kousari MR, Rezaeian-Zadeh M, Karampour MA, Ejraee F, Kamali S (2012) An investigation of trends in precipitation volume for the last three decades in different regions of Fars province, Iran. Theor Appl Climatol 109(3–4):361–382

Ahani H, Kherad M, Kousari MR, van Roosmalen L, Aryanfar R, Hosseini SM (2013) Non-parametric trend analysis of the aridity index for three large arid and semi-arid basins in Iran. Theor Appl Climatol 112(3–4):553–564

Alijani B, Ghavidel Rahimi Y (2005) Comparison and prediction of the temperature variations of Tabriz with the global temperature anomalies through the use of regression and artificial neural network methods. Geogr Dev Iran J 3(6):17–28 [In Persian]

Alijani B, Mahmoudi P, Salighe M, Rigi Chahi A (2011) Study of annual maximum and minimum temperatures changes in Iran. Geogr Res 26(3):101–122 [In Persian]

Alijani B, Mahmoudi P, Chogan AJ (2012a) A study of annual and seasonal precipitation trends in Iran using a nonparametric method (Sen's slope estimator). J Clim Res 3(6):23–42 [In Persian]

Alijani B, Roshani A, Parak F, Heydari R (2012b) Trends in extreme daily temperature using climate change indices in Iran. Geogr Environ Hazards 1(2):17–28 [In Persian]

Anderegg W, Prall JW, Harold J, Schneider SH (2010) Expert credibility in climate change. Proc Natl Acad Sci 107:12107–12109

Araghi A, Mousavi-Baygi M, Adamowski J (2015) Detection of trends in days with extreme temperatures in Iran from 1961 to 2010. Theor Appl Climatol 125(1–2):213–225

Asadi A, Heydari A (2011) Analysis of temperature and precipitation changes of shiraz during the period of 1951-2005. Geogr Environ Plan 22(1):137–152 [In Persian]

Asakereh H (2002) Statistical study of annual precipitation trends in Tabriz. Geogr Space 10:57–67 [In Persian]

Asakereh H (2017) Trends in monthly precipitation over the northwest of Iran (NWI). Theor Appl Climatol 130(1–2):443–451

Asakereh H, Razmi R (2011) Change of the precipitation regime in northwest of Iran. J Clim Res 4(7–8):99–114 [In Persian]

Asakereh H, Razmi R (2012) Analysis of annual precipitation changes in northwest of Iran. Geogr Environ Plan 23(3):147–162

Asgari A, Rahimzadeh F, Mohammadian N, Fattahi E (2008) Trend analysis of extreme precipitation indices over Iran. Iran Water Resour Res 3(3):42–55 [In Persian]

Ashofteh PS, Massah Bavani AR (2009) Impact of climate change uncertainty on temperature and precipitation of Aidoghmoush basin in 2040-2069 period. Water Soil Sci 1(2):85–98 [In Persian]

Ashraf Vaghefi S, Mousavi SJ, Abbaspour KC, Srinivasan R, Yang H (2014) Analyses of the impact of climate change on water resources components, drought and wheat yield in semiarid regions: Karkheh river basin in Iran. Hydrol Process 28(4):2018–2032

Ataei H, Fanaie R (2012) Studying the climate change of Markazi province by Mann-Kendall. Nivar 76-77:37–48 [In Persian]

Ataei H, Fanaei R, Rajaei Rizi MA, Fatehi M (2013) Using statistical models to identify the phenomenon of climate change case study: Kerman and Bam stations. Town Country Plan 10(39):89–101 [In Persian]

Azari M, Moradi HR, Saghafian B, Faramarzi M (2013) Assessment of hydrological effects of climate change in Gourganroud river basin. J Water Soil 27(3):537–547 [In Persian]

Azizi G, Karimi Ahmad Abadi M, Sabokkhiz Z (2006) Temperature trend and atmospheric CO2 concentration over Iran in recent decades. J Geogr Sci 4(5):27–45 [In Persian]

Azizi G, Shamsipour AA, Yarahmadi D (2008) Detection climate change using multivariable statistical analysis in west of Iran. Phys Geogr Res Q 66:19–35 [In Persian]

Babaeian I, Kouhi M (2012) Agroclimatic indices assessment over some selected weather stations of Khorasan Razavi province under climate change scenarios. J Water Soil 26(4):953–967 [In Persian]

Babaeian I, Najafi-Nik Z (2010) Climate change assessment in Khorasan-e Razavi province from 2010 to 2039 using statistical downscaling of GCM output. J Geogr Reg Dev Res 8(15):1–18 [In Persian]

Babaeian I, Najafi-Nik Z, Zabol Abbassi F, Habibi Nokhandan M, Adab H, Malbousi S (2009) Climate change assessment over Iran during 2010–2039 by using statistical downscaling of ECHO-G model. Geogr Dev 7(16):135–152 [In Persian]

Babaeian I, Modirian R, Karimian M, Zarghami M (2015) Simulation of climate change in Iran during 2071-2100 using PRECIS regional climate modelling system. Desert 20-2:123–134

Bahremand A, Hamdami G, Saniyi E (2013) Long-term changes trend analysis in rainfall and discharge in West Lake Urmia. J Watershed Manag Res 4(8):43–57 [In Persian]

Bakhshi J, Biroodian N (2007) Climatic change in Arak during past 40 years. Q Jangal- va Marta 75:72–78 [In Persian]

Bakhtiari B, Purmusavi S, Sayari N (2015) Impact of climate change on intensity-duration-frequency curves of precipitation (case study: Babolsar station). Iran J Irrig Drain 8(4):694–704 [In Persian]

Bani Hashemi N, Kardavani P (2015) Simulation of climate change impacts on south-western Asia heavy precipitation (case study: Kurdistan province, Iran). Indian J Sci Technol 8(22):1–9

Behmanesh J, Azad Talatape N (2015) Investigation of effective meteorological parameters variations in Urmia climate. J Geogr Plan 19(51):41–58 [In Persian]

Bizikova L, Echeverría D, Hammill A (2014) Systematic review approach to identifying key trends in adaptation governance at the supranational level. CCAFS Working Paper no. 93. CGIAR Research Program on Climate Change, Agriculture and Food Security (CCAFS), Copenhagen

Blain GC (2015) The influence of nonlinear trends on the power of the trend-free pre-whitening approach. Acta Scientiarum. Agronomy 37(1):21–28

Blunden J, Arndt DS (2015) State of the climate in 2014. Bull Am Meteorol Soc 96(7):ES1–ES32

Cook J, Nuccitelli D, Green SA, Richardson M, Winkler B, Painting R, Way R, Jacobs P, Skuce A (2013) Quantifying the consensus on anthropogenic global warming in the scientific literature. Environ Res Lett 8(2):024024

Daneshfaraz R, Razzaghpour H (2014) Evaluation of climate change impacts on potential evapotranspiration in the West Azerbaijan province. Q Geogr Space 14(46):119–221

Darand M (2014) Analysis of variations in extreme temperature and precipitation in Oromieh indices as the signs of climate change. J Water Soil Conserv 21(2):1–29 [In Persian]

Darand M (2015) Variation of Iran's air temperature from earth surface to lower stratosphere as an index of climate change during 1979-2014. J Earth Space Phys 41(2):337–350 [In Persian]

Dastorani MT, Bavani AM, Poormohammadi S, Rahimian MH (2011) Assessment of potential climate change impacts on drought indicators (case study: Yazd station, central Iran). Desert 16:159–167

Delghandi M, Massah Bavani AR, Ajorloo MJ, Broomandnasab S, Andarzian B (2014) Risk assessment of climate change impacts on production and phenology of wheat (case study: Ahvaz region). Journal of Water and Irrigation Management 4(2):161–175 [In Persian]

Delju AH, Ceylan A, Piguet E, Rebetez M (2013) Observed climate variability and change in Urmia Lake Basin, Iran. Theor Appl Climatol 111(1–2):285–296

Doran PT, Zimmerman MK (2009) Examining the scientific consensus on climate change. EOS Trans Am Geophys Union 90(3):22–23

Ebrahimi H, Alizadeh A, Javanmard S (2006) The study of temperature variation in the plain of Mashhad as the index of climate change in the region. Q Geogr Res 20(4):5–18 [In Persian]

Ebrahimpour M, Ghahreman N, Liaghat A (2012) An evaluation of SIMETAW model for simulating climatic variables and an assessment of climate change impact on potential evapotranspiration (case study: Mashhad). Iran J Soil Water Res (IJSWR) 43(4):349–356 [In Persian]

Eslamian S, Khordadi MJ, Abedi-Koupai J (2011) Effects of variations in climatic parameters on evapotranspiration in the arid and semi-arid regions. Glob Planet Chang 78(3):188–194

Etemadi H, Samadi SZ, Sharifikia M, Smoak JM (2015) Assessment of climate change downscaling and non-stationarity on the spatial pattern of a mangrove ecosystem in an arid coastal region of southern Iran. Theor Appl Climatol 126(1–2):35–49

Fakhri M, Farzaneh MR, Eslamian S, Khordadi MJ (2012) Confidence interval assessment to estimate dry and wet spells under climate change in Shahrekord station, Iran. J Hydrol Eng 18:911–918

Farajzadeh M (2013) Climate change effects on river discharge-case study Sheshpir river. Geogr Environ Plan 24(1):17–32 [In Persian]

Farsadnia F, Rostami Kamrod M, Moghadam Nia A (2012) Rainfall trend analysis of Mazandaran province using regional Mann-Kendall test. Iran Water Resour Res 8(2):60–70 [In Persian]

Feizi V, Mollashahi M, Farajzadeh M (2012) Spatial and temporal trend analysis of temperature and precipitation in Iran. Q Spatial Plan (Modares Hum Sci) 16(4):49–66 [In Persian]

Feizi V, Mollashahi M, Farajzadeh M, Azizi G (2014) Spatial and temporal trend analysis of temperature and precipitation in Iran. ECOPERSIA 2(4):727–742

Ford JD, Pearce T (2010) What we know, do not know, and need to know about climate change vulnerability in the western Canadian Arctic: a systematic literature review. Environ Res Lett 5(1):014008

Ford JD, Berrang-Ford L, Paterson J (2011) A systematic review of observed climate change adaptation in developed nations. Clim Chang 106(2):327–336

Gandomkar A, Khadem Alhosseini A (2009) The study of precipitation changes on Zabol (Iran). Environ Based Territorial Plan (Amayesh) 2(6):65–76 [In Persian]

Ghamghami M, Ghahreman N, Hejabi S (2014) Detection of climate change effect on meteorological droughts in northwest of Iran. J Earth Space Phys 40(1):167–184 [In Persian]

Ghanghermeh A, Roshan GR (2012) An analysis of global warming effect on the temperature variations in the northwest of Iran. Phys Geogr Res Q 44(4):61–80 [In Persian]

Ghasemi AR (2015) Changes and trends in maximum, minimum and mean temperature series in Iran. Atmos Sci Lett 16(3):366–372

Ghiami Shomami F, Marofi S, Sabziparvar AA, Zare Abyane H, Heydari M (2011) Detection of climate change using air temperature series in the west of Iran. Irrig Water Eng 12(6):10–25 [In Persian]

Ghorbani K (2015) Spatial and seasonal pattern in climate change, temperatures across Iran. J Water Soil Conserv 21(5):257–270 [In Persian]

Ghorbani MH, Soltani AAF (2003) Climatic change in Gorgan during past 40 years. Bimonthly J Agric Sci Nat Resour 9(4):3–13 [In Persian]

Ghorbani K, Valizadeh E (2014) Studying frost and chilling dates affecting agriculture under climate change (case study: Mashhad, Tabriz and Qazvin). Water Soil Conserv 21(4):197–214 [In Persian]

Gill M, Munier A, Ogden A, Eamer J, Duerden F, Hik D, Riedlinger SFD, Thorpe N, Johnson I, Jensen M (2001) Climate change impacts in northern Canada: assessing our current knowledge. North Rev 24:144–149

Haghtalab N, Goodarzi M, Habibi Nokhandan M, Yavari AR, Jafari HR (2013) Climate modeling in Tehran & Mazandaran provinces by LARSWG and comparing changes in northern and southern central Alborz hillside. J Environ Sci Technol 15(1):37–49 [In Persian]

Hamed KH, Rao AR (1998) A modified Mann-Kendall trend test for autocorrelated data. J Hydrol 204(1):182–196

Hartmann DL, Klein Tank AMG, Rusticucci M, Alexander LV, Brönnimann S, Charabi Y, Dentener FJ, Dlugokencky EJ, Easterling DR, Kaplan A, Soden BJ, Thorne PW, Wild M, Zhai PM (2013) In: Stocker TF, Qin D, Plattner GK, Tignor M, Allen SK, Boschung J, Nauels A, Xia Y, Bex V, Midgley PM (eds) Observations: atmosphere and surface. In: climate change 2013: the physical science basis. Contribution of working group I to the fifth assessment report of the intergovernmental panel on climate change. Cambridge University Press, Cambridge

Hashemin Nasab F, Mousavi Baygi M, Bakhtiari B, Davari K (2013) Prediction the rainfall changes with downscaling LARS-WG and HadCM3 models in Kerman during the next 20 years (2030-2011). Irrig Water Eng 3(12):43–58 [In Persian]

Hooshmand D, Khordadi MJ (2014) Uncertainty assessment of AOGCMs and emission scenarios in climatic parameters estimation (case study in Mashhad synoptic station). Geogr Environ Hazards 3(11):77–92 [In Persian]

IPCC (1990) Climate change: the intergovernmental panel on climate change scientific assessment. WMO/UNEP/IPCC, Cambridge University Press, Cambridge 365 pp

IPCC (2001) Climate Change 2001: The scientific basis. Contribution of working group I to the Third Assessment Report of the Intergovernmental Panel on Climate change [Houghton JT, Ding Y, Griggs DJ, Noguer M, van der Linden PJ, Dai X, Maskell K, Johnson CA (eds.)]. Cambridge University Press, Cambridge, United Kingdom and New York, NY, USA, p 881

Irannezhad P, Katiraei P, Hajam S (2007) Contribution from the variations of precipitation frequency and daily intensity to the precipitation trend in Iran over the period 1960-2001. J Earth Space Phys 33(1):67–83 [In Persian]

Jafari M (2008) Investigation and analysis of climate change factors in Caspian zone forests for last fifty years. Iran J For Poplar Res 16(2):314–326 [In Persian]

Jahandideh M, Shirvani A (2012) Trend analysis for the precipitation time sub-series in Fars province. Water Eng 5(12):69–77 [In Persian]

Jani R, Ghorbani MA, Shamsaei A (2015) Analysis of monthly rainfall in the Bandar Anzali using chaos theory under climate change condition. Iran Water Res J 9(1):29–39 [In Persian]

Kalanaki M, Karandish F (2015) Predicting the long-term effect of climate change on climatic variables in humid region. Irrig Water Eng 5(20):131–148 [In Persian]

Kamal R, Massah Bavani A (2011) The uncertainty assessment of AOGCM & hydrological models for estimating Gharesu basin temperature, precipitation, and runoff under climate change impact. Iran Water Res J 5(9):39–49 [In Persian]

Karimi Kakhki M, Sepehri A (2010) Climate change trends during two periods in Hamedan and Tabriz. Water Soil Sci 20(4):143–155 [In Persian]

Kazemi Rad L, Mohammadi H (2015) Climate change assessment in Gilan province, Iran. Int J Agric Crop Sci 8(2):86–93

Khalili Aghdam N, Soltani A (2009) Assessment of climate change during last fifty years in Urmia. J Water Soil Conserv 16(4):141–151 [In Persian]

Khalili Aghdam N, Mosaedi A, Soltani A, Kamkar B (2012) Evaluation of ability of LARS-WG model for simulating some weather parameters in Sanandaj. J Water Soil Conserv 19(4):85–102 [In Persian]

Khalili A, Bazrafshan J (2004) Trend analysis of annual, seasonal and monthly precipitation over Iran during the last 116 years. DESERT 9(1):25–33 [In Persian]

Khalili A, Rahimi J (2014) High-resolution spatiotemporal distribution of precipitation in Iran: a comparative study with three global-precipitation datasets. Theor Appl Climatol 118(1–2):211–221

Kheirandish M, Ghahreman N, Bazrafshan J (2013) A study of the effects of climate change on length of growing season in several climatic regions of Iran. Iran J Soil Water Res 44(2):143–150 [In Persian]

Khosh Akhlagh F, Negahban S, Roshan GR, Baghiyane HR, Gharibi E (2010) Review the role and effect of climate changes on the climate comfort of Yazd city by the use of EVANZ model. Geogr Dev Iran J 8(20):167–181 [In Persian]

Koocheki A, Nasiri M, Kamali GA, Shahandeh H (2006) Potential impacts of climate change on agroclimatic indicators in Iran. Arid Land Res Manag 20(3):245–259

Koocheki M, Nassiri G, Kamali A (2007) Climate indices of Iran under climate change. Iran J Field Crops Res 5(1):133–142 [In Persian]

Kouhi M, Sanaei Nejad H (2013) Evaluation of climate change scenarios based on two statistical downscaling methods for reference evapotranspiration in Urmia region. Iran J Irrig Drain 7(4):559–574 [In Persian]

Kouhi M, Babaeian I, Mousavi Baygi M, Farid Hosseini AR, Khazanedari L (2013) Projected changes in precipitation extremes of Mashhad during the twenty first century. Iran Water Resour Res 9(1):61–74 [In Persian]

Kousari MR, Zarch MAA (2011) Minimum, maximum, and mean annual temperatures, relative humidity, and precipitation trends in arid and semi-arid regions of Iran. Arab J Geosci 4(5–6):907–914

Kousari MR, Ekhtesasi MR, Tazeh M, Naeini MAS, Zarch MAA (2011) An investigation of the Iranian climatic changes by considering the precipitation, temperature, and relative humidity parameters. Theor Appl Climatol 103(3–4):321–335

Laleh Siah Piran M, Zoljodi M, Fatahi E, Mahsafar H (2012) Simulating the trend of temperature and precipitation change in stations selected in the great Karun basin. J Clim Res 3(9):83–93 [In Persian]

Leiserowitz AA, Maibach EW, Roser-Renouf C, Smith N, Dawson E (2013) Climategate, public opinion, and the loss of trust. Am Behav Sci 57(6):818–837

Lewandowsky S, Gignac GE, Vaughan S (2013) The pivotal role of perceived scientific consensus in acceptance of science. Nat Clim Chang 3(4):399–404

Lomborg B (2003) The skeptical environmentalist: measuring the real state of the world, vol 1. Cambridge University Press, Cambridge

Lwasa S (2015) A systematic review of research on climate change adaptation policy and practice in Africa and South Asia deltas. Reg Environ Chang 15(5):815–824

Mahdi Zadeh S, Meftah Halghi M, Seyyed Ghasemi S, Mosaedi A (2011) Study of precipitation variation due to climate change (case study: Golestan Dam basin). J Water Soil Conserv 18(3):117–132 [In Persian]

Mahmoodi A, Zarei AAR, Bijanzadeh E (2012) The study of climatic parameters of the station during the years 1951 to 2005. Nivar 77:29–36 [In Persian]

Maryanaji Z, Karimi J, Sheykholmolouki Y (2013) Investigation of existence of trend in temperature time series of Esfahan province using Mann-Kendall and NRMC methods. Q Geogr Data (SEPEHR) 22(86):12–16 [In Persian]

Masoodian SA, Darand M (2012) Analysis and recognition of variability in extreme precipitation indices in Iran during the previous decades. J Geogr Reg Dev Res J 11(20):239–257 [In Persian]

Michaels P (2004) Meltdown: the predictable distortion of global warming by scientists, politicians, and the media. Cato Institute, Washington, DC

Modaresi F, Araghinejad S, Ebrahimi K, Kholghi M (2010) Regional assessment of climate change using statistical tests: case study of Gorganroud-Gharehsou basin. J Water Soil 24(3):476–489 [In Persian]

Modarres R, da Silva VDPR (2007) Rainfall trends in arid and semi-arid regions of Iran. J Arid Environ 70(2):344–355

Moghbel M, Davoudi M, Neyestani A, Taghavi F (2012) Identifying the changes in precipitation regime over Iran during recent decades. Nivar 73:54–65 [In Persian]

Mohamadi H, Taghavi F (2005) The trend of extreme temperature and precipitation indices in Tehran. J Geogr Res 53(2):151–172 [In Persian]

Mohammadi B (2011) Trend analysis of annual rainfall over Iran. Geogr Environ Plan 22(3):95–106 [In Persian]

Mohammadlou M, Haqizadeh A, Zeinivand H, Karimi H (2014) The prediction of climatic drought: a case study of Urmia and Khoy cities. Int Bull Water Resour Dev 2(4):80–93 [In Persian]

Molanejad M, Soltani M, Ranjbar A (2014) Changes in precipitation extremes in climate variability over northwest Iran. Int J Agric Policy Res 2(10):334–345

Montazeri M (2014) Time-spatial investigation of Iran's annual temperatures during 1961-2008. Geogr Dev 12(36):209–228 [In Persian]

Mozafari G, Shafiei S, Taghizade Z (2015) Assessment of drought condition in the Sistan and Baluchestan province during (2012- 2031) using downscaling the data of atmospheric general circulation model. Q Geogr Data (SEPEHR) 24(93):101–114 [In Persian]

Naderi M, Raeisi E (2016) Climate change in a region with altitude differences and with precipitation from various sources, south-Central Iran. Theor Appl Climatol 124(3–4):529–540

Omidvar K, Khosravi Y (2010) Investigation of change of some climatic elements in north coast of Persian Gulf using Kendal test. Geogr Environ Plan 21(38):33–46 [In Persian]

Omidvar K, Salary H (2013) The study of temperature and precipitation trends in west and northwestern Iran. Geography 11(37):271–288 [In Persian]

Parak F, Roshani A, Jamalib JB (2015) Trends and anomalies in daily climate extremes over Iran during 1961–2010. J Environ Agric Sci 2(11):1–17

Pew Research Center (2015) Public and scientists' views on science and society. Retrieved from http://www.pewinternet.org/2015/01/29/public-and-scientists-views-on-science-andsociety/

Pirnia A, Habibnejad Roshan M, Solaimani K (2015) Investigation of precipitation and temperature changes in Caspian sea southern coasts and its comparison with changes in northern hemisphere and global scales. J Watershed Manag Res 6(11):90–100 [In Persian]

Pooralihosein S, Massah Bavani AR (2013) Risk analysis and assessment of impacts of climate change on temperature and precipitation of East Azerbaijan in 2013-2022. J Earth Space Phys 49(4):208–191 [In Persian]

Poormohammadi S, Malekinezhad H (2013) Classification of homogeneous climatic regions under the impact of climate change and greenhouse gas emissions scenarios using L-moments technique in Iran. J Watershed Manag Res 4(8):58–76 [In Persian]

Porter JJ, Dessai S, Tompkins EL (2014) What do we know about UK household adaptation to climate change? A systematic review. Clim Chang 127(2):371–379

Rahimi Bandarabadi S, Jahanbakhsh S, Sari Sarraf B, Ghafouri Roozbahani A, Khorshid Doust A (2015) Rainfall and flow trend in Karkheh river basin. Watershed Eng Manag 7(2):184–194 [In Persian]

Rahimi J, Ebrahimpour M, Khalili A (2013) Spatial changes of extended De Martonne climatic zones affected by climate change in Iran. Theor Appl Climatol 112(3–4):409–418

Rahimi J, Khalili A, Bazrafshan J (2017) Evaluation of different missing data reconstruction methods for daily minimum temperature in elevated stations of Iran: comparison with new proposed approach. Iran J Soil Water Res 48(2):231–238 [In Persian]

Rahimzadeh F, Asgari A (2004) A look at the difference between increases rates of minimum and maximum temperature and the decrease rates of diurnal temperature range (DTR) in Iran. Q Geogr Res 19(2):155–171 [In Persian]

Rahimzadeh F, Fatahi A, Hosseni Dastak F (2005) Evaluation of variability of climate with applying statistical methods in Iran. Iran Water Resour Res 1(2):61–73 [In Persian]

Rajabi A, Shabanlou S (2012) Climate index changes in future by using SDSM in Kermanshah, Iran. J Environ Res Dev 7(1):37–44

Rajabi A, Shabanlou S (2013) Study of some climate index changes in NCCCSM global circulation model output, case study: Kermanshah (Iran). Iran Water Res J 7(13):41–49 [In Persian]

Ravan F, Nazemosadat SMJ (2011) The projected fluctuations in temperature and precipitation over the central parts of the province of Fars for the 2011-2040 period using the Echam5 model. Water Eng 4(10):51–62 [In Persian]

Raziei T, Daryabari J, Bordi I, Modarres R, Pereira LS (2014) Spatial patterns and temporal trends of daily precipitation indices in Iran. Clim Chang 124(1–2):239–253

Raziei T, Daneshkar Arasteh P, Saghafian B (2015) Annual rainfall trend analysis in arid and semi-arid regions of central and eastern Iran. Q Water Wastewater 54:73–81 [In Persian]

Reynolds TW, Bostrom A, Read D, Morgan MG (2010) Now what do people know about global climate change? Survey studies of educated laypeople. Risk Anal 30(10):1520–1538

Rezaee Zaman M, Morid S, Delavar M (2014) Impact of climate change on water resources on Simineh Rud basin and its inflows to Lake Urmia. J Water Soil 27(6):1247–1259 [In Persian]

Rezaei M, Nohtani M, Abkar A, Rezaei M, Mirkazehi Rigi M (2014) Performance evaluation of statistical downscaling model (SDSM) in forecasting temperature indexes in two arid and hyper arid regions (case study: Kerman and Bam). J Watershed Manag Res 5(10):117–131 [In Persian]

Rezaei M, Nahtani M, Moghadamniya AR, Abkar AJ, Rezaei M (2015) Comparison of artificial neural network and SDSM methods in the downscaling of annual rainfall in the HadCM3 modelling (case study: Kerman, Ravar and Rabor). Water Eng 8(24):25–40 [In Persian]

Roshan GR, Ghanghermeh A (2014) Probability of the effect of climate change on the graph of the intensity and frequency of effective precipitation in the regions of the northwest of Iran. Geogr Environ Plan 25(2):61–84 [In Persian]

Roshan GR, Grab SW (2012) Regional climate change scenarios and their impacts on water requirements for wheat production in Iran. Int J Plant Prod 6(2):239–266

Roshan GR, Najafi MS (2012) A study of the potential impact of climate change on the future droughts in Iran by using the global circulation models as outputs. Arid Reg Geogr Stud 2(6):87–107 [In Persian]

Roshan GR, Moosavi RS, Kamyar R (2012) Relevance assessment of the impact of precipitation variability on chemical quality of surface water in the Gorganrud river basin emphasizing different global warming scenarios. Geogr Plan Space J 2(2):117–133 (Text in Persian)

Saadatfar A, Barani H, Bahremand A, Massah Bavani A, Sepehry A, Abedi Servestani A (2013) Statistical downscaling HadCM3 model for detection and prediction of seasonal climatic variations (case study: Khabr Rangeland, Kerman, Iran). J Rangel Sci 3(3):265–275

Sabohi R, Soltani S (2008) Trend analysis of climatic factors in great cities of Iran. Water Soil Sci (J Sci Technol Agric Nat Resour) 12(46):303–321 [In Persian]

Sabziparvar AA, Seif Z, Ghiami F (2013) Analysis of temperature changes trend in arid and semi-arid regions. Geogr Dev Iran J 11(30):139–156 [In Persian]

Saeidabadi R, Najafi MS, Abkharabat S (2015) Land suitability assessment in climate change condition, case study: canola cultivation in West Azerbaijan providence. Phys Geogr Res Q 47(4):563–582 [In Persian]

Salahi B, Valizadeh Kamran K, Ghavidel Rahimi Y (2008) The simulation of Tabriz temperature and precipitation in atmospheric carbon dioxide doubling condition using Goddard institute of space studies general circulation model (GISS GCM). Geogr Res Q 39(62):55–66

Salehnia N, Mossavi Baygi M, Ansari H (2013) Drought prediction with PDSI, Lars-WG5 and HadCM3 (case study Neyshabour basin). Iran J Irrig Drain 7(1):93–103 [In Persian]

Salehpour Jam A, Mohseni Saravi M, Bazrafshan J, Khalighi SH (2014) Investigation of climate change effect on drought characteristics in the future period using the HadCM3 model (case study: Northwest of Iran). J Range Watershed Manag (Iran J Nat Resour) 67(4–8):537–548 [In Persian]

Salmani H, Rostami Khalaj M, Saber Chenari K, Rouhani H, Zare M (2014) Investigating the impacts of climate change on extreme events: A case study of the upper Gorganrood watershed, Golestan province, northern Iran. Int Bull Water Resour Dev 2(1):41–53 [In Persian]

Salmani H, Rostami Khalaj M, Rouhani H, Mohamadi M, Tali Khoshk S (2015) Evaluation of hydrological response Ghazaghli watershed of Golestan during the future period by affected of climate change. J Watershed Manag Res 6(11):24–35 [In Persian]

Samadi S, Carbone GJ, Mahdavi M, Sharifi F, Bihamta MR (2012) Statistical downscaling of climate data to estimate streamflow in a semi-arid catchment. Hydrol Earth Syst Sci Discuss 9(4):4869–4918

Samadi S, Wilson CAME, Moradkhani H (2013) Uncertainty analysis of statistical downscaling models using Hadley Centre coupled model. Theor Appl Climatol 114:673–690

Sayari N, Alizadeh A, Bannayan MA, Hosseini F, Hessami Kermani M (2011) Drought monitoring under climate change conditions in Kashafrood basin (Mashad station) in future periods using HadCM3 model under A2 and B2 emission scenarios. J Clim Res 2(7–8):21–42 [In Persian]

Sayari N, Bannayan M, Alizadeh A, Farid A (2013) Using drought indices to assess climate change impacts on drought conditions in the northeast of Iran (case study: Kashafrood basin). Meteorol Appl 20(1):115–127

Shahbazi AN (2014) Climate change impact on meteorological droughts in watershed scale (case study: Southwestern Iran). Int J Eng Technol 4(1):1–11

Shakoor A, Roshan GR, Khoshakhlagh F, Hejazizadeh Z (2008) Effects of climate change process on comfort climate of Shiraz station. Iran J Environ Health Sci Eng 5(4):269–276

Shirvani A (2015) Change point analysis of mean annual air temperature in Iran. Atmos Res 160:91–98

Slingsby D (2001) Perceptions of ecology: bridging the gap between academia and public through education and communication. Bull Ecol Soc Am 82(2):142–148

Sobhany B, Fateminiya FS (2014) Modelling of climatic parameters in province of southern Khorasan. Phys Geogr Res Q 46(3):311–332 [In Persian]

Sohrabi MM, Marofi S, Sabziparvar AA, Maryanaji Z (2009) Investigation of existence of trend in annual precipitation of Hamedan province using Mann-Kendall method. J Water Soil Conserv 16(3):163–169 [In Persian]

Sohrabian E, Meftah Halaghi M, Ghorbani KH, Golian S, Zakerinia M (2015) Effects of climate change on runoff from rainfall (case study: Galikesh watershed in Golestan). J Water Soil Conserv 22(2):111–125 [In Persian]

Solaymani HR, Gosain AK (2015) Assessment of climate change impacts in a semi-arid watershed in Iran using regional climate models. J Water Clim Chang 6(1):161–180

Soltani E, Soltani A (2008) Climatic change of Khorasan, north-east of Iran, during 1950–2004. Res J Environ Sci 2(5):316–322

Soltani S, Saboohi R, Yaghmaei L (2012) Rainfall and rainy days trend in Iran. Clim Chang 110(1–2):187–213

Some'e BS, Ezani A, Tabari H (2012) Spatiotemporal trends and change point of precipitation in Iran. Atmos Res 113:1–12

Storch HV, Navarra A (1995) Analysis of climate variability: applications of statistical techniques. Springer-Verlag Berlin and Heidelberg GmbH & Co. K, Japan

Tabari H, Talaee PH (2011a) Analysis of trends in temperature data in arid and semi-arid regions of Iran. Glob Planet Chang 79(1):1–10

Tabari H, Talaee PH (2011b) Recent trends of mean maximum and minimum air temperatures in the western half of Iran. Meteorog Atmos Phys 111(3–4):121–131

Tabari H, Talaee PH (2011c) Temporal variability of precipitation over Iran: 1966–2005. J Hydrol 396(3):313–320

Tabari H, Somee BS, Zadeh MR (2011) Testing for long-term trends in climatic variables in Iran. Atmos Res 100(1):132–140

Taei Semiromi S, Moradi HR, Khodagholi M (2014) Simulation and prediction some of climate variable by using multi line SDSM and global circulation models (case study: Bar Watershed Nayshabour). Hum Environ 12(1):1–15 [In Persian]

Taei Semiromi S, Moradi H, Khodagholi M (2015) Predicted changes in some of climate variables using downscale model LARS-WG and output of HADCM3 model under different scenarios. Watershed Eng Manag 7(2):145–156 [In Persian]

Taghavi F (2010) Linkage between climate change and extreme events in Iran. J Earth Space Phys 36(2):33–43 (Text in Persian)

Varshavian V, Khalili A, Ghahreman N, Hajjam S (2011) Trend analysis of minimum, maximum, and mean daily temperature extremes in several climatic regions of Iran. J Earth Space Phys 37(1):169–179 [In Persian]

Weber EU, Stern PC (2011) Public understanding of climate change in the United States. Am Psychol 66(4):315

Yue S, Pilon P, Phinney B, Cavadias G (2002) The influence of autocorrelation on the ability to detect trend in hydrological series. Hydrol Process 16(9):1807–1829

Zamani R, Abdollahi S, Mirabbasi R (2014) Trend analysis of hydro-meteorological parameters of the four major dams in southwest of Iran. Q Arid Reg Geogr Stud 5(18):55–75 [In Persian]

Zarenistanak M, Dhorde AG, Kripalani RH, Dhorde AA (2015) Trends and projections of temperature, precipitation, and snow cover during snow cover-observed period over southwestern Iran. Theor Appl Climatol 122(3–4):421–440

Zarghami M, Babaeian I, Hassanzzadeh Y, Kanani R (2012) Study of climate change and its impacts on aridity (case study of East Azerbaijan). Iran J Watershed Manag Sci Eng 6(18):61–64 [In Persian]

Zimmerman MK (2008) The consensus on the consensus: An opinion survey of Earth scientists on global climate change. M.S. Thesis, Department of Earth and Environmental Science, University of Illinois at Chicago, Chicago, Illinois
About this article
Cite this article
Rahimi, J., Malekian, A. & Khalili, A. Climate change impacts in Iran: assessing our current knowledge. Theor Appl Climatol 135, 545–564 (2019). https://doi.org/10.1007/s00704-018-2395-7
Received:

Accepted:

Published:

Issue Date: