Abstract
Over the past decades, drought has become a major concern in Morocco due to the importance of agriculture in the economy of the country. In the present work, the standardized precipitation index (SPI) is used to monitor the evolution, frequency, and severity of droughts in the High Atlas basins (N'Fis, Ourika, Rhéraya, Zat, and R'dat), located south of Marrakech city. The spatiotemporal characterization of drought in these basins is performed by computing the SPI with precipitation spatially interpolated over the catchments. The Haouz plain, located downstream of these basins, is strongly dependent on water provided by the mountain ranges, as shown by the positive correlations between the normalized difference vegetation index (NDVI) in the plain and the 3, 6, and 12-month SPI in the High Atlas catchments. On the opposite, no significant correlations are found with piezometric levels of the Haouz groundwater due to intensified pumping for irrigation in the recent decades. A relative SPI index was computed to evaluate the climate change impacts on drought occurrence, based on the projected precipitation (2006–2100) from five high-resolution CORDEX regional climate simulations, under two emission scenarios (RCP 4.5 and RCP 8.5). These models show a decrease in precipitation towards the future up to − 65% compared to the historical period. In terms of drought events, the future projections indicate a strong increase in the frequency of SPI events below − 2, considered as severe drought condition.
Access options
Buy single article
Instant access to the full article PDF.
US$ 39.95
Tax calculation will be finalised during checkout.
Subscribe to journal
Immediate online access to all issues from 2019. Subscription will auto renew annually.
US$ 119
Tax calculation will be finalised during checkout.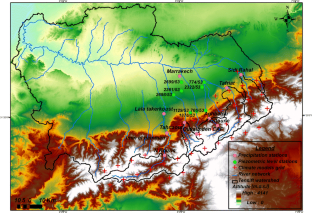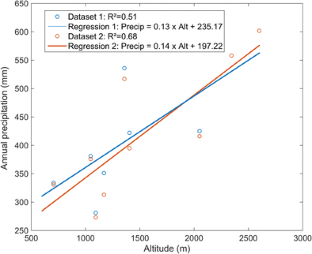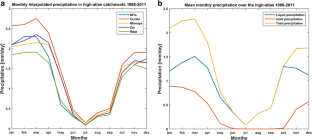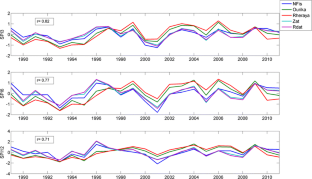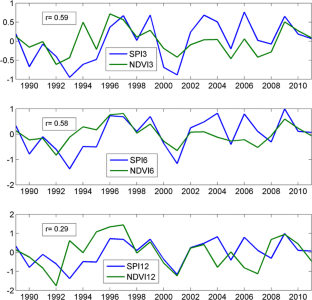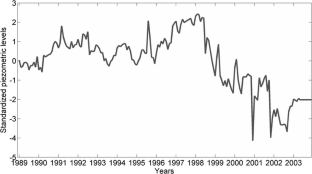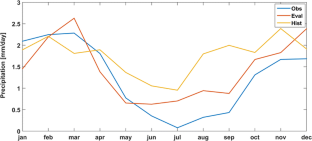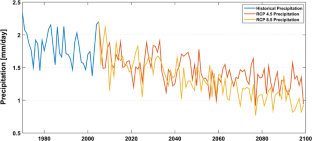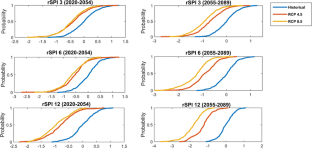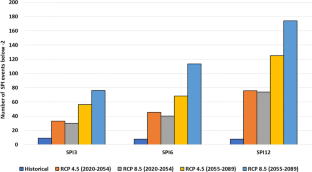 References
Abourida A, Simonneaux V, Sadik E, Brahim B, Fathallah S (2009) Estimation Des Volumes D'eau Pompés Dans La Nappe Pour L'irrigation (plaine Du Haouz, Marrakech, Maroc) Comparaison D'une Méthode Statistique et D'une Méthode Basée Sur L'utilisation de La Télédétection. Rev Sci Eau 22(1):1. https://doi.org/10.7202/019820ar

Balaghi R, Jlibene M, Tychon B, Mrabet R (2007) Gestion du risque de sécheresse agricole au Maroc. Sécheresse 18(3):169–176

Baret E, Guyot G (1991) Potentials and limits of vegetation indices for LAI and APAR assessment. Remote Sens Environ 35(2-3):161–173. https://doi.org/10.1016/0034-4257(91)90009-U

Bartier PM, Keller PC (1996) Multivariate interpolation to incorporate thematic surface data using inverse distance weighting (IDW). Comput Geosci 22(7):195–799

Benassi M (2008) Drought and climate change in Morocco analysis of precipitation field and water supply. Drought management : scientific and technological innovations Zaragoza: CIHEAM. Options Méditerr: A Sémin Méditerr 80:83–86

Bonaccorso B, Cancelliere A, Rossi G (2015) Probabilistic forecasting of drought class transitions in Sicily (Italy) using standardized precipitation index and North Atlantic oscillation index. J Hydrol 526:136–150. https://doi.org/10.1016/j.jhydrol.2015.01.070

Bouaicha R, Benabdelfadel A (2010) Variabilité et gestion des eaux de surface au Maroc. Sécheresse 21(4):325–326

Boudhar A, Hanich L, Boulet G, Duchemin B, Berjamy B, Chehbouni A (2009) Impact of the snow cover estimation method on the snowmelt runoff model performance in the Moroccan High Atlas Moutains. Hydrol Sci J 54(6):1094–1112. https://doi.org/10.1623/hysj.54.6.1094

Bowden J, Talgo K, Spero T, Nolte CG (2015) Assessing the added value of dynamical downscaling using the standardized precipitation index. Adv Meteorol. https://doi.org/10.1155/2016/8432064

Chafai Elalaoui A (2006) Gestion du Risque Sécheresse au Maroc: Mise au point d'un Indicateur pour une Alerte Précoce à la Sécheresse. 14th International Soil Conservation Organization Conference Water Management and Soil Conservation in Semi-Arid Environments Marrakech, Morocco, May 14-19, 2006 (ISCO 2006)

Chaponnière A, Boulet G, Chehbouni A, Aresmouk M (2008) Understanding hydrological processes with scarce data in a mountain environment. Hydrol Process 22(12):1908–1921

Douguédroit A, Saintignon MF (1984) Les gradients de températures et de précipitations en montagne. Rev Géogr Alp 72(2–4):225–240

Dubrovsky M, Svoboda MD, Trnka M, Hayes MJ, Wilhite DA, Zalud Z, Hlavinka P (2009) Application of relative drought indices in assessing climate-change impacts on drought conditions in Czechia. Theor Appl Climatol 96(1-2):155–171. https://doi.org/10.1007/s00704-008-0020-x

Filahi S, Tramblay Y, Mouhir L, Diaconescu EP (2017) Projected changes in temperature and precipitation in Morocco from high-resolution regional climate models. Int J Climatol. https://doi.org/10.1002/joc5127

Fink AH, Brücher T, Krüger A, Leckebush GC, Pinto JG, Ulbrich U (2004) The 2003 European summer heatwaves and drought—synoptic diagnosis and impacts. Weather 59(8):209–216. https://doi.org/10.1256/wea.73.04

Fniguire F, Laftouhi NE, Saidi ME, Zamrane Z, El Himer H, Khalil N, (2016) Spatial and temporal analysis of the drought vulnerability and risks over eight decades in a semi-arid region (Tensift basin: Morocco). Theor Appl Climatol

Gao X, Pal JS, Giorgi F (2006) Projected changes in mean and extreme precipitation over the Mediterranean region from a high resolution double nested RCM simulation. Geophys Res Lett 33:L03706. https://doi.org/10.1029/2005GL024954

Giorgi F, Lionello P (2008) Climate change projections for the Mediterranean region. Glob Planet Chang 63(2-3):90–104. https://doi.org/10.1016/j.gloplacha.2007.09.005

Gouveia C, Trigo R, Beguera S, Vicente-Serrano S (2017) Drought impacts on vegetation activity in the Mediterranean region: an assessment using remote sensing data and multi-scale drought indicators. Glob Planet Chang 151:15–27. https://doi.org/10.1016/j.gloplacha.2016.06.011

Hanich L, de Solan B, Duchemin B, Maisongrande P, Chaponniére A, Boulet G, Chehbouni G (2003) Snow cover mapping using SPOT-VEGETATION with high resolution data: application in the Moroccan Atlas Mountains. In: Proceedings of IEEE international geoscience and remote sensing symposium (IGARSS), 21–25 July 2003, Toulouse

Havens AV (1954) Drought and agriculture. Weatherwise 7(3):51–55. https://doi.org/10.1080/00431672.1954.9930320

Hayes M, Svoboda M, Wall N, Widhalm M (2011) The Lincoln declaration on drought indices: universal meteorological drought index recommended. Bull Am Meteorol Soc 92(4):485–488. https://doi.org/10.1175/2010BAMS3103.1

Hertig E, Tramblay Y (2017) Regional downscaling of Mediterranean droughts under past and future climatic conditions. Glob Planet Chang 151:36–48. https://doi.org/10.1016/j.gloplacha.2016.10.015

Jacob D, Petersen J, Eggert B, Alias A, Christensen OB, Bouwer L, Braun A, Colette A, Déqué M, Georgievsk G, Georgopoulou E, Gobiet A, Menut L, Nikulin G, Haensler A, Hempelmann N, Jones C, Keuler K, Kovats S, Kröner N, Kotlarski S, Kriegsmann A, Martin E, Meijgaard E, Moseley C, Pfeifer S, Preuschmann S, Radermacher C, Radtke K, Rechid D, Rounsevell M, Samuelsson P, Somot S, Soussana JF, Teichmann C, Valentini R, Vautard R, Weber B, Yiou P (2014) EURO-CORDEX: new high-resolution climate change projections for European impact research. Reg Environ Chang 14:563–578

Jarlan L, Driouech F, Tourre Y, Duchemin B, Bouyssié M (2014a) Spatio-temporal variability of vegetation cover over Morocco (1982 – 2008): linkages with large scale climate. Int J Climatol 1261:1245–1261

Jarlan L, Abaoui J, Duchemin B, Ouldbba A, Tourre YM, Khabba S, Le Page M, Balaghi R, Mokssit A, Chehbouni G (2014b) Linkages between common wheat yields and climate in Morocco (1982-2008). Int J Biometeorol 58(7):1489–1502. https://doi.org/10.1007/s00484-013-0753-9

Jarlan L, Khabba S, Er-Raki S, Le Page M, Hanich L, Fakir Y, Merlin O, Mangiarotti S, Gascoin S, Ezzahar J, Kharrou MH, Berjamy B, Saaïdi A, Boudhar A, Benkaddour A, Laftouhi N, Abaoui J, Tavernier A, Boulet G, Simonneaux V, Driouech F, El Adnani M, El Fazziki A, Amenzou N, Raibi F, El Mandour A, Ibouh H, Le Dantec V, Habets F, Tramblay Y, Mougenot B, Leblanc M, Drapeau L, Coudert B, Hagolle O, Filali N, Belaqziz S, Marchane A, Toumi J, Diarra A, Aouade G, Hajhouji Y, Bigeard G, Chirouze J, Boukhari K, Richard B, Fanise P, Kasbani M, Chakir A, Zribi M, Marah H, Mokssit A, Kerr Y, Escadafal R (2015) Remote sensing of water resources in semi-arid Mediterranean basins: the Joint International Laboratory TREMA. Int J Remote Sens 36:4879–4917. https://doi.org/10.1080/0143116120151093198

Jlibene M, Balaghi R (2009) Le risque sécheresse en agriculture pluviale. Bulletin mensuel de liaison et d'information du Programme National de Transfert de Technologie n°181. http://www.vulgarisation.net/bul181.htm. Accessed 02 May 2018

Khomsi K, Mahé G, Tramblay Y, Sinan M, Snoussi M (2016) Regional impacts of global change: seasonal trends in extreme rainfall, runoff and temperature in two contrasted regions of Morocco. Nat Hazards Earth Syst Sci 10:1079–1090

Lana X, Serra C, Burgueno A (2001) Patterns of monthly rainfall shortage and excess in terms of the standardized precipitation index. Int J Climatol 21:1669–1691

Lloyd-Hughes B, Saundres MA (2002) A drought climatology for Europe. Int J Climatol 22(13):1571–1592. https://doi.org/10.1002/joc.846

Ly S, Charles C, Degré A (2011) Geostatistical interpolation of daily rainfall at catchment scale: the use of several variogram models in the Ourthe and Ambleve catchments, Belgium. Hydrol Earth Syst Sci 15:2259–2274

Mann HB (1945) Nonparametric tests against trend. Econometrica 13(3):245–259. https://doi.org/10.2307/1907187

Marchane A, Tramblay Y, Hanich L, Ruelland D, Jarlan L (2017) Climate change impacts on surface water resources in the Rheraya catchment (High-Atlas, Morocco). Hydrol Sci J 62(6):979–995

McKee TB, Doesken NJ, Kleist J (1993) The relationship of drought frequency and duration to time scale. In: Proceedings of the 8th conference on applied climatology, 17–22 January, Anaheim, CA. American Meteorological Society, Boston, pp 179–184

McKee TB, Doesken NJ, Kliest J (1995) Drought monitoring with multiple time scales. In: Proceedings of the 9th conference of applied climatology, 15–20 January, Dallas TX. American Meteorological Society, Boston, pp 233–236

Meehl GA, Karl T, Easterling DR, Changnon S (2000) An introduction to trends in extreme weather and climate events: observations, socioeconomic impacts, terrestrial ecological impacts, and model projections. Bull Am Meteorol Soc 81(3):413–416. https://doi.org/10.1175/1520-0477(2000)081<0413:AITTIE>2.3.CO;2

Mishra AK, Singh VP (2010) A review of drought concepts. Rev Article J Hydrol 391(1-2):202–216. https://doi.org/10.1016/j.jhydrol.2010.07.012

Nicholson SE, Davenport ML, Malo AR (1990) A comparison of the vegetation response to rainfall in the Sahel and East Africa using the normalized difference vegetation index from NOAA AVHRR. Clim Chang 17(2-3):209–241. https://doi.org/10.1007/BF00138369

Palmer WC (1965) Meteorological droughts. US Department of Commerce, weather bureau. Res Pap 45:58

Palmer WC (1968) Keeping track of crop moisture conditions, nationwide: the crop moisture index. Weatherwise 21(4):156–161. https://doi.org/10.1080/00431672.1968.9932814

Peters AJ, Walter-Shea EA, Ji L, Vina A, Hayes M, Svoboda MD (2002) Drought monitoring with NDVI-based standardized vegetation index. Photogramm Eng Remote Sens 68(1):71–75

Pettitt AN (1979) A non-parametric approach to the change-point detection. Appl Stat 28(2):126–135. https://doi.org/10.2307/2346729

Russo S, Dosio A, Sterl A, Barbosa P, Vogt J (2013) Projection of occurrence of extreme dry-wet years and seasons in Europe with stationary and nonstationary standardized precipitation indices. J Geophys Res Atmos 118:7628–7639. https://doi.org/10.1002/jgrd.50571

Sahili E (1996) Problématique des rejets liquides et solides au niveau de la région hydraulique du Tensift, diagnostic, impact sur le milieu naturel, humain et proposition d'un plan d'action. Thèse d'ingénieur en chef, Direction Générale de l'Hydraulique, Ministre des travaux publics178 p

Saidi ME, Agoussine M, Daoudi L (2006) Effet de la morphologie et de l'exposition sur les ressources en eau superficielle de part et d'autre du Haut Atlas (Maroc); exemple des bassins versants de l'Ourika et du Marghène. Bull Inst Sci Sect Sci Terre 28, Rabat:41–49

Saidi ME, Daoudi L, Aresmouk MEH, Fniguire F, Boukrim S (2010) Les crues de l'oued Ourika (Haut Atlas, Maroc): Événements extrêmes en contexte montagnard semi-aride. Commun Geol 97, Lisbonne:113–128

Salama H, Tahiri M (2010) La gestion des ressources en eau face aux changements Cas du bassin Tensift (Maroc). LARHYSS J, ISSN 1112–3680 08:127–138

Samuelsson P, Jones CG, Willén U, Ullerstig A, Gollvik S, Hansson U, Jansson C, Kjellström E, Nikulin G, Wyser K (2011) The Rossby Centre Regional Climate model RCA3: model description and performance. Tellus 63A:4–23. https://doi.org/10.1111/j1600-0870201000478x

Schyns JF, Hoekstra AY (2014) The added value of water footprint assessment for national water policy: a case study for Morocco. PLoS One 9(6):e99705. https://doi.org/10.1371/journal.pone.0099705

Shafer BA, Dezman LE (1982) Development of a surface water supply index (SWSI) to assess the severity of drought conditions in snowpack runoff areas. Proceedings of the Western Snow Conference, Colorado State University, Fort Collins, pp 164–175

Shepard D (1968) A two dimensional interpolation function for irregularly spaced data. In: Proceedings of the 23rd national conference, association of computing machinery association of computing machinery. ACM, New York, pp 517–524

Simonneaux V, Hanich L, Boulet G, Thomas S (2008) Modelling runoff in the Rheraya Catchment (High Atlas, Morocco) using the simple daily model GR4J. Trends over the last decades. In: 13th IWRA World Water Congress, Montpellier, France

Sinan M, Maslouhi R, Razack M (2003) Utilisation des SIG pour la caractérisation de la vulnérabilité et de la sensibilité à la pollution des nappes d'eau souterraine Application à la nappe du Haouz de Marrakech, Maroc. Management of Water Resources, 2nd FIG Regional Conference Marrakech, Morocco, December 2-5

Snomez FK, Komuscu W, Erkan AU, Turgu A (2005) An analysis of spatial and temporal dimension of drought vulnerability in Turkey using the standardized precipitation index. Nat Hazards 35(2):243–264. https://doi.org/10.1007/s11069-004-5704-7

Topçu E, Seçkin N (2015) Drought analysis of the Seyhan Basin by using standardized precipitation index (SPI) and L-moments. J Agric Sci 22:196–215

Tucker CJ, Pinzon JE, Brown ME, Slayback D, Pak EW, Mahoney R, Vermote E, El Saleous N (2005) An extended AVHRR 8-km NDVI data set compatible with MODIS and SPOT vegetation NDVI data. Int J Remote Sens 26(20):4485–4498. https://doi.org/10.1080/01431160500168686

UN (2008) Trends in sustainable development agriculture, rural development, land, desertification and drought. Department of Economic and Social Affairs. United Nations publication, New York

Vicente-Serrano S, Lopez-Moreno J (2005) Hydrological response to different time scales of climatological drought: an evolution of standardized precipitation index in a mountainous Mediterranean basin. Hydrol Earth Syst Sci Discuss 9(5):523–533. https://doi.org/10.5194/hess-9-523-2005

Vicente-Serrano SM, Beguería S, Lopez-Moreno JI (2010) A multiscalar drought index sensitive to global warming: the standardized precipitation evapotranspiration index – SPEI. J Clim 23:1696–1718

Wang J, Rich PM, Price KP (2003) Temporal responses of NDVI to precipitation and temperature in the central Great Plains. Int J Remote Sens 24(11):2345–2364. https://doi.org/10.1080/01431160210154812

Wilhite DA, Glantz MH (1985) Understanding the drought phenomenon: the role of definitions. Water Int 10:11–120

Zarch Asadi MA, Sivakumar B, Sharma A (2015) Droughts in a warming climate: a global assessment of standardized precipitation index (SPI) and reconnaissance drought index (RDI). J Hydrol 526:183–195
Funding
The financial support provided by the LMI TREMA laboratory and IRD-ARTS studentship is gratefully acknowledged. Thanks are due to the hydrological basin agency Tensift (ABHT) and to the LMI TREMA for providing the data.
About this article
Cite this article
Zkhiri, W., Tramblay, Y., Hanich, L. et al. Spatiotemporal characterization of current and future droughts in the High Atlas basins (Morocco). Theor Appl Climatol 135, 593–605 (2019). https://doi.org/10.1007/s00704-018-2388-6
Received:

Accepted:

Published:

Issue Date: