Abstract
The North Atlantic Oscillation (NAO) is responsible for the climatic variability in the Northern Hemisphere, in particular, in Europe and is related to extreme events, such as droughts. The purpose of this paper is to study the correlation between precipitation and winter (December–January–February–March (DJFM)) NAO both for the historical period (1951–2000) and two future periods (2001–2050 and 2051–2100). NAO is calculated for these three periods by using sea level pressure, while precipitation data from seven climate models following the representative concentration pathway (RCP) 8.5 are also used in this study. An increasing trend in years with positive DJFM NAO values in the future is defined by this data, along with higher average DJFM NAO values. The correlation between precipitation and DJFM NAO is high, especially in the Northern (high positive) and Southern Europe (high negative). Therefore, higher precipitation in Northern Europe and lower precipitation in Southern Europe are expected in the future. Cross-spectral analysis between precipitation and DJFM NAO time series in three different locations in Europe revealed the best coherence in a dominant cycle between 3 and 4 years. Finally, the maximum drought period in terms of consecutive months with drought is examined in these three locations. The results can be used for strategic planning in a sustainable water resources management plan, since there is a link between drought events and NAO.
Access options
Buy single article
Instant access to the full article PDF.
USD 39.95
Price includes VAT (USA)
Tax calculation will be finalised during checkout.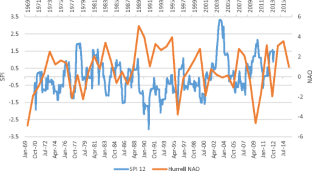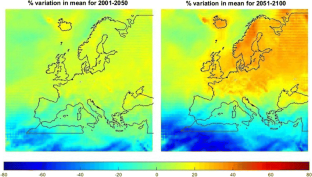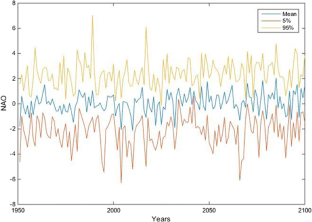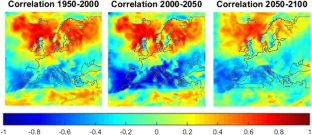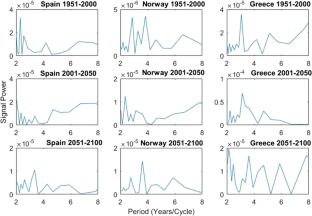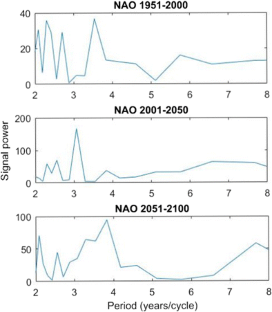 References
Bonaccorso B, Cancelliere A, Rossi G (2015) Probabilistic forecasting of drought class transitions in Sicily (Italy) using standardized precipitation index and North Atlantic oscillation index. J Hydrol 526:136–150

Delworth TL, Zeng F, Vecchi GA, Yang X, Zhang L, Zhang R (2016) The North Atlantic Oscillation as a driver of rapid climate change in the Northern Hemisphere. Nat Geosci 9:509–512

Folland CK, Knight J, Linderholm HW, Fereday D, Ineson S, Hurrell JW (2009) The summer North Atlantic Oscillation: past, present, and future. J Clim 22(5):1082–1103. https://doi.org/10.1175/2008JCLI2459.1

Hu Q, Feng S (2001) Variations of teleconnection of ENSO and interannual variation in summer rainfall in the central United States. J Clim 14(11):2469–2480. https://doi.org/10.1175/1520-0442(2001)014<2469:VOTOEA>2.0.CO;2

Hurrell JW (1995) Decadal trends in the North Atlantic Oscillation: regional temperatures and precipitation. Oceanogr Lit Rev 2(43):116

Hurrell J, National Center for Atmospheric Research Staff (Eds). Last modified 16 Aug 2016. The climate data guide: Hurrell North Atlantic Oscillation (NAO) Index (station-based). Retrieved from https://climatedataguide.ucar.edu/climate-data/hurrell-north-atlantic-oscillation-nao-index-station-based

Hurrell JW, Van Loon H (1997) Decadal variations in climate associated with the North Atlantic Oscillation. In Climatic Change at High Elevation Sites (pp. 69–94). Springer Netherlands

Jones PD, Jonsson T, Wheeler D (1997) Extension to the North Atlantic Oscillation using early instrumental pressure observations from Gibraltar and South-West Iceland. Int J Climatol 17(13):1433–1450

Kahya E (2011) The impacts of NAO on the hydrology of the Eastern Mediterranean. Hydrological, Socioeconomic and Ecological Impacts of the North Atlantic Oscillation in the Mediterranean Region (pp 57–71). Springer Netherlands

Krichak SO, Alpert P (2005) Signatures of the NAO in the atmospheric circulation during wet winter months over the Mediterranean region. Theor Appl Climatol 82(1–2):27–39. https://doi.org/10.1007/s00704-004-0119-7

Li JZ, Wang YX, Li SF, Hu R (2015) A nonstationary standardized precipitation index incorporating climate indices as covariates. J Geophys Res Atmos 120(12):082–012

Mariotti A, Arkin P (2007) The North Atlantic Oscillation and oceanic precipitation variability. Cli Dyn 28(1):35–51

McKee TB, Doesken NJ, Kleist J (1995) Drought monitoring with multiple time scales. Proceeding of the 9th Conference on Applied Climatology. American Meteorological Society: Boston

Muñoz-Díaz D, Rodrigo FS (2004) Impacts of the North Atlantic Oscillation on the probability of dry and wet winters in Spain. Clim Res 27(1):33–43. https://doi.org/10.3354/cr027033

Scaife AA, Folland CK, Alexander LV, Moberg A, Knight JR (2008) European climate extremes and the North Atlantic Oscillation. J Clim 21(1):72–83. https://doi.org/10.1175/2007JCLI1631.1

Smith DM, Scaife AA, Eade R, Knight JR (2014) Seasonal to decadal prediction of the winter North Atlantic Oscillation: emerging capability and future prospects. Q J R Meteorol Soc

Svensson C, Brookshaw A, Scaife AA, Bell VA, Mackay JD, Jackson CR, Hannaford J, Davies HN, Arribas A, Stanley S (2015) Long-range forecasts of UK winter hydrology. Environ Res Lett 10(6):064006. https://doi.org/10.1088/1748-9326/10/6/064006

Trigo RM, Osborn TJ, Corte-Real JM (2002) The North Atlantic Oscillation influence on Europe: climate impacts and associated physical mechanisms. Clim Res 20(1):9–17. https://doi.org/10.3354/cr020009

Trigo RM, Pozo-Vázquez D, Osborn TJ, Castro-Díez Y, Gámiz-Fortis S, Esteban-Parra MJ (2004) North Atlantic Oscillation influence on precipitation, river flow and water resources in the Iberian Peninsula. Int J Climatol 24(8):925–944. https://doi.org/10.1002/joc.1048

Tsanis I, Tapoglou E (2017) North Atlantic Oscillation and Precipitation correlation in Europe under climate change. EGU General Assembly Conference Abstracts 2017 19:17431 (http://adsabs.harvard.edu/abs/2017EGUGA..1917431T , http://meetingorganizer.copernicus.org/EGU2017/EGU2017-17431.pdf)

Tsanis IK, Koutroulis AG, Daliakopoulos IN, Jacob D (2011) Severe climate-induced water shortage and extremes in Crete. Clim Chang 106(4):667–677. https://doi.org/10.1007/s10584-011-0048-2

Vergni L, Todisco F, Di Lena B, Mannocchi F (2016) Effect of the North Atlantic Oscillation on winter daily rainfall and runoff in the Abruzzo region (Central Italy). Stoch Env Res Risk A:1–15

Vrochidou A-EK, Tsanis IK (2012) Assessing precipitation distribution impacts on droughts on the island of Crete. Nat Hazards Earth Syst Sci 12(4):1159–1171

Vrochidou A-EK, Grillakis MG, Tsanis IK (2013) Drought assessment based on multi-model precipitation projections for the island of Crete. J Earth Sci Clim Chang 4(158)

Walker GT (1924) Correlation in seasonal variations of weather, IX. A further study of world weather. Mem India Meteorol Dep 24(9):275–333

Walker GT, Bliss EW (1932) World weather V. Mem R Meteorol Soc 4(36):53–84

Wanner H, Brönnimann S, Casty C, Gyalistras D, Luterbacher J, Schmutz C, Stephenson DB, Xoplaki E (2001) North Atlantic Oscillation—concepts and studies. Surv Geophys 22(4):321–381. https://doi.org/10.1023/A:1014217317898
Acknowledgements
This work is partly supported by the IMPREX project funded by the European Commission under the Horizon 2020 framework program (grant 641811).
About this article
Cite this article
Tsanis, I., Tapoglou, E. Winter North Atlantic Oscillation impact on European precipitation and drought under climate change. Theor Appl Climatol 135, 323–330 (2019). https://doi.org/10.1007/s00704-018-2379-7
Received:

Accepted:

Published:

Issue Date: