Abstract
Assessment of variability in climate extremes is crucial for managing their aftermath on crops. Sugarcane (Saccharum officinarum L.), a major C4 crop, dominates the Upper Gangetic Plain (UGP) in India and is vulnerable to both direct and indirect effects of changes in temperature and rainfall. The present study was taken up to assess the weekly, monthly, seasonal, and annual trends of rainfall and temperature variability during the period 1956–2015 (60 years) for envisaging the probabilities of different levels of rainfall suitable for sugarcane in UGP in the present climate scenario. The analysis revealed that 87% of total annual rainfall was received during southwest monsoon months (June–September) while post-monsoon (October to February) and pre-monsoon months (March–May) accounted for only 9.4 and 3.6%, respectively. There was a decline in both monthly and annual normal rainfall during the period 1986–2015 as compared to 1956–1985, and an annual rainfall deficiency of 205.3 mm was recorded. Maximum monthly normal rainfall deficiencies of 52.8, 84.2, and 54.0 mm were recorded during the months of July, August, and September, respectively, while a minimum rainfall deficiency of 2.2 mm was observed in November. There was a decline by 196.3 mm in seasonal normal rainfall during June–September (kharif). The initial probability of a week going dry was higher (> 70%) from the 1st to the 25th week; however, standard meteorological weeks (SMW) 26 to 37 had more than 50% probability of going wet. The normal annual maximum temperature (Tmax) decreased by 0.4 °C while normal annual minimum temperatures (Tmin) increased by 0.21 °C. Analysis showed that there was an increase in frequency of drought from 1986 onwards in the zone and a monsoon rainfall deficit by about 21.25% during June–September which coincided with tillering and grand growth stage of sugarcane. The imposed drought during the growth and elongation phase is emerging as a major constraint in realizing high cane productivity in the zone. Strategies for mitigating the negative impacts of rainfall and temperature variability on sugarcane productivity through improvement in existing adaptation strategies are proposed.
Access options
Buy single article
Instant access to the full article PDF.
USD 39.95
Price includes VAT (USA)
Tax calculation will be finalised during checkout.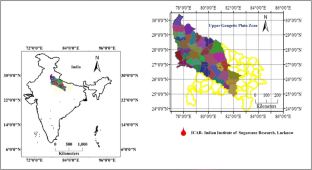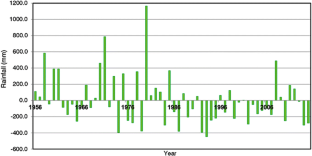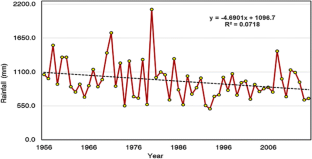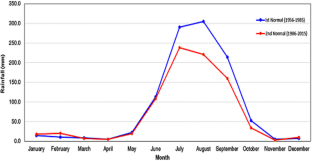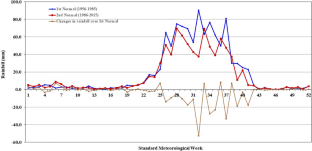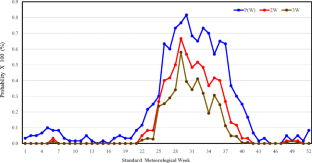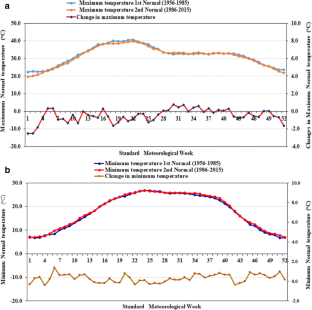 References
Abrol IP, Bronson KF, Duxbury JM, Gupta RK (2000) Long-term soil fertility experiments in rice wheat cropping systems. Rice-Wheat Consortium Pap Ser 6:171

Aggarwal PK, Banerjee B, Daryaei MG, Bhatia A, Bala A, Rani S, Chander S, Pathak H, Kalra N (2006) Info Crop: a dynamic simulation model for the assessment of crop yields, losses due to pests, and environmental impact of agro-ecosystems in tropical environments. II. Performance of the model. Agric Syst 89:47–67

Berding N, Hurney AP (2000) Suckering: a faced of ideotype selection and declining CCS in the wet tropics. Proc Aust Soc Sugar Cane Technol 22:153–162

Bhardwaj SC, Gupta JN, Jain BK, Yadav SR (1981) Comparative incidence of stalk borer, Chilo auricilius Ddgn. in autumn and spring planted and ratoon crops of sugarcane. Indian J Agric Res 15:135–140

Bhaskaran A, Nair NV (2014) Challenges and opportunities in sugarcane cultivation under climate change scenario. J Sugarcane Res 4:1–18

Binbol NL, Adebayo AA, Kwon-Ndung (2006) Influence of climate factors on the growth and yield of sugar cane at Numan, Nigeria. Clim Res 32:247–252

Cardozo NP (2012) Modelling sugarcane ripening as function of meteorological variables. M Sc Thesis, University Dade de Sao Paulo Piracicaba, SP, Brazil. (http://www.teses.usp.br/teses/disponiveis/11/11131/tde-14032012-080359/pt-br.php, 1907.2015.

Cheung WH, Senay GB, Singh A (2008) Trends and spatial distribution of annual and seasonal rainfall in Ethiopia. Int J Climatol 28(13):1723–1734

Clements HF (1980) Sugarcane crop logging and crop control. University Press, Hawaii, p 520

Dabadghao PM, Shankarnarayan KA (1973) The grass cover of India. Indian Council of Agricultural Research, New Delhi

Fageria, NK, Virupax C, Baligar, Jones CA (2010) Growth and mineral nutrition of field crop 3rd Ed. CRC Press, 437–456

Gawander J (2007) Impact of climate change on sugar-cane production in Fiji. WMO Bull 56:34–39

Glasziou KT, Bull TA, Hatch MD, Whiteman PC (1965) Effects of temperature, photoperiod duration, and diurnal and seasonal Temperature changes on growth and ripening. Aust J Biol Sci 18:53–66

Horikoshi SA, Fisch G (2007) Balano hindrico atual e simulacoe para cenarios climaticos futures no municipio de Taubate, SP, Brazil. Rev Ambient Agua 2:33–46

Jika M (1997) Improved sugarcane production practices at Savannah Sugar Company Limited SSCL. Presented at Monthly Technical Report Meeting (MTRM), Adamawa Agricultural Development Project AADP, Yola

Koshal AK (2014) Changing current scenario of rice-wheat system in Indo-Gangetic Plain region of India. Int J Sci Res Publ 4:1–13

Kumar R (1984) Yield response of sugarcane to weather variations in North-East Andhra Pradesh, India. Arch Met Geoph Biocl Ser B 35:265–276

Kumar V, Sharma Y, Chauhan S (2011) Impact of climate change on the growth and production of Saccharum officinarum and Mangifera indica. Intern J Sci Technol Manag 2(1):42–47

Lobell DB, Gourdji SM (2012) The influence of climate change on global crop productivity. Plant Physiol 160:1686–1697

Mali SC, Shrivastava PK, Thakare HS (2014) Impact of weather changes on sugarcane production. Res Environ Life Sci 7:243–246

Mall RK, Sonkar G, Bhatt D, Sharma NK, Baxla AK, Singh KK (2016) Managing impact of extreme weather events in sugarcane in different agro-climatic zones of Uttar Pradesh. Mausam 67:233–250

Milesi C, Samanta A, Hashimoto H, Kumar KK, Ganguly S, Thenkabail PS, Srivastava A, Nemani RR, Ranga B, Myneni (2010) Decadal variations in NDVI and food production in India. Remote Sens 2:758–776

Mishra A, Singh R, Raghuwanshi NS, Chatterjee C, Froebrich J (2013) Spatial variability of climate change impacts on yield of rice and wheat in the Indian Ganga Basin. Sci Total Environ. https://doi.org/10.1016/j.scitotenv.2013.05.080

Moore PH, Frederik CS (2014) Sugarcane: physiology, biochemistry and functional biology. Wiley-Blackwell 716.

Pal DK, Bhattacharyya T, Srivastava P, Chandran P, Ray SK (2009) Soils of the Indo-Gangetic Plains: their historical perspective and management. Curr Sci 96:1193–1202

Panigrahy S, Upadhyay G, Ray SS, Parihar JS (2010) Mapping of cropping system for the Indo-Gangetic plain using multi-date SPOT NDVI-VGT Data. J Indian Soc Remote Sens 38(4):627–632. https://doi.org/10.1007/s12524-011-0059-5

Pathak H, Ladha JK, Aggarwal PK, Peng S, Das S, Yadvinder S, Bijay S, Kamra SK, Mishra B, Sastri ASRAS, Aggarwal HP, Das DK, Gupta RK (2003) Trends of climatic potential and on-farm yields of rice and wheat in the Indo-Gangetic Plains. Field Crop Res 80(223):34

Pathak H, Pramanik P, Khanna M, Kumar A (2014) Climate change and water availability in Indian agriculture: impacts and adaptation. Indian J Agric Sci 84:671–679

Ramulu M (1996) Supply response of sugarcane in Andhra Pradesh. Finance India 10:116–122

Rathore LS, Attri SD and Jaswal AK (2013) State level climate change trends in India. Meteorological Monograph No. ESSO/ IMD/ EMRC/ 02/ 2013. 147p.

Rezaei EE, Webber H, Gaiser T, Naab J, Ewert F (2015) Heat stress in cereals: mechanisms and modelling. Eur J Agron 64:98–113

Robertson GW (1982) Frequency and probability of dry and wet spells. WMO Tech Note 179:149–153

Saini HS (2008) Climate change and its future impact on the Indo-Gangetic plain zone. e-J Earth Sci India. Vol. I (III): 138–147

Samui RP, John G, Kulkarni MB (2003) Impact of weather on yield of sugarcane at different growth stages. J Agric Phys 3:119–125

Samui RP, Kulkarni PS, Kamble MV, Vaidya NG (2014) A critical evaluation of sugarcane yield variation as influenced by climatic parameters in Uttar Pradesh and Maharashtra states of India. Times J Agric Vet Sci 2:63–69

Shrivastava AK, Srivastava AK, Solomon S (2011) Sustaining sugarcane productivity under depleting water resources. Curr Sci 101(6):748–754

Shrivastava AK, Srivastava TK, Srivastava AK, Misra V, Srivastava S, Singh VK, Shukla SP (2016) Climate change induced abiotic stresses affecting sugarcane and their mitigation. ICAR-Indian Institute of Sugarcane Research, Lucknow: ISBN No. 978–93–5265-983-8, pp

Singh RB, Mal S (2014) Trends and variability of monsoon and other rainfall seasons in western Himalaya, India. Atmos Sci Lett 15:218–226. https://doi.org/10.1002/asl2.494

Srivastava AK (2012) Sugarcane production: Impact of climate change and its mitigation. Biodiversitas. J Biol Divers 13(4):214–227

Srivastava TK, Verma RR (2017) Micro irrigation and fertigation in sugarcane. Agric World 3(2):46–51

Srivastava TK, Prasad K, Shah AK, Gupta R, Singh KP (2011) Farmers' participatory action research on water use efficient technologies for improving productivity and sustainability of sugarcane. Indian Institute of Sugarcane Research, Technical Bulletin 1/2011. 90p.

Subash N, Sikka AK, Abdul Haris A (2009) Markov chain approach—dry and wet spell rainfall probabilities for rice-wheat planning. Indian J Soil Conserv 37(2):91–99

Zhao D, Li Y-R (2015) Climate Change and sugarcane production: potential impact and mitigation strategies. Int J Agron. https://doi.org/10.1155/2015/547386
About this article
Cite this article
Verma, R.R., Srivastava, T.K. & Singh, P. Climate change impacts on rainfall and temperature in sugarcane growing Upper Gangetic Plains of India. Theor Appl Climatol 135, 279–292 (2019). https://doi.org/10.1007/s00704-018-2378-8
Received:

Accepted:

Published:

Issue Date: