Abstract
Climate change has emerged as an important issue ever to confront mankind. This concern emerges from the fact that our day-to-day activities are leading to impacts on the Earth's atmosphere that has the potential to significantly alter the planet's shield and radiation balance. Developing countries particularly whose income is particularly derived from agricultural activities are at the forefront of bearing repercussions due to changing climate. The present study is an effort to analyze the changing trends of precipitation and temperature variables in Kashmir valley along different elevation zones in the north western part of India. As the Kashmir valley has a rich repository of glaciers with its annual share of precipitation, slight change in the temperature and precipitation regime has far reaching environmental and economic consequences. The results from Indian Meteorological Department (IMD) data of the period 1980–2014 reveals that the annual mean temperature of Kashmir valley has increased significantly. Accelerated warming has been observed during 1980–2014, with intense warming in the recent years (2001–2014). During the period 1980–2014, steeper increase, in annual mean maximum temperature than annual mean minimum temperature, has been observed. In addition, mean maximum temperature in plain regions has shown higher rate of increase when compared with mountainous areas. In case of mean minimum temperature, mountainous regions have shown higher rate of increase. Analysis of precipitation data for the same period shows a decreasing trend with mountainous regions having the highest rate of decrease which can be quite hazardous for the fragile mountain environment of the Kashmir valley housing a large number of glaciers.
Access options
Buy single article
Instant access to the full article PDF.
USD 39.95
Price includes VAT (USA)
Tax calculation will be finalised during checkout.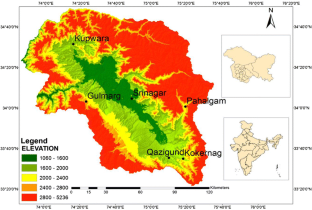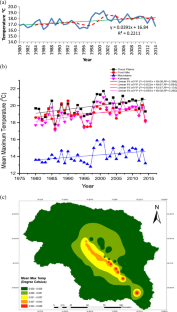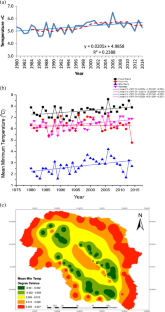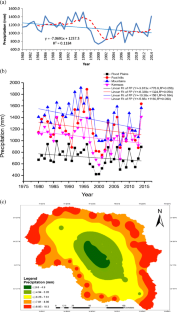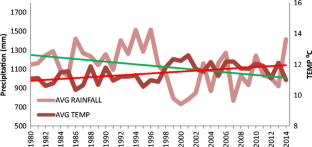 References
Archer DR, Fowler HJ (2004) Spatial and temporal variations in precipitation in the Upper Indus Basin, global teleconnections and hydrological implications. Hydrol Earth Syst Sci 8(1):47–61

Barnett TP, Adam JC, Lettenmaier DP (2005) Potential impacts of a warming climate on water availability in snow dominated regions. Nature 438(7066):303–309. https://doi.org/10.1038/nature04141

Beniston M (2003) Climatic change in mountainous regions: a review of possible impacts. Clim Chang 59:5–31

Beniston M, Diaz FD, Bradley RS (1997) Climatic change at high elevation sites: an overview. Clim Chang 36:233–251

Bhutiyani MR (2012) Spatial and temporal variability of climate change in high altitude regions of NW Himalayas, In book: Climate change, glacier response, and vegetation dynamics in the Himalaya, pp.87–101. https://doi.org/10.1007/978-3-319-28977-9_5

Bhutiyani MR, Kale VS, Pawar NJ (2007) Long-term trends in maximum, minimum and mean annual air temperatures across the northwestern Himalaya during the 20th century. Clim Chang 85:159–177

Bhutiyani MR, Kale VS, Pawar NJ (2010) Climate change and the precipitation variations in the northwestern Himalaya: 1866–2006. Int J Climatol 30:535–548

Bhutiyani MR, Ganju A, Singh D, Shekhar S, Kumar S and Chand H (2016) Spatial and Temporal Variability of Climate Change in High-Altitude Regions of NW Himalaya In book: Climate Change, Glacier Response, and Vegetation Dynamics in the Himalaya, pp.87-101. https://doi.org/10.1007/978-3-319-28977-9_5

Brohan P, Kennedy JJ, Harris I, Tett SFB, Jones PD (2006) Uncertainty estimates in regional and global observed temperature changes: anew data set from 1850. J Geophys Res 111(D12):D12106. https://doi.org/10.1029/2005JD006548

Chevuturi A, Dimri AP, Thayyen RJ (2016) Climate change over Leh (Ladakh), India. Theor Appl Climatol. ISSN 1434-4483. https://doi.org/10.1007/s00704-016-1989-1

Costa AC, Soares A (2009) Homogenization of climate data: review and new perspectives using geostatistics. Math Geosci 41(3):291–305. https://doi.org/10.1007/s11004-008-9203-3

Cruz RV, Harasawa H, Lal M, Wu S, Anokhin Y, Punsalmaa B, Honda Y, Safari M, Li C, HuuNinh N (2007) Asia climate change 2007: impacts, adaptation and vulnerability. In: Parry ML, OF Canziani, Palutikof JP, Van Der Linden PJ, Hanson CE (eds) Contribution of Working Group II to the Fourth Assessment Report of the Intergovernmental Panel on Climate Change. Cambridge University Press, Cambridge, pp 469–506

Dash SK, Jenamani RK, Kalsi SR, Panda SK (2007) Some evidence of climate change in twentieth-century India. Climate Change 85(3–4):299–321. https://doi.org/10.1007/s10584-007-9305-9

De US, Mukhopadhyay RK (1998) Severe heat wave over the Indian subcontinent in 1998, in perspective of global climate. Curr Sci 75:1308–1311

Diaz HF, Bradley RS (1997) Temperature variations during the last century at high elevation sites. Clim Chang 36(3/4):253–279. https://doi.org/10.1023/A:1005335731187

Diaz HF, Grosjean M, Graumlich L (2003) Climate variability and change in high elevation regions: past, present and future. Clim Chang 59:1–4

Dimri AP, Dash SK (2012) Wintertime climatic trends in the western Himalayas. Clim Chang 111(3–4):775–800. https://doi.org/10.1007/s10584-011-0201-y

Dimri AP, Niyogi D (2013) Regional climate model application at subgrid scale on Indian winter monsoon over the western Himalayas. Int J Climatol 33(9):2185–2205. https://doi.org/10.1002/joc.3584

Dimri AP, Niyogi D, Barros AP, Ridley J, Mohanty UC, Yasunari T, Sikka DR (2015) Western disturbances: a review. Rev Geophys 53(2):225–246. https://doi.org/10.1002/2014RG000460

Dimri AP, Thayyen RJ, Kibler K, Stanton A, Tullos D, Singh VP (2016) A review of atmospheric and land surface processes with emphasis on flood generation along the southern rim of the Himalayas. Sci Total Environ 556:98–115

Easterling DR, Horton B, Jones PD, Peterson TC, Karl TR, Parker DE, Salinger JM, Razuvzyev V, Plummer N, Jamason P, Folland CK (1997) Maximum and minimum temperature trends for the globe. Science 227:364–365

Fowler HJ, Archer DR (2006) Conflicting signals of climatic change in the upper Indus Basin. J Clim 19(17):4276–4293. https://doi.org/10.1175/JCLI3860.1

Hussain M (1987) Geography of Jammu and Kashmir state. Rajesh Publication, New Delhi, pp 11–18

IPCC (2007) Climate change 2007: report of Working Group of the Intergovernmental Panel on Climate Change. Cambridge University Press, Cambridge, pp 16–72

IPCC (2013) Climate change 2013: the physical science basis. In: Stocker TF, Qin D, Plattner G-K, Tignor M, Allen SK, Boschung J, Nauels A, Xia Y, Bex V, Midgley PM (eds) Contribution of Working Group I to the Fifth Assessment Report of the Intergovernmental Panel on Climate Change. Cambridge University Press, Cambridge, 1535 pp. https://doi.org/10.1017/CBO9781107415324

Jhajharia D, Singh VP (2011) Trends in temperature, diurnal temperature range and sunshine duration in northeast India. Int J Climatol 31(9):1353–1367. https://doi.org/10.1002/joc.2164

Kadiolgu M (1997) Trends in surface air temperature data over Turkey. Int J Climatol 17:511–520

Kendall MG (1975) Rank correlation methods. Griffin, London

Kumar KK, Kumar KR, Ashrit RG, Deshpande NR, Hansen JW (2004) Climate impacts on India agriculture. Int J Climatol 24:1375–1393

Kumar KK, Rajagopalan B, Martin H, Gary B, Mark C (2006) Unraveling the mystery of Indian monsoon failure during El-Nino. Science 314:115–119

Li B, Chen Y, Shi X et al (2012) Temperature and precipitation changes in different environments in the arid region of northwest China. Theorotical and Applied Climatology https://doi.org/10.1007/s00704-012-0753-4

Mann HB (1945) Nonparametric tests against trend. Econometrica 13:124–259

Meals DW, Spooner J, Dressing SA, Harcum JB (2011) Statistical analysis for monotonic trends. U.S. Environmental Protection Agency. https://www.epa.gov/polluted-runoff-nonpoint-source-pollution/nonpoint-source-monitoringtechnical-notes

Oerlemans J (1994) Quantifying global warming from retreat of glaciers. Science 264(5156):243–245. https://doi.org/10.1126/science.264.5156.243

Pant GB, Borgaonkar HP (1984) Climate of the hill regions of Uttar Pradesh. Himal Res Dev 3:13–20

Peterson TC, Easterling DR, Karl TR, Groisman PY, Nicholis N, Plummer N, Torok S, Auer I, Boehm R, Gullett D, Vincent L, Heino R, Tuomenvirta H, Mestre O, Szentimrey T, Salinger J, Førland E, Hanssen-Bauer I, Alexandersson H, Jones P, Parker D (1998) Homogeneity adjustments of in situ atmospheric climate data: a review. Int J Climatol 18(13):1493–1517. https://doi.org/10.1002/(SICI)1097-0088(19981115)18:13<1493::AID-JOC329>3.0.CO;2-T

Pielke RA Sr, Stohlgren T, Parton W, Doesken N, Money J, Schell L (2000) Spatial representativeness of temperature measurements from a single site. Bull Am Meteorol Soc 81:826–830

Qiang F, Celeste MJ, Stephen GW, Dian JS (2004) Contribution of stratospheric cooling to satellite inferred tropospheric temperature trends. Nature 429:55–57

Rangwala I, Miller JR (2012) Climate change in mountains: a review of elevation-dependent warming and its possible causes. Clim Chang 114(3-4):527–547. https://doi.org/10.1007/s10584-012-0419-3

Rasool R, Shafiq M, Ahmed P, Ahmad P (2016) An analysis of climatic and human induced determinants of agricultural land use changes in Shupiyan area of Jammu and Kashmir state, India. GeoJournal. https://doi.org/10.1007/s10708-016-9755-6

Rebetez M (2004) Summer 2003 maximum and minimum daily temperature over a 3300 m altitudinal range in the Alps. Clim Res 27:45–50. https://doi.org/10.3354/cr027045

Schaer C, Vidale PL, Luthi D, Frei C, Haberli C, Liniger MA, Appenzeller C (2004) The role of increasing temperature variability in European summer heat waves. Nature 427:332–336

Seko K, Takahashi S (1991) Characteristics of winter precipitation and its effects on glaciers in Nepal Himalaya. Bull Glacier Res 9:9–16

Shafiq MU, Bhat MS, Rasool R, Ahmed P, Singh H, Hassan H (2016) Variability of precipitation regime in Ladakh region of India from 1901-2000. J Climatol Weather Forecast 4(2):165. https://doi.org/10.4172/2332-2594.1000165

Sharma KP, Moore B, Vorosmarty CJ III (2000) Anthropogenic, climatic and hydrologic trends in the Kosi Basin, Himalaya. Clim Chang 47:141–165

Shi XH, Xu XD (2008) Interdecadal trend turning of global terrestrial temperature and precipitation during1951–2002. Prog Nat Sci 18:1382–1393. https://doi.org/10.1016/j.pnsc.2008.06.002

Smadi MM, Zghoul A (2006) A sudden change in rainfall characteristics in Amman, Jordan during the mid-1950s. Am J Environ Sci 2(3):84–91. https://doi.org/10.3844/ajessp.2006.84.91

Tabari H, Somee BS, Zadeh MR (2011) Testing for long-term trends in climatic variables in Iran. Atmos Res 100(1):132–140. https://doi.org/10.1016/j.atmosres.2011.01.005

Villaba R, Lara A, Boninsegna JA, Masiokas M, Delgado S, Aravena JC, Roig FA, Schmelter A, Wolodarsky A, Ripalta A (2003) Large-scale temporal changes across the southern Andes: 20th century variations in the context of the past 400 years. Clim Chang 59(1/2):177–232. https://doi.org/10.1023/A:1024452701153

Vuille M, Bradley RS, Werner M, Keimig F (2003) 20th century climate change in the tropical Andes: observations and model results. Clim Chang 59(1/2):75–99. https://doi.org/10.1023/A:1024406427519

Wang JS, Chen FH, Zhang GQ (2008) Temperature variations in arid and semi-arid areas in middle part of Asia during the last 100 years. Plateau Meteorol 27:1035–1045

Wibig J, Glowicki B (2002) Trends in minimum and maximum temperature in Poland. Clim Res 20:123–133. https://doi.org/10.3354/cr020123

Xu J, Grumbine RE, Shrestha A, Eriksson M, Yang X, Wang Y, Wilkes A (2009) The melting Himalayas: cascading effects of climate change on water, biodiversity, and livelihoods. Conserv Biol 23(3):520–530. https://doi.org/10.1111/j.1523-1739.2009.01237.x

Yadav RK, Park WK, Singh J, Dubey B (2004) Do the western Himalayas defy global warming? Geophys Res Lett 31:L17201. https://doi.org/10.1029/2004GL020201

Yao J and Chen Y (2015) Trend analysis of temperature and precipitation in the Syr Darya Basin in Central Asia, Theor Appl Climatol 120:521–531DOI https://doi.org/10.1007/s00704-014-1187-y, 3-4, 531
Acknowledgements
The acknowledgements are due to Indian Meteorological Department (IMD), Srinagar for necessary meteorological data. Thanks are also to Mr. Hartmut Graßl, editor-in-chief of the journal and anonymous reviewers for their valuable suggestions and comments.
Funding
The authors would like to express their gratitude to University Grants Commission (UGC), Govt. of India for fellowship in the form of NET-JRF to the first author.
About this article
Cite this article
Shafiq, M.U., Rasool, R., Ahmed, P. et al. Temperature and Precipitation trends in Kashmir valley, North Western Himalayas. Theor Appl Climatol 135, 293–304 (2019). https://doi.org/10.1007/s00704-018-2377-9
Received:

Accepted:

Published:

Issue Date: