Abstract
In the present manuscript, we analyzed the pre-monsoon (March–April–May) rainfall over the Indian summer monsoon region using the Global Precipitation Climatology Project (GPCP) rainfall datasets during 1979–2015. It is found that the rainfall over the Bay of Bengal (BOB) has increased significantly and it is associated with the strengthening of local Hadley circulation over the BOB. The increasing Sea Surface Temperature (SST) over the Indian Ocean is playing an important role to the observed changes in convections and cloudiness over the BOB. In addition, the strengthening of the westerly enhances the wind speed and transports more moisture to the North Indian Ocean. In addition, warming of the SST and large-scale moisture convergence cause the rainfall to increase and the latent heat released in the process strengthens the divergent wind at 200 hPa. This strengthens the local Hadley circulation over the BOB, which may affect the monsoon strength over the Indian subcontinent, by influencing the onset of the Indian summer monsoon. This study will improve the understanding by monitoring the changes in the atmospheric processes over the BOB and the Indian subcontinent, which may result in better predictability of the Indian summer monsoon.
This is a preview of subscription content, log in to check access.
Access options
Buy single article
Instant access to the full article PDF.
US$ 39.95
Price includes VAT for USA
Subscribe to journal
Immediate online access to all issues from 2019. Subscription will auto renew annually.
US$ 199
This is the net price. Taxes to be calculated in checkout.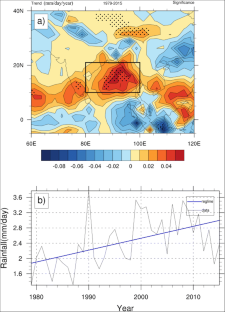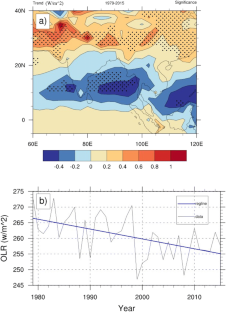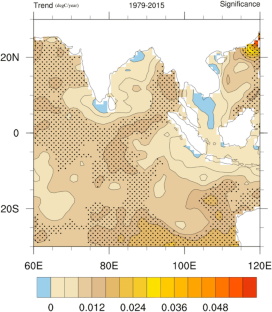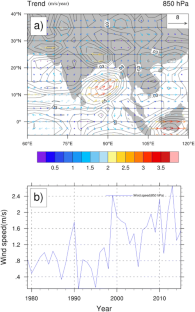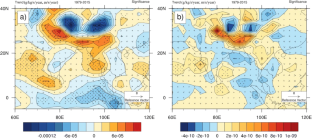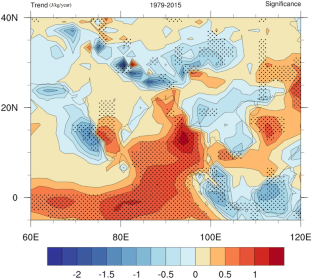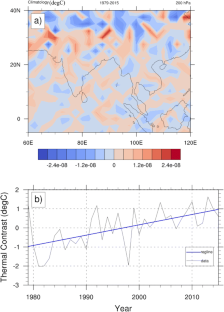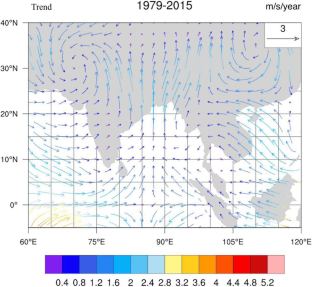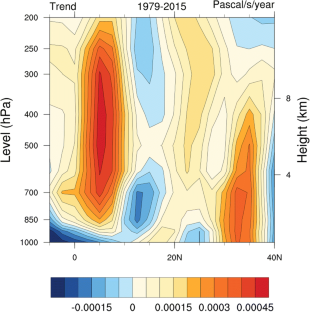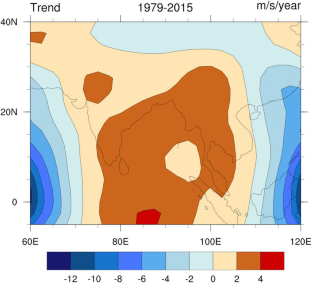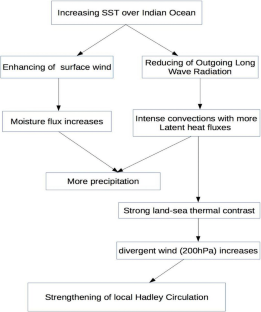 References
Adler RF, Huffman GJ, Chang A, Ferraro R, Xie P, Janowiak J, Rudolf B, Schneider U, Curtis S, Bolvin D, Gruber A, Susskind J, Arkin P (2003) The version-2 global precipitation climatology project (GPCP) monthly precipitation analysis (1979–present). J Hydrometeorol 4:1147–1167

Ananthakrishnan R, Srinivasan V, Ramakrishnan AR, Jambunathan R (1968) Synoptic features associated with onset of southwest monsoon over Kerala. In: Forecasting manual report no. IV-18.2. India Meteorological Department, Pune

Ananthakrishnan R, Pathan JM, Aralikatti SS (1981) On the northward advance of the ITCZ and the onset of the southwest monsoon rains over the southeast Bay of Bengal. Int J Climatol 1:153–116

Cadet DL, Greco S (1987) Water vapor transport over the Indian Ocean during the 1979 summer monsoon part: 2: water vapor budgets. Mon Weather Rev 115:2358–2366

Cadet D, Reverdin G (1981) The monsoon over the Indian Ocean during summer 1975 part I: mean fields. Mon Weather Rev 109:148–158

Chandrasekar A, Kitoh A (1998) Impact of localized sea surface temperature anomalies over the equatorial Indian Ocean and Indian summer monsoon. J Meteorol Soc Jpn 76:841–853

Dai A et al (2013) The relative roles of upper and lower tropospheric thermal contrasts and tropical influences indriving Asian summer monsoons. J Geophys Res 118:7024–7045

Danielsen EF (1993) In situ evidence of rapid, vertical, irreversible transport of lower tropospheric air into the lower tropical state-sphere by convective cloud turrets and by larger-scale upwelling in tropical stratosphere by convective cloud turrets and by larger-scale upwelling in tropical cyclones. J Geophys Res 98:8665–8681

Findlater J (1969) A major low-level air current near the Indian Ocean during the northern summer. Quart J Roy Meteor Soc 95:362–380

Gadgil S, Joshi NV, Joseph PV (1984) Ocean-atmosphere coupling over monsoon regions. Nature 312:141–143

Goswami BN, Venugopal V, Sengupta D, Madhusoodanan MS, Prince Xavier K (2006) Increasing trend of extremerain events over India in a warming environment. Science 314:1442–1445

Goswami BN, Krishnamurthy V, Annamalai H (1999) A broad scale circulation index for the interannual variability of the Indian summer monsoon. Quart J Roy Meteor Soc 125:611–633

IPCC (2007) The Physical Science Basis. Contribution of working group I to the Fourth Assessment Report of the Intergovernmental Panel on Climate Change. Cambridge University Press, New York, pp 589–663

Jiang X, Li JP (2011) Influence of the annual cycle of sea surface temperature on the monsoon onset. J Geophys Res 116:D10105. https://doi.org/10.1029/2010JD015236

Joseph PV (1990) Warm pool over the Indian Ocean and monsoon onset.. Tropical Ocean-Atmos News Lett 53:1–5

Ju J, Slingo JM (1995) The Asian summer monsoon and ENSO. Q J R Meteorol Soc 106:447–462

Kalnay E, Kanamitsu M, Kistler R, Collins W, Deaven E, Gandin L, Iredell M, Saha S, White G, Woolley J, Zhu Y, Chelliah M, Ebisuzaki W, Higgins W, Janowiak J, Mo K, Ropelewski C, Wang J, Leetmaa A, Reynolds R, Roy J, Joseph D (1996) The NCEP/NCAR 40-year reanalysis project. Bull Am Meteorol Soc 77:437–471

Kamae Y, Watanabe M, Kimoto M, Shiogama H (2014) Summertime land–sea thermal contrast and atmospheric circulation over East Asia in a warming climate—Part I: Past changes and future projections. Clim Dyn 43:2553–2568

Koteswaram P (1958) The easterly jet stream in the tropics. Tellus 10:43–57

Krishnamurti TN (1971) Tropical east-west circulations during the northern summer. J Atmos Sci 28:1342–1347

Krishnamurti TN, Ardanuy P, Ramanathan Y, Pasch R (1981) On the onset vortex of the summer monsoon. Mon Weather Rev 109:344–363

Naidu CV, Durgalakshmi K, Munikrishna K, Ramalingeswararao S, Satyanarayana GC, Lakshminarayana P, Malleswara rao L (2009) Is summer monsoon rainfall decreasing over Indian in the global warming era? J Geophys Res 114:D24108. https://doi.org/10.1029/2008JD011288

Oort AH, Yienger JJ (1996) Observed inter annual variability in the Hadley circulation and its connection to ENSO. J Clim 9:2751–2767

Ramage CS (1971) Monsoon meteorology (vol. 15 of international geophysics series). Academic, San Diego 296 pp

Rao SA et al (2012) Why is Indian Ocean warming consistently? Clim Change 110:709–719

Rao YP (1976) Southwest monsoon (meteorological monograph). India Meteorological Department, New Delhi 366 pp

Rayner NA, Parker DE, Horton EB, Folland CK, Alexander LV, Rowell DP, Kent EC, Kaplan A (2003) Global analysis of sea surface temperature, sea ice and night marine air temperature since the late nineteenth century. J Geophys Res 108:4407. https://doi.org/10.1029/2002JD002670

Roxy MK, Kapoor R, Pascal T, Raghu M, Karumuri A, Goswami BN (2015) Drying of Indian subcontinent by rapid Indian Ocean warming and a weakling land-sea thermal gradient. Nat Commun 6(7423)

Rupakumar K, Pant GB, Parthasarathy B, Sontakke NA (1992) Spatial and subseasonal patterns of the long term trends of Indian summer monsoon rainfall. Int J Clim 12:257–268

Saha KR, Bavadekar SN (1973) Water vapor budget and precipitation over the Arabian Sea during the northern summer. Quart J Roy Meteor Soc 99:273–278

Sathiyamoorthy V, Shukla BP, Pal PK (2010) Increase in the pre-monsoon rainfall over Indian summer monsoon region. Atmos Sci Lett 11:313–318

Shahi NK, Rai K, Pandey DK, Mishra N (2015) Seasonal prediction skill of Indian summer monsoon rainfall in ECMWF system 4 model. Clim Chang 1(4):469–475

Su H, Neelin JD, Meyerson JE (2003) Sensitivity of tropical tropospheric temperature to sea surface temperature forcing. J Clim 16:1283–1301

Subbaramayya I, Naidu CV (1992) Spatial variations and trends in Indian monsoon rainfall. Int J Clim 12:597–609

Swapna P, Krishnan R, Wallace J (2014) Indian Ocean and monsoon coupled interactions in a warming environment. Clim Dyn 42:2439–2454

Thapliyal V, Kulshrestha SM (1991) Climate changes and trends over India. Mausam 42:333–338

Trenberth KE, Stepaniak DP, Caron JM (2000) The global monsoon as seen through the divergent atmospheric circulation. J Clim 13:3969–3993

Ueda H, Kamae Y, Hayasaki M, Kitoh A, Watable S, Miki Y, Kumai A (2015) Combined effect of the recent Pacific cooling and Indian Ocean warming on Asian monsoon. Nat Commun 6:8854. https://doi.org/10.1038/ncomms9854

Vecchi GA, Harrison DE (2002) Monsoon breaks and sub-seasonal sea surface temperature variability in the Bay of Bengal. J Clim 15:1485–1493. https://doi.org/10.1175/1520-0442

Wei J, Su H, Yang Z-L (2015) Impact of moisture flux convergence and soil moisture on precipitation: a case study for the southern United States with the implications for the globe. Clm Dyn 46:467–481. https://doi.org/10.1007/s00382-0152593-2

Wu G, Liu Y, He B, Bao Q, Duan A, Jin FF (2012) Thermal controls on the Asian summer monsoon. Sci Rep 2:404

Xavier PK, Marzin C, Goswami BN (2007) An objective definition of the Indian summer monsoon season and a new perspective on the ENSO-monsoon relationship. Q J R Meteorol Soc 133:749–764
Acknowledgements
The authors highly acknowledge the scientific exchange and discussions with many members of the Center for Monsoon System Research group. The authors also would like to acknowledge the Institute of Atmospheric Physics, Chinese Academy of Sciences, for the materialistic support. The GPCP data were provided by the NOAA/OAR/ESRL PSD, Boulder, Colorado, USA, from their website at http://www.esrl.noaa.gov/psd/. The authors also would like to thank the anonymous reviewers for their valuable suggestions. This work is supported jointly by the National Natural Science Foundation of China (Grant No. 41750110484, 41675061), the Ministry of Science and Technology of China (2016YFA0600604), and the Key Research Program of Frontier Sciences, CAS (QYZDY-SSW-DQC024).
Ethics declarations
Competing interest
The authors declare that they have no competing interest.
Additional information
Publisher's note
Springer Nature remains neutral with regard to jurisdictional claims in published maps and institutional affiliations.
About this article
Cite this article
Choudhury, D., Nath, D. & Chen, W. Impact of Indian Ocean warming on increasing trend in pre-monsoon rainfall and Hadley circulation over Bay of Bengal. Theor Appl Climatol 137, 2595–2606 (2019). https://doi.org/10.1007/s00704-018-02751-2
Received:

Accepted:

Published:

Issue Date: