Abstract
This work calculates the current heating and cooling degree days and also examines heating and cooling degree days in relation to three subdivisions of the twenty-first century. On the basis of these data, we were able to calculate the heating and cooling degree months and degree years. After examining both sets of data, we studied the total needs of air conditioning—also referred to in the current paper as climatization needs——for Andalusia as a whole. The results indicate an increase in air conditioning needs, and we also noted that the areas adversely affected by this increase were more numerous than those which benefited, at the end of the century. It should be noted that climate change will also necessitate the gradual replacement of heating with cooling, which will require profound changes in the energy, land planning, and housing policies of the region. The true magnitude of the challenge becomes clear when the climatization degree days are related to the population which they affect; the majority of the population is located in areas where the climatization needs will increase over the course of the century. Undoubtedly, this issue is a major protagonist in the climate change adaptation process in Andalusia.
Access options
Buy single article
Instant access to the full article PDF.
USD 39.95
Price excludes VAT (USA)
Tax calculation will be finalised during checkout.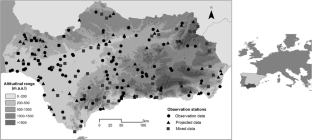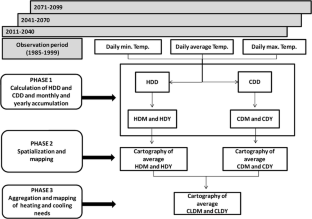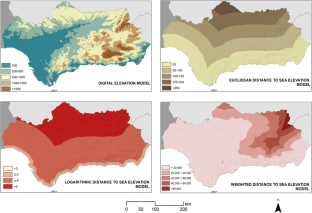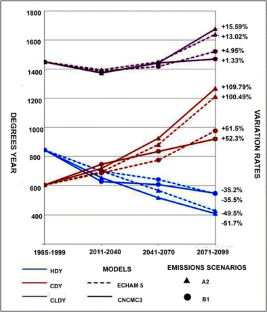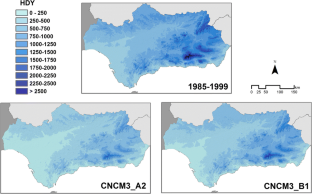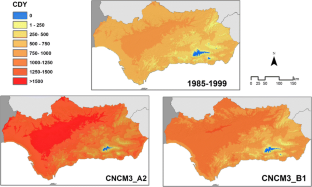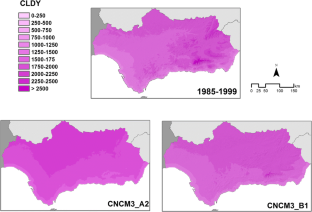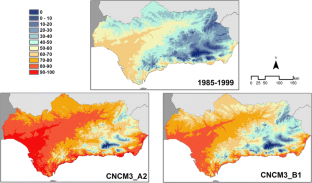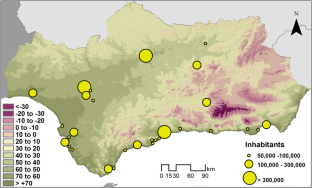 References
Aguilar E, Auer I, Brunet M, Peterson TC, Wieringa J (2003) Guidelines on climate metadata and homogenization. WCDMP-no. 53, WMO-TD no. 1186. World Meteorological Organization, Geneva

Alexandersson H, Moberg A (1997) Homogenization of Swedish temperature data. Part I: homogeneity test for lineal trends. Int J Climatol 17(1):25–34. https://doi.org/10.1002/(SICI)1097-0088(199701)17:1<25::AID-JOC103>3.0.CO;2-J

Allen RJ, DeGaetano AT (2001) Estimating missing daily temperature extremes using an optimized regression approach. Int J Climatol 21(11):1305–1319. https://doi.org/10.1002/joc.679

Álvarez JI (2011) Espacialización de la temperatura media mensual en Andalucía mediante técnicas estadísticas y SIG. Servicio de Publicaciones de la Universidad de Sevilla, Seville

Amato AD, Ruth M, Kirshen P, Horwitz J (2005) Regional energy demand responses to climate change: methodology and application to the common wealth of Massachusetts. Clim Chang 71(1-2):175–201. https://doi.org/10.1007/s10584-005-5931-2

Auffhammer M, Aroonruengsawat A (2011) Simulating the impacts of climate change, prices and population on California's residential electricity consumption. Clim Chang 109(1):191–210. https://doi.org/10.1007/s10584-011-0299-y

Benestad R (2008) Heating degree days, cooling degree days, and precipitation in Europe: analysis for the CELECT-project. Report for Norwegian met. Institute (available online at http://met.no/Forskning/Publikasjoner/metno_report/2008/filestore/metno_04-2008pdf)

Büyükalaca O, Bulut H, Yılmaz T (2001) Analysis of variable-base heating and cooling degree-days for Turkey. Appl Energy 69(4):269–283. https://doi.org/10.1016/S0306-2619(01)00017-4

Climent F, Valor E, Torró H, Caselles V (2003) Incidencia de la Climatología en el consumo de gas y electricidad en España. Información Comercial Española, ICE: Revista de economía 808:55–70

Correa E, De Rosa C, Lesino G (2005) Efecto sobre la distribución de los grados-día de calefacción y refrigeración en el área metropolitana del Gran Mendoza. Informe del avance Avances en Energías Renovables y Medio Ambiente 9:11.31–11.36

Cvitan L, Jurković RS (2016) Secular trends in monthly heating and cooling demands in Croatia. Theor Appl Climatol 125(3-4):565–581. https://doi.org/10.1007/s00704-015-1534-7

Giannakopoulos C, Hadjinicolau P, Zeferos C, Demosthenous G (2009) Changing energy requirements in the Mediterranean under changing climatic conditions. Energy 2(4):805–815. https://doi.org/10.3390/en20400805

Ginzburg AS, Reshetar OA, Belova N (2016) Impact of climatic factors on energy consumption during the heating season. Therm Eng 63(9):621–627. https://doi.org/10.1134/S0040601516080061

Gutiérrez E (2003) La demanda residencial de energía eléctrica en Andalucía: un análisis cuantitativo. Dissertation, University of Seville

Hamlet A, Lee SE, Mickelson K, Elsner M (2010) Effects of projected climate change on energy supply and demand in the Pacific northwest and Washington state. Clim Chang 102(1):103–128. https://doi.org/10.1007/s10584-010-9857-y

Hu S, Yan D, Cui Y, Guo S (2016) Urban residential heating in hot summer and cold winter zones of China—status, modeling and scenarios to 2030. Energy Policy 92:158–170. https://doi.org/10.1016/j.enpol.2016.01.032

Huang J, Gurney K (2016) Impact of climate change on U.S. building energy demand: sensitivity to spatiotemporal scales, balance point temperature, and population distribution. Clim Change (137):171–185. https://doi.org/10.1007/s10584-016-1681-6

Ibáñez M, Rosell JI (2001) Interpolación espacial de la temperatura del aire incorporando imágenes AVHRR. In: Martínez A, Rossel JI (eds) Teledetección, Medio Ambiente y Cambio Global. Universidad de Lleida, Barcelona, pp 405–408

IEA, International Energy Agency (2008) Energy efficiency requirements in building codes, energy efficiency policies for new buildings. https://www.iea.org/publications/freepublications/publication/Building_Codes.pdf. Accessed 12 Feb 2017

IPCC (2014) Climate change 2014: mitigation of climate change. Contribution of working group III to the fifth assessment report of the intergovernmental panel on climate change. Cambridge University press, Cambridge; New York

Jiang F, Li X, Wei B, Hu R, Li Z (2009) Observed trends of heating and cooling degree-days in Xinjiang Province, China. Theor Appl Climatol 97(3-4):349–360. https://doi.org/10.1007/s00704-008-0078-5

Justicia A, Domínguez R (1992) Notas metodológicas para la cumplimentación de series climáticas y extrapolación de datos. Su aplicación al mapa de temperaturas de Andalucía. Baetica: Estudios de arte, geografía e historia 14:56–80

Kadioglu M, Sen Z (1999) Degree-day formulations and application in Turkey. J Appl Meteorol 38(6):837–846. https://doi.org/10.1175/1520-0450(1999)038<0837:DDFAAI>2.0.CO;2

Kadioglu M, Sen Z, Gültekin L (2001) Variations and trends in Turkish seasonal heating and cooling degree-days. Clim Chang 49(1/2):209–223. https://doi.org/10.1023/A:1010637209766

Katsoulakos N, Kaliampakos D (2014) What is the impact of altitude on energy demand? A step towards developing specialized energy policy for mountainous areas. Energy Policy 71:130–138. https://doi.org/10.1016/j.enpol.2014.04.003

Labriet M, Joshi S, Vielle M, Holden PB, Edwards NR, Kanudia A, Loulou R, Babonneau F (2015) Worldwide impacts of climate change on energy for heating and cooling. Mitig Adapt Strateg Glob Chang 20(7):1111–1136. https://doi.org/10.1007/s11027-013-9522-7

Lam J (1998) Climatic and economic influences on residential electricity consumption. Energ Convers Manag 39(7):623–629. https://doi.org/10.1016/S0196-8904(97)10008-5

Lemonsu A, Viguié V, Daniel M, Masson V (2015) Vulnerability to heat waves: impact of urban expansion scenarios on urban heat island and heat stress in Paris (France). Urban Climate 14(4):586–605. https://doi.org/10.1016/j.uclim.2015.10.007

Matzarakis A, Balafoutis C (2004) Heating degree-days over Greece as an index of energy consumption. Int J Climatol 24(14):1817–1828. https://doi.org/10.1002/joc.1107

Memon RA, Leung DYC, Liu CH (2011) Urban heat island and its effect on the cooling and heating demands in urban and suburban areas of Hong Kong. Theor Appl Climatol 103(3-4):441–450. https://doi.org/10.1007/s00704-010-0310-y

Mima S, Criqui P (2015) The costs of climate change for the European energy system, an assessment with the POLES model. Environ Model Assess 20(4):303–319. https://doi.org/10.1007/s10666-015-9449-3

Mos RH, Edmonds JA, Hibbard KA, Manning MR, Rose SK, van Vuuren DP, Carter TR, Emori S, Kainuma M, Kram T, Meehl GA, Mitchell JF, Nakicenovic N, Riahi K, Smith SJ, Stouffer RJ, Thomson AM, Weyant JP, Wilbanks TJ (2010) The next generation of scenarios for climate change research and assessment. Nature 463(7282):747–763. https://doi.org/10.1038/nature08823

Moustris KP, Nastos TN, Bartzokas A, Larissi J, Zacharia P, Pialatsos A (2015) Energy consumption based on heating/cooling degree days within the urban environment of Athens, Greece. Theor Appl Climatol 122(3):517–529. https://doi.org/10.1007/s00704-014-1308-7

Ninyerola M, Pons X, Roure JM (2005) Atlas Climático Digital de la Península Ibérica. Metodología y aplicaciones en bioclimatología y geobotánica. Universidad Autónoma de Barcelona, Bellaterra

Ortiz MJ, Sánchez-López G, Álvarez-García FJ, Ruiz de Elvira A (2012) Evolution of heating and cooling degree-days in Spain: trends and interannual variability. Glob Planet Chang 92:236–247. https://doi.org/10.1016/j.gloplacha.2012.05.023

Rehman S, Al-Hadhrami LM, Khan S (2011) Annual and seasonal trends of cooling, heating, and industrial degree-days in coastal regions of Saudi Arabia. Theor Appl Climatol 104(3–4):479–488. https://doi.org/10.1007/s00704-010-0359-7

Ribalaygua J, Torres L, Pórtoles J, Monjo R, Gaitán E, Pino MR (2013) Description and validation of a two-step analog/regression downscaling method. Theor Appl Climatol 114(1–2):253–269. https://doi.org/10.1007/s00704-013-0836-x

Sailor D, Muñoz R (1997) Sensitivity of electricity and natural gas consumption to climate in the U.S.A: methodology and results for eight states. Energy 22(10):987–998. https://doi.org/10.1016/S0360-5442(97)00034-0

Sailor DJ, Pavlova AA (2003) Air conditioning market saturation and long-term response of residential cooling energy demand to climate change. Energy 28(9):941–951. https://doi.org/10.1016/S0360-5442(03)00033-1

Sánchez de la Flor FJ, Álvarez S (2004) Modelling microclimate in urban environments and assessing its influence on the performance of surrounding buildings. Energy Build 36(5):403–413. https://doi.org/10.1016/j.enbuild.2004.01.050

Semmler T, McGrath R, Steeler-Dunne S, Hanafin J, Nolan P, Wang S (2010) Influence of climate change in heating and cooling energy demand in Ireland. Int J Climatol 30(10):1502–1511. https://doi.org/10.1002/joc.1997

Valor E, Meneu V, Caselles V (2001) Daily air temperature and electricity load in Spain. J Appl Meteorol 40(8):413–1421. https://doi.org/10.1175/1520-0450(2001)040<1413:DATAEL>2.0.CO;2

van Vuuren DP, Carter TR (2014) Climate and socio-economic scenarios for climate change research and assessment: reconciling the new with the old. Clim Chang 122(3):415–429. https://doi.org/10.1007/s10584-013-0974-2

van Vuuren DP, Edmonds J, Kainuma M, Riahi K, Thomson A, Hibbard AK, Hurtt GC, Kram T, Krey V, Lamarque JF, Masui T, Meinshausen M, Nakicenovic N, Smith SJ, Rose SK (2011) The representative concentration pathways: an overview. Clim Chang 109(1-2):5–31. https://doi.org/10.1007/s10584-011-0148-z

Vicente-Serrano SM, Beguería S, López-Moreno JI, García-Vera MA, Stepanek P (2010) A complete daily precipitation database for northeast Spain: reconstruction, quality control, and homogeneity. Int J Climatol 30(8):1146–1163. https://doi.org/10.1002/joc.1850

Vogt JV, Viau AA, Paquet F (1997) Mapping regional air temperature fields using satellite-derived surface skin temperatures. Int J Climatol 17(14):1559–1579. https://doi.org/10.1002/(SICI)1097-0088(19971130)17:14<1559::AID-JOC211>3.0.CO;2-5

Wang H, Chen Q (2014) Impact of climate change heating and cooling energy use in buildings in the United States. Energy Build 82:428–436. https://doi.org/10.1016/j.enbuild.2015.06.007

Yildiz I, Sosaoglu B (2007) Spatial distributions of heating, cooling, and industrial degree-days in Turkey. Theor Appl Climatol 90(3-4):249–261. https://doi.org/10.1007/s00704-006-0281-
Acknowledgements
We are grateful to AEMET and to the Environment Agency of the Government of Andalusia for providing us with the observation climate data and the future projection climate data, respectively.
Funding
This research was funded by the Spanish Ministry of Economy and Competitiveness and FEDER (Project CSO2015-64026-P, EVALSOC) and by the European Union (Developing Skills in the Field of Integrated Energy Planning in Med Landscapes Project, ENEPLAN).
About this article
Cite this article
Limones-Rodríguez, N., Marzo-Artigas, J., Pita-López, M.F. et al. The impact of climate change on air conditioning requirements in Andalusia at a detailed scale. Theor Appl Climatol 134, 1047–1063 (2018). https://doi.org/10.1007/s00704-017-2324-1
Received:

Accepted:

Published:

Issue Date:

DOI: https://doi.org/10.1007/s00704-017-2324-1