Abstract
Rainfall anomaly during crop-growing season can have large impact on the agricultural output of a country, especially like India, where two-thirds of the crop land is rain-fed. In such situation, decreased agricultural production not only challenges food security of the country but directly and immediately hits the livelihood of its farming community. In a vast country like India, rainfall or its anomalies hardly follow a specific pattern, rather it is having high variability in spatial domain. This study focused on the trends of national and regional rainfall anomalies (wetness/dryness) along with their interrelationship using time series data of past 158 years. The significant reducing wetness trend (p < 0.05) over north mountainous India was prominent with an increasing trend over southern peninsular India (p < 0.10). However, long-term annual wetness was increasing over entire peninsular India. The results of change point tests indicate that major abrupt changes occurred between early to mid-twentieth century having regional variations. The regional interrelationship was studied using principal component, hierarchical clustering, and pair-wise difference test, which clearly indicated a significantly different pattern in rainfall anomalies for north east India (p = 0.022), north central India (p = 0.022), and north mountainous India (p = 0.011) from that of the all India. Result of this study affirmed high spatial variability in rainfall anomaly and most importantly established the unalike pattern in trends of regional rainfall vis-à-vis national level, ushering towards paradigm shift in rainfall forecast from country scale to regional scale for pragmatic planning.
This is a preview of subscription content,
to check access.
Access this article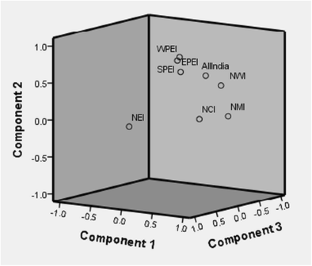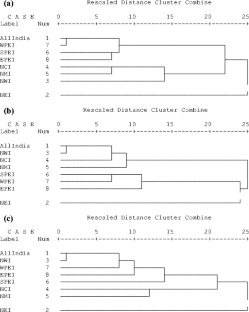 References
Alexandersson HA (1986) A homogeneity test applied to precipitation data. Int J Climatol 6:661–675

Basak P, Sengupta PR (1998) Some studies of southwest monsoon rainfall. Proc Ind Nat Sci Aca Part A 64:737–746

Bonaccorso B, Peres DJ, Castano A, Cancelliere A (2015) SPI-based probabilistic analysis of drought areal extent in Sicily. Water Resour Manag 29(2):459–470. https://doi.org/10.1007/s11269-014-0673-4

Bordi I, Frigio S, Parenti P, Speranza A, Sutera A (2001) The analysis of the Standardized Precipitation Index in the Mediterranean area: large-scale patterns. Ann Geofis 44(5–6):25

Bordi I, Fraedrich K, Jiang JM, Sutera A (2004) Spatio-temporal variability of dry and wet periods in eastern China. Theor Appl Climatol 79(1):81–91

Buishand TA (1982) Some methods for testing the homogeneity of rainfall records. J Hydrol 58(1–2):11–27

Burn DH, Elnur MAH (2002) Detecting hydrological trends and variability. J Hydrol 255:107–122

Chowdhury A, Abhyankar VP (1979) Does precipitation pattern foretell Gujrat climate becoming arid? Mausam 30:85–90

Dash SK, Nair AA, Kulkarni MA, Mohanty UC (2011) Characteristic changes in the long and short spells of different rain intensities in India. Theor Appl Climatol 105(3–4):563–570

Du J, Fang J, Xu W, Shi P (2013) Analysis of dry/wet conditions using the standardized precipitation index and its potential usefulness for drought/flood monitoring in Hunan Province, China. Stoch Env Res Risk A 27(2):377–387. https://doi.org/10.1007/s00477-012-0589-6

Ghosh S, Luniya V, Gupta A (2009) Trend analysis of Indian summer monsoon rainfall at different spatial scales. Atmos Sci Lett 10:285–290

Ghosh S, Das D, Kao SC, Ganguly AR (2011) Lack of uniform trends but increasing spatial variability in observed Indian rainfall extremes. Nat Clim Chang 2:86–91

Goswami BN, Venugopal V, Sengupta D, Madhusoodanan MS, Xavier PK (2006) Increasing trend of extreme rain events over India in a warming environment. Science 314:1442–1445

Goyal MK (2014) Statistical analysis of long term trends of rainfall during 1901–2002 at Assam, India. Water Resour Manag 28:1501–1515

Gupta AK, Tyagi P, Sehgal VK (2011) Drought disaster challenges and mitigation in India: strategic appraisal. Curr Sci 100(12):1795–1806

IPCC (2014) Summary for policymakers. In: Climate change, Mitigation of climate change. Contribution of Working Group III to the Fifth Assessment Report of the Intergovernmental Panel on Climate Change. Cambridge University Press, Cambridge, pp 1–31

Jain SK, Kumar V (2012) Trend analysis of rainfall and temperature data for India. Curr Sci 102(1):37–49

Jaiswal RK, Lohani AK, Tiwari HL (2015) Statistical analysis for change detection and trend assessment in climatological parameters. Environ Process 2(4):729–749

Jha S, Sehgal VK, Raghava R, Sinha M (2013) Trend of standardized precipitation index during Indian summer monsoon season in agroclimatic zones of India. Earth Syst Dyn Discuss 4(1):429–449

Joshi MK, Pandey AC (2011) Trend and spectral analysis of rainfall over India during 1901–2000. J Geophys Res 116:D06104. https://doi.org/10.1029/2010JD014966

Kashid SS, Maity R (2012) Prediction of monthly rainfall on homogeneous monsoon regions of India based on large scale circulation patterns using Genetic Programming. J Hydrol 454:26–41

Kaur S, Purohit MK (2016) Rainfall statistics of India—2015, Report No. ESSO/IMD/HS R.F. Report/04(2016)/22, India Meteorological Department, Ministry of Earth Sciences, Government of India

Klein Tank AM (2007) EUMETNET/ECSN optional programme: European Climate Assessment & Dataset (ECA&D) Algorithm Theoretical Basis Document (ATBD), version 4. Report EPJ029135

Kripalani RH, Kumar P (2004) Northeast monsoon rainfall variability over south peninsular India vis-a-vis the Indian Ocean dipole mode. Int J Climatol 24:1267–1282

Krishnamurthy V, Shukla J (2000) Intraseasonal and interannual variability of rainfall over India. J Clim 13:4366–4377

Kumar KR, Pant GB, Parthasarathy B, Sontakke NA (1992) Spatial and sub-seasonal patterns of the long-term trends of Indian summer monsoon rainfall. Int J Climatol 12(3):257–268

Kumar V, Jain SK, Singh Y (2010) Analysis of long-term rainfall trends in India. Hydrol Sci J 55(4):484–496

Kundzewicz ZW, Robson AJ (2004) Change detection in hydrological records—a review of the methodology. Hydrol Sci J 49(1):7–19

Machiwal D, Jha MK (2016) Evaluating persistence and identifying trends and abrupt changes in monthly and annual rainfalls of a semi-arid region in Western India. Theor Appl Climatol. https://doi.org/10.1007/s00704-016-1734-9

Machiwal D, Kumar S, Dayal D, Mangalassery S (2017) Identifying abrupt changes and detecting gradual trends of annual rainfall in an Indian arid region under heightened rainfall rise regime. Int J Climatol 37:2719–2733

Mall RK, Singh R, Gupta A, Srinivasan G, Rathore LS (2006) Impact of climate change on Indian agriculture: a review. Clim Chang 78(2–4):445–478

McKee TB, Doesken NJ, Kleist J (1993) The relationship of drought frequency and duration to time scales. In Proceedings of the 8th Conference on Applied Climatology 1993 Jan 17 (Vol. 17, No. 22, pp. 179-183). Boston, MA: American Meteorological Society

Meena PK, Khare D, Shukla R, Mishra PK (2015) Long term trend analysis of mega cities in Northern India using rainfall data. Ind J Sci Technol 8(3):247–253

Menon A, Levermann A, Schewe J, Lehmann J, Frieler K (2013) Consistent increase in Indian monsoon rainfall and its variability across CMIP-5 models. Earth Syst Dyn 4:287–300

Modarres R, da Silva VD (2007) Rainfall trends in arid and semi-arid regions of Iran. J Arid Environ 70(2):344–355

Mooley DA, Parthasarathy B (1984) Fluctuations of all India summer monsoon rainfall during 1871-1978. Clim Chang 6:287–301

Mooley DA, Parthasarathy B, Sontakke NA, Munot AA (1981) Annual rain-water over India, its variability and impact on the economy. J Climatol 1:167–186

Canziani OF, Palutikof JP, van der Linden PJ, Hanson CE (2007) Climate change 2007: impacts, adaptation and vulnerability. Cambridge University Press, Cambridge

Pant GB, Rupa Kumar K (1997) Climates of South Asia. John Wiley & Sons, Chichester, p 320

Parthasarathy B, Sontakke NA, Munot AA, Kothawale DR (1987) Droughts/floods in the summer monsoon rainfall season over different meteorological subdivisions of India for the period 1871-1984. J Climatol 7:57–70

Parthasarathy B, Rupa Kumar K, Munot AA (1993) Homogeneous Indian monsoon rainfall: variability and prediction. Proc Indian Acad Sci (Earth Planet Sci):121–155

Parthasarathy B, Munot AA, Kothawale DR (1995) All India monthly and seasonal rainfall series: 1871-1993. Theor Appl Climatol 49:217–224

Paul RK, Birthal PS (2016) Investigating rainfall trend over India using the wavelet technique. J Water Clim Chang 7(2):353–364

Paul RK, Gupta P, Ghosh H (2013) Wavelet frequency domain approach for modelling and forecasting of Indian monsoon rainfall time-series data. J Ind Soc Agric Stat 67:319–327

Pettit AN (1979) A non-parametric approach to the change point problem. J Appl Stat 28(2):126–135

Piechota TC, Garbrecht JD, Schneider JM (2006) Climate variability and climate change. Environmental and Water Resources Institute of the American Society of Civil Engineers, United States of America, pp 3–18

Pramanik SK, Jagannathan P (1954) Climatic changes in India rainfall. Indian J Meteorol Geophys 4:291–309

Rajeevan M, Bhate J, Kale JD, Lal B (2006) High resolution daily gridded rainfall data for the Indian region: analysis of break and active monsoon spells. Cur Sci 296–306

Rajeevan M, Bhate J, Jaswal AK (2008) Analysis of variability and trends of extreme rainfall events over India using 104 years of gridded daily rainfall data. Geophys Res Lett 35, L18707. doi:https://doi.org/10.1029/2008GL035143, 2008

Rajeevan M, Unnikrishnan CK, Bhate J, Kumar N, Sreekala PP (2012) Northeast monsoon over India: variability and prediction. Meteorol Appl 19:226–236

Raziei T, Saghafian B, Paulo AA, Pereira LS, Bordi I (2009) Spatial patterns and temporal variability of drought in western Iran. Water. Resour. Manage 23(3):439–455

Sagarika S, Kalra A, Ahmad S (2014) Evaluating the effect of persistence on long-term trends and analyzing step changes in streamflows of the continental United States. J Hydrol 517:36–53

Saha S, Chakraborty D, Choudhury BU, Singh SB, Chinza N, Lalzarliana C, Dutta SK, Chowdhury S, Boopathi T, Lungmuana AR, Ngachan SV (2015) Spatial variability in temporal trends of precipitation and its impact on the agricultural scenario of Mizoram. Curr Sci 109(12):2278–2282

Santer BD, Wigley TM, Boyle JS, Gaffen DJ, Hnilo JJ, Nychka D, Parker DE, Taylor KE (2000) Statistical significance of trends and trend differences in layer-average atmospheric temperature time series. J Geophys Res 105(D6):7337–7356

Sen Roy S, Balling RC (2004) Trends in extreme daily precipitation indices in India. Int J Climatol 24(4):457–466

Sen Roy S, Mahmood R, Quintanar AI, Gonzalez A (2011) Impacts of irrigation on dry season precipitation in India. Theor Appl Climatol 104:193–207

Sharma S, Singh PK (2017) Long term spatiotemporal variability in rainfall trends over the State of Jharkhand, India. Climate 5:18. https://doi.org/10.3390/cli5010018

Singh N, Sontakke NA (2002) On climatic fluctuations and environmental changes of the Indo-Gangetic plains, India. Clim Chang 52(3):287–313

Singh N, Sontakke NA, Singh HN, Pandey AK (2005) Recent trend in spatiotemporal variation of rainfall over India—an investigation into basin-scale rainfall fluctuations. IAHS-AISH Publication, 296, pp 273–282

Solomon S (2007) Climate change 2007: the physical science basis: contribution of Working Group I to the Fourth Assessment Report of the Intergovernmental Panel on Climate Change. Cambridge University Press, Cambridge

Sontakke NA, Singh N, Singh HN (2008) Instrumental period rainfall series of the Indian region (AD 1813—2005): revised reconstruction, update and analysis. The Holocene 18(7):1055–1066

Stephenson DB, Rupa kumar K (2001) Searching for a fingerprint of global warming in the Asian summer monsoon. Mausam 52:213–220

Taxak AK, Murumkar AR, Arya DS (2014) Long term spatial and temporal rainfall trends and homogeneity analysis in Wainganga basin, Central India. Weather Clim Extremes 4:50–61

Thapliyal V, Kulshrestha SM (1991) Climate changes and trends over India. Mausam 42:333–338

Villarini G, Serinaldi F, Smith JA, Krajewski WF (2009) On the stationarity of annual flood peaks in the continental United States during the 20th century. Water Resour Res 45(8):W08417. https://doi.org/10.1029/2008WR007645

von Neumann J (1941) Distribution of the ratio of the mean square successive difference to the variance. Ann Math Stat 12(4):367–395

Ward JH Jr (1963) Hierarchical grouping to optimize an objective function. J Am Stat Assoc 58(301):236–244

Wong CL, Venneker R, Uhlenbrook S, Jamil AB, Zhou Y (2009) Variability of rainfall in Peninsular Malaysia. Hydrol Earth Syst Sci Discuss 6:5471–5503

World Meteorological Organization (2012) Standardized precipitation index user guide. (Svoboda, M., Hayes M., Wood, D.) WMO-No. 1090, Chair, Publications Board, World Meteorological Organization (WMO) Geneva, Switzerland,pp 8–24

Wu WB, Zhao Z (2007) Inference of trends in time series. J R Stat Soc Ser B69(3):391–410

www.tropmet.res.in/static_page.php?page_id=52. Last accessed 5th September, 2017

Zarenistanak M, Dhorde AG, Kripalani RH (2014) Trend analysis and change point detection of annual and seasonal precipitation and temperature series over southwest Iran. J Earth Syst Sci 123(2):281–295
Funding
This work is financially supported under the National Mission for Sustaining the Himalayan Ecosystem (Task force 6), Department of Science and Technology, Govt. of India.
Electronic supplementary material
About this article
Cite this article
Saha, S., Chakraborty, D., Paul, R.K. et al. Disparity in rainfall trend and patterns among different regions: analysis of 158 years' time series of rainfall dataset across India. Theor Appl Climatol 134, 381–395 (2018). https://doi.org/10.1007/s00704-017-2280-9
Received:

Accepted:

Published:

Issue Date:

DOI: https://doi.org/10.1007/s00704-017-2280-9