Abstract
The climate and hydrology of the Western Himalayas is complex and a function of snow and glacier melt, land use, topography, and Indian summer and winter monsoon dynamics. Improving our knowledge about these processes is important from societal and agricultural points of view. In this study, an observational analysis is carried out to assess the changing climatic trends and the associated interannual variability in winter temperature and precipitation at three glacierized regions of Western Himalayas having distinctly different sub-regional characteristics. In situ observations of 23 years (1985–2007) are used. These observations are passed through rigorous statistical quality control checks. Results show higher interannual variability with increasing temperature trends in the glacierized regions of the Siachen (Karakoram Range) and Chotasigri (Great Himalayan Range). Karakoram Range has higher warming trends than the Great Himalayan Range. In case of precipitation, an overall decrease in precipitation is observed with contrasting trends in the last decade. Nino3.4 index is positively correlated with winter precipitation with similar interannual variability. In addition, at Siachen temperature and precipitation show strong negative correlation, and precipitation to spell length correlation is opposite at Siachen and Chotasigri.
Access options
Buy single article
Instant access to the full article PDF.
US$ 39.95
Tax calculation will be finalised during checkout.
Subscribe to journal
Immediate online access to all issues from 2019. Subscription will auto renew annually.
US$ 119
Tax calculation will be finalised during checkout.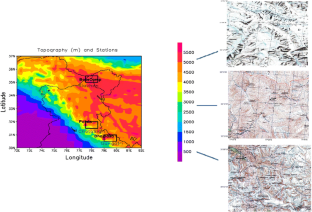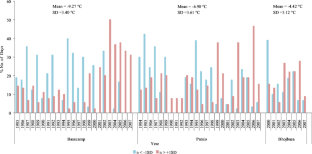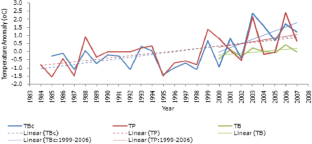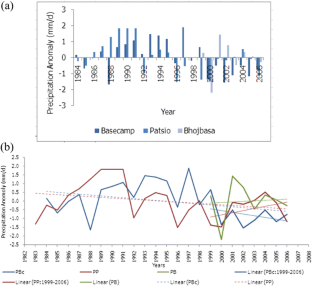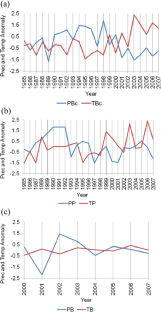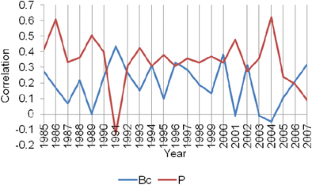 References
Baidya SK, Shrestha ML, Sheikh MM (2008) Trends in daily climatic extremes of temperature and precipitation in Nepal. J Hydrol Meteorol 5:38–51

Barnett TP, Adam JC, Lettenmaier DP (2005) Potential impact of a warming climate on water availability in snow dominated regions. Nature 438:303–309

Basistha A, Arya DS, Goel NK (2009) Analysis of historical changes in rainfall in the Indian Himalaya. Int J Climatol 29:555–572

Beniston M, Diaz HF, Bradley RS (1997) Climatic change at high elevation sites: an overview. Clim Chang 36:233–251

Berthier E, Arnau Y, Kumar R, Ahmad S, Wagnon P, Chevallier P (2007) Remote sensing estimates of glacier mass balance in the Himachal Pradesh (western Himalaya, India). Remote Sensing Environ 108:327–338

Bhutiyani MR, Kale VS, Pawar NJ (2007) Long-term trends in maximum, minimum and mean annual air temperatures across the northwestern Himalaya during the twentieth century. Climate Change 85:159–177

Bhutiyani MR, Kale VS, Pawar NJ (2010) Climate change and the precipitation variations in the northwestern Himalayas:1866-2006. Int J Climatol. https://doi.org/10.1002/joc.1920

Bookhagen B, Burbank DW (2010) Toward a complete Himalaya hydrological budget: spatiotemporal distribution of snowmelt and rainfall and their impact n river discharge. J Geophys Res 115. https://doi.org/10.1029/2009JF001426

Bradley SB, Vuille M, Diaz HF, Vergar W (2006) Threats to water supplies in the tropical Andes. Science 312:1755–1756

Chaujar RK (2009) Climate change and its impact on the Himalayan glaciers—a case study on the Chorabari glacier, Garhwal Himalaya, India. Curr Sci 96:703–708

Dahe Q, Shiyin L, Peiji L (2006) Snow cover distribution, variability, and response to climate change in western China. J Clim 19:1820–1833

Dickinson RE, Henderson-Sellers A, and Kennedy PJ (1993) Biospheres-atmosphere transfer scheme (BATS) version 1e as coupled to the NCAR Community climate model, NCAR tech. Note NCAR/TN-387+STR, 72 pp.

Dimri AP, Dash SK (2010) Winter temperature and precipitation changes in the Siachen Glacier. Curr Sci 98(12):1620–1625

Dimri AP, Dash SK (2012) Wintertime climatic trends in the western Himalayas. Clim Chang 111(3–4):775–800

Dimri AP (2004) Impact of horizontal model resolution and orography on the simulation of a western disturbance and its associated precipitation. Meteorol Appl 11(2):115–127

Dimri AP (2005) The contrasting features of winter circulation during surplus and deficient precipitation over western Himalayas. PAGEOPH 162(11):2215–2237

Dimri AP (2006) Surface and upper air fields during extreme winter precipitation over western Himalayas. PAGEOPH 163(8):1679–1698

Dimri AP (2007) The transport of mass, heat and moisture over western Himalaya during winter season. Theor Appl Climatol 90:49–63

Dimri AP (2009) Impact of subgrid scale scheme on topography and Landuse for better regional scale simulation of meteorological variables over western Himalaya. Clim Dyn 32:565–574

Dimri AP (2013) Interannual variability of Indian winter monsoon over the western Himalayas. Global and Planetray Change (In Press)

Dobhal DP, Kumar S, Mundepi AK (1995) Morphology and glacier dynamics studies in monsoon–arid transition zone : an example from Chotasigri glacier, Himachal–Himalaya, India. Curr Sci 68:936–944

Dyurgerov MB and Meier MF (2005) Glaciers and the changing earth systems: a 2004 snapshot. Boulder, CO, Institute of Arctic and Alpine Research. Occasional paper 58

Ganjoo RK, Koul MN (2009) Is the Siachen glacier melting? Curr Sci 97(3):309–310

Giorgi F, Hurrell JW, Marinucci MR, Beniston M (1997) Elevation signals in surface climate change: a model study. J Clim 10:288–296

Gurung DR, Kulkarni AV, Giriraj A, Aung KS, Shrestha B, Srinivasn J (2011) Changes in seasonal snow cover in Hindu Kush Himalayan region. The Cryosphere Discussion 5:755–777

Hewitt K (2005) The Karakoram Anomaly? Glacier Expansion and the 'Elevation Effect,' Karakoram Himalaya Mountain Research and Development 25(4):332–340, 2005. doi:https://doi.org/10.1659/0276-4741(2005)025%5b0332:TKAGEA%5d2.0.CO;2

Hoaglin, D.C., F. Mosteller and J.W. Tukey, 1983. Understanding robust and exploratory data analysis, Wiley

Houghton JT, Ding Y, Griggs DJ, Noguer M, van der Linden PJ, Dai X, Maskel K, Johnson CA (2001) Climate change 2001: the scientific basis. In: Contribution of working group 1 to the third assessment report of intergovernmental panel on climate change. Cambridge University Press, Cambridge etc.

Immerzeel WW, Droogers P, Jong SMD, Bierkens MFP (2009) Large scale monitoring of snow cover and runoff simulation in Himalayan river basins using remote sensing. Remote Sens Environ 113:40–49

Immerzeel WW, Van Beek LPH, Bierkens MFP (2010) Climate change will affect the Asian water towers. Science 328:1382–1385

IPCC (2007) Climate change : the scientific basis. Cambridge University Press, Cambridge

Jhajharia D, Singh VP (2010) Trends in temperature, diurnal temperature range and sunshine duration in northeast India. Int J Climatol. https://doi.org/10.1002/joc2164

Kaul MK and Puri VMK (1999) Inventory of the Himalayan glacier: a contribution to the international hydrological Programme. In M. K. Kaul and V.M.K. Puri (Ed.), Geological Survey of India, 165 pp.

Kulkarni AV, Bahuguna IM, Rathore BP, Singh SK, Randhawa SS, Sood RK, Dhar S (2007) Glacial retreat in Himalaya using Indian remote sensing satellite data. Curr Sci 92(1):69–74

Kulkarni AV, Rathore BP, Alex S (2004) Monitoring of glacial mass balance in the Baspa basin using accumulation area ratio method. Curr Sci 86(1):185–190

Kumar K, Dumka RK, Miral MS, Satyal GS, Pant M (2008) Estimation of retreat rate of Gangotri glacier using rapid static and kinematic GPS survey. Curr Sci 94(2):258–262

Liu XN, Sun AJ (1995) An inhomogeneity test study of annual precipitation series (in Chinese with English abstract). Meteorol Monogr 21:3–6

Menon S, Koch D, Beig G, Sahu S, Fasullo J, Orlikowski D (2010) Black carbon aerosols and the third polar ice cap. Atmos Chem Phys 10:4559–4571

Mohanty UC, Dimri AP (2004) Location specific prediction of probability of occurrence and quantity of precipitation over western Himalaya. Weather Forecast 19(3):520–533

Mool PK, Bajracharya SR, Joshi SP (2001a) Inventory of glaciers, glacial lakes and glacial lake outburst floods: monitoring and early warning systems in the Hindu Kush Himalaya region, Nepal. Kathmandu, International Centre for Integrated Mountain Developments

Mool PK, Wangda D, Bajracharya SR, Kuzang K, Gurung DR, Joshi SP (2001b) Inventory of glaciers, glacial lakes and glacial lake outburst floods: monitoring and early warning systems in the Hindu Kush Himalaya region, Bhutan. Kathmandu, International Centre for Integrated Mountain Developments

Naithani AK, Nainwal HC, Sati KK, Prasad C (2001) Geomorphological evidences of retreat of the Gangotri glacier and its characteristics. Curr Sci 80(1):87–94

Nie Y, Zhang Y, Liu L, Zhang J (2010) Glacial changes in the vicinity of Mt Qomolangma (Everest), central high Himalayas since 1976. J Geoge Sci 20(5):667–686

Press WH, Flannery BP, Teukolsky SA, Vetterling WT (1986) Numerical recipes : the art of scientific computing. Cambridge University Press

Ramanathan V, Ramana MV, Roberts G, Kim D, Corrigan C, Chung C, Winker D (2007) Warming trends in Asia amplified by brown cloud solar absorption. Nature 448:575–578

Sateesh SK, Krishnamoorthy K, Sureshbabu S, Vinoj V, Dutt CBS (2008) Climate implications of large warming by elevated aerosol over India. Geophys Res Lett 35(L19809). https://doi.org/10.1029/2008GL034944

Shrestha AB, Wake CP, Mayewski PA, Dibb JE (1999) Maximum temperature trends in the Himalaya and its vicinity: An analysis based on temperature records from Nepal for the period 1971–94. J Clim 12:2775–2767

Shrestha AB, Wake CP, Dibb JE, Mayewski PA (2000) Precipitation fluctuations in the Nepal Himalaya and its vicinity and relationship with some large scale climatological parameters. Int J Climatol 20:317–327

Solomon S, Qin D, Manning M, Chen Z, Marquis M, Averyt KB, Tignor M, Miller HL (2007) Climate change 2007: the physical science basis. In: Contribution of working group 1 to the fourth assessment report of intergovernmental panel on climate change. Cambridge University Press, Cambridge etc.

Upadhyay R (2009) The melting of the Siachen glacier. Curr Sci 96(5):646–648

Vernekar AD, Zhou J, Shukla J (1995) The effect of Eurasian snow cover on the Indian monsoon. J Clim 8:248–266

Vincent LA (1998) A technique for the identification of inhomogeneities in Canadian temperature series. J Clim 11:1094–1104

Wagnon P, Linda A, Arnaud Y, Kumar R, Sharma P, Vincent C, Pottakal JG, Berthier E, Ramanathan A, Hasnain SI, Chevallier P (2007) Four year mass balance on Chotasigri glacier, Himachal Pradesh, India, a new benchmark glacier in the western Himalaya. J Glaciol 53(183):603–611

Wilks DS (1995) Statistical methods in the atmospheric sciences. US, Academic Press
Acknowledgments
APD acknowledges Ms. Anila Rambal for providing English edits of the manuscript.
About this article
Cite this article
Dimri, A.P., Immerzeel, W.W., Salzmann, N. et al. Comparison of climatic trends and variability among glacierized environments in the Western Himalayas. Theor Appl Climatol 134, 155–163 (2018). https://doi.org/10.1007/s00704-017-2265-8
Received:

Accepted:

Published:

Issue Date: