Abstract
Spatial and temporal characteristics of temperature extremes have been investigated in Huang-Huai-Hai (HHH) region based on the daily series of temperature observations from 162 meteorological stations. A total of 11 indices were used to assess the changes of temperature pattern. Linear trend analyses revealed that the daily maximum temperature (TXx) increased at α = 0.05 level with a magnitude of 0.15 °C per decade on the regional scale during the period of 1961–2014. More pronounced warming trend of the daily minimum temperature (TNn) was detected at a rate of 0.49 °C per decade (α = 0.01 level). Consequently, a decreasing trend of the temperature range of TXx and TNn (extreme temperature range) was observed. The frequency of hot days (TXf90) and annual average of warm events (warm spell duration indicator, WSDI) showed significant increasing trends, while that of cold nights (TNf10) and cold events (cold spell duration indicator, CSDI) showed opposite behaviors. Both warm winter (W-W) and hot summer (H-S) series displayed significant increasing trends at α = 0.01 confidence level. The cold winter (C-W) series showed a decreasing trend at α = 0.01 confidence level, while the cool summer (C-S) series showed a nonsignificant decreasing trend that is not passing the 90% confidence level (α = 0.1). Abrupt increments of warm­related extremes (TXx, TXf90, WSDI) have been detected since 1990s, and a steadily decreasing trend of cold related extremes (TNf10, CSDI) was found since 1970s. Ten hot summers out of 11 and nine warm winters out of 10 occurred after 1990s. Altitude has a large impact on spatial pattern of extreme temperature indices, and the urban heat island effect also has an impact on amplitude of variation in extreme temperature. Trend magnitudes are significantly larger at sites with high altitudes for warm­related indices (TXx, TXf90, WSDI), while those involving cold-related indices (TNn, TNf10) are remarkably larger for stations with low altitudes.
Access options
Buy single article
Instant access to the full article PDF.
US$ 39.95
Tax calculation will be finalised during checkout.
Subscribe to journal
Immediate online access to all issues from 2019. Subscription will auto renew annually.
US$ 119
Tax calculation will be finalised during checkout.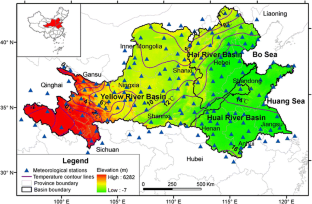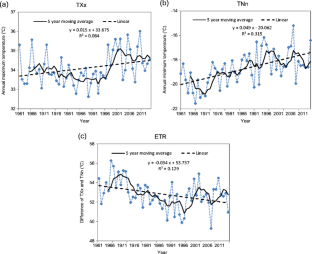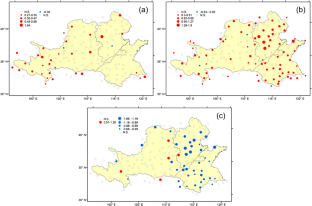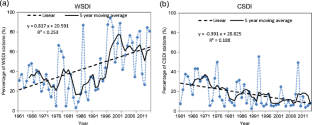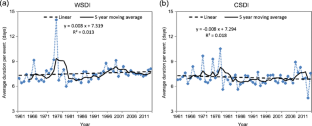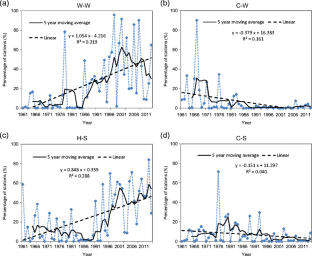 References
Alexander LV, Zhang X, Peterson TC, Caesar J, Gleason B, Klein Tank AMG, Haylock M, Collins D, Trewin B, Rahimzadeh F, Tagipour A, Rupa Kumar K, Revadekar J, Griffiths G, Vincent L, Stephenson DB, Burn J, Aguilar E, Brunet M, Taylor M, New M, Zhai P, Rusticucci M, Vazquez-Aguirre JL (2006) Global observed changes in daily climate extremes of temperature and precipitation. J Geophys Res 111:05109. doi:https://doi.org/10.1029/2005JD006290

Battisti DS, Naylor RL (2009) Historical warnings of future food insecurity with unprecedented seasonal heat. Science 323:240–244

Boccolari M, Malmusi S (2013) Changes in temperature and precipitation extremes observed in Modena, Italy. Atmos Res 122:16–31

Bonsal BR, Zhang X, Vincent LA, Hogg WD (2001) Characteristics of daily and extreme temperatures over Canada. J Clim 14:1959–1976

Challinor AJ, Wheeler TR, Craufurd PQ, Ferro CAT, Stephenson DB (2007) Adaptation of crops to climate change through genotypic responses to mean and extreme temperatures. Agric Ecosyst Environ 119:190–204

Chen Y, Ren GY, Wang L, Zou XK, Zhang Q (2009) Temporal change of warm winter events over the last 56 years in China. J Appl Meteorol Sci 20(5):539–545 (in Chinese with English abstract)

Chen YN, Deng HJ, Li BF, Li Z, Xu C (2014) Abrupt change of temperature and precipitation extremes in the arid region of Northwest China. Quat Int 336:35–43

Collins DA, Della-Marta PM, Plummer N, Trewin BC (2000) Trends in annual frequencies of extreme temperature events in Australia. Aust Meteorol Mag 49:277–292

DeGaetano AT, Allen RJ (2002) Trends in twentieth-century temperature extremes across the United States. J Clim 15:3188–3205

Dos Santos CAC, Neale CMU, Rao TVR, Da Silva BB (2011) Trends in indices for extremes in daily temperature and precipitation over Utah, USA. Int J Climatol 31:1813–1822

El Kenawy A, López-Moreno JI, Vicente-Serrano SM (2011) Recent trends in daily temperature extremes over northeastern Spain (1960–2006). Nat Hazards Earth Syst Sci 11:2583–2603

Emadodin I, Taravat A, Rajaei M (2016) Effects of urban sprawl on local climate: a case study, north central Iran. Urban Climate 17:230–247

Fan YH, Tian MY, Jing Q, Tian ZW, Han HM, Jiang D, Cao WX, Dai TB (2015) Winter night warming improves pre-anthesis crop growth and post-anthesis photosynthesis involved in grain yield of winter wheat (Triticum aestivum L.) Field Crop Res 178:100–108

Fang SB, Cammarano D, Zhou GS, Tan KY, Ren SX (2015) Effects of increased day and night temperature with supplemental infrared heating on winter wheat growth in North China. Eur J Agron 64:67–77

Feng S, Hu Q, Qian WH (2004) Quality control of daily meteorological data in China, 1951-2000: a new dataset. Int J Climatol 24:853–870

Gao Y, Feng Q, Liu W, Lu AG, Wang Y, Yang J, Cheng AF, Wang YM, Su YB, Liu L, Ma Q (2015) Changes of daily climate extremes in Loess Plateau during 1960-2013. Quat Int 371:5–21

Gornall J, Betts R, Burke E, Clark R, Camp J, Willett K, Wiltshire A (2010) Implications of climate change for agricultural productivity in the early twenty-first century. Philos Trans R Soc B 365:2973–2989

Guan YH, Zhang XC, Zheng FL, Wang B (2015) Trends and variability of daily temperature extremes during 1960-2012 in the Yangtze River Basin, China. Glob Planet Chang 124:79–94

He L, Asseng S, Zhao G, Wu DR, Yang XY, Zhuang W, Jin N, Yu Q (2015) Impacts of recent climate warming, cultivar changes, and crop management on winter wheat phenology across the Loess Plateau of China. Agric For Meteorol 200:135–143

Hirsch RM, Alexander RB, Smith RA (1991) Selection of methods for the detection and estimation of trends in water quality. Water Resour Res 27:803–814

Hundecha Y, Bárdossy A (2005) Trends in daily precipitation and temperature extremes across western Germany in the second half of the 20th century. Int J Climatol 25:1189–1202

IPCC (2007) Summary for policymakers. In: Solomon S, Qin D, Manning M, Chen Z, Marquis M, Averyt KB, Tignor M, Miller HL (eds) Climate change 2007: the physical science basis—contribution of working group I to the Forth Assessment Report of the Intergovernmental Panel on Climate Change. Cambridge University Press, Cambridge, pp 1–18

IPCC (2012) Managing the risks of extreme events and disasters to advance climate change adaptation. Cambridge University Press, Cambridge

IPCC (2014) Climate change 2014: synthesis report—contribution of Working Groups I, II and III to the Fifth Assessment Report of the Intergovernmental Panel on Climate Change, [Core Writing Team, Pachauri RK, Meyer LA (eds.)]. IPCC, Geneva, Switzerland, 151 pp

Jiang C, Mu XM, Wang F, Zhao GJ (2016) Analysis of extreme temperature events in the Qinling Mountains and surrounding area during 1960-2012. Quat Int 392:155–167

Jiao YP, Chen F, Tang H, Li QF, Zhang HL (2006) Food production contribution of China's major agricultural area. Crops 22(1):17–20 (in Chinese)

Jones PD (1995) Maximum and minimum temperature trends in Ireland, Italy, Thailand, Turkey and Bangladesh. Atmos Res 37:67–78

Karl TR, Jones PD, Knight RW, Kukla G, Plummer N, Razuvayev V, Gallo KP, Lindseay J, Charlson RJ, Peterson TC (1993) Asymmetric trends of daily maximum and minimum temperature. Bull Am Meteorol Soc 74:1007–1023

Klein Tank AMG, Können GP (2003) Trends in indices of daily temperature and precipitation extremes in Europe, 1946–99. J Clim 16:3665–3680

Klein Tank AMG, Peterson TC, Quadir DA, Dorji S, Zou X, Tang H, Santhosh K, Joshi UR, Jaswal AK, Kolli RK, Sikder AB, Deshpande NR, Revadekar JV, Yeleuova K, Vandasheva S, Faleyeva M, Gomboluudev P, Budhathoki KP, Hussain A, Afzaal M, Chandrapala L, Anvar H, Amanmurad D, Asanova VS, Jones PD, New MG, Spektorman T (2006) Changes in daily temperature and precipitation extremes in central and south Asia. J Geophys Res 111:D16105. doi:https://doi.org/10.1029/2005JD006316

Kothawale DR, Revadekar JV, Kumar KR (2010) Recent trends in pre-monsoon daily temperature extremes over India. J Earth Syst Sci 119:51–65

Kruger AC, Sekele SS (2013) Trends in extreme temperature indices in South Africa: 1962–2009. Int J Climatol 33:661–676

Lanzante JR (1996) Resistant, robust and nonparametric techniques for the analysis of climate data: theory and examples, including applications to historical radiosonde station data. Int J Climatol 16:1197–1226

Lauritsen RG, Rogers JC (2012) U.S. diurnal temperature range variability and regional causal mechanisms, 1901–2002. J Clim 25:7216–7231

Li ZX, He YQ, Wang CF, Wang XF, Xin HJ, Zhang W, Cao WH (2011) Spatial and temporal trends of temperature and precipitation during 1960-2008 at the Hengduan Mountains, China. Quat Int 236:127–142

Li ZX, He YQ, THEAKSTONE WH, Wang XF, Zhang W, Cao WH, Du JK, Xin HJ, Chang L (2012) Altitude dependency of trends of daily climate extremes in southwestern China, 1961–2008. J Geogr Sci 22:416–430

Liu BH, Xu M, Henderson M, Qi Y, Li YQ (2004) Taking China's temperature: daily range, warming trends, and regional variations, 1955-2000. J Clim 17:4453–4462

Liu XD, Cheng ZG, Yan LB, Yin ZY (2009) Elevation dependency of recent and future minimum surface air temperature trends in the Tibetan Plateau and its surroundings. Glob Planet Chang 68:164–174

Pedro-Monzonís M, Solera A, Ferrer J, Estrela T, Paredes-Arquiola J (2015) A review of water scarcity and drought indexes in water resources planning and management. J Hydrol 527:482–493

Pepin NC, Lundquist JD (2008) Temperature trends at high elevations: patterns across the globe. Geophys Res Lett 35:L14701

Peterson TC, Folland C, Gruza G, Hogg W, Mokssit A, Plummer N (2001) Report on the activities of the working group on climate change detection and related rapporteurs 1998–2001. International CLIVAR Project Office, Southampton 144pp

Prieto L, Herrera RG, Díaz J, Hernández E, Del Teso T (2004) Minimum extreme temperatures over Peninsular Spain. Glob Planet Chang 44:59–71

Rao BB, Chowdary PS, Sandeep VM, Rao VUM, Venkateswarlu B (2014) Rising minimum temperature trends over India in recent decades: implications for agricultural production. Glob Planet Chang 117:1–8

Revadekar JV, Kothawale DR, Patwardhan SK, Pant GB, Kumar KR (2012) About the observed and future changes in temperature extremes over India. Nat Hazards 60:1133–1155

Rusticucci M, Barrucand M (2004) Observed trends and changes in temperature extremes over Argentina. J Clim 17:4099–4107

Saadatabad AR, Bidokhti AA (2011) Urbanization effects on local climate in Tehran Megapolis. Res J Environ Sci 5:1–21

Salinger MJ, Griffiths GM (2001) Trends in New Zealand daily temperature and rainfall extremes. Int J Climatol 21:1437–1452

Sayemuzzaman M, Mekonnen A, Jha MK (2015) Diurnal temperature range trend over North Carolina and the associated mechanisms. Atmos Res 160:99–108

Tabari H, Talaee PH (2011) Analysis of trends in temperature data in arid and semi-arid regions of Iran. Glob Planet Chang 79:1–10

Vose RS, Easterling DR, Gleason B (2005) Maximum and minimum temperature trends for the globe: an update through 2004. Geophys Res Lett 32:L23822

Wang L, Zhang Q, Chen Y, Gong DY (2007) Changes of warm winter and winter temperature over China in the past 50 years. Adv Clim Chang Res 3(1):26–30 (in Chinese with English abstract)

Wang SJ, Zhang MJ, Wang BL, Sun MP, Li XF (2013a) Recent changes in daily extremes of temperature and precipitation over the western Tibetan Plateau, 1973-2011. Quat Int 313-314:110–117

Wang HJ, Chen YN, Chen ZS, Li WH (2013b) Changes in annual and seasonal temperature extremes in the arid region of China, 1960–2010. Nat Hazards 65:1913–1930

Wang SJ, Jiao ST, Xin HJ (2013c) Spatio-temporal characteristics of temperature and precipitation in Sichuan Province, Southwestern China, 1960-2009. Quat Int 286:103–115

Xu X, Du YG, Tang JP, Wang Y (2011) Variations of temperature and precipitation extremes in recent two decades over China. Atmos Res 101:143–154

You Q, Kang S, Pepin N, Yan Y (2008) Relationship between trends in temperature extremes and elevation in the eastern and central Tibetan Plateau, 1961-2005. Geophys Res Lett 35:L04704

You QL, Min JZ, Fraedrich K, Zhang W, Kang SC, Zhang L, Meng XH (2014) Projected trends in mean, maximum, and minimum surface temperature in China from simulations. Glob Planet Chang 112:53–63

Yu Z, Li XL (2015) Recent trends in daily temperature extremes over northeastern China (1960-2011). Quat Int 380-381:35–48

Yue S, Wang CY (2002) The influence of serial correlation on the Mann-Whitney test for detecting a shift in median. Adv Water Resour 25:325–333

Zhang Q, Xu CY, Zhang Z, Ren G, Chen Y (2008) Climate change or variability? The case of Yellow river as indicated by extreme maximum and minimum air temperature during 1960-2004. Theor Appl Climatol 93:35–43

Zhang Q, Xu CY, Zhang Z, Chen YD (2009) Changes of temperature extremes for 1960–2004 in Far-West China. Stoch Env Res Risk A 23:721–735

Zhang XB, Alexander L, Hegerl GC, Jones P, Klein Tank A, Peterson TC, Trewin B, Zwiers FW (2011) Indices for monitoring changes in extremes based on daily temperature and precipitation data. Wiley Interdiscip Rev Clim Chang 2:851–870

Zhou L, Dai A, Dai Y, Vose RS, Zou C-Z, Tian Y, Chen H (2009) Spatial dependence of diurnal temperature range trends on precipitation from 1950 to 2004. Clim Dyn 32(2–3):429–440
Acknowledgements
The authors thank the anonymous referees for reviewing the manuscript and for their valuable comments and suggestions. The meteorological data was provided by the National Meteorological Information Center of China Meteorological Administration.
Funding
This study is jointly funded by the General Program of the National Natural Science Foundation of China (Grant Nos. 51279207, 41401045, 51409266, 51409267).
About this article
Cite this article
Wang, G., Yan, D., He, X. et al. Trends in extreme temperature indices in Huang-Huai-Hai River Basin of China during 1961–2014. Theor Appl Climatol 134, 51–65 (2018). https://doi.org/10.1007/s00704-017-2252-0
Received:

Accepted:

Published:

Issue Date: