Abstract
Atmospheric rivers (ARs) are channels of high water vapor flux that transport moisture from low to higher latitudes on synoptic timescales. In areas of topographical variability, ARs may lead to high-intensity precipitation due to orographic forcing. ARs landfalling along North America's west coast are linked to extreme events including those leading to flooding and landslides. In southern California (SCA), proper AR forecasting is important for regional water resources as well as hazard mitigation and as the area's annual precipitation totals occur from relatively few storms per season, any changes to storm frequency and/or intensity may have dramatic consequences. Yet, as most regional AR studies focus on the Pacific Northwest, there is little information about SCA ARs. We develop an algorithm to identify ARs landfalling on North America's west coast between 1979 and 2013 within total precipitable water reanalysis fields. ARs are then categorized according to landfall region. To determine and differentiate the characteristics and spatial distributions of ARs affecting these areas, we examine lag composites of various atmospheric variables for each landfall region. SCA ARs differ from ARs landfalling farther north in the days prior to landfall with the position and amplitude of a trough offshore from the Asian continent and ridge over Alaska, as well as the displacement and eastward extension of the jet core that potentially guides AR moisture southwards. The relationships between AR landfalls and the El Niño/Southern Oscillation (ENSO), the Madden-Julian Oscillation (MJO), and the Pacific/North American Teleconnection Pattern (PNA) are also investigated.
Access options
Buy single article
Instant access to the full article PDF.
USD 39.95
Price excludes VAT (USA)
Tax calculation will be finalised during checkout.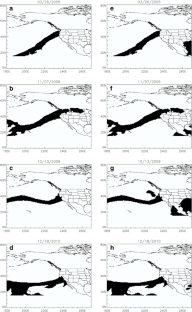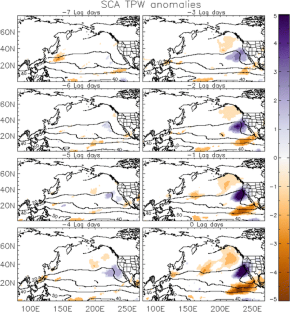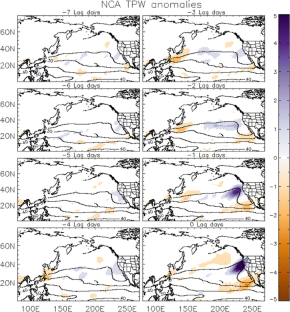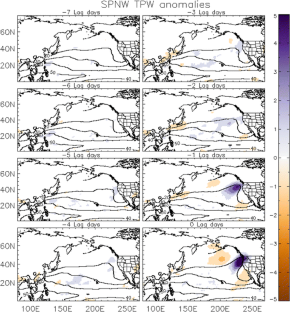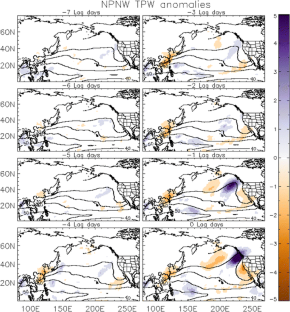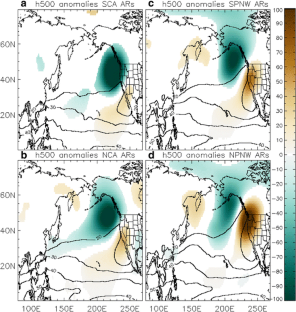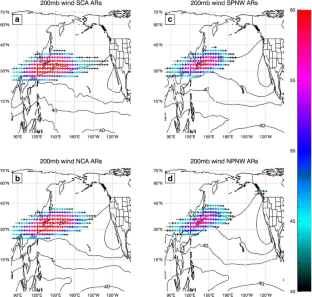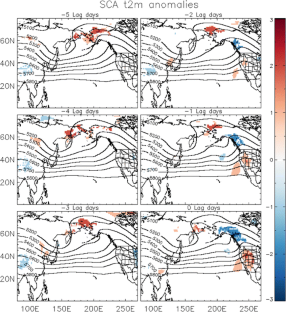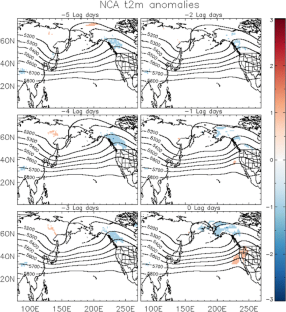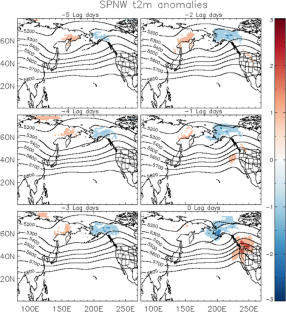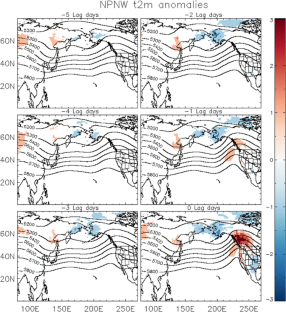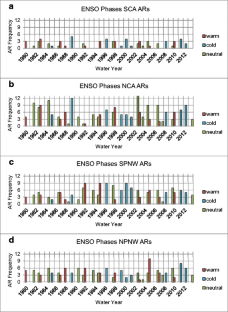 References
Bao JW, Michelson SA, Neiman PJ, Ralph FM, Wilczak JM (2006) Interpretation of enhanced integrated water vapor bands associated with extratropical cyclones: their formation and connection to tropical moisture. Mon Wea Rev 134:1063–1080

Bell GD, Higgins W (2005) National Oceanic and Atmospheric Administration, Climate Prediction Center. 18 December 2004–17 January 2005: U.S. Storms and Flooding in the West and Midwest Exceptional Warmth in the Midwest and East. Climate Prediction Center Web. http://www.cpc.ncep.noaa.gov/products/expert_assessment/california_assessment_2005.pdf 23 February 2016

Caine N (1980) The rainfall intensity: duration control of shallow landslides and debris flows. Geogr Ann Ser A: Phys Geogr 62:23–27

Campmany E, Bech J, Rodríguez-Marcos J, Sola Y, Lorente J (2010) A comparison of total precipitable water measurements from radiosonde and sunphotometers. Atm Res 97:385–392

Dettinger MD (2004) Fifty-two years of pineapple-express storms across the West Coast of North America. California Energy Commission PIER Energy-Related Environmental Research Report CEC-500-2005-004, p 15

Dettinger MD, Ralph FM, Das T, Neiman PJ, Cayan DR (2011) Atmospheric rivers, floods, and the water resources of California. Water 3:455–478

Guan B, Waliser DE, Molotch NP, Fetzer EJ, Neiman PJ (2012) Does the Madden-Julian oscillation influence wintertime atmospheric rivers and snowpack in the Sierra Nevada? Mon Wea Rev 140:325–342

Guan B, Molotch NP, Waliser DE, Fetzer EJ, Neiman PJ (2013) The 2010/11 snow season in California's Sierra Nevada: role of atmospheric rivers and modes of large-scale variability. Water Resour Res 49:6731–6743

Jiang T, Deng Y (2011) Downstream modulation of North Pacific atmospheric river activity by East Asian cold surges. Geophys Res Lett 38:L20807. doi:10.1029/2011GL049462

Jiang T, Evans KJ, Deng Y, Dong X (2014) Intermediate frequency atmospheric disturbances: a dynamical bridge connecting western U.S. extreme precipitation with East Asian cold surges. J Geophys Res: Atmospheres 119:3723–3735. doi:10.1002/2013JD021209

Jones C (2000) Occurrence of extreme precipitation events in California and relationships with the Madden–Julian oscillation. J Clim 13:3576–3587

Jones C, Carvalho LMV (2012) Spatial-intensity variations in extreme precipitation in the contiguous United States and the Madden-Julian oscillation. J Clim 24:4898–4913

Jones C, Gottschalck J, Carvalho LMV, Higgins W (2011) Influence of the Madden-Julian oscillation on forecasts of extreme precipitation in the contiguous United States. Mon Wea Rev 139:332–350

Kim J, Waliser DE, Neiman PJ, Guan B, Ryoo J-M, Wick GA (2013) Effects of atmospheric river landfalls on the cold season precipitation in California. Clim Dyn 40:465–474. doi:10.1007/s00382-012-1322-3

Knippertz P, Martin JE (2007) A Pacific moisture conveyor belt and its relationship to a significant precipitation event in the semiarid southwestern United States. Wea Forecasting 22:125–144. doi:10.1175/WAF963.1

Leathers DJ, Yarnal B, Palecki MA (1991) The Pacific/North American teleconnection pattern and United States climate. Part I: Regional temperature and precipitation associations. J Clim 4:517–528

Madden RA, Julian PR (1994) Observations of the 40-50-day tropical oscillation—a review. Mon Wea Rev 122:814–837

Mo KC, Higgins RW (1998) Tropical influences on California precipitation. J Clim 11:412–431

Neiman PJ, Ralph FM, White AB, Kingsmill DE, Persson POG (2002) The statistical relationship between upslope flow and rainfall in California's coastal mountains: observations during CALJET. Mon Wea Rev 130:1468–1492

Neiman PJ, Ralph FM, Wick GA, Lundquist JD, Dettinger MD (2008a) Meteorological characteristics and overland precipitation impacts of atmospheric rivers affecting the west coast of North America based on eight years of SSM/I satellite observations. J Hydrometeorol 9:22–47

Neiman PJ, Ralph FM, Wick GA, Kuo YH, Wee TK, Ma Z, Taylor GH, Dettinger MD (2008b) Diagnosis of an intense atmospheric river impacting the Pacific Northwest: storm summary and offshore vertical structure observed with COSMIC satellite retrievals. Mon Wea Rev 136. doi:10.1175/2008MWR2550.1

Neiman PJ, Schick LJ, Ralph FM, Hughes M, Wick GA (2011) Flooding in western Washington: the connection to atmospheric rivers*. J Hydrometeorol 12. doi:10.1175/2011JHM1358.1

Neiman PJ, Ralph FM, Moore BJ, Hughes M, Mahoney KM, Cordeira JM, Dettinger MD (2013) The landfall and inland penetration of a flood-producing atmospheric river in Arizona. Part I: Observed synoptic-scale, orographic, and hydrometeorological characteristics. J Hydrometeorol 14:460–484

Newman M, Kiladis GN, Weickmann KM, Ralph FM, Sardeshmukh PD (2012) Relative contributions of synoptic and low-frequency eddies to time-mean atmospheric moisture transport, including the role of atmospheric rivers. J Clim 25. doi:10.1175/JCLI-D-11-00665.1

Payne AE, Magnusdottir G (2014) Dynamics of landfalling atmospheric rivers over the North Pacific in 30 years of MERRA reanalysis. J Clim 27. doi:10.1175/JCLI-D-14-00034.1

Ralph FM, Dettinger MD (2011) Storms, floods, and the science of atmospheric rivers. Eos, Trans Amer Geophys Union 92:265–272

Ralph FM, Dettinger MD (2012) Historical and national perspectives on extreme west coast precipitation associated with atmospheric rivers during December 2010. Bull Amer Meteor Soc 93:783–790

Ralph FM, Neiman PJ, Wick GA (2004) Satellite and CALJET aircraft observations of atmospheric rivers over the eastern North Pacific Ocean during the winter of 1997/98. Mon Wea Rev 132:1721–1745

Ralph FM, Neiman PJ, Rotunno R (2005) Dropsonde observations in low-level jets over the northeastern Pacific Ocean from CALJET-1998 and PACJET-2001: mean vertical-profile and atmospheric-river characteristics. Mon Wea Rev 133:889–910

Ralph FM, Neiman PJ, Wick GA, Gutman SI, Dettinger MD, Cayan DR, White AB (2006) Flooding on California's Russian River: role of atmospheric rivers. Geophys Res Lett 33. doi:10.1029/2006GL026689

Ralph FM, Neiman PJ, Kiladis GN, Weickmann K, Reynolds DW (2010) A multi-scale observational case study of a Pacific atmospheric river exhibiting tropical–extratropical connections and a mesoscale frontal wave. Mon Wea Rev 139. doi:10.1175/2010MWR3596.1

Rutz JJ, Steenburgh WJ (2012) Quantifying the role of atmospheric rivers in the interior western United States. Atm Sci Lett:13. doi:10.1002/asl.392

Rutz JJ, Steenburgh WJ, Ralph FM (2014) Climatological characteristics of atmospheric rivers and their inland penetration over the western United States. Mon Wea Rev 142:905–921

Rutz JJ, Steenburgh WJ, Ralph FM (2015) The inland penetration of atmospheric rivers over western North America: a lagrangian analysis. Mon Wea Rev 143. doi:10.1175/MWR-D-14-00288.1

Saha S, Moorthi S, Pan HL, Wu X, Wang J, Nadiga S, Tripp P, Kistler R, Woollen J, Behringer D, Liu H, Stokes D, Grumbine R, Gayno G, Wang J, Hou YT, Hy C, Juang HMH, Sela J, Iredell M, Treadon R, Kleist D, Van Delst P, Keyser D, Derber J, Ek M, Meng J, Wei H, Yang R, Lord S, van den Dool H, Kumar A, Wang W, Long C, Chelliah M, Xue Y, Huang B, Schemm JK, Ebisuzaki W, Lin R, Xie P, Chen M, Zhou S, Higgins W, Zou CZ, Liu Q, Chen Y, Han Y, Cucurull L, Reynolds RW, Rutledge G, Goldberg M (2010) The NCEP climate forecast system reanalysis. Bull Am Meteorol Soc 91:1015–1057

Schoenherr AA (1992) A natural history of California, vol 56. Univ of California Press, pp 8

Sodemann H, Stohl A (2013) Moisture origin and meridional transport in atmospheric rivers and their association with multiple cyclones*. Mon Wea Rev 141:2850–2868

Wallace JM, Gutzler DS (1981) Teleconnections in the geopotential height field during the Northern Hemisphere winter. Mon Wea Rev 109:784–812

Zhang C (2005) Madden-Julian oscillation. Rev Geophys 43:1–26

Zhu Y, Newell RE (1994) Atmospheric rivers and bombs. Geophys Res Lett 21:1999–2002

Zhu Y, Newell RE (1998) A proposed algorithm for moisture fluxes from atmospheric rivers. Mon Wea Rev 126:725–735
Acknowledgements
The authors greatly appreciate many helpful discussions with Charles Jones who was crucial to the algorithm's development. The availability of CFSR data as well as ONI and PNA indices from NOAA was very helpful. Sarah M. Harris is grateful for financial support from the University of California Graduate Division.
About this article
Cite this article
Harris, S.M., Carvalho, L.M.V. Characteristics of southern California atmospheric rivers. Theor Appl Climatol 132, 965–981 (2018). https://doi.org/10.1007/s00704-017-2138-1
Received:

Accepted:

Published:

Issue Date:

DOI: https://doi.org/10.1007/s00704-017-2138-1