Abstract
ENSO has been known to influence the trends of summer warming over Southern Africa. In this work, we used observational and reanalysis data to analyze the relationship between ENSO and maximum surface air temperature (SATmax) trends during the three epochs created by the ENSO phase shifts around 1977 and 1997 for the period 1960 to 2014. We observed that while ENSO and cloud cover remains the dominant factor controlling SATmax variability, the first two epochs had the predominant La Niña (El Niño)-like events connected to robust positive (negative) trends in cloud fraction. However, this established relationship reversed in the post-1997 La Niña-like dominated epoch which coincided with a falling cloud cover trend. It is established that this deviation from the previously established link within the previous epochs could be due to the post-1998 era in which SATmin was suppressed while SATmax was enhanced. The resulting increase in diurnal temperature range (DTR) could have discouraged the formation of low-level clouds which have relatively more extensive areal coverage and hence allowing more solar energy to reach the surface to boost daytime SATmax. It is noted that these relationships are more pronounced from December to March.
Access options
Buy single article
Instant access to the full article PDF.
USD 39.95
Price includes VAT (USA)
Tax calculation will be finalised during checkout.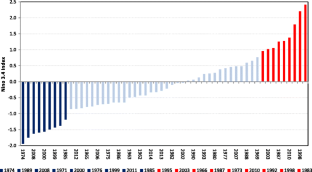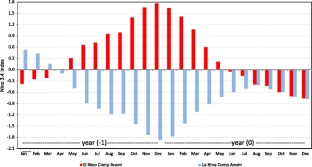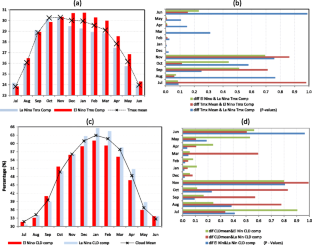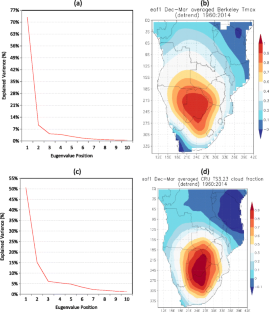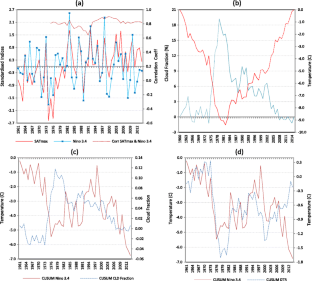 References
Allan RJ, Reason CJC, Lindesay JA, Ansell TJ (2003) Protracted ENSO episodes and their impacts in the Indian Ocean region. Deep-Sea Res II Top Stud Oceanogr 2:2331–2347

Arntzen J, Downing T, Leemans R, Malcolm J, Reynard N, Ringrose S, Rogers D (1996) Climate change and southern Africa: an exploration of some potential impacts in the SADC region. World Wildlife Fund, Climatic Research Unit, Norwich

Breaker LC (2007) A closer look at regime shifts based on coastal observations along the eastern boundary of the North Pacific. Cont Shelf Res 27:2250–2277. doi:10.1016/j.csr.2007.05.018

Buishand TA (1982) Some methods for testing the homogeneity of rainfall records. J Hydrol 58(1–2):11–27

Colberg F, Reason CJC, Rodgers K (2004) South Atlantic response to El Niño Southern Oscillation induced climate variability in an ocean general circulation model. J Geophys Res 109:C12015. doi:10.1029/2004JC002301

d'Abreton PC, Lindesay JA (1993) Water vapour transport over southern Africa during wet and dry early and late summer months. Int J Climatol 13:151–170. doi:10.1002/joc.3370130203

Dieppois B, Rouault M, New M (2015) The impact of ENSO on Southern African rainfall in CMIP5 ocean atmosphere coupled climate models. Clim Dyn. doi:10.1007/s00382-015-2480-x

Ding H, Greatbatch RJ, Latif M, Park W, Gerdes R (2013) Hindcast of the 1976/77 and 1998/99 climate shifts in the Pacific. J Clim 26:7650–7661

Fedorov A, Philander S (2000) Is El Niño changing? Science 288:1997–2002

Folland, C., et al., 2001. Observed climate variability and change, In: Houghton J et al., Climate Change 2001: The Scientific Basis: Contribution of Working Group 1 to the Third Assessment Report of the Intergovernmental Panel on Climate Change, pp. 99–181, Cambridge Univ. Press, New York.

Goddard L, Graham NE (1999) Importance of the Indian ocean for simulating rainfall anomalies over eastern and southern Africa. J Geophys Res Atmos 104(D16):19,099–19,116. doi:10.1029/1999JD900326

Groisman P, Bradley RS, Sun BM (2000) The relationship of cloud cover to near surface temperature and humidity: comparison of GCM simulations with empirical data. J. Climate 13:1858–1878

Hachingonta S, Reason CJC, Tadross M (2008) An analysis of onset date and rainy season duration over Zambia. Theor Appl Climatol 91:229–243. doi:10.1007/s00704-007-0306-4

Hoell A, Funk C, Magadzire T, Zinke J, Husak G (2015) El Niño–Southern Oscillation 499 diversity and Southern Africa teleconnections during Austral Summer. Clim Dyn 45(500):1583–1599

Ibanez F, Fromentin JM, Castel J (1993) Application of the cumulated function to the processing of chronological data in oceanography. CR Acad Sci III Vie 316:745–748

IPCC (2001) Climate change 2001: The scientific basis. Third Assessment Report of the Intergovernmental Panel on Climate Change. Cambridge Univ. Press. Cambridge

IPCC (2013) AR5. Climate change: the physical science basis. In: Stocker TF, Qin D, Plattner G-K, Tignor M, Allen SK, Boschung J, Nauels A, Xia Y, Bex V, Midgley PM (eds). Contribution of Working Group I to the Fifth Assessment Report of the Intergovernmental Panel on Climate Change, Cambridge University Press, Cambridge and New York, 1535 pp, doi:10.1017/CBO9781107415324.

Jolliffe IT (2002) Principal component analysis, second edn. Springer-Verlag New York, Inc., New York

Kaplan A, Cane M, Kushnir Y, Clement Y, Blumenthal M, Rajagopalan B (1998) Analyses of global sea surface temperature 1856-1991. J Geophys Res 103:18,567–18,589

Kosaka Y, Xie SP (2013) Recent global-warming hiatus tied to equatorial Pacific surface cooling. Nature 501(7467):403–407

Lanzante JR (1996) Resistant, robust and non-parametric techniques for the analysis of climate data: theory and examples, including applications to historical radiosonde station data. Int J Climatol 16(11):1197–1226

Lyon B, Mason SJ (2007) The 1997-98 summer rainfall season in southern Africa. Part I: Observ J Climate 20:5134–5148. doi:10.1175/JCLI4225.1

Manatsa D, Reason CJC (2016) ENSO-Kalahari Desert linkage on Southern Africa summer surface air temperature variability. Int J Climatol R Meteorol Soc. doi:10.1002/joc.4806

Manatsa D, Unganai L, Gadzirai C (2012) An innovative tailored seasonal rainfall forecasting production in Zimbabwe. J Nat Hazards. doi:10.1007/s11069-012-0286-2

Manatsa D, Morioka Y, Behera SK, Yamagata T, Matarira CH (2013) Link between Antarctic ozone depletion and summer warming over southern Africa. Nat Geosci. doi:10.1038/ngeo1968

Manatsa D, Morioka Y, Behera SK, Mushore TD, Mugandani R (2015a) Linking the southern annular mode to the diurnal temperature range shifts over Southern Africa. Int J Climatol. doi:10.1002/joc.4281

Manatsa D, Mushore TD, Lenouo A (2015b) Improved predictability of droughts over southern Africa using the standardized precipitation evapotranspiration index and ENSO. Theor Appl Climatol. doi:10.1007/s00704-015-1632-6

Meque A, Abiodun BJ (2014) Simulating the link between ENSO and summer drought in Southern Africa using regional climate models. Clim Dyn 44(7–8):1881–1900. doi:10.1007/s00382-014-2143-3

Moeletsi EM, Walker S, Landman WA (2011) ENSO and implications on rainfall characteristics with reference to maize production in the Free State Province of South Africa. Phys Chem Earth 36:14-15–715-726. doi:10.1016/j.pce.2011.07.043

North GR, Bell TL, Cahalan RF, Mohen FJ (1982) Sampling errors in the estimation of empirical orthogonal functions. Mon Wea Rev 110:699–706. doi:10.1175/1520-0493

Ratnam JV, Behera SK, Masumoto Y, Yamagata T (2014) Remote effects of El Niño and Modoki events on the austral summer precipitation of Southern Africa. J Clim 27:3802–3815

Reason CJC, Jagadheesha D (2005) A model investigation of recent ENSO impacts over 553 southern Africa. Meteorog Atmos Phys 89:181–205

Reason CJC, Allan R, Lindesay J, Ansell T (2000) ENSO and climatic signals across the Indian Ocean basin in the global context: part I, interannual composite patterns. Int J Climatol 20(11):1285–1327. doi:10.1002/1097-0088(200009)20:113.0.CO;2-R

Rouault M, Richard Y (2005) Intensity and spatial extent of droughts in southern Africa. Geophys Res Lett 32:L15702. doi:10.1029/2005GL022436

SADC Reoprt (2010). Report on the SADC Disaster Risk Reduction and Preparedness Planning Workshop Gaborone, Botswana. http://reliefweb.int/sites/reliefweb.int/files/resources/Full_report_101.pdf Accessed 05‐08 Oct 2010

Shinoda T, Alexander MA, Hendon HH (2004) Remote response of the Indian Ocean to interannual SST variations in the tropical Pacific. J Clim 17:362–372

Trenberth KE, Caron JM, Stepaniak DP, Worley S (2002) The evolution of ENSO and global atmospheric surface temperatures. J Geophys Res 107(D8):AAC 5-1–AAC 5-17. doi:10.1029/2000JD000298

Tyson PD, Preston-Whyte RA (2000) The weather and climate of southern Africa. Oxford University Press, Cape Town

Unganai LS, Troni L, Manatsa D, Mukarakate D (2013) Tailoring seasonal climate forecasts for climate risk management in rainfed farming systems of southeast Zimbabwe. J Climate Dev. doi:10.1080/17565529.2013.801823

Yu JY, Sun F, Kao HY (2009) Contributions of Indian Ocean and monsoon biases to the excessive biennial ENSO in CCSM3. J Clim 22:1850–1858. doi:10.1175/2008JCLI2706.1
Acknowledgements
Both Afromontane Research Unit (ARU) Geography Department of Free State University and Bindura University of Science Geography Departments are thanked for providing resources to enable the accomplishment of this research. The facilities provided by ICTP to do the research are highly appreciated. The valuable comments from the two reviewers considerably improved the manuscript. Climate Explorer is acknowledged for providing the platform to do the analysis and graphics.
About this article
Cite this article
Manatsa, D., Mukwada, G. & Makaba, L. ENSO shifts and their link to Southern Africa surface air temperature in summer. Theor Appl Climatol 132, 727–738 (2018). https://doi.org/10.1007/s00704-017-2112-y
Received:

Accepted:

Published:

Issue Date: