Abstract
Due to the close relationship of climate change with reference evapotranspiration (ETo), detecting changes in ETo spatial distribution and its temporal evolution at local and regional levels is favorable to comprehensively understand climate change-induced impacts on hydrology and agriculture. In this study, the objective is to identify whether climate change has caused variation of ETo spatial distribution in different analysis periods [i.e., long- (20-year), medium- (10-year), and short-term (5-year)] and to investigate its temporal evolution (namely, when these changes happened) at annual and monthly scales in Southwest China (SWC). First, we estimated ETo values using the United Nations Food and Agriculture Organization (FAO) Penman-Monteith equation, based on historical climate data measured at 269 weather sites during 1973–2012. The analysis of variance (ANOVA) results indicated that the spatial pattern of annual ETo had significantly changed during the past 40 years, particularly in west SWC for the long-term analysis period, and west and southeast SWC in both medium- and short-term periods, which corresponded to the percent area of significant differences which were 21.9, 58.0, and 48.2 %, respectively. For investigating temporal evolution of spatial patterns of annual ETo, Duncan's multiple range test was used, and we found that the most significant changes appeared during 1988–2002 with the significant area of higher than 25.0 %. In addition, for long-, medium-, and short-term analysis periods, the spatial distribution has significantly changed during March, September, November, and December, especially in the corresponding periods of 1988–1997, 1983–1992, 1973–1977, and 1988–2002. All in all, climate change has resulted in significant ETo changes in SWC since the 1970s. Knowledge of climate change-induced spatial distribution of ETo and its temporal evolution would aid in formulating strategies for water resources and agricultural managements.
Access options
Buy single article
Instant access to the full article PDF.
US$ 39.95
Tax calculation will be finalised during checkout.
Subscribe to journal
Immediate online access to all issues from 2019. Subscription will auto renew annually.
US$ 119
Tax calculation will be finalised during checkout.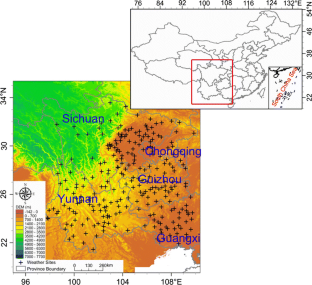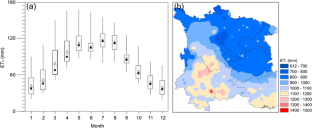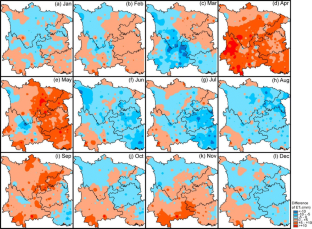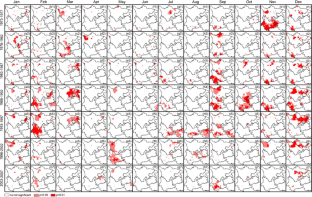 References
AghaKouchak A, Cheng L, Omid M, Alireza F (2014) Global warming and changes in risk of concurrent climate extremes: insights from the 2014 California drought. Geophys Res Lett 41(24):8847–8852

Allen RG, Pereira LS, Raes D, Smith M (1998) Crop evapotranspiration: guidelines for computing crop water requirements. FAO Irrigation and Drainage Paper 56. Food and Agriculture of the United Nations, Rome

Baigorria GA, Jones JW, O'Brien JJ (2007) Understanding rainfall spatial variability in southeast USA at different timescales. Int J Climatol 27:749–760

Barriopedro D, Gouveia CM, Trigo RM, Wang L (2012) The 2009/10 drought in China: possible causes and impacts on vegetation. J Hydrometeorol 13:1251–1267

Blaney HF, Criddle WD (1950) Determining water requirements in irrigated area from climatological irrigation data. US Department of Agriculture, Soil Conservation Service, Technical Paper No. 96; 48p

Burn DH, Hesch NM (2007) Trends in evaporation for the Canadian Prairies. J Hydrol 336(1–2):61–73

Chattopadhyay N, Hulme M (1997) Evaporation and potential evapotranspiration in India under conditions of recent and future climate change. Agric For Meteorol 87:55–73

Diffenbaugh NS, Swain DL, Touma D (2015) Anthropogenic warming has increased drought risk in California. Proc Natl Acad Sci U S A 112(13):3931–3936

Dinpashoh Y (2006) Study of reference crop evapotranspiration in I.R. Of Iran. Agric Water Manag 84(1–2):123–129

Doorenbos J, Pruitt OW (1977) Crop water requirements. FAO Irrigation & Drainage Paper 24. Land and Water Development Division, FAO, Rome

Fan Z-X, Thomas A (2013) Spatiotemporal variability of reference evapotranspiration and its contributing climatic factors in Yunnan Province, SW China, 1961-2004. Clim Chang 116(2):309–325

Garcia-Garizabal I, Causape J, Abrahao R, Merchan D (2014) Impact of climate change on Mediterranean irrigation demand: historical dynamics of climate and future projections. Water Resour Manag 28:1449–1462

Griffin D, Anchukaitis KJ (2014) How unusual is the 2012–2014 California drought? Geophys Res Lett 41(24):9017–9023

Hatch U, Jagtap S, Jones J, Lamb M (1999) Potential effects of climate change on agricultural water use in the southeast U.S. J Am Water Resour Assoc 35(6):1551–1561

Hu Q, Willson GD (2000) Effect of temperature anomalies on the Palmer drought severity index in the central United States. Int J Climatol 20:1899–1911

IPCC (2014) Summary for policymakers. In: Field CB, Barros VR, Dokken DJ, Mach KJ, Mastrandrea MD, Bilir TE, Chatterjee M, Ebi KL, Estrada YO, Genova RC, Girma B, Kissel ES, Levy AN, MacCracken S, Mastrandrea PR, White LL (eds) Climate change 2014: impacts, adaptation, and vulnerability. Part a: global and sectoral aspects. Contribution of Working Group II to the Fifth Assessment Report of the Intergovernmental Panel on Climate Change. Cambridge University Press, Cambridge, United Kingdom and New York, NY, USA, pp. 1–32

Irmak S, Kabenge I, Skaggs KE, Mutiibwa D (2012) Trend and magnitude of changes in climate variables and reference evapotranspiration over 116-yr period in the Platte River Basin, central Nebraska–USA. J Hydrol 420-421:228–244

Jhajharia D, Dinpashoh Y, Kahya E, Singh VP, Fakheri-Fard A (2012) Trends in reference evapotranspiration in the humid region of northeast India. Hydrol Process 26:421–435

Jung M, Reichstein M, Ciais P, Seneviratne SI, Sheffield J, Goulden ML, Bonan G, Cescatti A, Chen J, de Jeu R, Dolman AJ, Eugster W, Gerten D, Gianelle D, Gobron N, Heinke J, Kimball J, Law BE, Montagnani L, Mu Q, Mueller B, Oleson K, Papale D, Richardson AD, Roupsard O, Running S, Tomelleri E, Viovy N, Weber U, Williams C, Wood E, Zaehle S, Zhang K (2010) Recent decline in the global land evapotranspiration trend due to limited moisture supply. Nature 467:951–954

Li Z, He Y, An W, Song L, Zhang W, Catto N, Wang Y, Wang S, Liu H, Cao W, Theakstone WH, Wang S, Du J (2011) Climate and glacier change in Southwestern China during the past several decades. Environ Res Lett 6(04540). doi:10.1088/1748-9326/6/4/045404

Li Z, He Y, Wang P, Theakstone WH, An W, Wang X, Lu A, Zhang W, Cao W (2012a) Changes of daily climate extremes in Southwestern China during 1961-2008. Glob Planet Chang (80–81):255–272

Li Z, Feng Q, Zhang W, He Y, Wang X, Catto N, An W, Du J, Chen A, Liu L, Hu M (2012b) Decreasing trend of sunshine hours and related driving forces in Southwestern China. Theor Appl Climatol 109:305–321

Li Z, Feng Q, Liu W, Wang T, Gao Y, Wang Y, Cheng A, Li J, Liu L (2014) Spatial and temporal trend of potential evapotranspiration and related driving forces in Southwestern China, during 1961-2009. Quat Int 336:127–144

Lin C, Yang K, Qin J, Fu R (2013) Observed coherent trends of surface and upper air wind speed over China since 1960. J Clim 26(9):2891–2903

Liu X, Zhang D (2013) Trend analysis of reference evapotranspiration in Northwest China: the roles of changing wind speed and surface air temperature. Hydrol Process 27:3941–3948

Liu L, Zhuang Q, Chen M, Pan Z, Tchebakova N, Sokolov A, Kicklighter D, Melillo J, Sirin A, Zhou G, He Y, Chen J, Bowling L, Miralles D, Parfenova E (2013) Response of evapotranspiration and water availability to changing climate and land cover on the Mongolian Plateau during the 21st century. Glob Planet Chang 108:85–99

Liu T, Li L, Lai J, Liu C, Zhuang W (2015) Reference evapotranspiration change and its sensitivity to climate variables in southwest china. Theor Appl Climatol. doi:10.1007/s00704-015-1526-7. (Online)

Liuzzo L, Viola F, Noto LV (2016) Wind speed and temperature trends impacts on reference evapotranspiration in Southern Italy. Theor Appl Climatol 123(1):43–62

Mann ME, Gleick PH (2015) Climate change and California drought in the 21st century. Proc Natl Acad Sci U S A 112(13):3858–3859

Mao Y, Nijssen B, Lettenmaier DP (2015) Is climate change implicated in the 2013-2014 California drought? A hydrologic perspective. Geophys Res Lett 42(8):2805–2813

Mo X, Guo R, Liu S, Lin Z, Hu S (2013) Impacts of climate change on crop evapotranspiration with ensemble GCM projections in the North China Plain. Clim Chang 120:299–312

Nam W-H, Hong E-M, Choi J-Y (2015) Has climate change already affected the spatial distribution and temporal trends of reference evapotranspiration in South Korea. Agric Water Manag 150:129–138

Papaioannou G, Gianna K, Spyrosm A (2011) Impact of global dimming and brightening on reference evapotranspiration in Greece. J Geophys Res 116(D9):644–644

Piticar A, Mihăilă D, Lazurca LG, Bistricean P-I, Puţuntică A, Briciu A-E (2015) Spatiotemporal distribution of reference evapotranspiration in the Republic of Moldova. Theor Appl Climatol. doi:10.1007/s00704-015-1490-2. (Online)

Qin N, Chen X, Fu G, Zhai J, Xue X (2010) Precipitation and temperature trends for the Southwest China: 1960-2007. Hydrol Process 24(25):3733–3744

Raziei T, Pereira LS (2013) Spatial variability analysis of reference evapotranspiration in Iran utilizing fine resolution gridded datasets. Agric Water Manag 126:104–118

Roderick ML, Rotstayn LD, Farquhar GD, Hobbins MT (2007) On the attribution of changing pan evaporation. Geophys Res Lett 34(L17403). doi:10.1029/2007GL031166

Seager R, Hoerling M, Schubert S, Wang H, Lyon B, Kumar A, Nakamura J, Henderson N (2015) Causes of the 2011-14 California drought. J Clim 28(18):6997–7024

Sentelhas PC, Gillespie TJ, Santos EA (2010) Evaluation of FAO Penman-Monteith and alternative methods for estimating reference evapotranspiration with missing data in Southern Ontario, Canada. Agric Water Manag 97:635–644

Shan N, Shi Z, Yang X, Gao J, Cai D (2015) Spatiotemporal trends of reference evapotranspiration and its driving factors in the Beijing-Tianjin Sand Source Control Project Region, China. Agric For Meteorol 200:322–333

Shi P, Wu M, Qu S, Jiang P, Qiao X, Chen X, Zhou M, Zhang Z (2015) Spatial distribution and temporal trends in precipitation concentration indices for the Southwest China. Water Resource Management 29:3941–3955

Shukla S, Safeeq M, AghaKouchak A, Guan K, Funk C (2015) Temperature impacts on the water year 2014 drought in California. Geophys Res Lett 42:4384–4393

Speranskaya NA, Zhuravin SA, Mennel MJ (2001) Evaporation changes over the contiguous United States and the former USSR: a reassessment. Geophys Res Lett 28(13):2665–2668

Stanhill G, Möller M (2008) Evaporative climate change in the British isles. Int J Climatol 28:127–1137

Sun S, Zhou S, Song J, Shi J, Gu R, Ma F (2010) Change in pan evaporation and its driving factors in Jiangxi Province. Trans Chin Soc Agr Eng 26(9):59–65 in Chinese with English Abstract

Sun S, Chen H, Ju W, Song J, Li J, Ren Y, Sun J (2012) Past and future changes of streamflow in Poyang Lake Basin, Southeastern China. Hydrol Earth Syst Sci 16:2005–2020

Sun S, Chen H, Wang G, Li J, Mu M, Yan G, Xu B, Huang J, Wang J, Zhang F, Zhu S (2016a) Shift in potential evapotranspiration and its implications for dryness/wetness over Southwest China. J Geophys Res. doi:10.1002/2016JD025276. (Online)

Sun S, Chen H, Ju W, Wang G, Sun G, Huang J, Ma H, Gao C, Hua W, Yan G (2016b) On the coupling between precipitation and potential evapotranspiration: contributions to decadal drought anomalies in the Southwest China. Clim Dyn. doi:10.1007/s00382-016-3302-5. (Online)

Tabari H, Aeini A, Talaee PH, Some'e BS (2012) Spatial distribution and temporal variation of reference evapotranspiration in arid and semiarid regions of Iran. Hydrol Process 26:500–512

Tang B, Tong L, Kang S, Zhang L (2011) Impacts of climate variability on reference evapotranspiration over 58 years in the Haihe river basin of north China. Agric Water Manag 98(10):1660–1670

Vautard R, Cattiaux J, Yiou P, Thépaut JN, Ciais P (2010) Northern Hemisphere atmospheric stilling partly attributed to increased surface roughness. Nat Geosci 3:756–761

Vicente-Serrano SM, Beguería S, López-Moreno J (2010) A multiscalar drought index sensitive to global warming: the standardized precipitation evapotranspiration index. J Clim 23:1696–1718

Vicente-Serrano SM, Azorin-Molina C, Sanchez-Lorenzo A, Revuelto J, Morán-Tejeda E, López-Moreno JI, Espejo F (2014) Sensitivity of reference evapotranspiration to changes in meteorological parameters in Spain (1961-2011). Water Resour Res 50(11):8458–8480

Vicente-Serrano SM, van der Schrier G, Begueria S, Azorin-Molina C, Lopez-Moreno J-I (2015) Contribution of precipitation and reference evapotranspiration to drought indices under different climates. J Hydrol 526:42–54

Wang L, Chen W (2012) Characteristics of multi-timescale variabilities of the drought over last 100 years in Southwest China. Advances in Meteorological Science and Technology 2(4):21–26 in Chinese with English Abstract

Wang L, Chen W (2014) A CMIP5 multi-model projection of future temperature, precipitation, and climatological drought in China. Int J Climatol 34:2059–2078

Wang K, Dickinson RE (2012) A review of global terrestrial evapotranspiration: observation, modeling, climatology, and climatic variability. Rev Geophys 50(2):93–102

Wang Y, Jiang T, Bothe O, Fraedrich K (2007) Changes of pan evaporation and reference evapotranspiration in the Yangtze River basin. Theor Appl Climatol 90(1):13–23

Wang L, Chen W, Zhou W, Huang G (2015a) Drought in Southwest China: a review. Atmospheric and Oceanic Science Letters 8(6):339–344

Wang L, Chen W, Zhou W, Huang G (2015b) Teleconnected influence of tropical Northwest Pacific Sea surface temperature on interannual variability of autumn precipitation in Southwest China. Clim Dyn 45(6):1–13

Wang L, Chen W, Zhou W, Huang G (2016) Understanding and detecting super extreme droughts in Southwest China through an integrated approach and index. Q J R Meteorol Soc 142(694):529–535

Wen J, Wang X, Guo M, Xu X (2012) Impact of climate change on reference crop evapotranspiration in Chuxiong City, Yunnan Province. Procedia Earth and Planetary Science 5:113–119

Wijngaard JB, Tank AMGK, Können GP (2003) Homogeneity of 20th century European daily temperature and precipitation series. Int J Climatol 23(6):679–692

Wild M, Gilgen H, Roesch A, Ohmura A, Long CN, Dutton EG, Forgan B, Kallis A, Russak V, Tsvetkov A (2005) From dimming to brightening: decadal changes in surface solar radiation. Science 308:847–850

Williams AP, Seager R, Abatzoglou JT, Cook BI, Smerdon JE, Cook ER (2015) Contribution of anthropogenic warming to California drought during 2012-2014. Geophys Res Lett 42(16):6819–6828

Xie B, Zhang Q, Ying Y (2011) Trends in precipitable water and relative humidity in China: 1979-2005. J Appl Meteorol Climatol 50(10):1985–1994

Xu L, Shi Z, Wang Y, Zhang S, Chu X, Yu P (2015) Spatiotemporal variation and driving forces of reference evapotranspiration in Jing River Basin, northwest China. Hydrol Process 29(23):4846–4862

Yang X, Li Z, Feng Q, He Y, An W, Zhang W, Cao W, Yu F, Wang Y, Theakstone WH (2012) The decreasing wind speed in Southwestern China during 1969-2009, and possible causes. Quat Int 263:71–84

Ye T, Shi P, Wang J, Liu L, Fan Y, Hu J (2012) China's drought disaster risk management: perspective of severe droughts in 2009-2010. International Journal of Disaster Risk Science 3(2):84–97

Zhang F, Shen S (2007) Spatial distribution and temporal trend of reference crop evapotranspiration in China. Journal of Nanjing Institute of Meteorology 30(5):705–709 in Chinese with English Abstract

Zhang Y, Liu C, Tang Y, Yang Y (2007) Trends in pan evaporation and reference and actual evapotranspiration across the Tibetan Plateau. J Geophys Res 112(D12110). doi:10.1029/2006JD008161

Zhang J, Jiang L, Feng M, Li P (2012a) Detecting effects of the recent drought on vegetation in Southwestern China. Journal of Resources and Ecology 3(1):43–49

Zhang L, Xiao J, Li J, Wang K, Lei L, Guo H (2012b) The 2010 spring drought reduced primary productivity in southwestern China. Environ Res Lett 7(045706). doi:10.1088/1748-9326/7/4/045706

Zhang D, Liu X, Hong H (2013) Assessing the effect of climate change on reference evapotranspiration in China. Stoch Env Res Risk A 27(8):1871–1881

Zheng HX, Liu XM, Liu CM, Dai XQ, Zhu RR (2009) Assessing the contribution to pan evaporation trends in Haihe River Basin, China. J Geophys Res 114(D24105). doi:10.1029/2009JD012203

Zuo D, Xu Z, Yang H, Liu X (2012) Spatiotemporal variations and abrupt changes of potential evapotranspiration and its sensitivity to key meteorological variables in the Wei River basin, China. Hydrol Process 26(8):1149–1160
Acknowledgments
This work was jointly supported by the Natural Science Foundation of Jiangsu Province, China (Grant Nos. BK20151525, BK20140998, and BK20160948), the National Natural Science Foundation of China (Grant Nos. 41605042, 41401016, 41375099, 41230422, and 41561124014), and the Priority Academic Program Development (PAPD) of Jiangsu Higher Education Institutions.
Electronic supplementary material
About this article
Cite this article
Sun, S., Wang, G., Huang, J. et al. Spatial pattern of reference evapotranspiration change and its temporal evolution over Southwest China. Theor Appl Climatol 130, 979–992 (2017). https://doi.org/10.1007/s00704-016-1930-7
Received:

Accepted:

Published:

Issue Date:
Keywords
Wind Speed

Vapor Pressure Deficit

Percent Area

Inverse Distance Weighting

Sunshine Duration