Abstract
Mean annual and monthly averages of mean (Tmean), maximum (Tmax) and minimum (Tmin) air temperature from seven stations in Iraq were analysed to detect the inter-annual variation, long-term temporal and spatial trends distribution over the period 1941–2013. Due to non-homogeneous problems, this period has been divided into two short separated periods (1941–1980 and 1995–2013), in order to compute temperature trends. In this context two statistical tests were used: linear regression and Mann-Kendall. The time series of mean annual temperature indicate the current warming period over Iraq identical with the global warming, which has started since the middle of seventh decade of the last century. The 2010 was the warmest year in all stations. Three distinct inter-annual temperature variation patterns were observed. These were probably the effects of micro-scale and meso-scale factors. The first one represents central and northern Iraq. The second represents the south of Iraq and Kirkuk station and the third one is a characteristic for eastern Iraq. Temperature trend analysis revealed that there are general upward trends with the strongest warming trends identified in the summer months which are around 89 % of the total significant monthly trends. Spatially, in both periods the southern region of Iraq is most affected by the warming trend in Tmean and Tmax. When considering Tmin, the southern and northern regions both are affected by warming with more pronounced trend intensity in the northern stations. No significant trend occurs Hai station in both periods and Baghdad has the still less trend value. In the first period the highest rise of Tmean and Tmax values are observed in July and June in Nasiriya station at 0.61 °C/decade and 0.63 °C/decade, respectively and in Mosul station for Tmin in August is 1.41 °C/decade. Moreover, in the period from 1995 to 2013, the highest warming trend of Tmean and Tmax were in Hai station for March at 1.48 °C/decade and at 1.85 °C/decade, respectively. Baghdad station experienced the highest significant trend for Tmin in August at 1.89 °C/decade.
Access options
Buy single article
Instant access to the full article PDF.
US$ 39.95
Tax calculation will be finalised during checkout.
Subscribe to journal
Immediate online access to all issues from 2019. Subscription will auto renew annually.
US$ 119
Tax calculation will be finalised during checkout.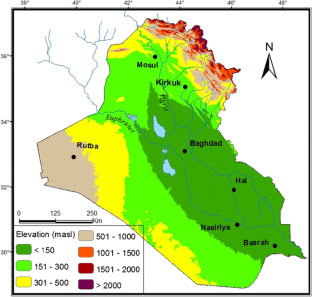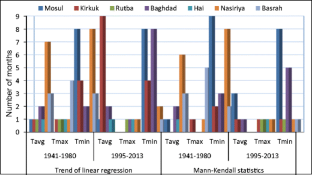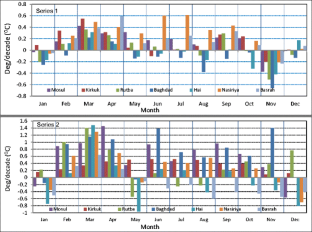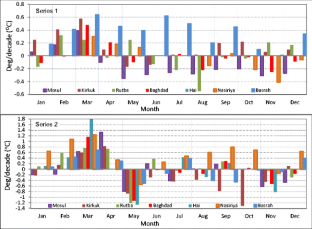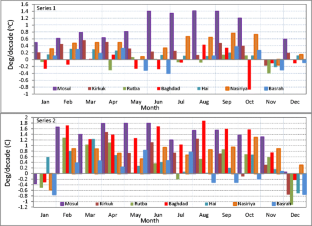 References
Al Mazroui M (2012) Temperature Variability over Saudi Arabia and its Association with Global Climate Indices. JKAU: Met, Env &Arid Land Agric Sci 23(1):85–108. doi:10.4197/Met.23-1.6

Alexandersson H (1986) A homogeneity test applied to precipitation data. J Climatol 6:661–675. doi:10.1002/joc.3370060607

Alghamdi AS, and Moore TW, (2014) Analysis and Comparison of Trends in Extreme Temperature Indices in Riyadh City, Kingdom of Saudi Arabia, 1985–2010, Climatology, Article ID: 560985

Azooz AA, Talal SK (2015) Evidence of climate change in Iraq. Environment Protection and Sustainable Development 1(2):66–77

Ben-Gai T, Bitan A, Manes A, Rubin S (1999) Temporal and spatial trends of temperature patterns in Israel. Climatol 64:163–177

Bilal, DA, Al-Jumaily KJ, Habbib EA, (2013) Air temperature trends in Baghdad, Iraq for the period 1941–2000. Int J Sci Res Publ 3(9)

Domonkos P (2011) Homogenising time series: beliefs, dogmas and facts. Adv Sci Res 6:167–172. doi:10.5194/asr-6-167-2011

Domroes M, El-Tantawi A (2005) Recent Temporal and Spatial Temperature Changes in Egypt. Int J Climatol 25:51–63

Donat MG, Peterson TC, Bruned M, King AD, Almazroui M, Kolli RK, Boucherf D, Al-Mulla AY, Nour AY, Aly AA, Nada AA, Semawi MM, AL DALashti HA, Salhab TG, El Fadli KI, Muftah MK, Eida SD, Badi W, Driouech F, El Rhaz K, Abubaker MJY, Ghulam AS, Erayah AS, Mansour MB, Alabdouli WO, A Dhanhani JS, A Shekaili MN (2014) Changes of extreme temperature and precipitation in the Arab region: long-term trends and variability related to ENSO and NAO. Int J Climatol 34:581–592

ElNesr M, Abu-Zreig MM, Alazba A (2010) Temperature Trends and Distribution in the Arabian Peninsula, Am. J Environ Sci, Vol 6(2):191–203

Evans JP (2009) Twenty-first century climate change in the Middle East. Clim Chang 92:417–432

Freiwan M, Kadioglu M (2008) Climate variability in Jordan. Int J Climatol 28(N. 1):69–89

Ghahraman B (2006) Time trend in the mean annual temperature of Iran. Turk J Agric For 30:439–448

Gilbert RO (1987) Statistical methods for environmental pollution monitoring. Van Nostrand Reinhold, New York

Hänsel S, Medeiros DM, Matschullat J, Petta RA, and Silva IM, (2016) Assessing Homogeneity and Climate Variability of Temperature and Precipitation Series in the Capitals of North-Eastern Brazil, Frontiers in. Earth Sci 4. doi: 10.3389/feart.2016.00029

Hansen J, Ruedy R, Sato M, Lo K (2010) Global surface temperature change. Rev Geophys 48:RG4004. doi:10.1029/2010RG000345

Hurrell JW (1995) Decadal trends in the North Atlantic oscillation: regional temperatures and precipitation. Science 269:676–679

IPCC (2001) In: Houghton JT, Ding Y, Griggs DJ, Noguer M, van der Liden PJ, Dai X, Maskell K, Johnson CA (eds) Climate change 2001: The Scientific Basis. Contribution of Working Group I to the Third Assessment Report of the Intergovernmental Panel on Climate Change. Cambridge University Press, Cambridge, UK and New York, NY, USA 881 pp

IPCC (2007) In: Parry ML, Canziani OF, Palutikof JP, van der Linden PJ, Hanson CE (eds) Climate change 2007: Impacts, Adaptation and Vulnerability. Contribution of Working Group II to the Fourth Assessment Report of the Intergovernmental Panel on Climate Change. Cambridge University Press, Cambridge, UK 976 p

IPCC (2013) In: Stocker TF, Qin D, Plattner G-K, Tignor M, Allen SK, Boschung J, Nauels A, Xia Y, Bex V, Midgley PM (eds) Climate change 2013: the physical science basis. Contribution of working group I to the fifth assessment report of the intergovernmental panel on climate change. Cambridge University Press, Cambridge, United Kingdom and New York, NY, USA 1535 p

Kadioğlu M (1997) Trends surface air temperature data over Turkey. Int J Climatol 17:511–520

Karabulut M, Gürbüz M, Korkmaz H (2008) Precipitation and temperature trend analyses in Samsun. J Int Environmental Application & Science, Vol 3(5):399–408

Khidher SA, Pilesjö P (2015) The effect of the North Atlantic oscillation on the Iraqi climate 1982–2000. Theor Appl Climatol 122:771. doi:10.1007/s00704-014-1327-4

Malinowski JC (ed), (2003) Iraq; A Geography, West Point, NY: United States Military Academy

Mann ME (2002) Large-scale climate variability and connections with the Middle East in the past centuries. Clim Chang 55:287–314

Morice CP, Kennedy JJ, Rayner NA, Jones PD, (2012) Quantifying uncertainties in global and regional temperature change using an ensemble of observational estimates: The HadCRUT4 data set. J. Geophys. Res. Atmos

Önöz B, Bayazıt M (2003) The power of statistical tests for trend detection. Turk J Eng Environ Sci 27:247–251

Price C, Stone L, Huppert A, Rajagopalan B, Alpert P (1998) A possible link between el Niño and precipitation in Israel. Geophys Res Lett 25:3963–3966

Rehman S (2010) Temperature and rainfall Variation over Dhahran, Saudi Arabia, (1970 to 2006. Int J Climatol 30(3):445–449

Republic of Iraq, Ministry of Planning, Control statically organization"Annual statistical abstract", part one, 2010–2011

Robaa SM, and AL-Barazanji ZJJ, (2013) Trends of Annual Mean Surface Air Temperature over Iraq, 11(12);138–145. http://www.sciencepub.net

Robock A (2000) Volcanic eruptions and climate. Rev Geophys 38:191–219

Soden BJ, Wetherald RT, Stenchikov GL, Robock A (2002) Global cooling after the eruption of mount Pinatubo: a test of climate feedback by water vapor. Science 296:727–730

Susa A (1963) Baghdad's flooding in history, the first section, Baghdad. (In Arabic)

Tabari H, Talaee PM (2011) Recent trends of mean maximum and minimum air temperatures in the western half of Iran. Meteorog Atmos Phys 111:121–131. doi:10.1007/s00703-011-0125-0

Tayanç M, Im U, Dogruel M, Karaca M (2009) Climate change in Turkey for the last half century. Clim Chang 94:483–502

Tayanc M, Im U, Dogruel M, Karaca M (2009) Climate change in Turkey for the last half century. Clim Chang 94:483–502

The Climate Data Guide: Hurrell North Atlantic Oscillation (NAO) Index (station-based)." Available from https://climatedataguide.ucar.edu/climate-data/hurrell-north-atlantic-oscillation-nao-index-station-based

Vose RS, Arndt D, Banzon VF, Easterling DR, Gleason B, Huang B, Kearns E, Lawrimore JH, Menne MJ, Peterson TC, Reynolds RW, Smith TM, Williams JRCN, Wurtz DB (2012) NOAA's merged Land-Ocean surface temperature analysis. Bull Am Meteor Soc 93:1677–1685

Zhang X, Aguilar E, Sensoy S, Melkonyan H, Melkonyan H, Tagiyeva U, Ahmed N, Kutaladze N, Rahimzadeh F, Taghipour A, Hantosh TH, Albert P, Semawi M, Ali MK, Al-Shabibi MHS, Al-Oula Z, Zatari T, Khelet IA, Hamoud S, Sagir R, Demircan M, Eken M, Adiguzel M, Alexander L, Peterson TC, Wallis T (2005) Trends in Middle East climate extreme indices from 1950 to 2003. J Geophys Res 110:D22104. doi:10.1029/2005JD006181
About this article
Cite this article
Muslih, K.D., Błażejczyk, K. The inter-annual variations and the long-term trends of monthly air temperatures in Iraq over the period 1941–2013. Theor Appl Climatol 130, 583–596 (2017). https://doi.org/10.1007/s00704-016-1915-6
Received:

Accepted:

Published:

Issue Date:
Keywords
Temperature Trend

Iraq

North Atlantic Oscillation

Warming Trend

Significant Upward Trend