Abstract
This research aims at providing a statistical framework for detection and attribution of climate variability and change at regional scale when at least 30 years of observation data are available. While extensive research has been done on detecting significant observed trends in hydroclimate variables and attribution to anthropogenic greenhouse gas emissions in large continents, less attention has been paid for regional scale analysis. The latter is mainly important for adaptation to climate change in different sectors including but not limited to energy, agriculture, and water resources planning and management, and it is still an open discussion in many countries including the West Asian ones. In the absence of regional climate models, an informative framework is suggested providing useful insights for policymakers. It benefits from general flexibility, not being computationally expensive, and applying several trend tests to analyze temporal variations in temperature and precipitation (gradual and step changes). The framework is implemented for a very important river basin in the west of Iran. In general, some increasing and decreasing trends of the interannual precipitation and temperature have been detected. For precipitation annual time series, a reducing step was seen around 1996 compared with the gradual change in most of the stations, which have not experience a dramatical change. The range of natural forcing is found to be ±76 % for precipitation and ±1.4 °C for temperature considering a two-dimensional diagram of precipitation and temperature anomalies from 1000-year control run of global climate model (GCM). Findings out of applying the proposed framework may provide useful insights into how to approach structural and non-structural climate change adaptation strategies from central governments.
Access options
Buy single article
Instant access to the full article PDF.
US$ 39.95
Tax calculation will be finalised during checkout.
Subscribe to journal
Immediate online access to all issues from 2019. Subscription will auto renew annually.
US$ 119
Tax calculation will be finalised during checkout.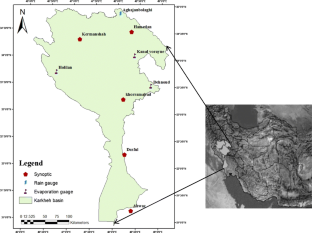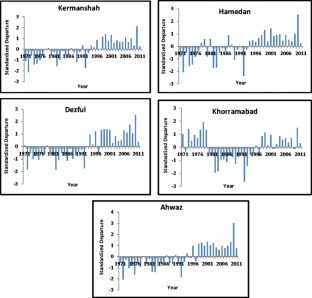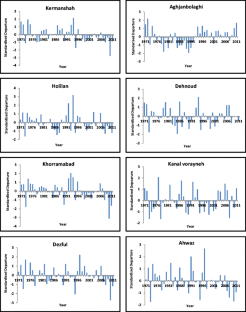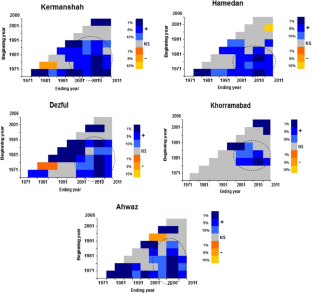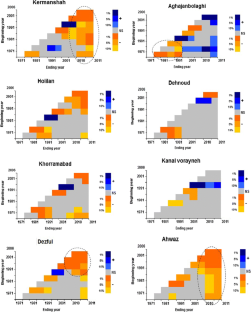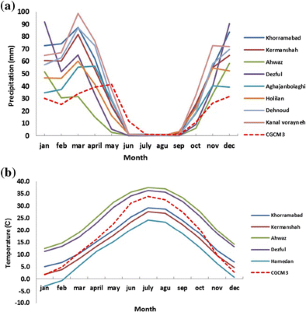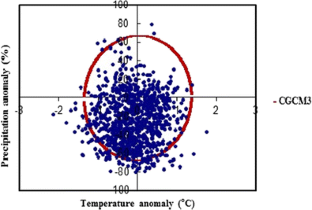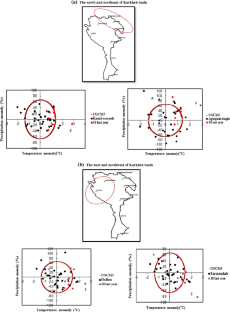 References
Abghari H, Ghanbarloo Z, Tabari H (2012) Analysis of monthly and annual rainfall changes in the eastern basins of the Lake Urmia. 3th National Conference on Integrated Water Resources Management. In: Sari University of Agricultural Sciences & Natural Resources, 10–11 September 2012, 1–12. (in Persian)

Afzaal M, Haroon MA, ul Zaman Q (2009) Interdecadal oscillations and the warming trend in the area-weighted annual mean temperature of Pakistan. Pak J Meteorol 6(11):13–19

Ashraf B, Aghakouchak A, Alizadeh A, Mousavi Baygi M (2015) Anthropogenic impacts on hydrology of Karkheh River Basin. Proceeding of AGU Fall Meeting 14–18 December, San Francisco, USA

Azarakhshi M, Farzadmehr J, Eslah M, Sahabi H (2013) An investigation on trends of annual and seasonal rainfall and temperature in different climatologically regions of Iran. J Range Watershed Manag (JRWM) (1):1–16. (in Persian)

Barnett TP, Schlesinger ME (1987) Detecting changes in global climate induced by greenhouse gases. J Geophys Res 92:14772–14780

Crowley TJ (2000) Causes of climate change over the last 1000 years. Science 289:270–277

del Río S, Penas A, Fraile R (2005) Analysis of recent climatic variations in Castile and Leon (Spain. Atmos Res 73(1–2):69–85

del Río S, Fraile R, Herrero L, Penas A (2007) Analysis of recent trends in mean maximum and minimum temperatures in a region of the NW of Spain (Castilla y León. Theor Appl Climatol 90(1):1–12

Ding YH, Dai XS (1994) Temperature variation in China during the last 100 years. Meteorol Month 20(12):19–26

Dong XQ, Duan X (1998) Climatic characteristics and variation tendency of precipitation in the southwest of China. Sci Meteorol Sinica 18(3):239–247

Fathian F, Morid S (2013) Evaluation of the climatic and hydrological variables Urmia Lake Basin using nonparametric. Iranian Journal of Soil and Water Research (IJSWR) 43(3):259–269 in Persian

Fathian F, Morid S, Kahya E (2015) Identification of trends in hydrological and climatic variables in Urmia Lake basin, Iran. Theor Appl Climatol 119:443–464. doi:10.1007/s00704-014-1120-4

Fu GB, Yu J, Yu X, Ouyang R, Zhang Y, Wang P, Liu W, Min L (2013) Temporal variation of extreme rainfall events in China, 1961–2009. J Hydrol 487:48–59

Ghil M (2001) Hilbert problems for the geosciences in the 21st century. Nonlinear Processes Geophy 8:211–211. doi:10.5194/npg-8-211-2001

Hegerl GC, Zwiers FW, Braconnot P, Gillett NP, Luo Y, Marengo Orsini JA, Nicholls N, Penner JE, Stott PA (2007) Understanding and attributing climate change. In: The physical science basis. Contribution of Working Group I to the FAR of the IPCC. University of Cambridge 667

IPCC (2014) Chapter 10 - detection and attribution of climate change: from global to regional. Climate change 2013. The physical science basis. Working Group I Contribution to the Fifth Assessment Report of the Intergovernmental Panel on Climate Change 867–952

Isaksen ISA, Granier C, Myhre G, Berntsen TK, Dalsøren SB, Gauss M, Klimont Z, Benestad R, Bousqueti P, et al. (2009) Atmos Environ 43:5138–5192

Kaiser DP, Qian Y (2002) Decreasing trends in sunshine duration over China for 1954–1998: indication of increased haze pollution? Geophys Res Lett 29(21):38-1–38-4. doi:10.1029/2002GL016057

Kazadi SN, Kaoru F (1996) Interannual and long- term climate variability over the Zaire River Basin during the last 30 years. J Geophys 21:351–369

Kendall MG (1975) Rank correlation measures. Charles Griffin, London

Kim SJ, Flato GM, Boer GJ, McFarlane NA (2002) A coupled climate model simulation of the last glacial maximum, part 1: transient multi-decadal response. Clim Dyn 19:515–537

Kim SJ, Flato GM, Boer GJ (2003) A coupled climate model simulation of the last glacial maximum, part 2: approach to equilibrium. Clim Dyn 20:635–661

Kousari MR, Ahani H, Hendi-zadeh R (2013) Temporal and spatial trend detection of maximum air temperature in Iran during 1960–2005. Glob Planet Chang 111:97–110

Liu D, Guo SH, Chen X, Shao Q (2012) Analysis of trends of annual and seasonal precipitation from 1956 to 2000 in Guangdong Province, China. Hydrol Sci J 57(2):358–369. doi:10.1080/02626667.2011.636748

Mann HB (1945) Non-parametric tests against trend. Econometrica 13:245–259

Massah Bavani AR, Goodarzi E, Zohrabi N (2012) Detection of climatic variables trend by using parametric and non-parametric statistical tests. (A case study of West Azerbaijan, Iran). Tech J Eng App Sci (TJEAS) 2:557–564

Massah Bavani AR, Goodarzi E, Zohrabi N, Lotfi S (2013) Detection of temperature and precipitation trends and their attribution it to the greenhouse gases (Case study: West Azerbaijan Province). Journal of the Earth and Space Physics (JESPH) 39(3):111–128 in Persian

McCabe GJ, Wolock DM (2002) A step increase in streamflow in the conterminous United States. Geophys Res Lett 29(24):38-1–38-4. doi:10.1029/2002GL0159999

Meehl GA, Washington WM (1996) El Niño-like climate change in a model with increased atmospheric CO2 concentrations. Nature 382:56–60

Milly PCD, Betancourt J, Falkenmark M, Hirsch R, Kundzewicz Z, Lettenmaier D, Stouffer R (2008) Climate change: stationarity is dead, whither water management? Science 319(5863):573–574

Modarres R, da Silva VPR (2007) Rainfall trends in arid and semi-arid regions of Iran. J Arid Environ 70:344–355

Modarres R, Sarhadi A (2009) Rainfall trends analysis of Iran in the last half of the twentieth century. J Geophys Res 114:D03101

Najafi H (2015) Climate change: adding fuel to the fire of Iran's inter-provincial water conflicts? Proceeding of our common future under climate change Conference, 7–11 July, Paris, France

Nilesh K, Wagholikar NK, Sinha Ray KC, Sen PN, Kumar P (2014) Trends in seasonal temperatures over the Indian region. J Earth Syst Sci 123(4):673–687

Pall P, Aina T, Stone DA, Stott PA, Nozawa T, et al. (2011) Anthropogenic greenhouse gas contribution to flood risk in England and Wales in autumn 2003. Nature 470:382–386

Rahimzadeh F, Asgari A (2004) Exploration of the difference between the minimum and maximum rate of increase in temperature and decrease in the amplitude of circadian temperature. Geogr Res 2(73):155–171 in Persian

Rutgersson A, Jaagus J, Schenk F, Stendel M (2014) Observed changes and variability of atmospheric parameters in the Baltic Sea region during the last 200 years. Clim Res 61:177–190. doi:10.3354/cr01244

Seung K, Stephane L, Andreas H, Won TK (2005) Internal variability in a 1000-yr control simulation with the coupled climate model ECHO-GeI. Near-surface temperature, precipitation and mean sea level pressure. Tellus 57 A: 605–621.

Sohrabi MM, Marofi S, Sabziparvar AA, Maryanaji Z (2009) Investigation of existence of trend in annual precipitation of Hamedan Province using Mann-Kendall method. J Soil Water Convers 16(3):163–169 in Persian

Sridhar V, Nayak A (2010) Implications of climate-driven variability and trends for the hydrologic assessment of the Reynolds Creek Experimental Watershed, Idaho. J Hydrol 385:183–202

Stott PA (2000) External control of 20th century temperature by natural and anthropogenic forcings. Science 290:2133–2137

Stott PA, Gillett NP, Hegerl GC, Karoly DJ, Stone DA, et al (2010) Detection and attribution of climate change: a regional perspective. Wiley interdisciplinary reviews (environmental studies) climate change (WIR (ES)) Clim Chang 1: 192–211.

Tabari H, Hosseinzadeh Talaee P (2011a) Temporal variability of precipitation over Iran: 1966–2005. J Hydrol 396:313–320

Tabari H, Hosseinzadeh Talaee P (2011b) Recent trends of mean maximum and minimum air temperatures in the western half of Iran. Meteorog Atmos Phys 111:121–131

Tabari H, Hosseinzadeh Talaee P (2013) Moisture index for Iran: spatial and temporal analyses. Glob Planet Chang 396:313–320

Tabari H, Marofi S (2011) Changes of pan evaporation in the west of Iran. Water Resour Manag 25:97–111

Tabari H, Marofi S, Hosseinzadeh Talaee P, Mohammadi K (2011a) Trend analysis of reference evapotranspiration in the western half of Iran. Agric For Meteorol 151:128–136

Tabari H, Shifteh Somee B, Rezaeian Zadeh M (2011b) Testing for long-term trends in climatic variables in Iran. Atmos Res 100:132–140

Tayanç M, Im U,·Dogruel M, Karaca M (2009) Climate change in Turkey for the last half century. Clim Chang 94:483–502.

Varshavian V, Khalili A, Ghahreman N, Hajjam S (2010) Trend analysis of minimum, maximum and mean daily temperature extremes in several climatic regions of Iran. Journal of the Earth and space physics (JESPH) 37(1):169–179 in Persian

Von Storch H (1995) Misuses of statistical analysis in climate research. In: Vons torch H, Navarra A (eds) Analysis of climate variability: applications of statistical techniques. Springer-Verlag, Berlin, pp. 11–26

Von Storch H, Zwiers FW (2002) Statistical analysis in climate research. Cambridge University Press, U.K, p. 494

Wang W, Chen X, Shi P, Van Gelder PHAJM (2008) Detecting changes in extreme precipitation and extreme streamflow in the Dongjiang River Basin in southern China. Hydrol Earth Syst Sci 12:207–221

Yazdani MR, Khoshhal Dastjerdi J, Habibi Nokhandan M (2011) Trend detection of the rainfall and air temprature data in the Zayandehrud Basin. J Appl Sci 11(12):2125–2134

Yue S, Pilon P (2004) A comparision of the power of the t test, Mann-Kendall and bootstrap tests for trend detection. Hydrol Society J 49:1–37

Zhai PM, Sun AJ, Ren FM, Liu XN, Gao B, Zhang Q (1999) Changes of climate extremes in China. Clim Chang 42(1):203–218

Zhang ZC, Chen X, Wang W, Shi P (2007) Analysis of rainfall trend and extreme events in Guizhou. J Earth Environ 35(4):351–356

Zhang X, Wan H, Zwiers FW, Hegerl GC, Min S-K (2013) Attributing intensification of precipitation extremes to human influence. Geophys Res Lett 40:5252–5257. doi:10.1002/grl.51010

Zohrabi N, Massah Bavani AR, Sedghi H, Telvari AR (2011a) Analyzing the two-dimensional plot of the interannual climate variability for detection of the climate change in the Large Karoun River Basin, Iran. Afr J Ecol Bio-Technol 10(20):4138–4146

Zohrabi N, Massah Bavani AR, Sedghi H, Telvari AR, Bajestan M (2011b) Identification of temporal flucations in the annual flood series of Karoun and Dez rivers in Iran. Ecol Environ Conserv 17(2):169–175

Zohrabi N, Massah Bavani AR, Telvari A, Sedghi H (2013) Climate change detection and green house gases attribution to it using AOGCMs models and two-dimensional normal distribution (case study; Large Karoon River Basin) Iran. Water Resour Res 9(2):1–8 in Persian

Zohrabi N, Massah Bavani AR, Goodarzi E, Eslamian S (2014) Analyzing of the attribution of temperature and precipitation changes to the greenhouse gases in northwest of Iran. Quatern Int 345:130–137
Acknowledgments
The paper presents a part of a research project "Analysis of Spatiotemporal Climate Variability in the Past and Attribution of Greenhouse Gases Emission for Karkheh Basin". The project is done at the Department of Water Sciences and Engineering, Ahvaz branch, Islamic Azad University of Iran. The authors wish to thank the Ahvaz branch, Islamic Azad University of Iran for their valuable supports. We acknowledge the Khuzestan Water and Power Authority (KWPA) and the Islamic Republic of Iran Meteorological Organization (IRIMO) for providing datasets for this research. Authors also would like to thank the editor and the anonymous reviewers for their suggestions, which significantly improve the contents of this paper.
About this article
Cite this article
Zohrabi, N., Goodarzi, E., Massah Bavani, A. et al. Detection and attribution of climate change at regional scale: case study of Karkheh river basin in the west of Iran. Theor Appl Climatol 130, 1007–1020 (2017). https://doi.org/10.1007/s00704-016-1896-5
Received:

Accepted:

Published:

Issue Date:
Keywords
Statistical analysis

Regional climate variability and change

Detection and attribution

CGCM3

Karkheh Basin

Iran