Abstract
Wheat production in Southwest China (SWC) plays a vital role in guaranteeing local grain security, but it is threatened by increasingly frequent seasonal drought in recent years. In spite of the importance, the impact of past climate change on wheat potential productivity and drought severity has not been properly addressed. In this study, we employed a relatively simple resource use efficiency model to analyze the spatiotemporal changes of the potential productivity (PP) and rainfed productivity (RP) of wheat (Triticum aestivum L.) in Southwest China (SWC) from 1962 to 2010. A wheat drought severity index was defined as the relative difference between PP and RP, i.e., (PP-RP)/PP, to evaluate the changing frequency and severity of drought under warming SWC. Across the entire region from 1962 to 2010, the negative impact of decreasing sunshine hours (0.06 h day−1 per decade, p < 0.05) on PP was offset by the increase in average temperature of wheat growing season (0.22 °C per decade, p < 0.01). PP increased by 283 kg ha−1 per decade (p < 0.01), while RP did not show significant trend due to increased water stress. The gap between PP and RP has increased by 26 kg ha−1 per decade (p < 0.01). Moderate and severe drought mostly occurred in central and southern SWC. The percentage of stations experienced moderate or severe drought increased by 2.0 % (p < 0.05) per decade, and reached 52 % in recent decade. Our results, together with the uneven distribution of rainfall, indicate great potential for irrigation development to harvest water and increase wheat yield under the warming climate in SWC.
Access options
Buy single article
Instant access to the full article PDF.
US$ 39.95
Tax calculation will be finalised during checkout.
Subscribe to journal
Immediate online access to all issues from 2019. Subscription will auto renew annually.
US$ 119
Tax calculation will be finalised during checkout.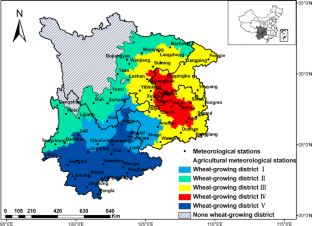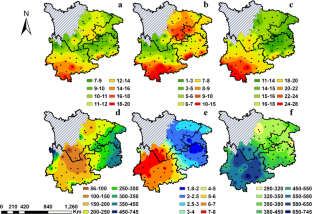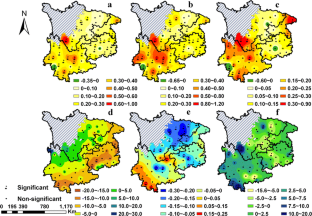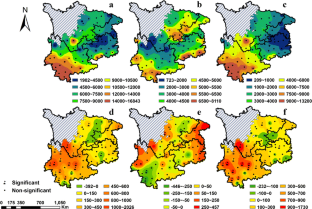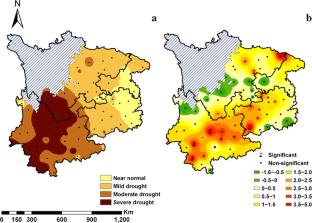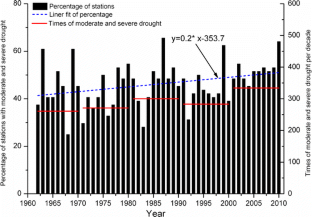 References
Abdulla FA, Al-Shareef AW (2009) Roof rainwater harvesting systems for household water supply in Jordan. Desalination 243:195–207. doi:10.1016/j.desal.2008.05.013

Allen RG, Pereira LS, Raes D, Smith M (1998) Crop evapotranspiration—guidelines for computing crop water requirements—FAO irrigation and drainage paper 56. Irrig Drain 1–15. doi:10.1016/j.eja.2010.12.001

Anderson MC, Hain C, Wardlow B, Pimstein A, Mecikalski JR, Kustas WP (2011) Evaluation of drought indices based on thermal remote sensing of evapotranspiration over the continental United States. J Clim 24:2025–2044. doi:10.1175/2010JCLI3812.1

Andreadis KM, Lettenmaier DP (2006) Trends in 20th century drought over the continental United States. Geophys. Res Lett 33. doi:10.1029/2006GL025711

De Wit AD, Van Diepen CA (2007) Crop model data assimilation with the ensemble Kalman filter for improving regional crop yield forecasts. Agric For Meteorol 146:38–56

Gemmer M, Becker S, Jiang T (2004) Observed monthly precipitation trends in China 1951–2002. Theor Appl Climatol 77:39–45. doi:10.1007/s00704-003-0018-3

He D, Wang J, Wang E (2015) Modelling the impact of climate variability and irrigation on winter canola yield and yield gap in Southwest China. MODSIM 2015, 21st International Congress on Modelling and Simulation. Modelling and Simulation Society of Australia and New Zealand, December 2015, pp. 389–395. http://www.mssanz.org.au/modsim2015/B3/he.pdf

He D, Wang J, Dai T, Feng L, Zhang J, Pan X, Pan Z (2014) Impact of climate change on maize potential productivity and the potential productivity gap in Southwest China. J Meteor Res 28:1155–1167. doi:10.1007/s13351-014-4047-x

Heim RR (2002) A review of twentieth-century drought indices used in the United States. Bull Am Meteorol Soc 83:1149–1165

Holzkämper A, Calanca P, Honti M, Fuhrer J (2015) Projecting climate change impacts on grain maize based on three different crop model approaches. Agric For Meteorol 214:219–230

Hou R, Ouyang Z, Li Y, Wilson GV, Li H (2012) Is the change of winter wheat yield under warming caused by shortened reproductive period? Ecol Evol 2:2999–3008. doi:10.1002/ece3.403

Huang B (1985) Agricultural productive potentiality-photosynthetic potential in China. Science Press, Beijing, China, pp. 15–22 in Chinese

Huo Z, Dai X, Feng S, Kang S, Huang G (2013) Effect of climate change on reference evapotranspiration and aridity index in arid region of China. J Hydrol 492:24–34. doi:10.1016/j.jhydrol.2013.04.011

Li Y, Ye W, Wang M, Yan X (2009) Climate change and drought: a risk assessment of crop-yield impacts. Clim Res 39:31–46. doi:10.3354/cr00797

Liu Z, Hubbard KG, Lin X, Yang X (2013) Negative effects of climate warming on maize yield are reversed by the changing of sowing date and cultivar selection in Northeast China. Glob Chang Biol 19:3481–3492

Liu Y, Wang E, Yang X, Wang J (2010) Contributions of climatic and crop varietal changes to crop production in the North China Plain, since 1980s. Glob Chang Biol 16:2287–2299

Liu Z, Yang X, Hubbard KG, Lin X (2012) Maize potential yields and yield gaps in the changing climate of Northeast China. Glob Chang Biol 18:3441–3454. doi:10.1111/j.1365-2486.2012.02774.x

Lu C, Fan L (2013) Winter wheat yield potentials and yield gaps in the North China Plain. Field Crop Res 143:98–105. doi:10.1016/j.fcr.2012.09.015

National Bureau of Statistics of China (2009) China statistical yearbook. China Statistics Press, Beijing in Chinese

Pandey DN, Gupta AK, Anderson DM (2003) Rainwater harvesting as an adaptation to climate change. Curr Sci 85:46–59

Porter JR, Gawith M (1999) Temperatures and the growth and development of wheat: a review. Eur J Agron 10:23–36. doi:10.1016/S1161-0301(98)00047-1

Qin Y, Liu J, Shi W, Tao F, Yan H (2013a) Spatial-temporal changes of cropland and climate potential productivity in northern China during 1990–2010. Food Secur 5:499–512. doi:10.1007/s12571-013-0280-x

Qin X, Weiner J, Qi L, Xiong Y, Li F (2013b) Allometric analysis of the effects of density on reproductive allocation and harvest index in 6 varieties of wheat (Triticum). Field Crop Res 144:162–166

Qiu J (2010) China drought highlights future climate threats. Nature 465:142–143. doi:10.1038/465142a

Tao F, Yokozawa M, Xu Y, Hayashi Y, Zhang Z (2006) Climate changes and trends in phenology and yields of field crops in China, 1981–2000. Agric For Meteorol 138:82–92. doi:10.1016/j.agrformet.2006.03.014

Thornthwaite CW (1948) An approach toward a rational classification of climate. Geogr Rev 38:55–94

Vicente-Serrano SM, Begueria S, López-Moreno JI (2010) A multiscalar drought index sensitive to global warming: the standardized precipitation evapotranspiration index. J Clim 23:1696–1718. doi:10.1175/2009JCLI2909.1

Wang L, Chen W, Zhou W, Huang G (2015a) Understanding and detecting super-extreme droughts in Southwest China through an integrated approach and index. Q J R Meteorol Soc 142:529–535

Wang T, Lu C, Yu B (2011) Production potential and yield gaps of summer maize in the Beijing-Tianjin-Hebei region. J Geogr Sci 21:677–688. doi:10.1007/s11442-011-0872-3

Wang J, Wang E, Feng L, Yin H, Yu W (2013) Phenological trends of winter wheat in response to varietal and temperature changes in the North China Plain. Field Crop Res 144:135–144. doi:10.1016/j.fcr.2012.12.020

Wang H, Wang P, Tian Y, Li W, Zeng Y (2012a) Assessment on meteorological factors of wheat growing period based on fuzzy evaluation method. J Agric 2:9–12

Wang N, Wang J, Wang E, Yu Q, Shi Y, He D (2015b) Increased uncertainty in simulated maize phenology with more frequent supra-optimal temperature under climate warming. Eur J Agron 71:19–33

Wang J, Wang E, Yang X, Zhang F, Yin H (2012b) Increased yield potential of wheat-maize cropping system in the North China Plain by climate change adaptation. Clim Chang 113:825–840. doi:10.1007/s10584-011-0385-1

Wang P, Zheng Y, He J, Zhang Q, Wang B (2007) Analysis of climate change from dry to wet phase in NW China with an aridity-wetness homogenized index. 2007 I.E. Int. Geosci. Remote Sens Symp 1778–1781. doi:10.1109/IGARSS.2007.4423165

Wu D, Yu Q, Lu C, Hengsdijk H (2006) Quantifying production potentials of winter wheat in the North China Plain. Eur J Agron 24:226–235. doi:10.1016/j.eja.2005.06.001

Yang X, Cheng C, Li Y (2010) Effect of cropland occupation and supplement on light-temperature potential productivity in China from 2000 to 2008. Chin Geogr Sci 20:536–544

Yu M, Li Q, Hayes MJ, Svoboda MD, Heim RR (2014) Are droughts becoming more frequent or severe in China based on the standardized precipitation evapotranspiration index: 1951–2010? Int J Climatol 34:545–558. doi:10.1002/joc.3701

Yuan B, Guo J, Ye M, Zhao J (2012) Variety distribution pattern and climatic potential productivity of spring maize in Northeast China under climate change. Chin Sci Bull 57:3497–3508. doi:10.1007/s11434-012-5135-x

You L, Rosegrant MW, Wood S, Sun D (2009) Impact of growing season temperature on wheat productivity in China. Agric For Meteorol 149:1009–1014. doi:10.1016/j.agrformet.2008.12.004

Zhang L, Xiao J, Li J, Wang K, Lei L, Guo H (2012) The 2010 spring drought reduced primary productivity in southwestern China. Environ Res Lett 7:045706. doi:10.1088/1748-9326/7/4/045706

Zhao H, Gao G, Yan X, Zhang Q, Hou M, Zhu Y, Tian Z (2012) Risk assessment of agricultural drought using the CERES-Wheat model: a case study of Henan Plain, China. Clim Res 50:247–256. doi:10.3354/cr01060
Acknowledgments
This work is supported by the National Basic Research Program of China (2013CB430205) and National Agricultural Introducing Intelligence Platform (2015z007). We would like to thank China Meteorological Administration for providing the historical climate data and agro-meteorological data. We thank Na Wang, Jianzhao Tang, Meixiu Tan, and Qing Chang from China Agricultural University for their critical comments on this paper. We are grateful to the anonymous reviewers and the editor for their insightful comments on this manuscript.
About this article
Cite this article
He, D., Wang, J., Pan, Z. et al. Changes in wheat potential productivity and drought severity in Southwest China. Theor Appl Climatol 130, 477–486 (2017). https://doi.org/10.1007/s00704-016-1895-6
Received:

Accepted:

Published:

Issue Date:
Keywords
Drought Severity

Potential Productivity

China Meteorological Administration

Mild Drought

Grow Season Precipitation