Abstract
This study analyses trends of mean (T m), maximum (T x), minimum (T n), dew point (T d), and wet-bulb temperatures (T w) on an annual, seasonal, and monthly time scale over Spain during the period 1981–2010. The main purpose was to determine how temperature and humidity changes are impacting on T w, which is probably a better measure of climate change than temperature alone. In this study, 43 weather stations were used to detect data trends using the nonparametric Mann-Kendall test and the Sen method to estimate the slope of trends. Significant linear trends observed for T m, T x, and T n versus year were 56, 58, and 47 % of the weather stations, respectively, with temperature ranges between 0.2 and 0.4 °C per decade. The months with bigger trends were April, May, June, and July with the highest trend for T x. The spatial behaviour of T d and T w was variable, with various locations showing trends from −0.6 to +0.3 °C per decade for T d and from −0.4 to +0.5 °C per decade for T w. Both T d and T w showed negative trends for July, August, September, November, and December. Comparing the trends versus time of each variable versus each of the other variables exhibited poor relationships, which means you cannot predict the trend of one variable from the trend of another variable. The trend of T x was not related to the trend of T n. The trends of T x, T m, and T n versus time were unrelated to the trends versus time of either T d or T w. The trend of T w showed a high coefficient of determination with the trend of T d with an annual value of R 2 = 0.86. Therefore, the T w trend is more related to changes in humidity than temperature.
Access options
Buy single article
Instant access to the full article PDF.
US$ 39.95
Tax calculation will be finalised during checkout.
Subscribe to journal
Immediate online access to all issues from 2019. Subscription will auto renew annually.
US$ 119
Tax calculation will be finalised during checkout.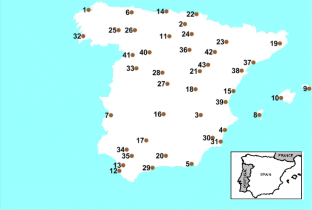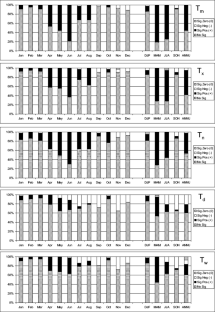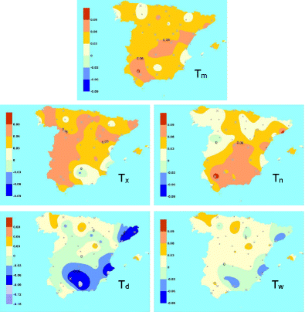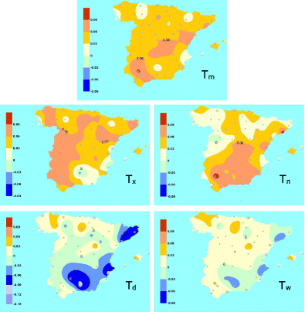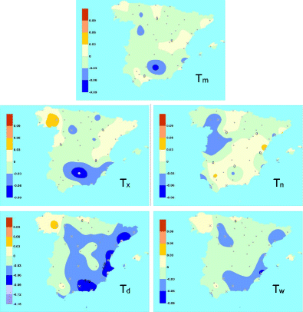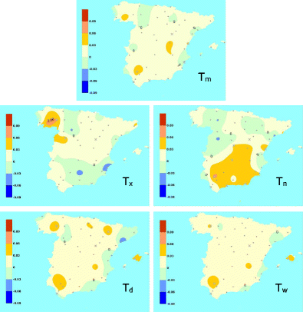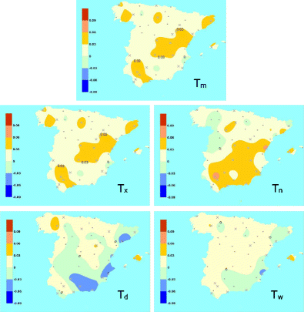 References
AEMET (2011) Iberian climate atlas. Agencia Estatal de Meteorología. 80 p. Available at: http://www.aemet.es

Allen RG, Pereira LS, Raes D, Smith M (1998) Crop evapotranspiration: Guidelines for computing crop water requirements. United Nations Food and Agriculture Organization, Irrigation and Drainage Paper 56. Rome, Italy. 300 p.

Brunet M, Jones PD, Sigró J, Saladié O, Aguilar E, Moberg A, Della-Marta PM, Lister D, Walther A, López D (2007) Temporal and spatial temperature variability and change over Spain during 1850-2005. J Geophys Res 112:D12117. doi:10.1029/2006JD008249

Brunet M, Casado MJ, de Castro M, Galán P, López JA, Martin JM, Pastor A, Petisco E, Ramos P, Ribalaygua J, Rodríguez E, Sanz I, Torre E (2009) Generación de escenarios de cambio climático regionalizados para España. Agencia estatal de meteorologia, Ministry of Agriculture, Food and Environment, p. 158

Burman RD, Jensen ME, Allen RG (1987) Thermodynamic factors in evapotranspiration. In: James LG, English MJ (eds) Proceedings of the irrigation and drainage special conference. ASCE. Portland, Oregon, pp. 28–30

Capilla P (2008) Time series and identifications of trends in a Mediterranean urban area. Glob Planet Chang 63:275–281

Chaouche K, Neppel L, Dieulin C, Pujol N, Ladouche B, Martin E, Salas D, Caballero Y (2010) Analyses of precipitation, temperature and evapotranspiration in a French Mediterranean region in the context of climate change. Compt Rendus Geosci 342:234–243

Christensen JH, Hewitson B, Busuioc A, Chen A, Gao X, Held I, Jones R, Kolli RK, Kwon WT, Laprise R, Magaña Rueda V, Mearns L, Menéndez CG, Räisänen J, Rinke A, Sarr A, Whetton P (2007) Regional climate projections. In: Solomon S, Qin D, Manning M, Chen Z, Marquis M, Averyt KB, Tignor M, Miller HL (eds) Climate change 2007: the physical science basis. Contribution of working group I to the fourth assessment report of the intergovernmental panel on climate change. Cambridge University Press, Cambridge and New York,

Del Rio S, Pena A, Fraile R (2005) Analysis of recent climatic variations in Castile and Leon (Spain). Atmos Res 73:69–85

Del Rio S, Fraile R, Herrero L, Penas A (2007) Analysis of recent trends in mean maximum and minimum temperatures in a region of the NW of Spain (Castilla y León). Theor Appl Climatol 90:1–12

Del Rio S, Herrero L, Pinto-Gomes C, Penas A (2011) Spatial analysis of mean temperature trends in Spain over the period 1961-2006. Glob Planet Chang 78:65–75

Del Rio S, Cano-Ortiz A, Herrero L, Penas A (2012) Recent trends in mean maximum and minimum air temperaturas over Spain (1961-2006). Theor Appl Climatol 109:605–626

Delworth TL, Mahlaman JD, Knutson TR (1999) Changes in heat index associated with CO2-induced global warming. Clim Chang 43:369–386

Espadafor M, Lorite IL, Gavilán P, Berengena J (2011) An análysis of the tendency of reference evapotranspiration estimates and other climate variables during the last 45 years in Southern Spain. Agri Water Manage 98:1045–1061

Feidas H, Makrogiannis T, Bora-Senta E (2004) Trend analysis of air temperature time series in Greece and their relationship with circulation using surface and satellite data: 1955–2001. Theor Appl Climatol 79:185–208

Fernández Montes S, Rodrigo FS (2012) Trends in seasonal indices of daily temperature extremes in the Iberian Peninsula, 1929-2005. Int J Climatol 32:2320–2332

Font Tullot I (2000) Climatología de España y Portugal. Universidad de Salamanca, Salamanca, p. 428

Frías MD, Fernández J, Sáenz J, Rodríguez-Puebla C (2005) Operacional predictability of monthly average maximum temperature over the Iberian Peninsula using DEMETER simulations and downscaling. Tellus 57A:448–463

Fritschen LJ, Gay LW (1979) Enviromental instrumentation. Springer-Verlag, New York, p. 216

Gaffen DJ, Ross RJ (1999) Climatology and trends of U.S. surface humidity and temperature. J Clim 12:811–828

Hamed KH (2008) Trend detection in hydrologic data: the Mann-Kendall test under the scaling hypothesis. J Hydrol 349:350–363

Hartmann DL, Klein Tank AMG, Rusticucci M, Alexander LV, Brönnimann S, Charabi Y, Dentener FJ, Dlugokencky EJ, Easterling DR, Kaplan A, Soden BJ, Thorne PW, Wild M, Zhai PM (2013) Observations: atmosphere and surface. In: Stocker TF, Qin D, Plattner GK, Tignor M, Allen SK, Boschung J, Nauels A, Xia Y, Bex V, Midgley PM (eds) Climate change 2013: the physical science basis. Contribution of working group I to the fifth assessment report of the Intergovernmental Panel on Climate Change. Cambridge University Press, Cambridge and New York

Homar V, Ramis C, Romero R, Alonso S (2010) Recent trends in temperature and precipitation over the Balearic Island (Spain). Clim Chang 98:199–211

IPCC (2007) Climate change 2007: The physical science basis. Contribution of working Group I to the fourth assessment report of the Intergovernmental Panel on Climate Change [Solomon, S., Qin, D., Manning, M., Chen, Z., Marquis, M., Averyt, K.B., Tignor, M. and Miller, H.L. (eds.)]. Cambridge University Press, Cambridge and NY 2007.

Kürbis K, Mudelesse M, Tetzlaff G, Brázdil R (2009) Trends in extremes of temperature, dew point, and precipitation from long instrumental series form Central Europe. Theor Appl Climatol 98:187–195

Liepert BG (2002) Observed reductions of surface solar radiation at sites in the United States and worldwide from 1961 to 1990. Geophys Res Lett 29:1421. doi:10.1029/2002GL014910

López-Moreno JL, Vicente-Serrano SM, Morán-Tejeda E, Lorenzo-Lacruz J, Kenawy A, Beniston M (2011) Effects of the North Atlanntic Oscillation (NAO) on combined temperature and precipitation winter modes in the Mediterranean mountains: observed and relationships and proyections for the 21st century. Glob Planet Chang 77:62–76

Martínez MD, Serra C, Burgueño A, Lana X (2010) Time trends of daily maximum and minimum temperatures in Catalonia (NE Spain) for the period 1975–2004. Int J Climatol 30:267–290

Miró JJ, Estrela MJ, Millán M (2006) Summer temperature trends in a Mediterranean area (Valencia Region). Int J Climatol 26:1051–1073

Moore GWK, Renfrew IA (2012) Cold European winters: interplay between the NAO and the East Atlactic mode. Atmos Sci Let 13:1–8

Moratiel R, Duran JM, Snyder R (2010) Responses of reference evapotranspiration to changes in atmospheric humidity and air temperature in Spain. Clim Res 44:27–40

Moratiel R, Snyder RL, Duran JM, Tarquis AM (2011) Trend in climatic variables and future reference evapotranspiration in Duero Valley (Spain). Nat Hazards Earth Sys 11:1795–1805

NOAA (2016) National Weather Service. Climate Prediction Center. Available at: http://www.cpc.ncep.noaa.gov/data/teledoc/telecontents.shtml Data retrieved on 15 June 2016.

Omran MA (2000) Analysis of solar radiation over Egypt. Theor Appl Climatol 67:225–240

Pinker RT, Zhang B, Dutton EG (2005) Do satellites detect trends in surface solar radiation? Science 308:850–854

Piñol J, Terradas J, Lloret F (1998) Climate warming, wildfire hazard, and wildfire occurrence in coastal eastern Spain. Clim Chang 38:345–357

Ramos MC, Jones GV, Martínez-Casasnovas JA (2008) Structure and trends in climate parameters affecting winegrape production in northeast Spain. Clim Res 38:1–15

Rana G, Katerji N (2000) Measurement and estimation of actual evapotranspiration in the field under Mediterranean climate: a review. Eur J Agron 13:125–153

Rios-Cornejo D, Penas A, Álvarez-Esteban R, Del Rio S (2015) Links between teleconnections patterns and mean temperature in Spain. Theor Appl Climatol 122:1–18

Robinson PJ (1998) Monthly variations of dew point temperature in the conterminous United States. Int J Climatol 18:1539–1556

Robinson PJ (2000) Temporal trends in United States dew point temperatures. Int J Climatol 20:985–1002

Rodriguez-Puebla C, Encinas AH, García-Casado LA, Nieto S (2010) Trends in warm days and cold nights over the Iberian Peninsula: relationships to large-scale variables. Clim Chang 100:667–684

Sáenz J, Zubillaga J, Rodriguez-Puebla C (2001) Interannual winter temperature variability in the north of the Iberian Peninsula. Clim Res 16:169–179

Sanchez-Lorenzo A, Calbó J, Brunetti M, Deser C (2009) Dimming/brightening over the Iberian Peninsula: trend in sunshine duration and cloud cover and their relations with atmospheric circulation. J Geophys Res 114. doi:10.1029/2008JD011394

Sen PK (1968) Estimates of the regression coefficients based on Kendall's tau. J Am Stat Assoc 63:1379–1389

Sherwood SC, Huber M (2010) An adaptability limit to climate change due to heat stress. Proc Natl Acad Sci U S A 107:9552–9555

Snyder RL, Melo-Abreu JP (2005) Frost protection: fundamentals, practice and economics. Vol I. FAO, Rome 241 p.

Taboada J, Brands S, Lorenzo N (2009) Actual and future trends of extreme values of temperature for the NW Iberian Peninsula. 9th European Conference on Applications of Meteorology (ECAM). Toulose, France.

Tetens VO (1930) Uber einige meterologische. Begriffe, Zeitschrift fur Geophysik 6:297–309

Tomozeiu R, Busuioc A, Stefan S (2002) Changes in seasonal mean maximum air temperature in Romania and their connections with large-scale circulation. International J Climatol 22:1181–1196

Tonkaz T, Çetin M, Tülücü K (2007) The impact of water resources development projects on water vapour pressure trends in a semi-arid region, Turkey. Clim Chang 82:195–209

Toreti A, Desiato F, Fioravanti G, Perconti W (2010) Seasonal temperatures over Italy and their relationship with low-frequency atmospheric circulation patterns. Clim Chang 99:211–227

Trenberth KE, Jones PD, Ambenje P, Bojariu R, Easterling D, Klei Tank A, Parker D, Rahimzadeh F, Renwick JA, Rusticucci M, Soden B, Zhai P (2007) Observations: surface and atmospheric climate change. In: Solomon S, Qin D, Manning M, Chen Z, Marquis M, Averyt KB, Tignor M, Miller HL (eds) Climate change 2007: the physical science basis. Contribution of working group I to the fourth assessment report of the Intergovernmental Panel on Climate Change. Cambridge University Press, Cambridge and New York

Trigo RM, Osborn TJ, Corte-Real JM (2002) The North Atlantic Oscillation influence on Europe: climate impacts and associated physical mechanisms. Clim Res 20:9–17

Wild M, Gilgen H, Roesch A, Ohmura A, Long CN, Dutton EG, Forgan B, Kallis A, Russak V, Tsvetkov A (2005) From dimming to brightening: decadal changes in solar radiation at Earth's surface. Science 308:847–850

Xoplaki E, Luterbacher J, Gonzalez-Rouco JF (2006) Mediterranean summer temperature and winter precipitation, large-scale dynamics, trends. Il Nuovo Cimento 29:45–54
Acknowledgments
Thanks are due to the Agencia Estatal de Meteorología (AEMET) for facilitating the data and especially to Ms. Juana Arolo.
About this article
Cite this article
Moratiel, R., Soriano, B., Centeno, A. et al. Wet-bulb, dew point, and air temperature trends in Spain. Theor Appl Climatol 130, 419–434 (2017). https://doi.org/10.1007/s00704-016-1891-x
Received:

Accepted:

Published:

Issue Date:
Keywords
Heat Stress

Negative Trend

North Atlantic Oscillation

Ordinary Kriging

Annual Trend