Abstract
In the last few decades, drought has become a chronic phenomenon in Morocco. It began at the end of the 1970s and continued to the late 2000s. In the present study, hydrometeorological data sets, Standardized Precipitation Index method, and non-parametric tests were used to recognize the frequency and the severity of drought events during the period between 1929 and 2010. The Standardized Precipitation Index showed significant inter-annual fluctuation and evolution of rainfall amounts representing wet cycles (i.e., before 1975) followed by a long period of drought between 1975 and 2004. The inter-annual variability of rainfall is accompanied by shifts of stationarity in the rainfall series. The statistical test of Pettitt, Bayesian method of Lee and Heghinian, Buishand procedure, and Hubert test revealed shifts around the mid 70s. After this period, a deficit of rainfall (with a maximum value of −30 %) was registered. The probabilities of monthly Standardized Precipitation Index values were normal to below normal during the last 40 years. In fact, the increase of drought risk may be resulted from the increase of frequency and severity of meteorological drought. The proposed Standardized Precipitation Index method and non-parametric tests yielded reasonable and satisfactory results for Morocco. Therefore, this approach could be successfully applied to other semi-arid, dry, sub-humid, or semi-humid regions worldwide, where rainfall series are showing high seasonality and year-to-year variability.
Access options
Buy single article
Instant access to the full article PDF.
US$ 39.95
Tax calculation will be finalised during checkout.
Subscribe to journal
Immediate online access to all issues from 2019. Subscription will auto renew annually.
US$ 119
Tax calculation will be finalised during checkout.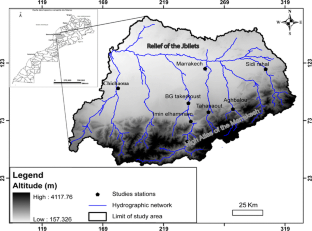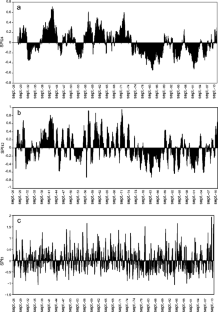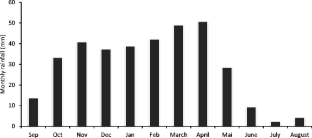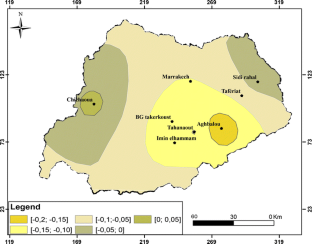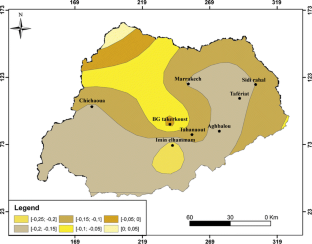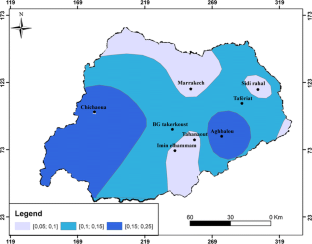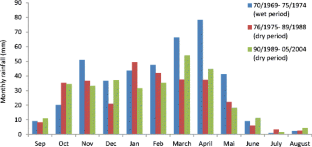 References
Agoumi A, Debbarh A (2006) Ressources en eau et bassins versants du Maroc: 50 ans de développement (1955-2005). Rapport sur le Développement Humain au Maroc 2005 Maroc (in French)

Amidou D, Bamory K, Adama M, Albert GBT, Luc S, Bokar M H Issiaka S (2010) Variabilité Climatique Et Réponse Hydrologique Du Bassin Versant Transfrontalier De Kolondièba Au Sud Du Mali. European Journal of Scientific Research, ISSN 1450-216X Vol.43 No.4, pp.435-444, EuroJournals Publishing, Inc. http://www.eurojournals.com/ejsr.htm (in French)

Bannayan M, Sanjani S, Alizadeh A, Lotfabadi S, Mohamadian A (2010) Association between climate indices, aridity index, and rainfed crop yield in northeast of Iran. Field Crops Research doi:10.1016/j.fcr.2010.04.011

Bedoum A, Biona C B, Alladoum M, Adoum I, Baohoutou L (2013) Variabilités climatiques et ruptures dans les séries des précipitations en république du tchad. Rev. Ivoir. Sci. Technol. ISSN 1813-3290, http://www.revist.ci, 187 – 208 (in French)

Benassi M (2008) Drought and climate change in Morocco. Analysis of precipitation field and water supply, Options méditerranéennes 80:83–87

Bordi I, Frigio S, Parenti P, Speranza A, Sutera A (2001) The analysis of standardized precipitation index in the Mediterranean area: large-scale patterns. Annals of Geophysics 44:5–6

Bru N, Biritxinaga E, D'Amico F (2011) Detection of significant changes in short time series: applications to the analysis of annual routines in behavioural ecology and to the analysis of breaks in abundance. 19th International Congress on Modelling and Simulation, Perth, Australia

Buishand TA (1982) Some methods for testing the homogeneity of rainfall records. J Hydrol 58:11–27

Douglas EM, Vogel RM, Kroll CN (2000) Trends in foods and low flows in the United States: impact of spatial correlation. J Hydrol 240:90–105

Dracup JA, Lee KS, Paulson E et al (1980) On the definition of droughts. Water Resources Res 16:297–302

Fink AH (2010) Chapter: impacts of global change on the hydrological cycle in West and Northwest Africa. in: Speth, et al. Springer, Berlin Heidelberg, pp 132–163. doi:10.1007/978-3-642-12957-5_5

Fniguire F, Laftouhi NE, Saidi ME, Markhi A (2014) Some aspects of climate variability and increasing  aridity in central Morocco over the last forty years: case of Tensift Basin (Marrakech-Morocco). Journal of Environment and Earth Science 4(9):42–51

Hubert P (1993) Change points in hydrometeorological time series, in applications of time series analysis in astronomy and meteorology 1:388

Kendall M G (1975) Rank correlation methods. Charles Griffin, London

Khomsi K, Mahe G, Sinan M, Snoussi M (2013) Hydro-climatic variability in two Moroccan basins: comparative analysis of temperature, rainfall and runoff regimes. Climate and land surface changes in hydrology. Proceedings of H01, IAHS-IAPSO-IASPEI Assembly, Gothenburg, Sweden, pp 183–190

Kouassi AM, Kouamé KF, Koffi YB, Dje KB, Paturel JE, Oulare S (2010) Analyse de la variabilité climatique et de ses influences sur les régimes pluviométriques saisonniers en Afrique de l'Ouest : cas du bassin versant du N'zi (Bandama) en Côte d'Ivoire. Cybergeo : European Journal of Geography, doi:10.4000/cybergeo.23388 (in frenche)

Lee AFS, Heghinian SM (1977) A shift of the mean level in a sequence of independent normal random variables: a Bayesian approach. Technometrics, doi:10.1080/00401706.1977. 10489592

Livada I and Assimakopoulos V D (2007) Spatial and temporal analysis of drought in Greece using the Standardized Precipitation Index (SPI). Theor. Appl. Climatol, doi:10.1007/s00704-005-0227-z

Lloyd-Hughes B, Saunders M (2002) A drought climatology for Europe. Int J Climatol 22:1571–1592

Maftei C, Bărbulescu A, Buta C, Şerban C (2011) Change points detection on variability analysis of some precipitation series. Mamectis/Nolasc/Control/Wamus'11. In: Proc. the 13th WSEAS International Conference on Mathematical Methods, Computational Techniques And Intelligent Systems, Ovidius University of Constanta 124 Mamaia Blvd, Romania, pp 232–237

Mahé G, Rouché N, Dieulin C, Boyer JF, Ibrahim B, Cres A, Servat E, Valton C, Paturel JE (2012) Carte des pluies annuelles en Afrique. Institut de recherche pour le développement, France (in French)

Maliva R G, Missimer Th M (2012) Arid lands water evaluation and management. Springer Science & Business Media; ISSN 1431-6250; ISBN 978-3-642-29104-3 (eBook). Library of Congress Control Number: 2012936762, Springer Heidelberg New York, Dordrecht London, Library of Congress Control Number: 2012936762. p 1076, doi:10.1007/978-3-642-29104-3

Mann HB (1945) Nonparametric tests against trend. Econometrica 13:245–259

McKee TB, Doesken NJ, Kleist J (1993) The relationship of drought frequency and duration to time scale. In: Proceedings of the 8th Conference on Applied Climatology (Vol. 17, No. 22, pp. 179-183). American Meteorological Society, Boston, MA

Ming Kang H, Yusof F (2012) Homogeneity tests on daily rainfall series in Peninsular Malaysia. Int J Contemp Math Sciences 7(1):9–22

Minitére de l'énergie et de l'environnement (2004) Etude d'actualisation des ressources en eau de surface de la zone d'action de l'Agence du Bassin Hydraulique du Tensift, Rabat-Maroc (in French)

Pettitt AN (1979) A non-parametric approach to the change-point problem. Applied Statistics 28:126–135

Schilling J, Freier K, Hertig E, Scheffran J (2012) Climate change, vulnerability and adaptation in North Africa with focus on Morocco. Agric Ecosyst Environ 156:12–26

Sebbar A, Badri W, Fougrach H, Hsaine M, Saloui A (2011) Étude de variabilité du régime pluviométrique au Maroc septentrional (1935–2004). Science et changements planétaires/Sécheresse 22(3):139–148 (in French)

Sen PK (1968) Estimates of the regression coefficient based on Kendall's tau. J Amer Statistical Assoc 63:1379–1389

Servat E, Paturel JE, Lubès H, Kouatmé B, Ouedraogo M, Maason JM (1996) Climatic variability in humid Africa along the Gulf of Guinea part I: detailed analysis of the phenomenon in Côte d' Ivoire. J Hydrol 191:l–15

Sinan M, Boussetta M, El Rherari A (2009) Changements climatiques: causes et conséquences sur le climat et les ressources en eau, Le dessalement des eaux, Centre d'Etudes et de Recherches sur les Ressources en Eau (CERHYDREAU). Ecole Hassania des Travaux Publics, Casablanca, Maroc (in French)

Sonmez FK, Umran Komuscu wA, Erkan A, Turgu E (2005) An analysis of spatial and temporal dimension of drought vulnerability in turkey using the standardized precipitation index. Nat Hazards 35:243–264

Speth P, Christoph M, Diekkrüger B (2010) Impacts of global change on the hydrological cycle in West and Northwest Africa. Springer Science & Business Media; ISBN 978-3-642-12956-5 (eBook). Library of Congress Control Number: 2012936762, Springer Heidelberg New York, Dordrecht London, doi:10.1007/978-3-642-12956-5

Theil H (1950) A rank-invariant method of linear and polynomial regression analysis, part 3. In Proceedings of Koninalijke Nederlandse Akademie van Weinenschatpen A (Vol. 53, pp. 1397-1412)

Thomas B, McKee N, Doesken J, Kleis J (1993) The relationship of drought frequency and duration to time scales. In: Proceedings of the 8th Conference on Applied Climatology (Vol. 17, No. 22, pp. 179-183. American Meteorological Society, Boston, MA

Tomar A S (2014) Study of precipitation indices for drought intensity at New Delhi, India. American International Journal of Research in Science, Technology, Engineering & Mathematics. ISSN (Print): 2328-3491, ISSN (Online): 2328-3580, ISSN (CD-ROM): 2328-3629

Tramblay Y, El Adlouni S, Servat E (2013) Trends and variability in extreme precipitation indices over Maghreb countries. Nat Hazards Earth Syst Sci 13:3235–3248

Yue S, Pilon P (2004) A comparison of the power of the ttest, Mann-Kendall and bootstrap tests for trend detection. Hydrolog Sci J; Hydrology 49(1):18

Yue S, Wang CY (2002) Assessment of the significance of serial correlation by the bootstrap test. Water Resour Manage 16:23–35

Yue S, Pilon P, Cavadias G (2002) Power of the Mann-Kendall and Spearman's rho tests for detecting monotonic trends in hydrological series. J Hydrol 259:254–271

Yue S, Pilon P, Phinney B (2003) Canadian streamflow trend detection: impacts of serial and cross correlation. Hydrol Sci J 48(1):51–63

Zamrane Z (2016) Recherche d'indice de variabilité climatique dans des séries hydroclimatique au Maroc: identification, positionnement temporel, tendances et liens avec les fluctuations climatiques : cas des grands bassins de la Moulouya, du Sebou et du Tensift. Thèse de Doctorat. Université Cadi Ayyad (Maroc) et Université de Montpellier II (France), p 198 (in French)

Zhang W, Yan W, Zheng J, Li L, Dong X, Cai H (2009) Temporal and spatial variability of annual extreme water level in the Pearl River Delta region, China. Global Planet Change 69:35–47
About this article
Cite this article
Fniguire, F., Laftouhi, NE., Saidi, M.E. et al. Spatial and temporal analysis of the drought vulnerability and risks over eight decades in a semi-arid region (Tensift basin: Morocco). Theor Appl Climatol 130, 321–330 (2017). https://doi.org/10.1007/s00704-016-1873-z
Received:

Accepted:

Published:

Issue Date:
Keywords
Standardize Precipitation Index

Rainfall Series

Drought Vulnerability

Standardize Precipitation Index Series

Annual Rainfall Data