Abstract
Daily rainfall and temperature data from 47 locations across Nigeria for the 36-year period 1979–2014 were treated to time series analysis technique to investigate some nonlinear trends in rainfall and temperature data. Some quantifiers such as Lyapunov exponents, correlation dimension, and entropy were obtained for the various locations. Positive Lyapunov exponents were obtained for the time series of mean daily rainfall for all locations in the southern part of Nigeria while negative Lyapunov exponents were obtained for all locations in the Northern part of Nigeria. The mean daily temperature had positive Lyapunov exponent values (0.35–1.6) for all the locations. Attempts were made in reconstructing the phase space of time series of rainfall and temperature.
Access options
Buy single article
Instant access to the full article PDF.
USD 39.95
Price includes VAT (USA)
Tax calculation will be finalised during checkout.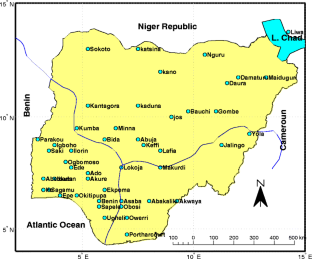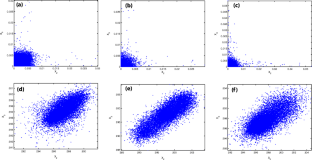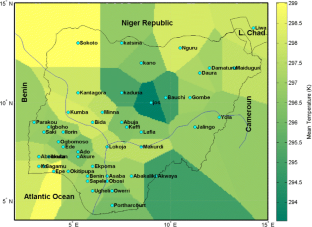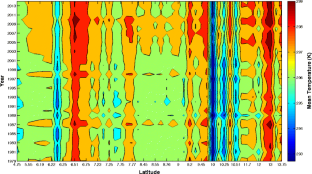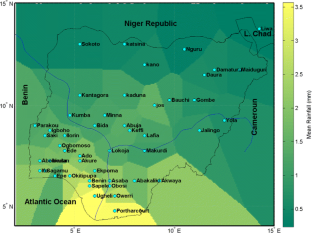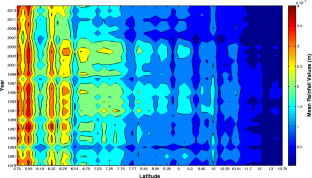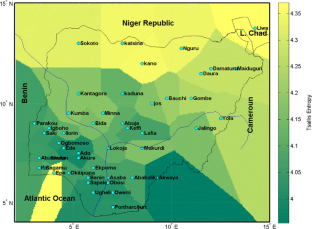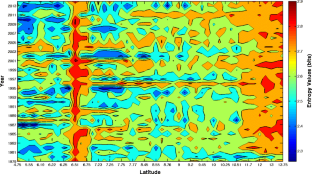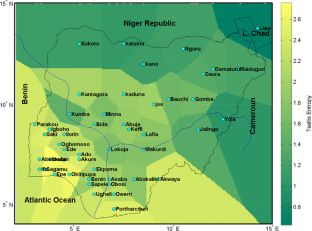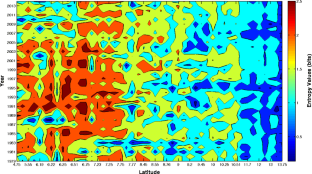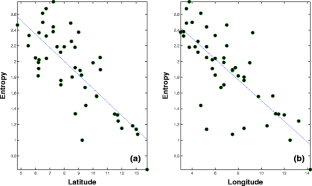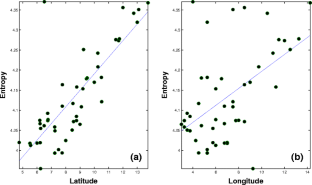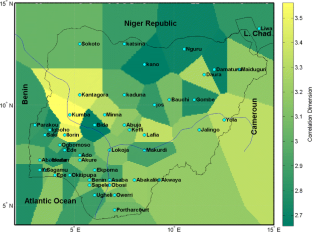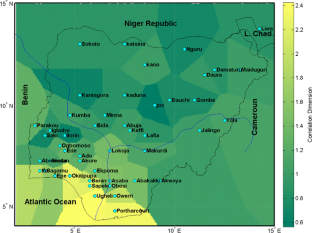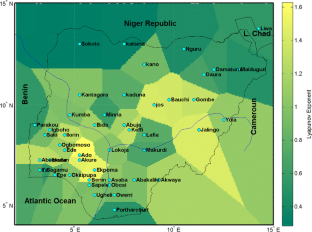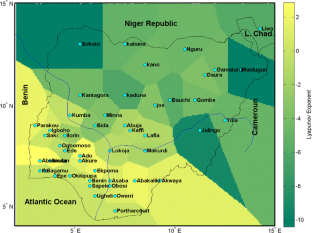 References
Abdulkadir TS, Salami AW, Kareem AG (2012) Artificial neural network 330 modeling of rainfall in Ilorin , Kwara State , Nigeria. J Res Inf Civil Eng 9(1):108–120

Adediji AT, Ogunjo ST (2014) Variations in non-linearity in vertical distribution of microwave radio refractivity. Prog. Electromagn Res M 36:177–183. http://www.jpier.org/PIERM/pier.php?paper=14041606

Adejuwon JO, Odekunle TO (2006) Variability and the severity of the little dry season in southwestern nigeria. J Clim 19:483–493

Adejuwon JO, Balogun EE, Adejuwon SA (1990) On the annual and seasonal patterns of rainfall fluctuations in sub-saharan west africa. Int J Climatol 10:839–848

Akinbobola A, Omotosho JB (2013) Predicting Malaria occurrence in Southwest and North central Nigeria using Meteorological parameters. Int J Biometeorol 57(5):721–728. doi:10.1007/s00484-012-0599-6

Altan Dombayci Ö, Gölcü M, Paniagua-tineo A, Salcedo-Sanz S, Casanova-Mateo C, Ortiz-García EG, Cony Ma, Hernández-Martín E (2009) Prediction of daily maximum temperature using a support vector regression algorithm. Renew Energy 34(11):3054–3060. doi:10.1016/j.renene.2008.07.007. doi:10.1016/j.renene.2011.03.030

An X, Jiang D, Liu C, Zhao M (2011) Wind farm power prediction based on wavelet decomposition and chaotic time series. Expert Syst Appl 38(9):11,280–11,285. doi:10.1016/j.eswa.2011.02.176

An X, Jiang D, Zhao M, Liu C (2012) Short-term prediction of wind power using EMD and chaotic theory. Commun Nonlinear Sci Numer Simul 17:1036–1042. doi:10.1016/j.cnsns.2011.06.003

Cai W, Santoso A, Wang G, Yeh SW, An SI, Cobb KM, Collins M, Guilyardi E, Jin FF, Kug JS, Lengaigne M, Mcphaden MJ (2015) ENSO and greenhouse warming. Nat Publ Group 5(9):849–859. doi:10.1038/nclimate2743

Cao L (1997) Practical method for determining the minimum embedding dimension of a scalar time series. Phys D: Nonlinear Phenom 110(1–2):43 – 50. doi:10.1016/S0167-2789(97)00118-8. http://www.sciencedirect.com/science/article/pii/S0167278997001188

Cecen AA, Erkal C (2008) Effects of trend and periodicity on the correlation dimension and the lyapunov exponents. Int J Bifurcation Chaos 18(12):3679–3687. doi:10.1142/S0218127408022640

Charakopoulos A, Karakasidis TE, Papanicolaou PN, Liakopoulos A (2014a) The application ofcomplex network time series analysis in turbulent heated jets. Chaos: Interdisc J Nonlinear Sci 24(2):024,408

Charakopoulos A, Karakasidis TE, Papanicolaou PN, Liakopoulos A (2014b) Nonlinear time series analysis and clustering for jet axis identification in vertical turbulent heated jets. Phys Rev E 89(3):032,913

Dee DP, Uppala SM, Simmons AJ, Berrisford P, Poli P, Kobayashi S, Andrae U, Balmaseda MA, Balsamo G, Bauer P, Bechtold P, Beljaars ACM, Berg LVD, Bidlot J, Bormann N, Delsol C, Dragani R, Fuentes M, Geer AJ (2011) The ERA-interim reanalysis: configuration and performance of the data assimilation system. Q J Roy Meteorol Soc 137(656):553–597. doi:10.1002/qj.828

Echi IM, Tikyaa EV, Isikwue BC (2015) Dynamics of daily rainfall and temperature in makurdi. Int J Sci Res 4(7):493–499

Fuwape I, Ogunjo S (2013) Investigating chaos in the nigerian asset and resource management (ARM) discovery fund. CBN J Appl Stat 4(2):133–144

Ghorbani MA, Kisi O, Aalinezhad M (2010) A probe into the chaotic nature of daily streamflow time series by correlation dimension and largest Lyapunov methods. Appl Math Modell 34 (12):4050–4057. doi:10.1016/j.apm.2010.03.036. http://www.sciencedirect.com/science/article/pii/S0307904X10001575

Grassberger P, Procaccia I (1983) Measuring the strangeness of strange attractors. Phys D 9:189–208

Inbanathan SSR (2013) Studies on the trend and chaotic behaviour of Tamil Nadu rainfall. J Ind Geophys Union 17(4):335–339

Jayawardena AW, Lai F (1994) Analysis and prediction of chaos in rainfall and stream flow time series. J Hydrol 153 (1-4):23–52. doi:10.1016/0022-1694(94)90185-6. http://www.sciencedirect.com/science/article/B6V6C-4876432-8Y/2/b226dc073c2a8deeeb189cd777d5fd0f

Jothiprakash V, Fathima TA (2013) Chaotic analysis of daily rainfall series in Koyna reservoir catchment area, India. Stochastic Environ Res Risk Assess 27(6):1371–1381. doi:10.1007/s00477-012-0673-y

Karakasidis TE, Charakopoulos A (2009) Detection of low-dimensional chaos in wind time series. Chaos, Solitons Fractals 41(4):1723–1732. doi:10.1016/j.chaos.2008.07.020

Kawachi T, Maruyama T, Singh VP (2001) Rainfall entropy for delineation of water resources zones in Japan. J Hydrol 246:36–44

Kennel MB, Brown R, Abarbanel HDI (1992) Determining embedding dimension for phase-space reconstruction using a geometrical construction. Phys Rev A 45:3403–3411. doi:10.1103/PhysRevA.45.3403

Kof AK, Gosset M, Zahiri E, Ochou AD, Kacou M, Cazenave F, Assamoi P (2014) Evaluation of X-band polarimetric radar estimation of rainfall and rain drop size distribution parameters in West Africa. Atmos Res 143:438–461. doi:10.1016/j.atmosres.2014.03.009

Köppen W (1900) Versuch einer klassifikation der kli- mate, vorzugsweise nach ihren beziehungen zur pflanzen- welt. Geogr Zeitschr 6:593–611

Krstanovic PF, Singh VP (1992) Evaluation of rainfall networks using entropy: Ii. application. Water Resour Manag 6:295–314

Kyoung MS, Kim HS, Sivakumar B, Singh VP, Ahn KS (2011) Dynamic characteristics of monthly rainfall in the Korean Peninsula under climate change. Stochastic Envir Res Risk Assess 25(4):613–625. doi:10.1007/s00477-010-0425-9

Lei M, Wang Z, Feng Z (2002) A method of embedding dimension estimation based on symplectic geometry. Phys Lett A 303(2-3):179–189. doi:10.1016/S0375-9601(02)01164-7. http://www.sciencedirect.com/science/article/pii/S0375960102011647

Lorenz EN (1963) Deterministic Nonperiodic Flow. doi:10.1175/1520-0469(1963)020%3C0130:DNF%3E2.0.CO;2

Millán H, Ghanbarian-Alavijeh B, Garcia-fornaris I (2010) Nonlinear dynamics of mean daily temperature and dewpoint time series at Balolsar, Iran, 1961 - 2005. Atmos Res 98(1):89–101. doi:10.1016/j.atmosres.2010.06.001

Njau EC (1997) A new analytical model for temperature predictions. Renew Energy 11(1):61–68

Odekunle TO (2006) Determining rainy season onset and retreat over Nigeria from precipitation amount and number of rainy days. Theor Appl Climatol 201:193–201. doi:10.1007/s00704-005-0166-8

Ogunjo ST, Ojo JS, Adediji AT, Adedayo KD, Dada JB (2013) Chaos in radio refractivity over Akure, South-Western Nigeria. In: 5th Annual Conference of the Nigerian Union of Radio Science (NURS), Nigerian Union of Radio Science (NURS), pp 56–63

Ogunjo ST, Adediji AT, Dada JB (2015) Investigating chaotic features in solar radiation over a tropical station using recurrence quantification analysis. Theoretical and Applied Climatology doi:10.1007/s00704-015-1642-4

Oguntunde PC, Abiodun B, Lischeid G (2012) Spatial and temporal temperature trends in Nigeria, 1901-2000. Meteorol Atmos Phys 118(1-2):95–105. doi:10.1007/s00703-012-0199-3. http://www.scopus.com/inward/record.url?eid=2-s2.0-84866513999&partnerID=40&md5=c174034c748c6362b9b11a89d15e69e5

Pacheco JM, Herna E (2001) Predictability of global surface temperature by means of nonlinear analysis. Earth Planet Sci Lett 184:561–565

Remya R, Unnikrishnan KP (2010) Chaotic Behaviour of interplanetary magnetic field under various geomagnetic conditions. J Atmos Solar Terr Phys 72:662–675. doi:10.1016/j.jastp.2010.03.007

Rodriguez-Iturbe I, Febres De Power B, Sharifi MB, Georgakakos KP (1989) Chaos in rainfall. Water Resour Res 25(7):1667. doi:10.1029/WR025i007p01667

Rosenstein M, Collins J, De Luca C (1993) A practical method for calculating largest Lyapunov exponents from small data sets. Phys D-Nonlinear Phenom 65:117. http://www-anw.cs.umass.edu/mtr/papers/RosensteinM93.pdf%24(backslash%24)npapers3://publication/uuid/B61A1922-225A-4FC2-8CC9-D5147B26022D

Samet H, Marzbani F (2014) Quantizing the deterministic nonlinearity in wind speed time series. Renew Sustain Energy Rev 39:1143–1154. doi:10.1016/j.rser.2014.07.130

Schertzer D, Tchiguirinskaia I, Lovejoy S, Hubert P, Bendjoudi H, Larcheveque M (2002) Discussion of" evidence of chaos in the rainfall-runoff process. Hydrol Sci J 47(1):139– 148

Sivakumar B (2005) Correlation dimension estimation of hydrological series and data size requirement: myth and reality. Hydrol Sci J Sci Hydrologiques 50(4):591–603. doi:10.1623/hysj.2005.50.4.591

Sivakumar B, Berndtsson R, Olsson J, Jinno K (2001) Evidence of chaos in the rainfall-runoff process. Hydrol Sci J 46(1):131–145

Ba Smith, Hoogenboom G, Mcclendon RW (2009) Artificial neural networks for automated year-round temperature prediction. Comput Electron Agric 68(1):52–61. doi:10.1016/j.compag.2009.04.003

Verrier S, Mallet C (2011) Multiscaling properties of rain in the time domain, taking into account rain support biases. J Geophys Res Atmos 116:D20

Yaya OS, Fashae OA (2014) Seasonal fractional integrated time series models for rainfall data in Nigeria. Theor Appl Climatol 120(1):99–108
About this article
Cite this article
Fuwape, I.A., Ogunjo, S.T., Oluyamo, S.S. et al. Spatial variation of deterministic chaos in mean daily temperature and rainfall over Nigeria. Theor Appl Climatol 130, 119–132 (2017). https://doi.org/10.1007/s00704-016-1867-x
Received:

Accepted:

Published:

Issue Date:
Keywords
Entropy

Rainfall

Temperature

ITD

Climate

Lyapunov exponent

Correlation dimension

Tropics