Abstract
This study examines the sampling error uncertainties in the monthly surface air temperature (SAT) change in China over recent decades, focusing on the uncertainties of gridded data, national averages, and linear trends. Results indicate that large sampling error variances appear at the station-sparse area of northern and western China with the maximum value exceeding 2.0 K2 while small sampling error variances are found at the station-dense area of southern and eastern China with most grid values being less than 0.05 K2. In general, the negative temperature existed in each month prior to the 1980s, and a warming in temperature began thereafter, which accelerated in the early and mid-1990s. The increasing trend in the SAT series was observed for each month of the year with the largest temperature increase and highest uncertainty of 0.51 ± 0.29 K (10 year)−1 occurring in February and the weakest trend and smallest uncertainty of 0.13 ± 0.07 K (10 year)−1 in August. The sampling error uncertainties in the national average annual mean SAT series are not sufficiently large to alter the conclusion of the persistent warming in China. In addition, the sampling error uncertainties in the SAT series show a clear variation compared with other uncertainty estimation methods, which is a plausible reason for the inconsistent variations between our estimate and other studies during this period.
Access options
Buy single article
Instant access to the full article PDF.
US$ 39.95
Tax calculation will be finalised during checkout.
Subscribe to journal
Immediate online access to all issues from 2019. Subscription will auto renew annually.
US$ 119
Tax calculation will be finalised during checkout.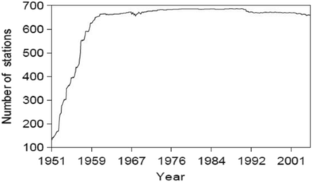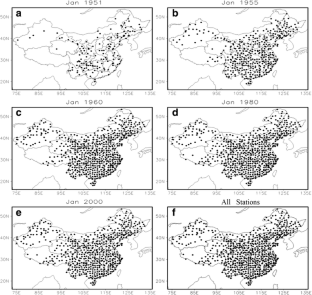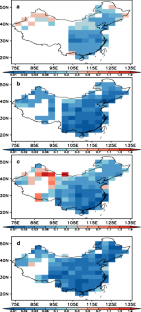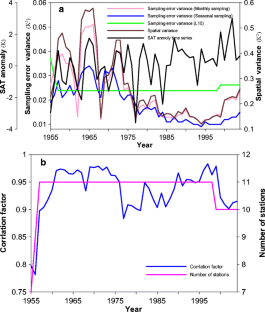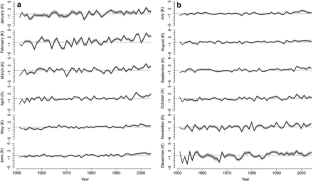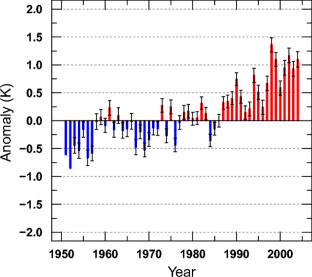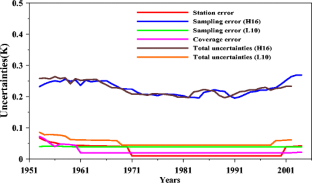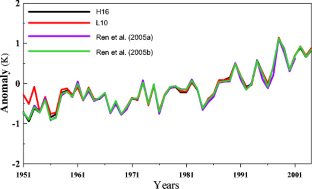 References
Allen MR, Ingram WJ (2002) Constraints on future changes in climate and the hydrologic cycle. Nature 419(6903):224–232

Barnett TP, Hegerl G, Knutson T, Tett S (2000) Uncertainty levels in predicted patterns of anthropogenic climate change. J Geophys Res 105(D12):15525–15542

Brohan P, Kennedy JJ, Harris I, Tett SFB, Jones PD (2006) Uncertainty estimates in regional and global observed temperature changes: a new data set from 1850. J Geophys Res 111(D12106)

Chen LX, Zhu WQ (1998) Study on climate change of China over the past 45 years (in Chinese). Acta Metall Sin 56(3):257–271

Chu ZY, Ren GY (2005) Effect of enhanced urban heat is land magnitude on average surface air temperature series in Beijing region. Acta Metall Sin 63(4):534–540

Ding YH, Dai XS (1994) Temperature change during the recent 100 years over China (in Chinese). Meteorol Monogr 20(12):19–16

Ding YH, Ren GY, Zhao ZC, Ying X, Luo Y, Li QP, Zhang J (2007) Detection, causes and projection of climate change over China: an overview of recent progress. Adv Atmos Sci 24(6):954–971

Folland CK et al. (2001) Global temperature change and its uncertainties since 1861. Geophys Res Lett 28(13):2621–2624

Graves CE, Valdes JB, Shen SSP, North GR (1993) Evaluation of sampling errors of precipitation from space-borne and ground sensors. J Appl Meteorol 32(2):374–385

Intergovernmental Panel on Climate Change (IPCC) (2007) In: Solomon S (ed) Climate change 2007: the physical science basis. Cambridge Univ. Press, Cambridge, U. K

Jones PD, Osborn TJ, Briffa KR (1997) Estimating sampling errors in large-scale temperature averages. J Clim 10(10):2548–2568

Kalnay E, Cai M (2003) Impact of urbanization and land-use change on climate. Nature 423(6939):528–531

Karl TR, Knight RW, John RC (1994) Global and hemispheric temperature trends: uncertainties related to inadequate spatial sampling. J Clim 7(7):1144–1163

Kent EC, Challenor PG, Taylor PK (1999) A statistical determination of the random observational errors present in voluntary observing ships meteorological reports. J Atmos Ocean Technol 16(7):905–914

Li QX, Zhang H, Liu X, Huang J (2004) UHI effect on annual mean temperature during recent 50 years in China. Theor Appl Climatol 78(3–4):156–165

Li QX, Zhang H, Chen J, Li W, Liu XN, Jones PD (2009) A mainland China homogenized historical temperature dataset of 1951–2004. Bull Am Meteorol Soc 90(8):1062–1065

Li QX, Dong WJ, Li W, Guo XR, Jones PD, Kennedy J, Parker D (2010) Assessment of the uncertainties in temperature change in China during the last century. Chin Sci Bull 55(19):1974–1982

Li Z, Yan ZW (2009) Homogenized daily mean/maximum/minimum temperature series for China from 1960–2008. Atmos Oceanic Sci Lett 2(4):237–243

Liu B, Xu M, Henderson M, Qi Y, Li Y (2004) Taking China's temperature: daily range, warming trends, and regional variations. J Clim 17(22):4453–4462

Menne MJ, Williams CN Jr, Vose RS (2009) The U.S. historical climatology network monthly temperature data, version 2. Bull Am Meteorol Soc 90(7):993–1007

New M, Hulme M, Jones P (1999) Representing twentieth-century space-time climate variability. Part I: development of a 1961-90 mean monthly terrestrial climatology. J Clim 12(3):829–856

North GR, Shen SSP, Upson RB (1991) Combining raingages with satellite measurements for optimal estimates of area-time averaged rainrates. Water Resour Res 27(10):2785–2790

North GR, Shen SSP, Hardin JW (1992) Estimation of the global mean temperature with point gauges. Environmetrics 3(1):1–14

North GR, Valdes JB, Ha E, Shen SSP (1994) The ground truth problem for satellite estimates of rain rate. J Atmos Ocean Technol 11(4):1035–1041

Qian WH, Lin X, Zhu Y, Xu Y, Fu J (2007) Climatic regime shift and decadal anomalous events in China. Clim Chang 84(2):167–189

Qian WH, Shan X, Chen D, Zhu C, Zhu Y (2012) Droughts near the northern fringe of the East Asian summer monsoon in China during 1470–2003. Clim Chang 110(1–2):373–383

Ren GY, Guo J, Xu M, Chu Z, Zhang L, Zou X, Li QX, Liu X (2005a) Climate changes of mainland China over the past half century (in Chinese). Acta Metall Sin 63(6):942–956

Ren GY, Xu MZ, Chu ZY, Guo J, Li QX, Liu XN, Wang Y (2005b) Changes of surface air temperature in China during 1951-2004 (in Chinese). Climatic Environ Res 10(4):717–727

Ren GY, Zhou Y, Chu Z, Zhou J, Zhang A, Guo J, Liu X (2008) Urbanization effects on observed surface air temperature trends in North China. J Clim 21(6):1333–1348

Shen SSP, Dzikowski P, Li G, Griffith D (2001) Interpolation of 1961-1997 daily climate data onto Alberta polygons of ecodistrict and soil landscape of Canada. J Appl Meteorol 40(12):2162–2177

Shen SSP, Lee CK, Larimore J (2012) Uncertainties, trends, and hottest and coldest years of US surface air temperature since 1895: an update based on the USHCN V2 data. J Clim 25(12):4185–4203

Shen SSP, Yin H, Smith T (2007) An estimate of the error variance of the gridded GHCN monthly surface air temperature data. J Clim 20(10):2321–2331

Shen SSP, Velado M, Somerville RCJ, Kooperman GJ (2013) Probabilistic assessment of cloud fraction using Bayesian blending of independent data sets: feasibility study of a new method. J Geophys Res 118(10):4644–4656

Smith TM, Reynolds RW, Ropelewski CF (1994) Optimal averaging of seasonal sea surface temperatures and associated confidence interval (1860–1989). J Clim 7(6):949–964

Smith TM, Phillip AA, Li R, Shen SSP (2012) Improved reconstruction of global precipitation since 1900. J Atmos Ocean Tech 29(10):1505–1517

Smith TM, Shen SSP, Li R, Phillip AA (2013) Estimating monthly precipitation reconstruction uncertainty beginning in 1900. J Atmos Ocean Technol 30(6):1107–1112

Wang XC, Shen SSP (1999) Estimation of spatial degrees of freedom of a climate field. J Clim 12(5):1280–1291

Wackerly DD, Mendenhall IIIW, Scheaffer RL (2002) Mathematical statistics with applications, 6th edn. Duxbury, North Scituate 853pp

Wang J, Yan ZW, Li Z, Liu WD, Wang YC (2013) Impact of urbanization on changes in temperature extremes in Beijing during 1978-2008. Chin Sci Bull 58(36):4679–4686

Yan ZW, Li Z, Li QX, Jones PD (2010) Effects of site change and urbanisation in the Beijing temperature series 1977–2006. Int J Climatol 30(8):1226–1234

Zhai PM, Ren FM (1999) On changes of China's maximum and minimum temperature in 1951–1990 (in Chinese). Acta Metall Sin 13(3):279–290

Zhao Z, Ding YH, Luo Y, Wang S (2005) Recent studies on attributions of climate change in China. Acta Metall Sin 19(4):389–400
About this article
Cite this article
Hua, W., Shen, S.S.P., Weithmann, A. et al. Estimation of sampling error uncertainties in observed surface air temperature change in China. Theor Appl Climatol 129, 1133–1144 (2017). https://doi.org/10.1007/s00704-016-1836-4
Received:

Accepted:

Published:

Issue Date:
Keywords
Sampling Error

Move Time Window

Sampling Error Variance

United States Historical Climatology Network

China Homogenize Historical Temperature