Abstract
The sandy land in the southern region of the Tengger Desert is adjacent to cities and towns, and land desertification poses a threat to the livelihood and production of local residents. To determine dynamic changes in local desertification, five periods (1973, 1987, 1992, 2001, and 2009) of remote sensing data are studied by remote sensing (RS) and geographic information system (GIS). The desert contraction area is primarily centered around three units (Wuwei, Gulang, and Jingtai) and nearby regions of Zhongwei City. The primary desert expansion areas include the west side of Helan Mountain (WSHM), the Central Mountainous Area (CMA), and the eastern and western Zhongwei units far from towns. From 1973 to 2009, the degree of change in the contracting part of the primary desert expansion unit showed an increasing trend; in brief, most of the desert (especially after 2001) has been developing in a direction in which desertification has been gradually controlled. The primary desert expansion areas are less affected by human activity, but they are primarily controlled by natural factors (especially wind and terrain). The desert contraction areas occur around the towns and nearby regions with frequent human activity; desertification is primarily controlled by human factors. With rapid economic development (especially after 2000), the scale of the cultivated area, town, and ecological protection engineering has gradually expanded, and the latter two are primarily built on a previous desert, which is the root cause of the reduction in the desert areas around the towns and the shrinkage toward north of border. Therefore, reasonable and effective human activity in the southern region of the Tengger Desert is playing a crucial role in preventing desertification.
Access options
Buy single article
Instant access to the full article PDF.
USD 39.95
Price includes VAT (USA)
Tax calculation will be finalised during checkout.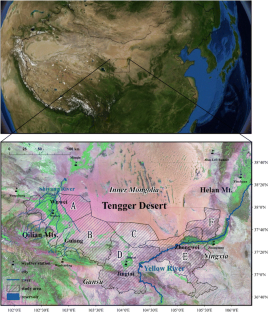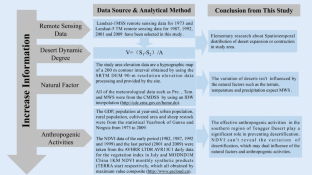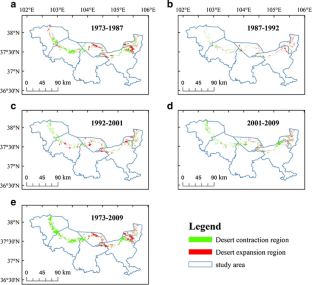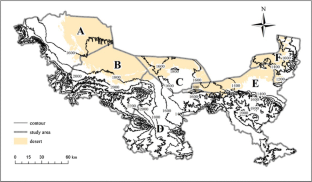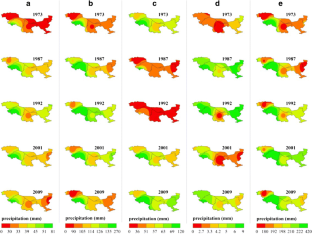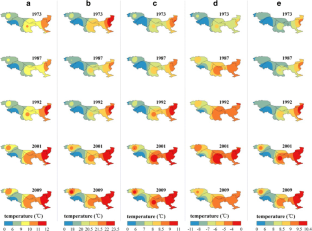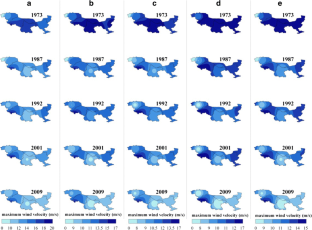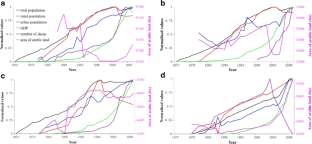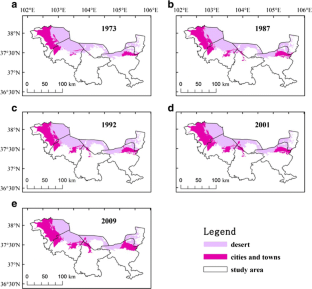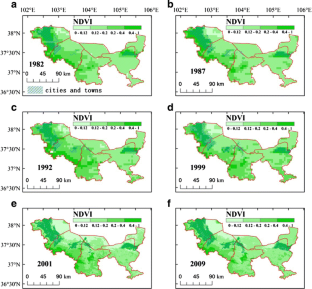 References
Al-Dousari AM, Misak R, Shahid S (2000) Soil compaction and sealing in AL-Salmi area, Western Kuwait. Land Degrad Dev 11:401–418

Ayoub AT (1998) Extent, severity and causative factors of land degradation in the Sudan. J Arid Environ 38:397–409

Barbero-Sierra C, Marques MJ, Ruíz-Pérez M (2013) The case of urban sprawl in Spain as an active and irreversible driving force for desertification. J Arid Environ 90:95–102

Chen Y, Tang H (2005) Desertification in north China: background, anthropogenic impacts and failures in combating it. Land Degrad Dev 16:367–376

Darkoh MBK (1994) Population, environment and sustainable development: desertification in Africa. Desertification Control Bull 25:20–26

Darkoh MBK (1998) The nature, cause and consequences of desertification in the drylands of Africa. Land Degrad Dev 9:11–20

Dong SK, Li HJ, Li YY (2010) Social-ecological impact evaluation on eco-environmental policies associated western China development. Procedia Environ Sci 2:1361–1367

Dong ZB, Wang XM, Liu LY (2000) Wind erosion in arid and semiarid China: an overview. J Soil Water Conserv 55:439–444

Ellis JE, Price K, Yu F, Christensen L, Yu M (2002) Dimensions of desertification in the drylands of northern China. In: Reynolds JF, Smith DMS (eds) Global desertification: do humans causes deserts? Dahlem University Press, Berlin, pp. 167–180

Girma T (2001) Land degradation: a challenge to Ethiopia. Environ Manag 27:815–824

Herrmanna SM, Anyambab A, Tucker CJ (2005) Recent trends in vegetation dynamics in the African Sahel and their relationship to climate. Glob Environ Chang 15:394–404

Hess T, Stephens W, Thomas G (1996) Modeling NDVI from decadal rainfall data in the north east arid zone of Nigeria. J Environ Manag 48:249–261

Houérou HNL (1996) Climate change, drought and desertification. J Arid Environ 34:133–185

Kawabata A, Ichii K, Yamaguchi Y (2001) Global monitoring of interannual changes in vegetation activities using NDVI and its relationships to temperature and precipitation. Int J Remote Sens 22(7):1377–1382

Liu YS, Gao J, Yang YF (2003) A holistic approach towards assessment of severity of land degradation along the great wall in northern Shaanxi Province, China. Environ Monit Assess 82:187–202

Mainguet M, Silva GGD (1998) Desertification and drylands development: what can be done? Land Degrad Dev 9:375–382

Malo AR, Nicholson SE (1990) A study of the rainfall and vegetation dynamics in the African Sahel using the normalized difference vegetation index. J Arid Environ 19(1):1–24

Marcotullio PJ, Braimoh AK, Onishi T (2008) The impact of urbanization on soils. In: Vlek PLG (ed) Land use and soil resources. Springer, Netherlands, pp. 201–250

Mcclure BC (1998) Policies related to combating desertification in the United States of America. Land Degrad Dev 9:383–392

Peng Y, Wang YJ (2008) Study on windbreak and sand control functional areas in minority regions of China. J CUN (Natural Sci Edition) 17:81–91

Piao S, Mohammat A, Fang J (2006) NDVI-based increase in growth of temperate grasslands and its responses to climate changes in China. Glob Environ Chang 16:340–348

Portnov BA, Safriel UN (2004) Combating desertification in the Negev: dryland agriculture vs. dryland urbanization. J Arid Environ 56:659–680

Qin MZ, Richard HJ, Yuan ZJ, et al. (2007) The effects of sediment-laden waters on irrigated lands along the lower Yellow River in China. J Environ Manag 85(4):858–865

Rodriguez AR, Soto MCG, Hernandez LAH, Mendoza CCJ, Gonzalez MJO, Padron PAP, Cabrera JMT, Chavez GEV (1993) Assessment of soil degradation in the Canary Islands (Spain). Land Degrad Rehabil 4:11–20

RunnstrÖm MC (2003) Rangeland development of the Mu Us sandy land in semiarid china: an analysis using Landsat and NOAA remote sensing data. Land Degrad Dev 14:189–202

Saba DS (2001) Afghanistan: environmental degradation in a fragile ecological setting. Int J Sustainable Dev World Ecol 8:279–289

Seixas J (2000) Assessing heterogeneity from remote sensing images: the case of desertification in southern Portugal. Remote Sens 13&14:2645–2663

Slayback D, Pinzon J, Los S, Tucker CJ (2003) Northern Hemisphere photosynthetic trends 1982–99. Glob Chang Biol 9:1–15

Su YZ, Zhao WZ, Su PX, Zhang ZH, Wang T, Ram R (2007) Ecological effects of desertification control and desertified land reclamation in an oasis-desert ecotone in an arid region: a case study in Hexi Corridor, northwest China. Ecol Eng 29:117–124

Sun DF, Dawson R, Li BG (2006) Agricultural causes of desertification risk in Minqin, China. J Environ Manag 79:348–356

Sun DF, Dawson R, Li H, Li BG (2005) Modeling desertification change in Minqin County, China. Environ Monit Assess 108:169–188

Thomas DSG (1997) Science and desertification debate. J Arid Environ 37:599–608

UNEP, 1992. World atlas of desertification. Middleton, N., Thomas, D. (eds.), Edward Arnold, London, pp.15–45.

Walker AS (1982) Deserts of China. Am Sci 70:366–376

Wang X, Chen FH, Dong Z, Xia D (2004b) Evolution of the southern Mu Us Desert in North China over the past 50 years: an analysis using proxies of human activity and climate parameters. Land Degrad Dev 15:1–16

Wang XM, Chen FH, Dong ZB (2006) The relative role of climatic and human factors in desertification in semi-arid China. Glob Environ Chang 16:48–57

Wang XM, Chen FH, Hasi E, Li JC (2008) Desertification in China: an assessment. Earth Sci Rev 88:188–206

Wang XM, Dong ZB, Yan P, Zhang JW, Qian GQ (2005) Wind energy environments and dunefield activity in the Chinese deserts. Geomorphology 65:33–48

Wang XM, Dong ZB, Zhang JW, Liu LC (2004a) Modern dust storms in China: an overview. J Arid Environ 58:559–574

Wang XM, Yang Y, Dong ZB, Zhang CX (2009) Responses of dune activity and desertification in China to global warming in the twenty-first century. Glob Planet Chang 67:167–185

Wang XM, Zhang CX, Hasi E, Dong ZB (2010) Has the Three Norths Forest Shelterbelt Program solved the desertification and dust storm problems in arid and semiarid China? J Arid Environ 74:13–22

Wu B, Ci LJ (2002) Landscape change and desertification development in the Mu Us Sandland, northern China. J Arid Environ 50:429–444

Xie YW, Chen FH, Wang NA (2004) Spatial change of Minqin oasis in Gansu over the last 2000 years. Acta Geograph Sin 59:662–670

Xue X, Guo J, Han BH, Sun QW, Liu LC (2009) The effect of climate warming and permafrost thaw on desertification in the Qinghai-Tibetan Plateau. Geomorphology 108:182–190

Xue X, Wang T, Wu W, Sun QW, Zhao CY (2005) Desertification development and its causes of agro-pastoral mixed regions in north China. J Desert Res 25(3):320–328

Yang X, Ding Z, Fan X, Zhou Z, Ma N (2007) Processes and mechanisms of desertification in northern China during the last 30 years, with a special reference to the Hunshandake Sandy Land, eastern Inner Mongolia. Catena 71:2–12

Yang XP, Rost KT, Lehmkuhl F, Zhu ZD, Dodson J (2004) The evolution of dry lands in northern China and in the Republic of Mongolia since the Last Glacial Maximum. Quat Int 118-119:69–85

Yang YY, Qu ZQ, Shi PJ, Liu LY, Zhang GM, Tang Y, Hua X, Lv YL, Xiong YY, Wang JP, Shen LL, Lv LL, Sun A (2014) Wind regime and sand transport in the corridor between the Badain Jaran and Tengger Deserts, central Alxa Plateau, China. Aeolian Res 12:143–156

Zha Y, Gao J (1997) Characteristics of desertification and its rehabilitation in China. J Arid Environ 37:419–432

Zhang L, Yue L, Xia B (2003) The study of land desertification in transitional zones between the MU US Desert and the loess plateau using RS and GIS—a case study of the Yulin region. Environ Geol 44:530–534

Zhang XY, Wang XM, Yan P (2008a) Re-evaluating the impacts of human activity and environmental change on desertification in the Minqin Oasis, China. Environ Geol 55:705–715

Zhang YZ, Chen ZY, Zhu BQ, Luo XY, Guan YN, Guo S, Nie YP (2008b) Land desertification monitoring and assessment in Yulin of northwest China using remote sensing and geographic information systems (GIS). Environ Monit Assess 147:327–337

Zhao WZ, Hu GL, Zhang ZH, He ZB (2008) Shielding effect of oasis-protection systems composed of various forms of wind break on sand fixation in an arid region: a case study in the Hexi Corridor, northwest China. Ecol Eng 33:119–125

Zhao WZ, Xiao HL, Liu ZM, Li J (2005) Soil degradation and restoration as affected by land use change in the semiarid Bashang area, northern China. Catena 59:173–186

Zheng YR, Xie ZX, Robertc C, Jiang LH, Shimizu H (2006) Did climate drive ecosystem change and induce desertification in Otindag sandy land, China over the past 40 years? J Arid Environ 64:523–541

Zhong DC, Qu JJ (2003) Recent developmental trends and prediction of sand deserts in China. J Arid Environ 53:317–329

Zhu ZD (1998) Concept, cause and control of desertification in China. Quaternary Sci 18:145–155

Zhu ZD, Chen GT (1994) Sandy desertification in China. Science Press, Beijing, pp. 7–15
Acknowledgments
We would like to express our sincere gratitude to Prof. Andrew James Plater and the reviewers who have put considerable time and effort into their comments on this paper. We are grateful to the professional editing service (Elsevier Language Editing Services) for improving the English. This work was supported by the National Natural Science Foundation of China (Grant No. 41171015).
About this article
Cite this article
Guan, Q., Guan, W., Yang, J. et al. Spatial and temporal changes in desertification in the southern region of the Tengger Desert from 1973 to 2009. Theor Appl Climatol 129, 487–502 (2017). https://doi.org/10.1007/s00704-016-1798-6
Received:

Accepted:

Published:

Issue Date:
Keywords
Normalize Difference Vegetation Index

Gross Domestic Product

Mean Annual Precipitation

Desert Area

Mean Annual Temperature