Abstract
The global climate has experienced unprecedented warming in the past century. The multiscale evolution of the warming is studied to better understand the spatial and temporal variation patterns of temperature. In this study, based on the yearly surface air temperature from the gridded CRU TS 3.22 dataset and the ensemble empirical mode decomposition method (EEMD), we investigated the multiscale evolution of temperature variability in the arid region of Northwest China (ARNC) from 1901 to 2013. Furthermore, the possible influences on the ARNC temperature change from the Atlantic Multidecadal Oscillation (AMO), Pacific Decadal Oscillation (PDO), and dipole mode index (DMI) were also discussed. The results indicated that in the past century, the overall temperature in the ARNC has showed a significant non-linear upward trend, and its changes have clearly exhibited an interannual scale (quasi-2–3 and quasi-6–7-year) and an interdecadal scale (quasi-14, quasi-24, and quasi-70-year). Compared with the reconstructed interannual variation, the reconstructed interdecadal variability plays a decisive role in the ARNC warming and reveals the climatic pattern transformation from the cold period to the warm period before and after 1987. Additionally, there were also regional differences in the spatial patterns of change trend in the ARNC temperature at a given time. We also found that the AMO and PDO had significant impacts on the ARNC temperature fluctuation at an interdecadal scale, whereas the DMI had a more important role in warming at the annual scale, which suggests that the importance of oceans cannot be ignored when considering climate change. Our findings deepen the understanding of the temperature changes all over the ARNC in the context of global warming.
Access options
Buy single article
Instant access to the full article PDF.
US$ 39.95
Tax calculation will be finalised during checkout.
Subscribe to journal
Immediate online access to all issues from 2019. Subscription will auto renew annually.
US$ 119
Tax calculation will be finalised during checkout.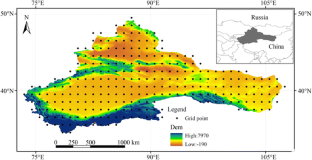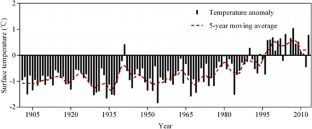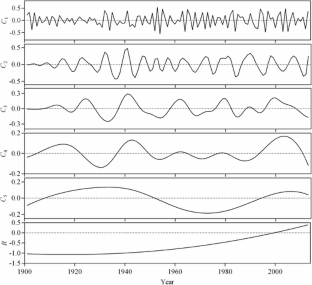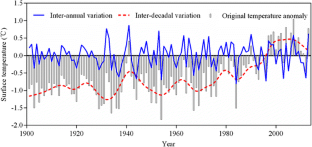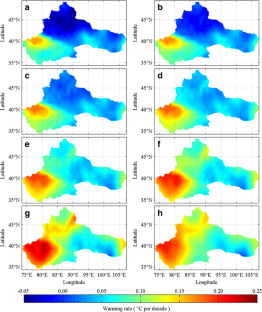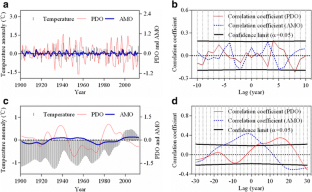 References
Bai L, Xu J-H, Chen Z-S, Li W-H, Liu Z-H, Zhao B-F, Wang Z-J (2015) The regional features of temperature variation trends over Xinjiang in China by the ensemble empirical mode decomposition method. Int J Climatol 35:3229–3237

Chatfield C (2013) The analysis of time series: an introduction. CRC press

Chen Y-N (2010) Research on eco-hydrological questions in Tarim River basin of Xinjiang. Science Press, Beijing(in Chinese)

Chen W, Feng J, Wu R-G (2013) Roles of ENSO and PDO in the link of the East Asian winter monsoon to the following summer monsoon. J Clim 26(2):622–635

Chen Y-N, Deng H-J, Li B-F, Li Z, Xu C-C (2014) Abrupt change of temperature and precipitation extremes in the arid region of Northwest China. Quatern Int 336:35–43

Chylek P, Klett JD, Lesins G, Dubey MK, Hengartner N (2014) The Atlantic multidecadal oscillation as a dominant factor of oceanic influence on climate. Geophys Res Lett 41(5):1689–1697

Deser C, Alexander MA, Xie S-P, Phillips AS (2010) Sea surface temperature variability: patterns and mechanisms. Ann Rev Mar Sci 2(1):115–143

England MH, McGregor S, Spence P, Meehl GA, Timmermann A, Cai WJ, Gupta AS, McPhaden MJ, Purich A, Santoso A (2014) Recent intensification of wind-driven circulation in the Pacific and the ongoing warming hiatus. Nature Clim Change 4(3):222–227

Fan Z-M, Yue T-X, Chen C-F, Sun X-F (2011) Spatial change trends of temperature and precipitation in China. Geo-Inf Sci 13(4):526–533(in Chinese)

Feng J-X, Wu Z-H (2014) Fast multidimensional ensemble empirical mode decomposition using a data compression technique. J Clim 27(10):3492–3504

Fierro AO, Leslie LM (2014) Relationships between Southeast Australian temperature anomalies and large-scale climate drivers. J Clim 27(4):1395–1412

Foster G, Rahmstorf S (2011) Global temperature evolution 1979–2010. Environ Res Lett 6(4):044022. doi:10.1088/1748-9326/6/4/044022

Franzke CLE (2014) Warming trends: nonlinear climate change. Nature Clim Change 4:423–424

Fu C-B, Jiang Z-H, Guan Z-Y, He J-H, Xu Z-F (2008) Regional climate studies of China. Springer

Gershunov A, Barnett TP (1998) Interdecadal modulation of ENSO teleconnections. Bull Amer Meteor Soc 79(12):2715–2725

Goddard L (2014) Heat hide and seek. Nature Clim Chang 4:158–161

Grossmann I, Klotzbach PJ (2009) A review of North Atlantic modes of natural variability and their driving mechanisms. J Geophys Res 114:D24107. doi:10.1029/2009JD012728

Huang NE, Shen SSP (2005) Hilbert-Huang transform and its applications [M]. World Scientific Publishing Company, Singapore

Huang NE, Shen Z, Long SR, Wu MC, Shih HH, Zheng Q, Yen NC, Tung C-C, Liu HH (1998) The empirical mode decomposition and the hilbert spectrum for nonlinear and non-stationary time series analysis. Proc R Soc London A: Math Phys Sci 454(1971):903–995

Huang NE, Wu Z-H, Arnold KC, Chen X-Y, Blank K (2009) On instantaneous frequency. Adv Adapt Data Anal 1(2):177–229

Huang J, Guan X, Ji F (2012) Enhanced cold-season warming in semi-arid regions. Atmos Chem Phys 12(2):5391–5398

Huang W, Chen F-H, Feng S, Chen J-H, Zhang X-J (2013) Interannual precipitation variations in the mid-latitude Asia and their association with large-scale atmospheric circulation. Chin Sci Bull 58(32):3962–3968

IPCC (2013) Climate change 2013: the physical science basis. Cambridge Univ Press, Cambridge, UK

Ji F, Wu Z-H, Huang J-P, Chassignet EP (2014) Evolution of land surface air temperature trend. Nature Clim Change 4:462–466

Karl TR, Arguez A, Huang B, Lawrimore JH, McMahon JR, Menne MJ, Peterson TC, Vose RS, Zhang H-M (2015) Possible artifacts of data biases in the recent global surface warming hiatus. Science 348(6242):1469–1472

Keeling CD, Whorf TP (2000) The 1800-year oceanic tidal cycle: a possible cause of rapid climate change. Proc Natl Acad Sci U S A 97(8):3814–3819

Li S-L, Bates GT (2007) Influence of the Atlantic multidecadal oscillation on the winter climate of East China. Adv Atmos Sci 24(1):126–135

Li B-F, Chen Y-N, Shi X (2012) Why does the temperature rise faster in the arid region of Northwest China? J Geophys Res 117:D16115. doi:10.1029/2012JD017953

Liao Q-L, Jiang Z-H, Chen H-S, Yu J-H (2010) Modern climatology. China Meteorological Press, Beijing, pp. 227–237(in Chinese)

Lu R-Y, Dong B-W, Ding H (2006) Impact of the Atlantic Multidecadal Oscillation on the Asian summer monsoon. Geophys Res Lett 33(24):L24701. doi:10.1029/2006GL027655

Mann ME, Steinman BA, Miller SK (2014) On forced temperature changes, internal variability, and the AMO. Geophys Res Lett 41(9):3211–3219

McAfee SA (2014) Consistency and the lack thereof in Pacific decadal oscillation impacts on North American winter climate. J Clim 27(19):7410–7431

Minobe S (1997) A 50–70 year climatic oscillation over the North Pacific and North America. Geophys Res Lett 24(6):683–686

Qian W-H, Lu B (2010) Periodic oscillations in millennial global-mean temperature and their causes. Chin Sci Bull 55(35):4502–4057

Risbey JS, Lewandowsky S, Langlais C, Monselesan DP, O'Kane TJ, Oreskes N (2014) Well-estimated global surface warming in climate projections selected for ENSO phase. Nature Clim Chang 4(9):835–840

Saji NH, Goswami BN, Vinayachandran PN, Yamagata T (1999) A dipole mode in the tropical Indian Ocean. Nature 401(6751):360–363

Saji NH, Ambrizzi T, Ferraz SET (2005) Indian Ocean dipole mode events and austral surface air temperature anomalies. Dyn Atmos Ocean 39(1):87–101

Scafetta N (2014a) Discussion on the spectral coherence between planetary, solar and climate oscillations: a reply to some critiques. Astrophys Space Sci 354:275–299

Scafetta N (2014b) Multi-scale dynamical analysis (MSDA) of sea level records versus PDO, AMO, and NAO indexes. Climate Dyn 43(1–2):175–192

Schlesinger ME, Ramankutty N (1994) An oscillation in the global climate system of period 65-70 years. Nature 367(6465):723–726

Shao J, Lv S-Y, Qian X-Y, Yuan P (2011) Multi-scale analysis of hydrological series using ensemble empirical mode decomposition. J Huazhong Univ Sci Technol (Nat Sci Ed) 39(11):105–108(in Chinese)

Shi Y-F, Shen Y-P, Hu R-J (2002) Preliminary study on signal impact and foreground of climatic shift from warm dry to warm humid in Northwest China. J Glaciol Geocryol 24(3):219–226(in Chinese)

Shi Y-F, Shen Y-P, Li D-L, Zhang G-W, Ding Y-J, Hu R-J, Kang E-S (2003) Discussion on the present climate change from warm-dry to warm-wet in Northwest China. Quaternary Sci 23(2):152–164(in Chinese)

Shi Y-F, Shen Y-P, Kang E-S, Li D-L, Ding Y-J, Zhang G-W, Hu R-J (2007) Recent and future climate change in Northwest China. Clim Chang 80:379–393

Steinman BA, Mann ME, Miller SK (2015) Atlantic and Pacific multidecadal oscillations and Northern Hemisphere temperatures. Science 347(6225):988–911

Trenberth KE (2015) Has there been a hiatus? Science 349(6249):691–692

Trenberth KE, Fasullo JT (2013) An apparent hiatus in global warming? Earth's Future 1(1):19–32

Ummenhofer CC, Gupta AS, Briggs PR, England MH, McIntosh PC, Meyers GA, Pook MJ, Raupach MR, Risbey JS (2011) Indian and Pacific Ocean influences on Southeast Australian drought and soil moisture. J Clim 24(5):1313–1336

Varotsos CA, Franzke CLE, Efstathiou MN, Degermendzhi AG (2014) Evidence for two abrupt warming events of SST in the last century. Theor Appl Climatol 116(1–2):51–60

Wang J, Li H-Y, Hao X-H (2010a) Responses of snowmelt runoff to climatic change in an inland river basin, Northwestern China, over the past 50 years. Hydrol Earth Syst Sci 14(10):1979–1987

Wang X-L, Chen H-F, Wu Y-H, Feng Y, Pu Q (2010b) New techniques for the detection and adjustment of shifts in daily precipitation data series. J Appl Meteor Climatol 49(12):2416–2436

Wang H, Kumar A, Wang W-Q, Xue Y (2012) Influence of ENSO on Pacific decadal variability: an analysis based on the NCEP climate forecast system. J Clim 25(18):6136–6151

Wang S-S, Huang J-P, He Y-L, Guan Y-P (2014) Combined Effects of the Pacific Decadal Oscillation and El Niño-Southern Oscillation on Global Land Dry–Wet Changes. Sci Rep 4, doi:10.1038/srep06651

Webster PJ, Moore AM, Loschnigg JP, Leben RR (1999) Coupled ocean–atmosphere dynamics in the Indian Ocean during 1997–98. Nature 401(6751):356–360

Wen X-Y, Wang S-W, Zhu J-H, Viner D (2006) An overview of China climate change over the 20th century using UK UEA/CRU high resolution grid data. Chinese J Atmos Sci 30(5):894–904(in Chinese)

Wu Z-H, Huang NE (2004) A study of the characteristics of white noise using the empirical mode decomposition method. Proc R Soc London A: Math Phys Sci 460(2046):1597–1611

Wu Z-H, Huang NE (2009) Ensemble empirical mode decomposition: a noise-assisted data analysis method. Adv Adap Data Anal 1(1):1–41

Wu Z-H, Huang NE, Long SR, Peng C-K (2007) On the trend, detrending, and variability of nonlinear and nonstationary time series. Proc Natl Acad Sci U S A 104(38):14889–14894

Wyatt MG, Curry JA (2014) Role for Eurasian Arctic shelf sea ice in a secularly varying hemispheric climate signal during the 20th century. Climate Dyn 42(9–10):2763–2782

Wyatt MG, Kravtsov S, Tsonis AA (2012) Atlantic multidecadal oscillation and Northern Hemisphere's climate variability. Climate Dyn 38(5–6):929–949

Xue CF, Hou W, Zhao J-H, Wang S-G (2013) The application of ensemble empirical mode decomposition method in multiscale analysis of region precipitation and its response to the climate change. Acta Phys Sin 62(10):10923. doi:10.7498/aps.62.109203(in Chinese)

Yang L, Cao Y-G, Zhu X-H, Zeng S-H, Yang G-J, He J-Y, Yang X-C (2014) Land surface temperature retrieval for arid regions based on landsat-8 TIRS data: a case study in Shihezi, Northwest China. J Arid Land 6(6):704–716

Zhou Y, Huang A-M, Zhao Y, Yang Q, Jiang J, La M-K (2015) Influence of the sea surface temperature anomaly over the Indian Ocean in march on the summer rainfall in Xinjiang. Theor Appl Climatol 119(3–4):781–789
Acknowledgments
The research was supported by the National Basic Research Program of China (973 Program, No. 2010CB951003), the National Natural Science Foundation of China (No. 41501211), and the Postgraduate Scholarships for Academic Innovation of East China Normal University (No. xrzz2013023).
About this article
Cite this article
Chen, Z., Chen, Y., Bai, L. et al. Multiscale evolution of surface air temperature in the arid region of Northwest China and its linkages to ocean oscillations. Theor Appl Climatol 128, 945–958 (2017). https://doi.org/10.1007/s00704-016-1752-7
Received:

Accepted:

Published:

Issue Date:
Keywords
Pacific Decadal Oscillation

Intrinsic Mode Function

Ensemble Empirical Mode Decomposition

Atlantic Multidecadal Oscillation

Pacific Decadal Oscillation Index