Abstract
Based on daily air temperature data from 772 stations in China, the present study uses absolute index and percentile index to investigate the spatial and temporal features of summer extreme temperature over China during the period 1960–2013. The analysis indicates that Xinjiang and southeastern China are two major domains where extreme heat events frequently occur and that the number of heat day (NHD) and the frequency of heat wave (FHW) both show an increasing trend throughout the country except for Shandong and Henan provinces where a decreasing trend is identified. Although the two leading empirical orthogonal function (EOF) modes of the NHD and the FHW based on the absolute index and percentile index have differences, the time series of the first principal components (PC1) are consistent; PC1 depicts opposite trends from 1960 to late 1990s and during the late 1990s to 2013. According to the climatology and EOF modes, four sub-regions are chosen: Chuanyu, Huanghuai, Southeast, and Xinjiang area. The inter-decadal variation over the four sub-regions differs, but the NHD and the FHW significantly increase after the mid-1990s. Based on Mann-Kendall method, it is found that the NHD and the FHW over Chuanyu exhibited abrupt shifts in 1978 and 2000; sudden shifts occurred in 1973 and 2000 over Huanghuai; an abrupt shift occurred over the Southeast area in 2003.
Access options
Buy single article
Instant access to the full article PDF.
USD 39.95
Price includes VAT (USA)
Tax calculation will be finalised during checkout.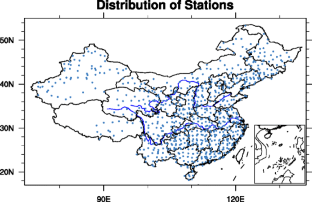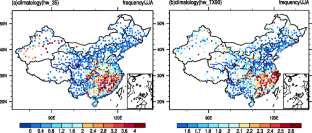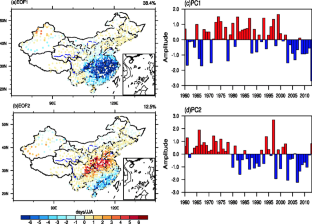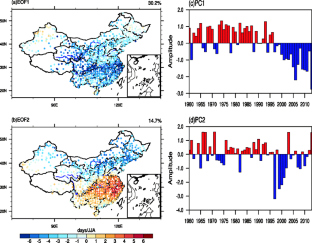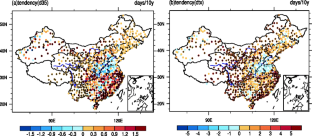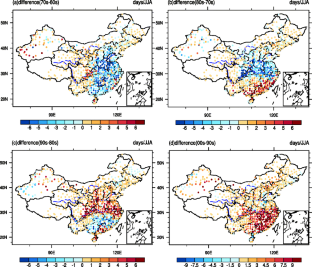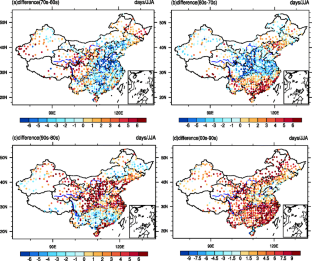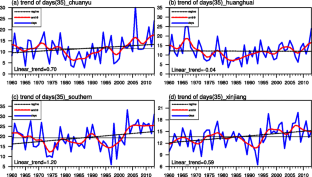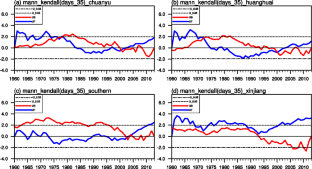 References
Alexander LV et al. (2006) Global observed changes in daily climate extremes of temperature and precipitation. J Geophys Res-Atmos 111 doi:10.1029/2005jd006290

Chen HB, Fan XH (2007) Some extreme events of weather, climate and related phenomena in 2006. Clim Environ Res 12:100–112

Chen HB, Fan XH (2008) Some extreme events of weather, climate and related phenomena in 2007. Clim Environ Res 13:102–112

China Meteorological Administration (CMA) (1979) The rules of surface meteorological observation. The Meteorological Press, Beijing, p. P186

Choi G et al. (2009) Changes in means and extreme events of temperature and precipitation in the Asia-Pacific Network region, 1955-2007. Int J Climatol 29:1906–1925. doi:10.1002/joc.1979

Ding T, Qian W, Yan Z (2009) Changes in hot days and heat waves in China during 1961-2007. Int J Climatol 30:1452–1462. doi:10.1002/joc.1989

Dole R et al. (2011) Was there a basis for anticipating the 2010 Russian heat wave? Geophys Res Lett 38. doi:10.1029/2010gl046582

Easterling DR et al. (2000) Climate extremes: observations, modeling, and impacts. Science 289:2068–2074. doi:10.1126/science.289.5487.2068

Frich P et al. (2002) Observed coherent changes in climatic extremes during the second half of the twentieth century. Clim Res 19:193–212. doi:10.3354/cr019193

Hartmann et al. (2013) Observations: atmosphere and surface. In: Climate change 2013: the physical science basis. Contribution of working group I to the Fifth Assessment Report of the Intergovernmental Panel on Climate Change. Cambridge University Press, Cambridge, 208–222

Luterbacher J et al. (2004) European seasonal and annual temperature variability, trends, and extremes since 1500. Science 303:1499–1503. doi:10.1126/science.1093877

Li LJ, Wang B, Zhou TJ (2007) Contributions of natural and anthropogenic forcings to the summer cooling over eastern China: an AGCM study. Geophys Res Lett 34:L18807. doi:10.1029/2007GL030541

Li QX et al. (2004) Detecting and adjusting temporal inhomogeneity in Chinese mean surface air temperature data. Adv Atmos Sci 21:260–268

Li QX et al. (2009) A mainland China homogenized historical temperature dataset of 1951-2004. Am Meteorol Soc 90:1062–1065

Manton MJ et al. (2001) Trends in extreme daily rainfall and temperature in Southeast Asia and the South Pacific: 1961-1998. Int J Climatol 21:269–284. doi:10.1002/joc.610

Meehl GA, Tebaldi C (2004) More intense, more frequent, and longer lasting heat waves in the 21st century. Science 305:994–997. doi:10.1126/science.1098704

Peng JB (2014) An investigation of the formation of the heat wave in Southeast China in summer 2013 and the relevant abnormal subtropical high activities. Atmos Ocean Sci Lett 7:286–290

Penner JE, Dong XQ, Chen Y (2004) Observational evidence of a change in radiative forcing due to the indirect aerosol effect. Nature 427:231–234

Qi L, Wang Y (2012) Changes in the observed trends in extreme temperatures over China around 1990. J Clim 25:5208–5222. doi:10.1175/jcli-d-11-00437.1

Ren FM, Zhai PM (1998) Study on changes of China's extreme temperatures during 1951∼1990. Scitntia Atmospherica Sinica 22:217–217

Ren GY et al. (2005) Recent progresses in studies of regional temperature changes in China. Clim Environ Res 10:701–716

Rummukainen M (2013) Climate change: changing means and changing extremes. Clim Chang 121:3–13. doi:10.1007/s10584-013-0888-z

Shi J, Ding YH, Cui LL (2009) Climatic characteristics of extreme maximum temperature in East China and its causes. Chin J Atmos Sci 33:347–358

Solomon S et al. (2007) Climate change 2007: The physical science basis. Contribution of working group I to the Fourth Assessment Report of the Intergovernmental Panel on Climate Change. Cambridge University Press, Cambridge, p. 996

Sun JQ, Wang HJ, Yuan W (2011) Decadal variability of the extreme hot event in China and its association with atmospheric circulations. Clim Environ Res 16:199–208

Sun Y et al. (2014) Rapid increase in the risk of extreme summer heat in Eastern China. Nat Clim Chang 4:1082–1085. doi:10.1038/nclimate2410

Tang HY et al. (2005) On change in mean maximum temperature, minimum temperature and diurnal range in China during 1951-2002. Clim Environ Res 10:728–735

Wang ZY et al. (2012) Changing trends of daily temperature extremes with different intensities in China. Acta Meteor Sinica 26:399–409. doi:10.1007/s13351-012-0401-z

Xu WH et al. (2013) Homogenization of Chinese daily surface air temperatures and analysis of trends in the extreme temperature indices. J Geophys Res Atmos 118:9708–9720. doi:10.1002/jgrd.50791

Yang H, Li CY (2005) Diagnostic study of serious high temperature over south China in 2003 summer. Clim Environ Res 10:80–85

Yu RC, Wang B, Zhou TJ (2004) Tropospheric cooling and summer monsoon weakening trend over East Asia. Geophys Res Lett 31:L22212. doi:10.1029/2004GL021270

Yu RC, Zhou TJ (2007) Seasonality and three-dimensional structure of interdecadal change in the East Asian Monsoon. J Clim 20:5344–5355

Yan ZW, Yang C (2000) Geographic pattern of extreme climate changes in China during 1951-1997. Clim Environ Res 5:267–267

Zhai PM, Ren FM (1997) On changes of China's maximum and minimum temperatures in the recent 40 years. Acta Meteorol Sin 55:418–418

Zhai PM, Pan XH (2003) Trends in temperature extremes during 1951-1999 in China. Geophys Res Lett 30. doi:10.1029/2003gl018004

Zhang DQ, Qian ZH (2008) Analysis of extreme events in Chinas temperature in recent 50 years using detecting method based on median. Acta Phys Sin 57:4634–4640

Zhang N, Sun ZB, Zeng G (2008) Change of extreme temperatures in China during 1955–2005. J Nanjing Inst Meteorol 31:123–128

Zhou YQ, Ren GY (2011) Change in extreme temperature event frequency over mainland China, 1961-2008. Clim Res 50:125–139. doi:10.3354/cr01053
Acknowledgments
The authors thank the National Climate Center of the China Meteorological Administration for providing the meteorological data for this study. This work is supported by the National Basic Research Program of China (2012CB955604), the Strategic Priority Research Program of the Chinese Academy of Sciences (XDA05090402), the National Natural Science Foundation of China (41275083 and 91337105), and the National Outstanding Youth Science Fund Projection of China (41425019).
About this article
Cite this article
Hu, L., Huang, G. & Qu, X. Spatial and temporal features of summer extreme temperature over China during 1960–2013. Theor Appl Climatol 128, 821–833 (2017). https://doi.org/10.1007/s00704-016-1741-x
Received:

Accepted:

Published:

Issue Date:
Keywords
Heat Wave

Empirical Orthogonal Function

Daily Maximum Temperature

Western Pacific Subtropical High

Empirical Orthogonal Function Mode