Abstract
Previous work has found Hudson Bay seasonal sea ice particularly sensitive to climate change with a strong signal of earlier breakup dates. This work extends the previous analysis by including eight additional years of recent sea ice data. The expanded sea ice record, 1971 to 2011, revealed stronger and more statistically significant trends than the earlier work, most strikingly for the later freeze up. The average magnitude of the temporal trend for all 36 locations studied is 0.50 days/year for earlier breakup, 0.46 days/year for the later freeze-up, and 0.91 days/year for longer ice-free period. Of the 36 points, 12 points for the breakup period, 30 points for the freeze-up period, and 22 points for the ice-free season have accelerating temporal trends during the past decade.
Access options
Buy single article
Instant access to the full article PDF.
USD 39.95
Price excludes VAT (USA)
Tax calculation will be finalised during checkout.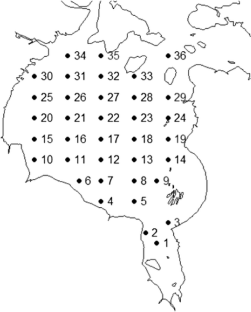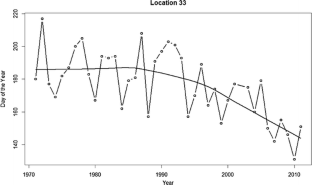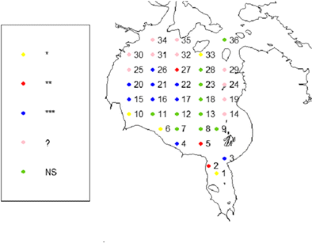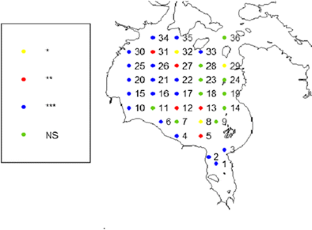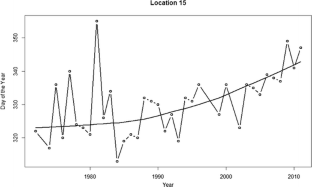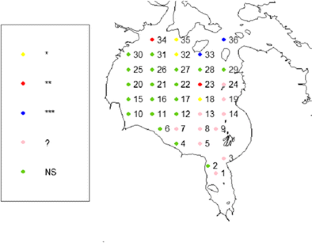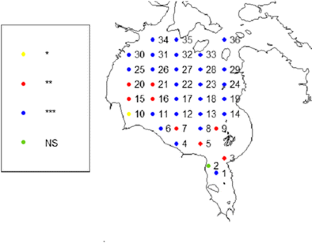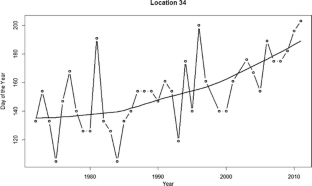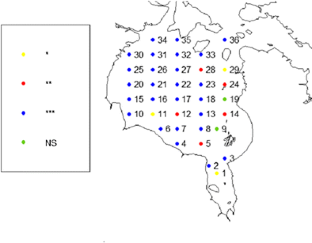 References
ACIA (2004) Impacts of a warming arctic: arctic climate impact assessment. Cambridge University Press, United Kingdom. pp. 1–139. Retrieved November 8, 2010 from http://www.acia.uaf.edu

Cleveland WS (1981) LOWESS: a program for smoothing scatterplots by robust locally weighted regression. Am Stat 35:54

Etkin DA (1991) Break-up in Hudson Bay: its sensitivity to air temperatures and implications for climate warming. Climatol Bull 25:21–34

Gagnon AS, Gough WA (2005a) Trends in the dates of ice freeze-up and breakup over Hudson Bay, Canada. Arctic 58(4):370–382

Gagnon AS, Gough WA (2005b) Climate change scenarios for the Hudson Bay region: an intermodel comparison. Clim Chang 69:269–297

Gagnon AS, Gough WA (2006) East-west asymmetry in long-term trends of landfast Ice thickness in the Hudson Bay region, Canada. Clim Res 32:177–186

Galbraith PS, Larouche P (2011) Sea-surface temperature in Hudson Bay and Hudson Straight in relation to air temperature and ice cover breakup, 1985–2009. J Mar Syst 87:66–78

Gough WA, Allakhverdova T (1999) Limitations of using a coarse resolution model to assess climate change induced sea-ice variability in Hudson Bay. Can Geogr 43:415–422

Gough WA, Wolfe E (2001) Climate warming scenarios for Hudson Bay, Canada from a general circulation model. Arctic 54:142–148

Gough WA, Cornwell AR, Tsuji LJS (2004a) Trends in seasonal sea ice duration in southwestern Hudson Bay. Arctic 57:299–305

Gough WA, Gagnon AS, Lau HP (2004b) Interannual variability of Hudson Bay ice thickness. Polar Geogr 28(3):222–238

Hamed KH, Rao AR (1998) A modified Mann-Kendall trend test for autocorrelated data. J Hydrol 204:1–4. doi:10.1016/s0022-1694(97)00125-x

Hochheim KP, Barber DG (2010) Atmospheric forcing of sea ice in Hudson Bay during the fall period, 1980-2005. J Geophys Res 115(C05009):1–20

Hochheim KP, Barber DG (2014) An update on the ice climatology of the Hudson Bay System. Arct Antarct Alp Res 46(1):66–83

Hochheim KP, Lukovich JV, Barber DG (2011) Atmospheric forcing of sea ice in Hudson Bay during the spring Period, 1980-2005. J Mar Syst 88:476–487

IPCC (2014) Climate change 2014: mitigation of climate change. In: Edenhofer O, Pichs-Madruga R, Sokona Y, Farahani E, Kadner S, Seyboth K, Adler A, Baum I, Brunner S, Eickemeier P, Kriemann B, Savolainen J, Schlömer S, von Stechow C, Zwickel T, Minx JC (eds) Contribution of Working Group III to the Fifth Assessment Report of the Intergovernmental Panel on Climate Change. Cambridge University Press, Cambridge

Keller W, Paterson A, Rühland K, Blais J (2014) Introduction — environmental change in the Hudson and James Bay Region. Arct Antarct Alp Res 46(1):2–5

Martini IP (1986) Coastal features of Canadian inland seas. In: Martini IP (ed) Canadian inland seas. Elsevier, Amsterdam, pp 117–142

Saucier FJ, Dionne J (1998) A 3-D coupled ice-ocean model applied to Hudson Bay, Canada: the seasonal cycle and time-dependent climate response to atmospheric forcing and runoff. J Geophys Res 103(C12):27689–27705

Saucier FJ, Senneville S, Prinsenberg S, Roy F, Smith G, Gachon P, Caya D, Laprise R (2004) Modelling the sea ice-ocean seasonal cycle in Hudson Bay, Foxe Basin and Hudson Straight, Canada. Clim Dyn 23:303–326

Sen PK (1968) Estimates of the regression of the regression coefficient based on Kendall's Tau. J Am Stat Assoc 63(324):1379–1389
About this article
Cite this article
Kowal, S., Gough, W.A. & Butler, K. Temporal evolution of Hudson Bay Sea Ice (1971–2011). Theor Appl Climatol 127, 753–760 (2017). https://doi.org/10.1007/s00704-015-1666-9
Received:

Accepted:

Published:

Issue Date:

DOI: https://doi.org/10.1007/s00704-015-1666-9
Keywords
Breakup Date

Lowess Curve

Early Breakup