Abstract
Toronto, Ontario, Canada, experienced a cooler summer in 2014, in spite of worldwide record temperatures. In this work, we assess the relative coldness of summer 2014 from a climatological perspective. Using historical temperature data and several thermal metrics, summer 2014 was ranked using three time periods, 1840–2014 (175 years), the full extent of the local instrumental data; 1965–2014, the most recent 50 years; and 1985–2014, the most recent 30 years. For each of the periods, rank within the time period, recurrence interval and average temperature were calculated. Summer of 2014 in Toronto was ranked 118th since 1840 (175 years of data) using the mean daily temperature. The summer of 2014 with an average mean temperature of 20.8 °C was not extreme in nature and is in fact warmer than the average temperature of the time period (19.9 °C). For the more recent time periods, however, the summer was cooler than average but not an extremely cold summer. A monthly analysis showed in particular a cooler July compared to June and August, ranking July 2014 as the 4th coldest July since 1985 whereas June and August were 21st and 10th coldest during the 30-year period, respectively. Recurrence rates did not exceeded 5 years for the seasonal data and 8.3 years for the monthly data. Although the summer of 2014 was cooler than some recent summers, it was not an extreme event such as the Mount Pinatubo-induced cool summer of 1992 which it was explicitly compared to. Finally, an air mass analysis showed that the cooler July of 2014 was the result of a reduced frequency of warm air masses compared to 1992 when there was both a reduction of warm air masses and an increase in colder ones.
Access options
Buy single article
Instant access to the full article PDF.
USD 39.95
Price includes VAT (USA)
Tax calculation will be finalised during checkout.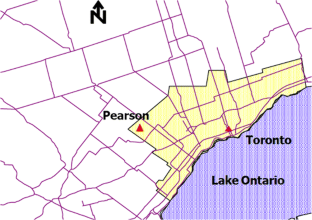 References
Allen SMJ, Gough WA, Mohsin T (2014) Changes in the frequency of extreme temperature records for Toronto, Ontario, Canada. Theor Appl Climatol. doi:10.1007/s00704-014-1131-1

Francis JA, Vavrus SJ (2012) Evidence linking Arctic amplification to extreme weather in mid-latitudes. Geol Res Lett 39(6):L06801

Francis JA, Vavrus SJ (2015) Evidence for a wavier jet stream in response to rapid Arctic warming. Environ Res Lett 10(1):014005

Gough WA, Lillyman CD, Karagatzides JD, Tsuji LJS (2002) Determining the validity of using summer monitoring to estimate annual deposition of acidic pollutants in Southern Ontario, Canada. Water Air Soil Pollut 137:305–316

Gough WA, Tam BY, Mohsin T, Allen SMJ (2014) Extreme cold weather alerts in Toronto, Ontario, Canada and the impact of a changing climate. Urban Clim 8:21–29. doi:10.1016/j.uclim.2014.02.006

Gough WA, Rosanov Y (2001) Aspects of Toronto's climate: heat island and Lake Breeze. Can Meteorol Oceanogr Soc Bull 29:67–71

Ho E, Gough WA (2006) Freeze thaw cycles in Toronto, Canada in a changing climate. Theor Appl Climatol 83:203–210. doi:10.1007/s00704-005-0167

McCormick MP, Thomason LW, Trept CR (1995) Atmospheric effects of the Mt Pinatubo eruption. Nature 373:399–404. doi:10.1038/373399a0

Mohsin T, Gough WA (2014) Impact of climate change on the extremes of observed daily temperature data in the Greater Toronto Area. Int J Clim Chang: Impacts and Responses 5(1):11–33

Mohsin T, Gough WA (2012) Characterization and estimation of urban heat island at Toronto: impact of the choice of rural sites. Theor Appl Climatol 108(1–2):105–117. doi:10.1007/s00704-011-0516-7

Mohsin T, Gough WA (2010) Trend analysis of long-term temperature time series in the Greater Toronto Area (GTA). Theor Appl Climatol 101:311–327. doi:10.1007/s00704-009-0214-x

Munn RE, Hirt MS, Findlay BF (1969) A climatological study of urban temperature anomaly in the lakeshore environment of Toronto. J Appl Meteorol 8:411–422

Parker DE, Wilson H, Jones PD, Christy JR, Folland CK (1996) The impact of Mt. Pinatubo on world-wide temperatures. Int J Climatol 16(5):489–497

Sheridan S (2002) The redevelopment of a weather-type classification scheme for North America. Int J Climatol 22(1):51–68. doi:10.1002/joc.709

Tam BY, Gough WA (2012) Examining past temperature variability in Moosonee, Thunder Bay, and Toronto, Ontario, Canada through a day-to-day variability framework. Theor Appl Climatol 110:103–113. doi:10.1007/s00704-012-0622-1

Tam BY, Gough WA, Mohsin T (2015) The impact of urbanization on day to day temperature variation. Urban Clim 12:1–10

Tang Q, Zhang X, Yang X, Francis JA (2013) Cold winter extremes in northern continents linked to Arctic sea ice loss. Environ Res Lett 8(1):014036

Tang Q, Zhang X, Francis JA (2014) Extreme summer weather in northern midlatitudes linked to a vanishing cryosphere. Nat Clim Chang 4(1):45–50
About this article
Cite this article
Gough, W.A., Sokappadu, S. Climate context of the cold summer of 2014 in Toronto, ON, Canada. Theor Appl Climatol 126, 183–189 (2016). https://doi.org/10.1007/s00704-015-1571-2
Received:

Accepted:

Published:

Issue Date:
Keywords
Rossby Wave

Urban Heat Island

Recurrence Interval

Diurnal Temperature Range

Cool Summer