Abstract
Using three models from the Coupled Model Intercomparison Project Phase 5 (CMIP5), we compare the direct and other effects of anthropogenic aerosols on observed and simulated annual, winter, and summer temperature changes. Three regions, namely, arid–semiarid area, humid–semiarid area, and the whole of China, are studied. The temperature changes caused by other effects of anthropogenic aerosol (OE) are calculated from the difference between the anthropogenic aerosol forcing run (AA) and the anthropogenic aerosol direct effect forcing run (DE). When the combined effects are considered, a significant area-averaged cooling rate varies in the range of −0.86 to −0.76 °C per century throughout China. Meanwhile, the isolated direct and other effects lower the temperature nationwide by −0.66 to −0.55 °C per century, and −0.31 to −0.11 °C per century, respectively. From a nonlinear perspective, the aerosol-induced temperature experiences a cooling trend, with AA having the largest cooling trend changes both annually and in the summer, while DE has the greatest reduction in the winter. Additionally, the influence of OE cannot be detected in observed annual changes over the arid–semiarid area and the whole of China, while the others are clearly detectable in all cases. AA (DE, OE) reduces the observational temperature mainly over the humid–semihumid region, where the contribution to the observed warming ranges from −515.2 % (−298.7 %, −198.9 %) to −173.6 % (−130.3 %, −66.4 %).
Access options
Buy single article
Instant access to the full article PDF.
USD 39.95
Price includes VAT (USA)
Tax calculation will be finalised during checkout.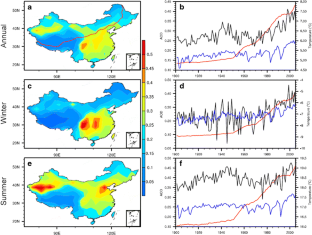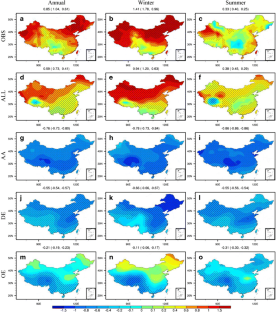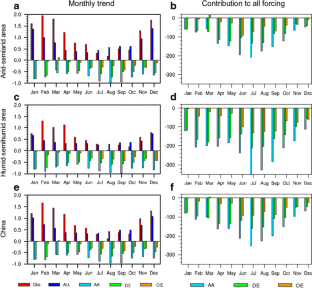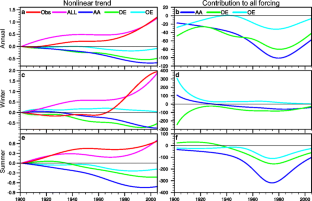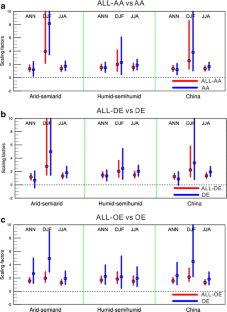 References
Allen MR, Stott PA (2003) Estimating signal amplitudes in optimal fingerprinting, part I: theory. Clim Dyn 21:477–491

Charlson RJ, Schwartz SE, Hales JM et al (1992) Climate forcing by anthropogenic aerosols. Science 255:423–430

Che HZ, Shi GY, Zhang XY et al (2005) Analysis of 40 years of solar radiation data from China, 1961–2000. Geophys Res Lett 32:L06803

Cox PM, Betts RA, Jones CD et al (2000) Acceleration of global warming due to carbon-cycle feedbacks in a coupled climate model. Nature 408:184–187

Flanner MG, Zender CS, Randerson JT et al (2007) Present-day climate forcing and response from black carbon in snow. J Geophys Res 112:D11202

Forster P, Ramaswamy V, Artaxo P et al (2007) Changes in atmospheric constituents and in radiative forcing. In: Solomon S, Qin D, Manning M, Chen Z, Marquis M, Averyt KB, Tignor M, Miller HL (eds) Climate change 2007: the physical science basis contribution of working group I to the fourth assessment report of the Intergovernmental Panel on Climate Change. Cambridge University Press, Cambridge

Giorgi F, Bi XQ, Qian Y (2002) Direct radiative forcing and regional climatic effects of anthropogenic aerosols over East Asia: a regional coupled climate-chemistry/aerosol model study. J Geophys Res 107(D20):4439

Giorgi F, Bi XQ, Qian Y (2003) Indirect vs. direct effects of anthropogenic sulfate on the climate of East Asia as simulated with a regional coupled climate-chemistry/aerosol model. Clim Chang 58:345–376

Guo X, Fu D, Guo X et al (2014) A case study of aerosol impacts on summer convective clouds and precipitation over Northern China. Atmos Res 142:142–157

Hall A, Qu X (2006) Using the current seasonal cycle to constrain snow albedo feedback in future climate change. Geophys Res Lett 33:L03502

Hansen J, Nazarenko L (2004) BC climate forcing via snow and ice albedos. Proc Natl Acad Sci 101:423–428

Harris I, Jones PD, Osborn TJ et al (2014) Updated high-resolution grids of monthly climatic observations—the CRU TS3.10 dataset. Int J Climatol 34:623–642

Haywood JM, Boucher O (2000) Estimates of the direct and indirect radiative forcing due to tropospheric aerosol: a review. Rev Geophys 38:513–543

Haywood JM, Francis P, Dubovik O et al (2003) Comparison of aerosol size distributions, radiative properties, and optical depths determined by aircraft observations and Sun photometers during SAFARI 2000. J Geophys Res 108(D13):8471

Huang NE, Wu Z (2008) A review on Hilbert–Huang transform: method and its applications to geophysical studies. Rev Geophys 46:RG2006

Huang Y, Dickinson RE, Chameides WL (2006) Impact of aerosol indirect effect on surface temperature over East Asia. Proc Natl Acad Sci U S A 103:4371–4376

Huang J, Guan X, Ji F (2012) Enhanced cold-season warming in semi-arid regions. Atmos Chem Phys 12:5391–5398

Jacobson MZ (2004) Climate response of fossil fuel and biofuel BC, accounting for BC's feedback to snow and sea ice albedo and emissivity. J Geophys Res 109:D21201

Ji F, Wu Z, Huang J et al (2014) Evolution of land surface air temperature trend. Nat Clim Chang 4:462–466

Jiang Y, Liu X, Yang X et al (2013) A numerical study of the effect of different aerosol types on East Asian summer clouds and precipitation. Atmos Environ 70:51–63

Koch D, Menon S, Genio AD et al (2009) Distinguishing aerosol impacts on climate over the past century. J Clim 22:2659–2677

Levine JS, Cofer WR, Cahoon DR, Winstead EL (1995) Biomass burning: a driver for global change. Environ Sci Technol 29:120–125

Liu PF, Zhao CS, Hallbauer E et al (2011a) Hygroscopic properties of aerosol particles at high relative humidity and their diurnal variations in the North China plain. Atmos Chem Phys 11:3479–3494

Liu X, Xie X, Yin ZY et al (2011b) A modeling study of the effects of aerosols on clouds and precipitation over East Asia. Theor Appl Climatol 106:343–354

Liu X, Yan L, Yang P et al (2011c) Influence of Indian summer monsoonon aerosol loading in East Asia. J Appl Meteorol Climatol 50:523–533

Menon S, Hansen J, Nazarenko L, Luo YF (2002) Climate effects of black carbon aerosols in China and India. Science 297:2250–2253

Qian Y, Leung RL, Ghan SJ, Giorgi F (2003) Regional climate effects of aerosols over China: modeling and observation. Tellus B 55:914–934

Qian C, Yan ZW, Wu Z et al (2011) Trends in temperature extremes in association with weather–intraseasonal fluctuations in Eastern China. Adv Atmos Sci 28(2):297–309

Qin Z, Zou X, Weng F (2012) Comparison between linear and nonlinear trends in NOAA-15 AMSU-A brightness temperatures during 1998–2010. Clim Dyn 39:1763–1779

Ribes A, Terray L (2013) Application of regularised optimal fingerprinting to attribution. Part II: application to global near-surface temperature. Clim Dyn 41:2837–2853

Ribes A, Planton S, Terray L (2013) Application of regularised optimal fingerprinting to attribution. Part I: method, properties and idealised analysis. Clim Dyn 41:2817–2836

Shi Y, Gao X, Wu J et al (2011) Changes in snow cover China in the 21st century as simulated by a high resolution regional climate model. Environ Res Lett 6:045401

Shine K, Fouquart Y, Ramaswamy V et al (1995) Radiative forcing. In: Houghton J, Meira Filho L, Bruce J, Lee H, Callander B, Harris N, Maskell K (eds) Radiative forcing of climate change and an evaluation of the IPCC IS92 emission scenarios. Cambridge University Press, Cambridge, pp 163–203

Shiogama H, Christidis N, Caesar J et al (2006) Detection of greenhouse gas and aerosol influences in changes in temperature extremes. SOLA 2:152–155

Stott PA, Stone DA, Allen MR (2004) Human contribution to the European heatwave of 2003. Nature 432:610–613

Streets DG, Bond TC, Carmichael GR et al (2003) An inventory of gaseous and primary aerosol emissions in Asia in the year 2000. J Geophys Res 108(D21):8809

Sun YL, Wang ZF, Fu PQ et al (2013) Aerosol composition, sources and processes during wintertime in Beijing, China. Atmos Chem Phys 13:4577–4592

Sun Y, Zhang XB, Zwiers FW (2014) Rapid increase in the risk of extreme summer heat in Eastern China. Nat Clim Chang 4:1082–1085

Tao R, Che HZ, Chen QL et al (2014) Study of aerosol optical properties based on ground measurements over Sichuan Basin, China. Aerosol Air Qual Res 14(3):905–915

Taylor KE, Stouffer RJ, Meehl GA (2012) An overview of CMIP5 and the experiment design. Bull Am Meteorol Soc 93:485–498

Wang T, Li S, Shen Y, Deng J, Xie M (2010) Investigations on direct and indirect effect of nitrate on temperature and precipitation in China using a regional climate chemistry modeling system. J Geophys Res 115:D00K26

Wen HQ, Zhang X, Xu Y et al (2013) Detecting human influence on extreme temperatures in China. Geophys Res Lett 40:1171–1176

Wilcox LJ, Highwood EJ, Dunstone NJ (2013) The influence of anthropogenic aerosol on multi-decadal variations of historical global climate. Environ Res Lett 8:024033

Wu PP, Han ZW (2011) Modeling of the second indirect effect of anthropogenic aerosols in East Asia. Atmos Ocean Sci Lett 4:316–323

Wu Z, Huang NE (2009) Ensemble empirical mode decomposition: a noise-assisted data analysis method. Adv Adapt Data Anal 1(1):1–41

Wu Z, Huang NE, Wallace JM et al (2011) On the time-varying trend in global-mean surface temperature. Clim Dyn 37:759–773

Xu Q (2001) Abrupt change of the mid-summer climate in Central East China by the influence of atmospheric pollution. Atmos Environ 35:5029–5040

Yang Q, Bitz CM, Doherty SJ (2014) Offsetting effects of aerosols on Arctic and global climate in the late 20th century. Atmos Chem Phys 14:3969–3975

Zhang X, Zwiers FW, Hegerl GC et al (2007) Detection of human influence on 20th century precipitation trends. Nature 448:461–465

Zhao CS, Tie XX, Lin YP (2006) A possible positive feedback of reduction of precipitation and increase in aerosols over Eastern Central China. Geophys Res Lett 33:L11814

Zhuang BL, Lia S, Wang TJ et al (2013a) Direct radiative forcing and climate effects of anthropogenic aerosols with different mixing states over China. Atmos Environ 79:349–361

Zhuang BL, Liu Q, Wang TJ et al (2013b) Investigation on semi-direct and indirect climate effects of fossil fuel black carbon aerosol over China. Theor Appl Climatol 114:651–672
Acknowledgments
We appreciate the valuable suggestions from the anonymous reviewers. This work was supported by grants from the National Basic Research Program of China (2012CB956203), Open Research Fund Program of Plateau Atmosphere and Environment Key Laboratory of Sichuan Province (PAEKL-2015-C1), and the National Natural Science Foundation of China (41405090).
About this article
Cite this article
Li, C., Zhao, T. & Ying, K. Effects of anthropogenic aerosols on temperature changes in China during the twentieth century based on CMIP5 models. Theor Appl Climatol 125, 529–540 (2016). https://doi.org/10.1007/s00704-015-1527-6
Received:

Accepted:

Published:

Issue Date:
Keywords
Aerosol Optical Depth

Sichuan Basin

Warming Trend

Semiarid Region

Intrinsic Mode Function