Abstract
Arctic sea ice has undergone a significant decline in recent years. Previous studies have demonstrated that the annual sea ice cycle has experienced earlier melt and later freeze up, leading to a significant reduction in minimum sea ice extents and the lengthening of the melting season. The Arctic is being transformed into a regime of widespread seasonal ice with a large loss of old and thick multiyear ice in recent years. However, the sea ice change exhibits considerable interannual and regional variability at different spatial and temporal scales. In this study, we present a new method for hypertemporal sea ice data change detection based on the annual sea ice concentration (SIC) profile for the melt months of each year. A decision tree-based classification is adopted to group pixels with similar annual SIC profiles, and a phenology map of each year is generated for visualization. The phenoregion map visualizes the spatial and temporal configurations of ice melt process for a year. The change detection objective is achieved by comparing the phenoregion number of the same pixel in different years. The algorithm further leads to interpretation of anomalies to obtain change maps at the pixel level. Compared to previous sea ice studies that mainly focused on a particular spatial region and commonly use time period averages, the proposed pixel-based approach has the potential to map sea ice data change both temporally and spatially.
Access options
Buy single article
Instant access to the full article PDF.
US$ 39.95
Tax calculation will be finalised during checkout.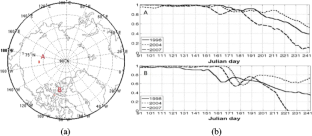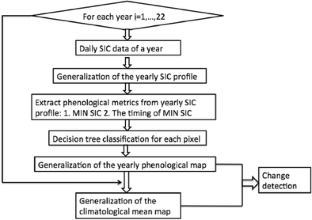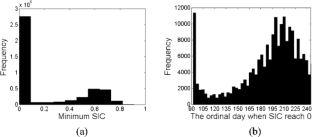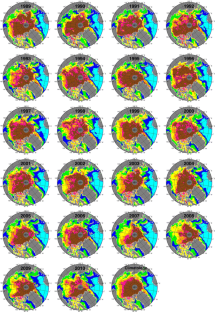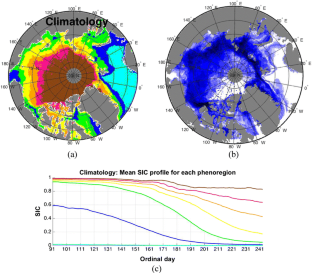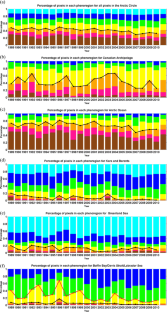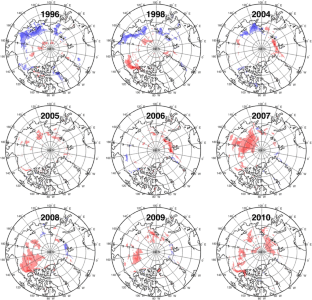 References
Agnew T, Howell S (2003) The use of operational ice charts for evaluating passive microwave ice concentration data. Atmosphere-Ocean 41(4):317–331

Bitz C, Holland M, Hunke E, Moritz R (2005) Maintenance of the sea-ice edge. J Clim 18(15):2903–2921

Brandon MA, Cottier FR, Nilsen F (2010) Sea ice and oceanography. In: Thomas DN, Dieckman GS (eds) Sea ice. Wiley, Oxford, pp 79–111

Cavalieri DJ, Gloersen P, Campbell WJ (1984) Determination of sea ice parameters with the Nimbus 7 SMMR. J Geophys Res: Atmos 89(D4):5355–5369

Comiso JC, Nishio F (2008) Trends in the sea ice cover using enhanced and compatible AMSR-E, SSM/I, and SMMR data. J Geophys Res 113:C02S07. doi:10.1029/2007JC004257

Coppin P, Jonckheere I, Nackaerts K, Muys B, Lambin E (2004) Digital change detection methods in ecosystem monitoring: a review. Int J Remote Sens 25(9):1565–1596

deBeurs KM, Henebry GM (2006) Phenological mixture models: using MODIS to identify key phenological end members and their spatial distribution in the Northern Eurasian semi-arid grain belt. eos AGU fall meeting supplement, 87

Fischbach AS, Amstrup SC, Douglas DC (2007) Landward and eastward shift of Alaskan polar bear denning associated with recent sea ice changes. Polar Biol 30(11):1395–1405

Fowler CF, Emery WJ, Maslanik JA (2004) Satellite-derived evolution of Arctic sea ice age: October 1978 to March 2003. IEEE Geosci Remote Sens Lett 1:71–74. doi:10.1109/LGRS.2004.8

Hargrove WW, Spruce JP, Gasser GE, Hoffman FM (2009) Toward a national early warning system for forest disturbances using remotely sensed canopy phenology. Photogramm Eng Remote Sens 75:1150–1156

Howell S, Tivy A, Yackel J, McCourt S (2008) Multi-year sea-ice conditions in the Western Canadian Arctic archipelago region of the Northwest passage: 1968–2006. Atmosphere-Ocean 46(2):229–242

Im J, Jensen JR (2005) A change detection model based on neighborhood correlation image analysis and decision tree classification. Remote Sens Environ 99(3):326–340

Ji R, Jin M, Varpe Ø (2013) Sea ice phenology and timing of primary production pulses in the Arctic Ocean. Glob Chang Biol 19:734–741. doi:10.1111/gcb.12074

Lu D, Mausel P, Brondizio E, Moran E (2004) Change detection techniques. Int J Remote Sens 25(12):2365–2401

Markus T, Stroeve JC, Miller J (2009) Recent changes in Arctic sea ice melt onset, freezeup, and melt season length. J Geophys Res 114:C12024. doi:10.1029/2009JC005436

Maslanik J, Stroeve J, Fowler C, Emery W (2011) Distribution and trends in Arctic sea ice age through spring 2011. Geophys Res Lett 38:L13502. doi:10.1029/2011GL047735

Melling H (2012). Sea ice of the Northern Canadian Arctic Archipelago, Journal of Geophysical Research, 107 (C11), 3181, 2002

Moe B, Stempniewicz L, Jakubas D, Angelier F, Chastel O, Dinessen F, Gabrielsen GW, Hanssen F, Karnovsky NJ, Ronning B, Welcker J, Wojczulanis-Jakubas K, Bech C (2009) Climate change and phenological responses of two seabird species breeding in the high-Arctic. Mar Ecol Prog Ser 393:235–246

Nghiem S, Clemente-Colon P, Rigor I, Hall D, Neumann G (2012). Sea floor control on sea ice, deep sea research part ii: topical studies in oceanography, 2012

Parkinson CL, Cavalieri DJ (2008) Arctic sea ice variability and trends, 1979–2006. J Geophys Res 113:C07003. doi:10.1029/2007JC004558

Perovich DK, Richter-Menge JA (2009) Loss of sea ice in the Arctic. Ann Rev Mar Sci 1:417–441

Piwowar JM, LeDrew EF (1996) Principal components analysis of arctic ice conditions between 1978 and 1987 as observed from the SMMR data record. Can J Remote Sens 22(4):390–403

Piwowar JM, Peddle DR, LeDrew EF (1998) Temporal mixture analysis of arctic sea ice imagery: a new approach for monitoring enviornmental change. Remote Sens Environ 63:195–207

Rigor IG, Wallace JM (2004) Variations in the age of Arctic sea ice and summer sea-ice extent. Geophys Res Lett 31:L09401. doi:10.1029/2004GL019492

Serreze MC, Holland MM, Stroeve J (2007) Perspectives on the Arctic's shrinking sea ice cover. Science 315:1533–1536. doi:10.1126/science.1139426

Small C (2012) Spatiotemporal dimensionality and time-space characterization of multitemporal imagery. Remote Sens Environ 124:793–809

Smith WO, Barber D G (2007). Polynyas: windows to the world. Elsevier Oceanography series 74

Stroeve JC, Serreze MC, Kay JE, Holland MM, Meier WN, Barrett AP (2011) The Arctic's rapidly shrinking sea ice cover: a research synthesis. Clim Change. doi:10.1007/s10584-011-0101-1
Acknowledgments
We acknowledge funding from University of Waterloo and from the National Science and Engineering Research Council.
About this article
Cite this article
Tan, W., LeDrew, E. Monitoring Arctic sea ice phenology change using hypertemporal remotely sensed data: 1989–2010. Theor Appl Climatol 125, 353–363 (2016). https://doi.org/10.1007/s00704-015-1507-x
Received:

Accepted:

Published:

Issue Date:
Keywords
Decision Tree Classifier

Canadian Arctic Archipelago

Phenological Metrics

North Water Polynya