Abstract
This paper describes six different temporal climate regimes of the contiguous United States (CONUS) according to interdecadal variations of surface air temperature (SAT) and precipitation using the United States Historical Climatology Network (USHCN) monthly data (Tmax, Tmin, Tmean, and precipitation) from 1895 to 2010. Our analysis is based on the probability distribution, mean, standard deviation, skewness, kurtosis, Kolmogorov-Smirnov (KS) test, and Welch's t test. The relevant statistical parameters are computed from gridded monthly SAT and precipitation data. SAT variations lead to classification of four regimes: 1895–1930 (cool), 1931–1960 (warm), 1961–1985 (cool), and 1986–2010 (warm), while precipitation variations lead to a classification of two regimes: 1895–1975 (dry) and 1976–2010 (wet). The KS test shows that any two regimes of the above six are statistically significantly different from each other due to clear shifts of the probability density functions. Extremes of SAT and precipitation identify the ten hottest, coldest, driest, and wettest years. Welch's t test is used to discern significant differences among these extremes. The spatial patterns of the six climate regimes and some years of extreme climate are analyzed. Although the recent two decades are the warmest among the other decades since 1895 and many hottest years measured by CONUS Tmin and Tmean are in these two decades, the hottest year according to the CONUS Tmax anomalies is 1934 (1.37 °C), which is very close to the second Tmax hottest year 2006 (1.35 °C).
Access options
Buy single article
Instant access to the full article PDF.
US$ 39.95
Tax calculation will be finalised during checkout.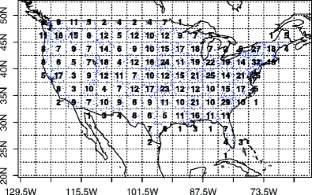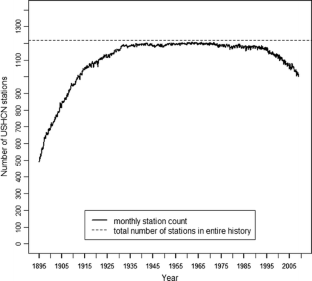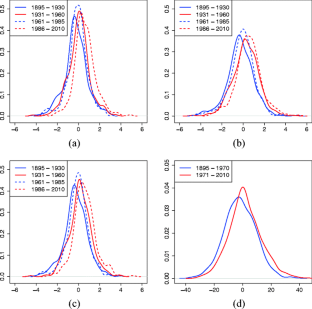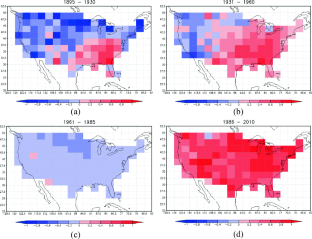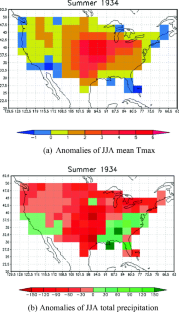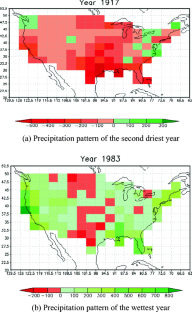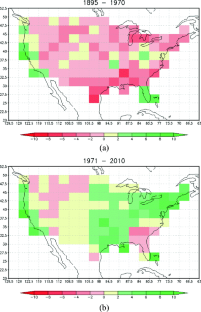 References
Compo GP et al (2011) The twentieth century reanalysis project. Q J R Meteorol Soc 137:1–28

CPC (2014): Cold and warm episodes by season. Climate Prediction Center, National Weather Service, USA. http://www.cpc.ncep.noaa.gov/products/analysis_monitoring/ensostuff/ensoyears.shtml

Dai A (2011) Characteristics and trends in various forms of the Palmer Drought Severity Index during 1900–2008. J. Geophys. Res. Atmospheres 116 (D12115). doi:10.1029/2010JD015541

Dai A (2013) The influence of the inter-decadal Pacific oscillation on US precipitation during 1923–2010. Clim Dyn 41:633–646

Easterling DR et al (1997) Maximum and minimum temperature trends for the globe. Science 277:364–367

Easterling DR, Karl TR, Mason EH, Hughes PY, Bowman DP (1996) United States Historical Climatology Network (U.S. HCN) monthly temperature and precipitation data. ORNL/CDIAC-87, NDP-019/R3. Carbon Dioxide Information Analysis Center, Oak Ridge National Laboratory, U.S. Department of Energy, Oak Ridge, 214pp

Easterling DR, Wallis TW, Lawrimore JH, Heim RR (2007) Effects of temperature and precipitation trends on US drought. Geophys. Res. Lett. 34 (L20709). doi:10.1029/2007GL031541

EPA (2014) Climate change indicators in the United States, 2014, 3rd edition, EPA 430-R-14-004, Environment Prediction Agency, 1200 Pennsylvania Ave. NW, Washington, DC 20490, 107pp, www.epa.gov/climatechange/indicators

Folland CK, Rayner NA, Brown SJ, Smith TM, Shen SSP, Parker DE, Macadam I, Jones PD, Jones RN, Nicholls N, Sexton DMH (2001) Global temperature change and its uncertainties since 1861. Geophys Res Lett 28:2621–2624

Giese BS, Ray S (2011) El Niño variability in simple ocean data assimilation (SODA). J Geophys Res 116:C02024. doi:10.1029/2010JC006695

Gleason KL, Lawrimore JH, Levinson DH, Karl TR, Karoly DJ (2008) A revised U.S. climate extremes index. J Clim 21:2124–2137

Groisman PY, Knight RW, Karl TR, Easterling DR, Sun B, Lawrimore JH (2004) Contemporary changes of the hydrological cycle over the contiguous United States: trends derived from in situ observations. J Hydrometeor 5:64–85

Gutzler DS, Robbins TO (2011) Climate variability and projected change in the western United States: regional downscaling and drought statistics. Clim Dyn 37:835–849

Hansen J, Ruedy R, Sato M, Lo K (2010) Global surface temperature change. Rev Geophys 48:RG4004. doi:10.1029/2010RG000345

Hayhoe K et al (2007) Past and future changes in climate and hydrological indicators in the US Northeast. Clim Dyn 28:381–407

Hollander M, Wolfe DA (1999) Nonparametric statistical methods. Wiley, New York, 787pp

Hoskins BJ, Hodges KI (2002) New perspectives on the Northern Hemisphere winter storm tracks. J Atmos Sci 59:1041–1061

Huang HP, Seager R, Kushnir Y (2005) The 1976/77 transition in precipitation over the Americas and the influence of tropical sea surface temperature. Clim Dyn 24:721–740

IPCC (2007) In: Solomon S, Qin D, Manning M, Chen Z, Marquis M, Averyt KB, Tignor M, Miller HL (eds) Climate change 2007: the physical science basis. Contribution of working group I to the fourth assessment report of the Intergovernmental Panel on Climate Change. Cambridge University Press, Cambridge, 996pp

Karl TR, Knight RW (1998) Secular trends of precipitation amount, frequency, and intensity in the United States. Bull Am Meteorol Soc 79:231–241

Karl TR, Koscielny AJ (1982) Drought in the United States: 1895–1981. J Clim 2:313–329

Karl TR et al (2012) US temperature and drought: recent anomalies and trends. Eos Trans Am Geophys Union 93(47):473–474

Koster RD, Suarez MJ, Schubert SD (2006) Distinct hydrological signatures in observed historical temperature fields. J Hydrometeor 7:1061–1075

Lassieur A (2009) The Dust Bowl: an interactive history adventure. Mankato, Capstone, 112pp

Meehl GA, Hu A, Santer BD (2009) The mid-1970s climate shift in the Pacific and the relative roles of forced versus inherent decadal variability. J Clim 22:780–792

Menne MJ, Williams CN (2009) Homogenization of temperature series via pairwise comparisons. J Clim 22:1700–1717

Menne MJ, Williams CN, Vose RS (2009) The U.S. Historical Climatology Network monthly temperature data, version 2. Bull Am Meteorol Soc 90:993–1007

Miller AJ, Cayan DR, Barnett TP, Graham NE, Oberhuber JM (1994) The 1976–77 climate shift of the Pacific Ocean. Oceanography 7:21–26

NCDC (2012a) Climate at a Glance, National Climatic Data Center, Asheville, North Carolina, USA. http://climvis.ncdc.noaa.gov/cgi-bin/cag3/hr-display3.pl

NCDC (2012b) Contiguous U.S. Palmer Drought Severity Index (PDSI). National Climatic Data Center, Asheville

Portmann RW, Solomon S, Hegerl GC (2009) Spatial and seasonal patterns in climate change, temperatures, and precipitation across the United States. Proc Natl Acad Sci 106:7324–7329

Pryor SC, Schoof JT (2008) Changes in the seasonality of precipitation over the contiguous USA. J Geophys Res Atmosphere 113:D21108. doi:10.1029/2008JD010251

Pryor SC, Howe JA, Kunkel KE (2009) How spatially coherent and statistically robust are temporal changes in extreme precipitation in the contiguous USA? Int J Clim 29:31–45

Ren L, Arkin PA, Smith TM, Shen SSP (2012) Global precipitation trends in 1900–2005 from a reconstruction and coupled model simulations. J Geophys Res 118:1679–1689

Ropelewski CF, Halpert MS (1986) North American precipitation and temperature patterns associated with the El Niño/Southern Oscillation (ENSO). Mon Weather Rev 114:2352–2362

Schubert SD, Suzrez MJ, Pegion PJ, Koster RD, Bcmeister JT (2004) On the cause of the 1930s Dust Bowl. Science 303:1855–1859

Shen SSP, Gurung AB, Oh H-S, Shu T, Easterling DR (2011) The 20th century contiguous US climate changes indicated by daily data and higher statistical moments. Clim Chang 109:287–317

Shen SSP, Lee CK, Lawrimore JH (2012) Uncertainties, trends, and hottest and coldest years of US surface air temperature since 1895: an update based on the USHCN V2 data. J Clim 25:4185–4203

Smith TM, Arkin PA, Ren L, Shen SSP (2012) Improved reconstruction of global precipitation since 1900. J Atmos Ocean Technol 29:1505–1517

Trenberth KE, Hurrell JW (1994) Decadal atmosphere-ocean variations in the Pacific. Clim Dyn 9:303–319

Tung KK, Zhou J (2013) Using data to attribute episodes of warming and cooling in instrumental records. Proc Natl Acad Sci U S A 110:2058–2063

Vavrus S, Walsh JE, Chapman WL, Portis D (2006) The behavior of extreme cold air outbreaks under greenhouse warming. Int J Clim 26:1133–1147

Vose RS, Williams CN, Peterson TC, Karl TR, Easterling DR (2003) An evaluation of the time of observation bias adjustment in the US Historical Climatology Network. Geophys. Res. Lett. 30. doi:10.1029/2003GL018111

Vose RS et al (2014) Improved historical temperature and precipitation time series for U.S. climate divisions. J Appl Meteorol Climatol 53:1232–1251

Walsh J et al. (2014) Ch. 2: Our changing climate. Climate change impacts in the United States: The Third National Climate Assessment, J. M. Melillo, Terese (T.C.) Richmond, and G. W. Yohe, Eds., U.S. Global Change Research Program, 19–67. doi:10.7930/J0KW5CXT

Wied O (2012) Statistical inferences of six climate regimes of the CONUS from 1895–2010. MS Thesis, San Diego State University, California, 81pp

Williams CN, Menne MJ, Thorne PW (2012) Benchmarking the performance of pairwise homogenization of surface temperatures in the United States. J Gophys Res-Atmosphere 117:D05116. doi:10.1029/2011JD016761

Wu Z, Huang NE, Long SR, Peng CK (2007) On the trend, detrending, and variability of nonlinear and nonstationary time series. Proc Natl Acad Sci U S A 104:14889–14894

Wu Z, Huang NE, Wallace JW, Smoliak BV, Chen X (2011) On the time-varying trend in global-mean surface temperature. Clim Dyn 37:759–773

Yu Y, Duan W, Xu H, Mu M (2009) Dynamics of nonlinear error growth and season‐dependent predictability of El Niño events in the Zebiak–Cane model. Quart J Roy Meteo Soc 135:2146–2160

Zhou J, Tung KK (2013) Deducing multidecadal anthropogenic global warming trends using multiple regression analysis. J Atmospher Sci 70:3–8
Acknowledgments
This study was supported in part by the US National Oceanographic and Atmospheric Administration (Award No. EL133E09SE4048), the US National Science Foundation (Awards No. AGS-1015926 and AGS-1015957), the US Department of Energy (Award No. DE-SC002763), and a contract from US NASA Jet Propulsion Laboratory. The comments from the anonymous reviewers have helped improve the clarity and overall quality of the paper.
About this article
Cite this article
Shen, S.S.P., Wied, O., Weithmann, A. et al. Six temperature and precipitation regimes of the contiguous United States between 1895 and 2010: a statistical inference study. Theor Appl Climatol 125, 197–211 (2016). https://doi.org/10.1007/s00704-015-1502-2
Received:

Accepted:

Published:

Issue Date:
Keywords
Climate Regime

Interdecadal Variation

Dust Bowl

Climate Regime Change

Warm Regime