Abstract
Based on daily station precipitation data, this study investigates the trends in light precipitation events (less than the 50th percentile) over global land during 1961–2010. It is found that the frequency of light precipitation events decreases over East China (EC) and northern Eurasia (NE) but increases over the United States of America (US), Australia (AU), and the Iberian Peninsula (IP). However, the trends in the intensity of light precipitation events are opposite to those in frequency. We find that the trends in light precipitation events are possibly associated with the changes in static stability. Over EC and NE (US, AU, and IP), the static stability weakens (strengthens) during 1961–2010. The weakening (strengthening) of static stability leads to increase (decrease) in precipitation intensity due to the enhancement (reduction) of upward motion; light (relatively heavier) precipitation events accordingly shift toward relatively heavier (light) precipitation, and the frequency of light precipitation events decreases (increases) consequently.
Access options
Buy single article
Instant access to the full article PDF.
US$ 39.95
Tax calculation will be finalised during checkout.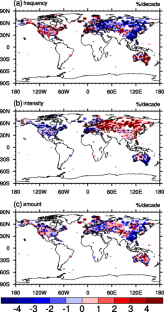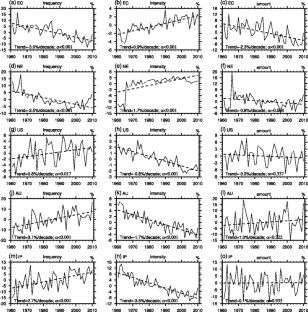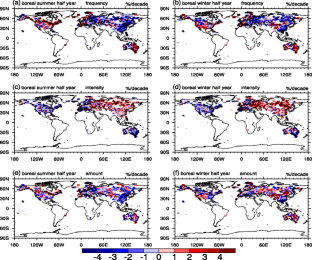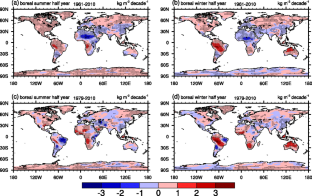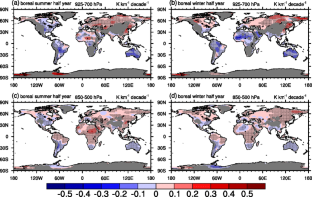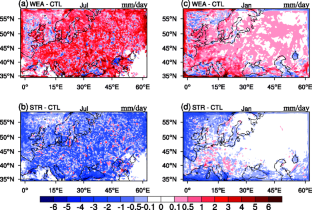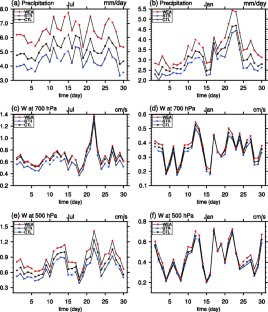 References
Alexander LV et al (2006) Global observed changes in daily climate extremes of temperature and precipitation. J Geophys Res 111:D05109. doi:10.1029/2005jd006290

Allan RP, Soden BJ (2008) Atmospheric warming and the amplification of precipitation extremes. Science 321:1481–1484. doi:10.1126/science.1160787

Allen MR, Ingram WJ (2002) Constraints on future changes in climate and the hydrologic cycle. Nature 419:224–232. doi:10.1038/nature01092

Boer GJ (1993) Climate change and the regulation of the surface moisture and energy budgets. Clim Dyn 8:225–239. doi:10.1007/bf00198617

Bryan GH, Fritsch JM (2000) Moist absolute instability: the sixth static stability state. Bull Am Meteorol Soc 81:1207–1230. doi:10.1175/1520-0477(2000)081<1287:MAITSS>2.3.CO;2

Caesar J, Alexander L, Vose R (2006) Large-scale changes in observed daily maximum and minimum temperatures: creation and analysis of a new gridded data set. J Geophys Res Atmos 111:D05101. doi:10.1029/2005jd006280

Donat MG et al (2013) Updated analyses of temperature and precipitation extreme indices since the beginning of the twentieth century: the HadEX2 dataset. J Geophys Res Atmos 118:2098–2118. doi:10.1002/jgrd.50150

Durre I, Menne MJ, Gleason BE, Houston TG, Vose RS (2010) Comprehensive automated quality assurance of daily surface observations. J Appl Meteorol Climatol 49:1615–1633. doi:10.1175/2010jamc2375.1

Easterling DR, Evans JL, Groisman PY, Karl TR, Kunkel KE, Ambenje P (2000) Observed variability and trends in extreme climate events: a brief review. Bull Am Meteorol Soc 81:417–425. doi:10.1175/1520-0477(2000)081<0417:ovatie>2.3.co;2

Fujibe F, Yamazaki N, Katsuyama M, Kobayashi K (2005) The increasing trend of intense precipitation in Japan based on four-hourly data for a hundred years. SOLA 1:41–44. doi:10.2151/sola.2005-012

Giorgi F, Im ES, Coppola E, Diffenbaugh NS, Gao XJ, Mariotti L, Shi Y (2011) Higher hydroclimatic intensity with global warming. J Clim 24:5309–5324. doi:10.1175/2011jcli3979.1

Goswami BN, Venugopal V, Sengupta D, Madhusoodanan MS, Xavier PK (2006) Increasing trend of extreme rain events over India in a warming environment. Science 314:1442–1445. doi:10.1126/science.1132027

Groisman PY et al (1999) Changes in the probability of heavy precipitation: important indicators of climatic change. Clim Chang 42:243–283. doi:10.1023/a:1005432803188

Groisman PY, Knight RW, Easterling DR, Karl TR, Hegerl GC, Razuvaev VN (2005) Trends in intense precipitation in the climate record. J Clim 18:1326–1350. doi:10.1175/jcli3339.1

Held IM, Soden BJ (2006) Robust responses of the hydrological cycle to global warming. J Clim 19:5686–5699. doi:10.1175/jcli3990.1

Hennessy KJ, Gregory JM, Mitchell JFB (1997) Changes in daily precipitation under enhanced greenhouse conditions. Clim Dyn 13:667–680. doi:10.1007/s003820050189

Huang G, Wen G (2013) Spatial and temporal variations of light rain events over China and the mid-high latitudes of the Northern Hemisphere. Chin Sci Bull 58:1402–1411. doi:10.1007/s11434-012-5593-1

Johnson NC, Xie S-P (2010) Changes in the sea surface temperature threshold for tropical convection. Nat Geosci 3:842–845. doi:10.1038/ngeo1008

Joshi M, Gregory J, Webb M, Sexton DH, Johns T (2008) Mechanisms for the land/sea warming contrast exhibited by simulations of climate change. Clim Dyn 30:455–465. doi:10.1007/s00382-007-0306-1

Kalnay E et al (1996) The NCEP/NCAR 40-year reanalysis project. Bull Am Meteorol Soc 77:437–471. doi:10.1175/1520-0477(1996)077<0437:tnyrp>2.0.co;2

Karl TR, Knight RW (1998) Secular trends of precipitation amount, frequency, and intensity in the United States. Bull Am Meteorol Soc 79:231–241. doi:10.1175/1520-0477(1998)079<0231:stopaf>2.0.co;2

Karl TR, Trenberth KE (2003) Modern global climate change. Science 302:1719–1723. doi:10.1126/science.1090228

Kiktev D, Sexton DMH, Alexander L, Folland CK (2003) Comparison of modeled and observed trends in indices of daily climate extremes. J Clim 16:3560–3571. doi:10.1175/1520-0442(2003)016<3560:comaot>2.0.co;2

Kistler R et al (2001) The NCEP–NCAR 50-year reanalysis: monthly means CD–ROM and documentation. Bull Am Meteorol Soc 82:247–267. doi:10.1175/1520-0477(2001)082<0247:tnnyrm>2.3.co;2

Klein Tank AMG, Können GP (2003) Trends in indices of daily temperature and precipitation extremes in Europe, 1946–99. J Clim 16:3665–3680. doi:10.1175/1520-0442(2003)016<3665:tiiodt>2.0.co;2

Klein Tank AMG et al (2002) Daily dataset of 20th-century surface air temperature and precipitation series for the European Climate Assessment. Int J Climatol 22:1441–1453. doi:10.1002/joc.773

Kunkel KE, Andsager K, Easterling DR (1999) Long-term trends in extreme precipitation events over the conterminous United States and Canada. J Clim 12:2515–2527. doi:10.1175/1520-0442(1999)012<2515:lttiep>2.0.co;2

Lee J-Y, Wang B (2014) Future change of global monsoon in the CMIP5. Clim Dyn 42:101–119. doi:10.1007/s00382-012-1564-0

Liu SC, Fu C, Shiu C-J, Chen J-P, Wu F (2009) Temperature dependence of global precipitation extremes. Geophys Res Lett 36:L17702. doi:10.1029/2009gl040218

Liu J, Wang B, Cane MA, Yim S-Y, Lee J-Y (2013) Divergent global precipitation changes induced by natural versus anthropogenic forcing. Nature 493:656–659. doi:10.1038/nature11784

Mattar C, Sobrino JA, Julien Y, Morales L (2011) Trends in column integrated water vapour over Europe from 1973 to 2003. Int J Climatol 31:1749–1757. doi:10.1002/joc.2186

Menne MJ, Durre I, Vose RS, Gleason BE, Houston TG (2012) An overview of the global historical climatology network-daily database. J Atmos Ocean Technol 29:897–910. doi:10.1175/jtech-d-11-00103.1

National Centers for Environmental Prediction NWS, NOAA, U. S. Department of Commerce (2000) NCEP FNL Operational model global tropospheric analyses, continuing from July 1999. Research Data Archive at the National Center for Atmospheric Research, Computational and Information Systems Laboratory, Boulder

New M, Hulme M, Jones P (2000) Representing twentieth-century space–time climate variability. Part II: development of 1901–96 monthly grids of terrestrial surface climate. J Clim 13:2217–2238. doi:10.1175/1520-0442(2000)013<2217:rtcstc>2.0.co;2

Osborn TJ, Hulme M, Jones PD, Basnett TA (2000) Observed trends in the daily intensity of United Kingdom precipitation. Int J Climatol 20:347–364. doi:10.1002/(sici)1097-0088(20000330)20:4<347::aid-joc475>3.0.co;2-c

Pall P, Allen M, Stone D (2007) Testing the Clausius–Clapeyron constraint on changes in extreme precipitation under CO2 warming. Clim Dyn 28:351–363. doi:10.1007/s00382-006-0180-2

Peppler RA, Lamb PJ (1989) Tropospheric static stability and Central North American growing season rainfall. Mon Weather Rev 117:1156–1180. doi:10.1175/1520-0493(1989)117<1156:tssacn>2.0.co;2

Qian Y, Gong DY, Fan JW, Leung LR, Bennartz R, Chen D, Wang WG (2009) Heavy pollution suppresses light rain in China: observations and modeling. J Geophys Res Atmos 114:D00K02. doi:10.1029/2008jd011575

Qian Y, Gong DY, Leung R (2010) Light rain events change over North America, Europe, and Asia for 1973–2009. Atmos Sci Lett 11:301–306. doi:10.1002/Asl.298

Richter I, Xie S-P (2008) Muted precipitation increase in global warming simulations: a surface evaporation perspective. J Geophys Res Atmos 113:D24118. doi:10.1029/2008jd010561

Ross RJ, Elliott WP (1996) Tropospheric water vapor climatology and trends over North America: 1973–93. J Clim 9:3561–3574. doi:10.1175/1520-0442(1996)009<3561:twvcat>2.0.co;2

Ross RJ, Elliott WP (2001) Radiosonde-based northern hemisphere tropospheric water vapor trends. J Clim 14:1602–1612. doi:10.1175/1520-0442(2001)014<1602:rbnhtw>2.0.co;2

Shepard D (1968) A two-dimensional interpolation function for irregularly-spaced data. Paper presented at the Proceedings of the 1968 23rd ACM national conference

Shepard D (1984) Computer mapping: the SYMAP interpolation algorithm. In: Gaile G, Willmott C (eds) Spatial statistics and models, vol 40. Theory and decision library, vol 40. Springer, Netherlands, pp 133–145. doi:10.1007/978-94-017-3048-8_7

Shiu C-J, Liu SC, Fu C, Dai A, Sun Y (2012) How much do precipitation extremes change in a warming climate? Geophys Res Lett 39:L17707. doi:10.1029/2012gl052762

Stone PH, Carlson JH (1979) Atmospheric lapse rate regimes and their parameterization. J Atmos Sci 36:415–423. doi:10.1175/1520-0469(1979)036<0415:alrrat>2.0.co;2

Sun Y, Solomon S, Dai A, Portmann RW (2007) How often will it rain? J Clim 20:4801–4818. doi:10.1175/jcli4263.1

Suppiah R, Hennessy KJ (1998) Trends in total rainfall, heavy rain events and number of dry days in Australia, 1910–1990. Int J Climatol 18:1141–1164. doi:10.1002/(sici)1097-0088(199808)18:10<1141::aid-joc286>3.0.co;2-p

Trenberth KE (1998) Atmospheric moisture residence times and cycling: implications for rainfall rates and climate change. Clim Chang 39:667–694. doi:10.1023/A:1005319109110

Trenberth KE (1999) Conceptual framework for changes of extremes of the hydrological cycle with climate change. Clim Chang 42:327–339. doi:10.1023/A:1005488920935

Trenberth KE (2011) Changes in precipitation with climate change. Clim Res 47:123–138. doi:10.3354/cr00953

Trenberth KE, Dai A, Rasmussen RM, Parsons DB (2003) The changing character of precipitation. Bull Am Meteorol Soc 84:1205–1217. doi:10.1175/bams-84-9-1205

Trenberth KE et al (2007) Observations: surface and atmospheric climate change. In: Solomon S, Qin D, Manning M, Marquis M, Averyt K, Tignor MMB, Miller HL (eds) Climate Change 2007: the physical science basis. Contribution of working group I to the fourth assessment report of the intergovernmental panel on climate change. Cambridge University Press, Cambridge, pp 235–336

Wen G, Huang G, Hu K, Qu X, Tao W, Gong H (2015) Changes in the characteristics of precipitation over northern Eurasia. Theor Appl Climatol 119:653–665. doi:10.1007/s00704-014-1137-8

Xiang B, Wang B, Lauer A, Lee J-Y, Ding Q (2014) Upper tropospheric warming intensifies sea surface warming. Clim Dyn 43:259–270. doi:10.1007/s00382-013-1928-0

Xie B, Zhang Q, Ying Y (2011) Trends in precipitable water and relative humidity in China: 1979–2005. J Appl Meteorol Climatol 50:1985–1994. doi:10.1175/2011jamc2446.1

Zhai PM, Zhang XB, Wan H, Pan XH (2005) Trends in total precipitation and frequency of daily precipitation extremes over China. J Clim 18:1096–1108. doi:10.1175/JCLI-3318.1

Zhang X, Hogg WD, Mekis É (2001) Spatial and temporal characteristics of heavy precipitation events over Canada. J Clim 14:1923–1936. doi:10.1175/1520-0442(2001)014<1923:satcoh>2.0.co;2

Zveryaev II, Chu P-S (2003) Recent climate changes in precipitable water in the global tropics as revealed in National Centers for Environmental Prediction/National Center for Atmospheric Research reanalysis. J Geophys Res Atmos 108:4311. doi:10.1029/2002jd002476
Acknowledgments
This work was supported by the National Basic Research Program of China (2012CB955604 and 2011CB309704), the National Science Fund for Distinguished Young Scholars (41425019), the National Natural Science Foundation of China (41275083 and 91337105), the Scientific Research Starting Foundation of Guangzhou Institute of Tropical and Marine Meteorology (1420200137), and the Guangdong Science and Technology Plan Project (2012A061400012).
About this article
Cite this article
Wen, G., Huang, G., Tao, W. et al. Observed trends in light precipitation events over global land during 1961–2010. Theor Appl Climatol 125, 161–173 (2016). https://doi.org/10.1007/s00704-015-1500-4
Received:

Accepted:

Published:

Issue Date:
Keywords
Iberian Peninsula

Precipitation Event

Precipitable Water

Precipitation Intensity

Boreal Summer