Abstract
The assessment of climate change impacts requires updated estimates of the tendencies in temperature extremes. With the objective of studying recent variations in frequency and intensity of temperature extremes over Italy, a collection of daily minimum and maximum temperature time series was selected for the calculation of a set of indices recommended by the Expert Team on Climate Change Detection and Indices (ETCCDI). The trend of each index was investigated through a non-parametric statistical analysis over the last half-century (1961–2011), and its spatial variability was illustrated through trend maps. Mean national-scale trends were also assessed at annual and seasonal level. The results show that mean annual series exhibit a general warming tendency from 1961 to 2011, with significant trends for summer days, tropical nights, heat waves, and percentile-based indices at most stations, with warming trends more pronounced in summer and spring and weaker in winter and autumn. As a changepoint was identified in 1977 for the minimum (T min) and maximum temperature (T max) Italian annual series, the trend analysis was also performed for the two sub-periods 1961–1977 and 1978–2011. Non-significant "cooling" trends characterize the sub-period 1961–1977, while significant "warming" trends were identified over the period 1978–2011. This study updates previous research in the extent of time series, in the number of indices and in the approach followed for their analysis, providing useful information for evaluating the impacts of temperature extremes in the context of a changing climate in Italy.
Access options
Buy single article
Instant access to the full article PDF.
US$ 39.95
Tax calculation will be finalised during checkout.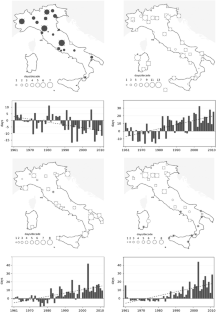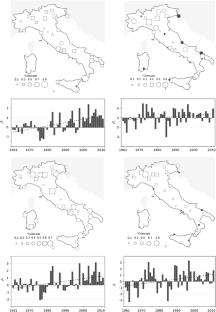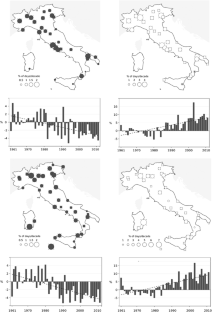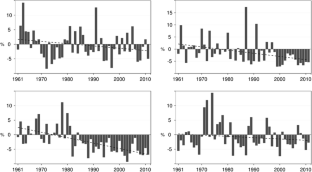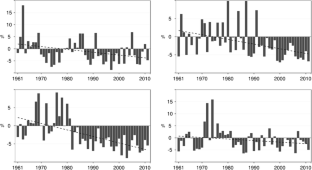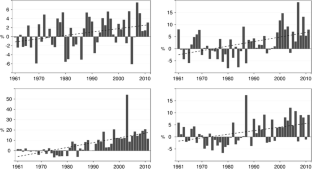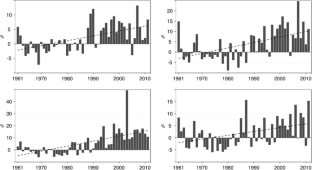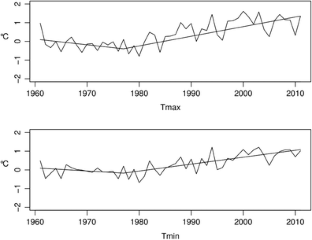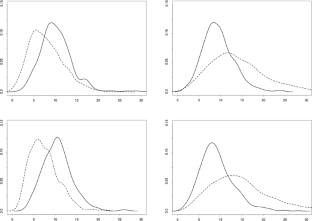 References
Alexander LV, Zhang X, Peterson TC, Caesar J, Gleason B, Klein Tank AMG, Haylock M, Collins D, Trewin B, Rahimzadeh F, Tagipour A, Rupa Kumar K, Revadekar J, Griffiths G, Vincent L, Stephenson DB, Burn J, Aguilar E, Brunet M, Taylor M, New M, Zhai P, Rusticucci M, Vazquez-Aguirre JL (2006) Global observed changes in daily climate extremes of temperature and precipitation. J Geophys Res 111, D05109. doi:10.1029/2005JD006290

Bartholy J, Pongrácz R (2007) Regional analysis of extreme temperature and precipitation indices for the Carpathian Basin from 1946 to 2001. Global Planet Change 57:83–95. doi:10.1016/j.gloplacha.2006.11.002

Brunet M, Jones PD, Sigró J, Saladié O, Aguilar E, Moberg A, Della-Marta PM, Lister D, Walther A, López D (2007) Temporal and spatial temperature variability and change over Spain during 1850–2005. J Geophys Res 112, D12117. doi:10.1029/2006JD008249

Brunetti M, Maugeri M, Monti F, Nanni T (2006) Temperature and precipitation variability in Italy in the last two centuries from homogenised instrumental time series. Int J Climatol 26:345–381. doi:10.1002/joc.1251

Burić D, Luković J, Ducić V, Dragojlović J, Doderović M (2014) Recent trends in daily temperature extremes over southern Montenegro (1951–2010). Nat Hazards Earth Syst Sci 14:67–72. doi:10.5194/nhess-14-67-2014

Della-Marta PM, Wanner H (2006) A method of homogenizing the extremes and mean of daily temperature measurements. J Climate 19:4179–4197. doi:10.1175/JCLI3855.1

Desiato F, Lena F, Toreti A (2007) SCIA: a system for a better knowledge of the Italian climate. Boll Geofis Teor Appl 48:351–358

Desiato F, Fioravanti G, Fraschetti P, Perconti W, Toreti A (2011) Climate indicators for Italy: calculation and dissemination. Adv Sci Res 6:147–150. doi:10.5194/asr-6-147-2011

Donat MG, Alexander LV, Yang H, Durre I, Vose R, Dunn RJH, Willett KM, Aguilar E, Brunet M, Caesar J, Hewitson B, Jack C, Klein Tank AMG, Kruger AC, Marengo J, Peterson TC, Renom M, Oria Rojas C, Rusticucci M, Salinger J, Elrayah AS, Sekele SS, Srivastava AK, Trewin B, Villarroel C, Vincent LA, Zhai P, Zhang X, Kitching S (2013) Updated analyses of temperature and precipitation extreme indices since the beginning of the twentieth century: The HadEX2 dataset. J Geophys Res 118:2098–2118. doi:10.1002/jgrd.50150

EEA (2012) Climate change, impacts and vulnerability in Europe 2012—an indicator based report. European Environment Agency Report No 12/2012. ISSN 1725-9177

Efthymiadis D, Goodess CM, Jones PD (2011) Trends in Mediterranean gridded temperature extremes and large-scale circulation influences. Nat Hazards Earth Syst Sci 11:2199–2214. doi:10.5194/nhess-11-2199-2011

Frich P, Alexander LV, Della-Marta P, Gleason B, Haylock M, Klein Tank AMG, Peterson T (2002) Observed coherent changes in climatic extremes during the second half of the twentieth century. Climate Res 19:193–212. doi:10.3354/cr019193

Giorgi F (2006) Climate change hot-spots. Geophys Res Lett 33, L08707. doi:10.1029/2006GL025734

Hartmann DL, Klein Tank AMG, Rusticucci M, Alexander LV, Brönnimann S, Charabi Y, Dentener FJ, Dlugokencky EJ, Easterling DR, Kaplan A, Soden BJ, Thorne PW, Wild M, Zhai PM (2013) Observations: atmosphere and surface. In: Stocker TF, Qin D, Plattner G-K, Tignor M, Allen SK, Boschung J, Nauels A, Xia Y, Bex V, Midgley PM (eds) Climate change 2013: the physical science basis. Contribution of Working Group I to the Fifth Assessment Report of the Intergovernmental Panel on Climate Change. Cambridge University Press, Cambridge, pp 159–254

Kendall MG (1976) Rank correlation methods, 4th edn. Griffin, London

Klein Tank AMG, Können GP (2003) Trends in indices of daily temperature and precipitation extremes in Europe, 1946–99. J Climate 16:3665–3680. doi:10.1175/1520-0442

Kostopoulou E, Jones PD (2005) Assessment of climate extremes in the Eastern Mediterranean. Meteorol Atmos Phys 89:69–85. doi:10.1007/s00703-005-0122-2

Kuglitsch FG, Toreti A, Xoplaki E, Della-Marta PM, Luterbacher J, Wanner H (2009) Homogenization of daily maximum temperature series in the Mediterranean. J Geophys Res 114, D15108. doi:10.1029/2008JD011606

Kuglitsch FG, Toreti A, Xoplaki E, Della-Marta PM, Zerefos C, Türkeş M, Luterbacher J (2010) Heat wave changes in the Eastern Mediterranean since 1960. Geophys Res Lett 37:L0482. doi:10.1029/2009GL041841

Mann HB (1945) Nonparametric tests against trend. Econometrica 13:245–259. doi:10.2307/1907187

Moberg A, Jones PD (2005) Trends in indices for extremes in daily temperature and precipitation in central and Western Europe, 1901–99. Int J Climatol 25:1149–1171. doi:10.1002/joc.1163

Muggeo VMR (2003) Estimating regression models with unknown break-points. Stat Med 22:3055–3071. doi:10.1002/sim.1545

Peterson TC, Easterling DR (1994) Creation of homogeneous composite climatological reference series. Int J Climatol 14:671–679. doi:10.1002/joc.3370140606

Peterson TC, Easterling DR, Karl TR, Groisman P, Nicholls N, Plummer N, Torok S, Auer I, Boehm R, Gullett D, Vincent L, Heino R, Tuomenvirta H, Mestre O, Szentimrey T, Salinger J, Førland EJ, Hanssen-Bauer I, Alexandersson H, Jones P, Parker D (1998) Homogeneity adjustments of in situ atmospheric climate data: a review. Int J Climatol 18:1493–1517. doi:10.1002/(SICI)1097-0088(19981115) 18:13<1493::AID-JOC329>3.0.CO;2-Ts

Peterson TC, Folland C, Gruza G, Hogg W, Mokssit A, Plummer N (2001) Report on the activities of the working group on climate change detection and related rapporteurs 1998–2001. World Meteorological Organization, Rep. WCDMP-47, WMO-TD 1071, Geneva

Russo S, Sterl A (2011) Global changes in indices describing moderate temperature extremes from the daily output of a climate model. J Geophys Res 116, D03104. doi:10.1029/2010JD014727

Sen PK (1968) Estimates of the regression coefficient based on Kendall's tau. J Am Stat Assoc 63:1379–1389. doi:10.1080/01621459.1968.10480934

Seneviratne SI, Nicholls N, Easterling D, Goodess CM, Kanae S, Kossin J, Luo Y, Marengo J, McInnes K, Rahimi M, Reichstein M, Sorteberg A, Vera C, Zhang X (2012) Changes in climate extremes and their impacts on the natural physical environment. In: Field CB, Barros V, Stocker TF, Qin D, Dokken DJ, Ebi KL, Mastrandrea MD, Mach KJ, Plattner G-K, Allen SK, Tignor M, Midgley PM (eds) Managing the risks of extreme events and disasters to advance climate change adaptation. A special report of Working Groups I and II of the Intergovernmental Panel on Climate Change (IPCC). Cambridge University Press, Cambridge, pp 109–230

Simolo C, Brunetti M, Maugeri F, Nanni T, Speranza A (2010) Understanding climate change-induced variations in daily temperature distributions over Italy. J Geophys Res 115, D22110. doi:10.1029/2010JD014088

Stott PA, Stone DA, Allen MR (2004) Human contribution to the European heat wave of 2003. Nature 432:610–614. doi:10.1038/nature03089

Tomozeiu R, Pavan V, Cacciamani C, Amici M (2006) Observed temperature changes in Emilia-Romagna: mean values and extremes. Climate Res 31:217–225

Toreti A, Desiato F (2008a) Changes in temperature extremes over Italy in the last 44 years. Int J Climatol 28:733–745. doi:10.1002/joc.1576

Toreti A, Desiato F (2008b) Temperature trend over Italy from 1961 to 2004. Theor Appl Climatol 91:51–58. doi:10.1007/s00704-006-0289-6

Toreti A, Kuglitsch FG, Xoplaki E, Luterbacher J, Wanner H (2010) A novel method for the homogenization of daily temperature series and its relevance for climate change analysis. J Climate 23:5325–5331. doi:10.1175/2010JCLI3499.1

Venema VKC, Mestre O, Aguilar E, Auer I, Guijarro JA, Domonkos P, Vertacnik G, Szentimrey T, Stepanek P, Zahradnicek P, Viarre J, Müller-Westermeier G, Lakatos M, Williams CN, Menne M, Lindau R, Rasol D, Rustemeier E, Kolokythas K, Marinova T, Andresen L, Acquaotta F, Fratianni S, Cheval S, Klancar M, Brunetti M, Gruber C, Duran MP, Likso T, Esteban P, Brandsma T (2012) Benchmarking homogenization algorithms for monthly data. Clim Past 8:89–115. doi:10.5194/cp-8-89-2012

Vincent LA, Mekis E (2006) Changes in daily and extreme temperature and precipitation indices for Canada over the twentieth century. Atmos Ocean 44:177–193. doi:10.3137/ao.440205

von Storch H (1995) Misuses of statistical analysis in climate research. In: von Storch H, Navarra A (eds) Analysis of climate variability. Springer, New York, pp 11–26

Wang XL (2008) Penalized maximal F-test for detecting undocumented mean-shifts without trend-change. J Atmos Ocean Technol 25:368–384. doi:10.1175/2007JTECHA982.1

Wang XL, Feng Y (2010) RHtestV3 user manual. Published online at http://etccdi.pacificclimate.org/software.shtml

Wang XL, Swail VR (2001) Changes in extreme wave heights in Northern Hemisphere oceans and related atmospheric circulation regimes. J Climate 14:2204–2221. doi:10.1175/1520-0442(2001)014<2204:COEWHI>2.0.CO;2

Wang XL, Wen QH, Wu Y (2007) Penalized maximal t test for detecting undocumented mean change in climate data series. J Appl Meteorol Climatol 46:916–931. doi:10.1175/JAM2504.1

World Meteorological Organization (2008) Guide to meteorological instruments and methods of observation. WMO-No.8, Geneva
Acknowledgments
The RClimdex and RHtest software packages, used for this work, were developed and are maintained by the Climate Research Branch of the Meteorological Service of Canada.
About this article
Cite this article
Fioravanti, G., Piervitali, E. & Desiato, F. Recent changes of temperature extremes over Italy: an index-based analysis. Theor Appl Climatol 123, 473–486 (2016). https://doi.org/10.1007/s00704-014-1362-1
Received:

Accepted:

Published:

Issue Date:
Keywords
Heat Wave

Temperature Extreme

Warming Trend

Temperature Time Series

Cold Night