Abstract
The paper presents a country-wide trend analysis in seasonal air temperature, precipitation, sunshine hours and wind speed over the 1961–2013 period. Changes in annual temperature and precipitation extremes are also investigated by means of 14 indices recommended by the Expert Team on Climate Change Detection and Indices (ETCCDI). The air temperature and the number of sunshine hours present significant increasing trends in winter, spring and summer; the precipitation amount is rather stable, with increasing trends in autumn and decreasing trends in the other seasons, at few locations. The wind speed shows downward trends in all seasons, in agreement with the tendency of the terrestrial stilling. The annual thermal extremes show decreasing trends for the cold-related indices and increasing trends for the warm-related ones, with the warming signal being consistent over the region. The most striking results concern the number of summer days which is increasing at 95 % of the stations and the duration of warm spells increasing at 83 % of the stations. The annual precipitation extremes show mixed signals in all eight indices, with the majority of the stations presenting no significant trends. Our findings are in good agreement with recent studies on climatic variability in the region.
Access options
Buy single article
Instant access to the full article PDF.
USD 39.95
Price includes VAT (USA)
Tax calculation will be finalised during checkout.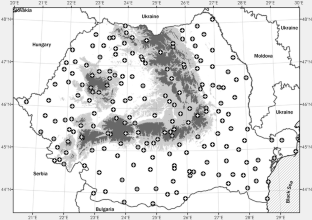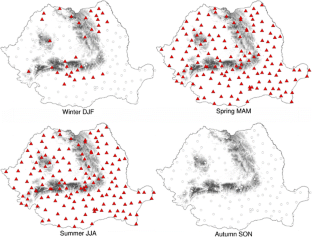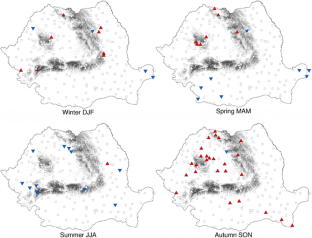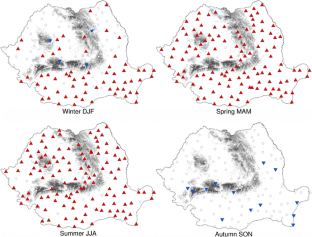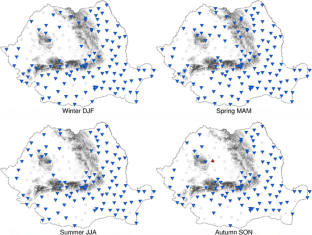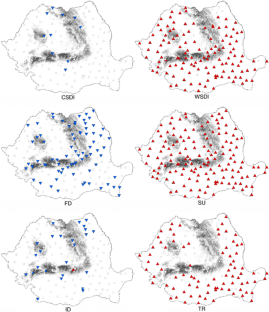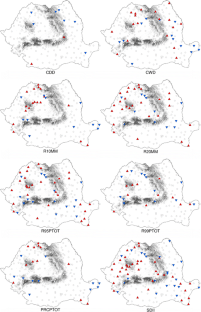 References
Balteanu D, Chendes V, Sima M, Enciu P (2010) A country-wide spatial assessment of landslide susceptibility in Romania. Geomorphology 124(3–4):102–112. doi:10.1016/j.geomorph.2010.03.005

Birsan MV, Dumitrescu A (2014) Snow variability in Romania in connection to large-scale atmospheric circulation. Int J Climatol 34(1):134–144. doi:10.1002/joc.3671

Birsan MV, Zaharia L, Chendes V, Branescu E (2012) Recent trends in streamflow in Romania (1976–2005). Rom Rep Phys 64(1):275–280

Birsan MV, Marin L, Dumitrescu A (2013) Seasonal changes in wind speed in Romania. Rom Rep Phys 65(4):1479–1484

Birsan MV, Zaharia L, Chendes V, Branescu E (2014a) Seasonal trends in Romanian streamflow. Hydrol Process 28(15):4496–4505. doi:10.1002/hyp.9961

Birsan MV, Dumitrescu A, Micu DM, Cheval S (2014b) Changes in annual temperature extremes in the Carpathians since AD 1961. Nat Hazards. doi:10.1007/s11069-014-1290-5

Bojariu R, Dinu M (2007) Snow variability and change in Romania. In: Strasser U, Vogel M (eds) Proceedings of the Alpine Snow Workshop, Munich, 5–6 October 2006. Berchtesgaden National Park Report 52:64–68

Busuioc A, von Storch H (1996) Changes in the winter precipitation in Romania and its relation to the large-scale circulation. Tellus 48A(4):538–552. doi:10.1034/j.1600-0870.1996.t01-3-00004.x

Busuioc A, Dobrinescu A, Birsan MV, Dumitrescu A, Orzan A (2014) Spatial and temporal variability of climate extremes in Romania and associated large-scale mechanisms. Int J Climatol. doi:10.1002/joc.4054

Cheval S, Busuioc A, Dumitrescu A, Birsan MV (2014a) Spatiotemporal variability of meteorological drought in Romania using the standardized precipitation index (SPI). Clim Res 60:235–248. doi:10.3354/cr01245

Cheval S, Birsan MV, Dumitrescu A (2014b) Climate variability in the Carpathian Mountains region over 1961–2010. Glob Planet Chang 118:85–96. doi:10.1016/j.gloplacha.2014.04.005

Costa AC, Soares A (2009) Homogenization of climate data: review and new perspectives using geostatistics. Math Geosci 41:291–305. doi:10.1007/s11004-008-9203-3

Croitoru AE, Piticar A (2013) Changes in daily extreme temperatures in the extra-Carpathians regions of Romania. Int J Climatol 33(8):1987–2001. doi:10.1002/joc.3567

Helsel DR, Hirsch RM (1992) Statistical methods in water resources. Elsevier, New York

Ionita-Scholz M, Rimbu N, Chelcea S, Pătruţ S (2013) Multidecadal variability of summer temperature over Romania and its relation with Atlantic Multidecadal Oscillation. Theor Appl Climatol 113(1–2):305–315. doi:10.1007/s00704-012-0786-8

Karl TR, Nicholls N, Ghazi A (1999) CLIVAR/GCOS/WMO workshop on indices and indicators for climate extremes: workshop summary. Clim Chang 42:3–7

Kendall MG (1975) Rank correlation methods. Charles Griffin, London

Klein Tank AMG, Können GP (2003) Trends in indices of daily temperature and precipitation extremes in Europe, 1946–99. J Clim 16:3665–3680. doi:10.1175/1520-0442(2003)016<3665:TIIODT>2.0.CO;2

Liu JG, Li SX, Ouyang ZY, Tam C, Chen XD (2008) Ecological and socioeconomic effects of China's policies for ecosystem services. Proc Natl Acad Sci U S A 105(28):9477–9482

Lorenz DJ, DeWeaver ET (2007) The response of the extratropical hydrological cycle to global warming. J Clim 20(14):3470–3484. doi:10.1175/JCLI4192.1

Mann HB (1945) Nonparametric tests against trend. Econometrica 13:245–259

McVicar TR, Roderick ML, Donohue RJ, Li LT, Van Niel TG, Thomas A, Grieser J, Jhajharia D, Himri Y, Mahowald NM, Mescherskaya AV, Kruger AC, Rehman S, Dinpashoh Y (2008) Global review and synthesis of trends in observed terrestrial near-surface wind speeds: implications for evaporation. J Hydrol 416–417:182–205. doi:10.1016/j.jhydrol.2011.10.024

Micu D (2009) Snow pack in the Romanian Carpathians under changing climatic conditions. Meteorog Atmos Phys 105(1–2):1–16. doi:10.1007/s00703-009-0035-6

Peterson TC, Folland C, Gruza G, Hogg W, Mokssit A, Plummer N (2001) Report on the activities of the Working Group on Climate Change Detection and Related Rapporteurs 1998–2001. World Meteorological Organisation Rep. WCDMP-47, WMO-TD 1071, Geneva, Switzerland

Ren D (2010) Effects of global warming on wind energy availability. J Renew Sustain Energy 2:052301. doi:10.1063/1.3486072

Rîmbu N, Boroneanţ C, Buţă C, Dima M (2002) Decadal variability of the Danube river flow in the lower basin and its relation with the North Atlantic Oscillation. Int J Climatol 22:1169–1179. doi:10.1002/joc.788

Rimbu N, Stefan S, Necula C (2014) The variability of winter high temperature extremes in Romania and its relationship with large-scale atmospheric circulation. Theor Appl Climatol. doi:10.1007/s00704-014-1219-7

Salas JD (1993) Analysis and modeling of hydrologic time series. Chapter 19 in Maidment DR (ed) Handbook of hydrology, McGraw Hill, New York

Shuttleworth WJ, Serrat-Capdevila A, Roderick ML, Scott RL (2009) On the theory relating changes in area-average and pan evaporation. Q J R Meteorol Soc 135(642):1230–1247

Spinoni J, Brunetti M, Maugeri M, Simolo C (2012) 1961–1990 monthly high-resolution solar radiation climatologies for Italy. Adv Sci Res 8(1):19–25

Spinoni J, Szalai S, Szentimrey T, Lakatos M, Bihari Z, Nagy A, Németh Á, Kovács T, Mihic D, Dacic M, Petrovic P, Kržič A, Hiebl J, Auer I, Milkovic J, Štepánek P, Zahradnícek P, Kilar P, Limanowka D, Pyrc R, Cheval S, Birsan MV, Dumitrescu A, Deak G, Matei M, Antolovic I, Nejedlík P, Štastný P, Kajaba P, Bochnícek O, Galo D, Mikulová K, Nabyvanets Y, Skrynyk O, Krakovska S, Gnatiuk N, Tolasz R, Antofie T, Vogt J (2014) Climate of the Carpathian Region in the period 1961–2010: climatologies and trends of 10 variables. Int J Climatol. doi:10.1002/joc.4059

Szentimrey T (1999) Multiple analysis of series for homogenization (MASH). Proceedings of the 2nd Seminar for Homogenization of Surface Climatological Data. Budapest, Hungary. WMO, WCDMP-No. 41:27–46

Szentimrey T (2008) Development of MASH homogenization procedure for daily data. Proceedings of the fifth seminar for homogenization and quality control in climatological databases, Budapest, Hungary, 2006, WCDMP No. 71:123–130

Szentimrey T (2011) Manual of homogenization software MASHv3.03. Hungarian Meteorological Service, Budapest

Tomozeiu R, Busuioc A, Stefan S (2002) Changes in seasonal mean of maximum air temperature in Romania and their connection with large-scale circulation. Int J Climatol 22(10):1181–1196. doi:10.1002/joc.785

Tomozeiu R, Stefan S, Busuioc A (2005) Winter precipitation variability and large-scale circulation patterns in Romania. Theor Appl Climatol 81(3–4):193–201. doi:10.1007/s00704-004-0082-3

Vautard R, Cattiaux J, Yiou P, Thépaut JN, Ciais P (2010) Northern hemisphere atmospheric stilling partly attributed to increased surface roughness. Nat Geosci 3(11):756–761

Venema VKC, Mestre O, Aguilar E, Auer I, Guijarro JA, Domonkos P, Vertacnik G, Szentimrey T, Stepanek P, Zahradnicek P, Viarre J, Muller- Westermeier G, Lakatos M, Williams CN, Menne M, Lindau R, Rasol D, Rustemeier E, Kolokythas K, Marinova T, Andresen L, Acquaotta F, Fratianni S, Cheval S, Klancar M, Brunetti M, Gruber C, Prohom Duran M, Likso T, Esteban P, Brandsma T (2012) Benchmarking homogenization algorithms for monthly data. Clim Past 8:89–115. doi:10.5194/cp-8-89-2012

Viviroli D, Archer DR, Buytaert W, Fowler HJ, Greenwood GB, Hamlet AF, Huang Y, Koboltschnig G, Litaor MI, López-Moreno JI, Lorentz S, Schädler B, Schreier H, Schwaiger K, Vuille M, Woods R (2011) Climate change and mountain water resources: overview and recommendations for research, management and policy. Hydrol Earth Syst Sci 15:471–504. doi:10.5194/hess-15-471-2011

Vuichard N, Ciais P, Belelli L, Smith P, Valentini R (2008) Carbon sequestration due to the abandonment of agriculture in the former USSR since 1990. Glob Biogeochem Cycles 22(4), GB4018. doi:10.1029/2008GB003212
Acknowledgments
We thank the two anonymous reviewers for their comments and suggestions, which led to an overall improvement of the original manuscript. This study was realised within the framework of the EU FP7 projects European Reanalysis and Observations for Monitoring (EURO4M) and Uncertainties in Ensembles of Regional Re-Analyses (UERRA). Lenuta Marin acknowledges the support of the strategic grant POSDRU/159/1.5/S/137750, "Project Doctoral and Postdoctoral programs support for increased competitiveness in Exact Sciences research" co-financed by the European Social Fund within the Sectorial Operational Program Human Resources Development, 2007–2013. The study on annual extremes was done within the project CLIMHYDEX (Changes in Climate Extremes and Associated Impact in Hydrological Events in Romania), funded by the Executive Agency for Higher Education, Research, Development and Innovation Funding (project ID: PNII-ID-PCCE-2011-2-0073).
About this article
Cite this article
Dumitrescu, A., Bojariu, R., Birsan, MV. et al. Recent climatic changes in Romania from observational data (1961–2013). Theor Appl Climatol 122, 111–119 (2015). https://doi.org/10.1007/s00704-014-1290-0
Received:

Accepted:

Published:

Issue Date:
Keywords
Romania

Precipitation Extreme

Cumulate Precipitation

Significant Downward Trend

Tropical Night