Abstract
Using observed surface temperature data from about 570 meteorological stations in China, the linear temperature trend over the last 50 years (1962–2011) is estimated. Average warming rates at all stations are 0.284 ± 0.142, 0.200 ± 0.163, and 0.392 ± 0.193 °C/10 a for annual, June–July–August (JJA), and December–January–February (DJF) mean temperatures, respectively. The warming rates (°C/a) have a regressed slope of 0.001 with latitude, and their relationship with latitude using data from stations below 1,000 m altitude is estimated at 0.009 °C/(10 a · degree). A k-means clustering is constructed using correlation coefficients to quantify the closeness. The clustering schemes with k = 5 and k = 10 are successfully implemented for annual, DJF, and JJA mean temperatures. The k = 10 scheme showed greater ability to distinguish different locations than the k = 5 clustering. In both schemes, the mean estimated warming rates are averaged over stations in each cluster. The clusters in DJF are much different than those for the entire year and for JJA. The average warming rate in each cluster is estimated and compared. Using stations in the cluster of high-elevation southeast Tibetan Plateau, the relationship between warming rates and altitude is estimated at 1.0 × 10−2 °C/(10 a · 100 m).
Access options
Buy single article
Instant access to the full article PDF.
US$ 39.95
Tax calculation will be finalised during checkout.
Subscribe to journal
Immediate online access to all issues from 2019. Subscription will auto renew annually.
US$ 119
Tax calculation will be finalised during checkout.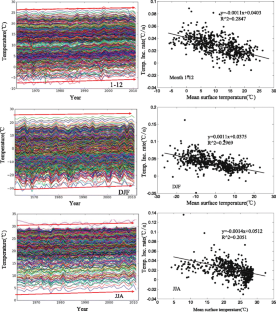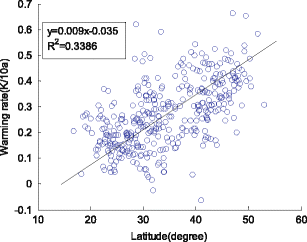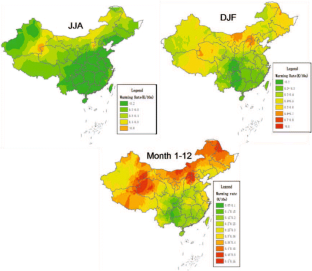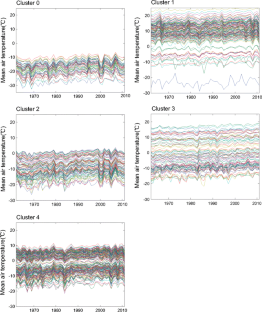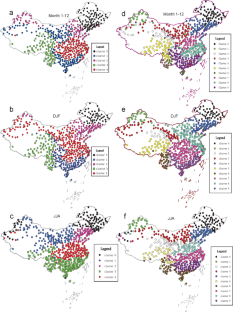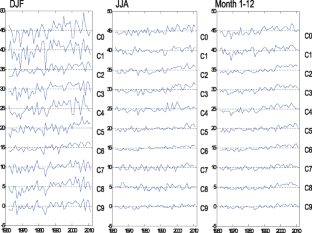 References
Bai SY, Shi JQ, Bo J, Hong ZM (2012) Spatio-temporal variations of aerosol optical depth in the Yangtze River Basin during 2000–2011. Ecol Environ Sci 21(9):1567–1573

Brankovic C, Matjacic B, Ivatek-Sahdan S, Buizza R (2008) Downscaling of ECMWF ensemble forecasts for cases of severe weather: ensemble statistics and cluster analysis. Mon Weather Rev 136(9):3323–3342

Cao LJ, Zhao P, Yan ZW, Jones PD, Zhu YN, Yu Y, Tang GL (2013) Instrumental temperature series in eastern and central China back to the 19th century. J Geophys Res Atmos 118(15):8197–8207

Ding Y, Lin E, He J (2009) Climate change in China-science, impact, adaptation and countermeasures. China Environmental Science, Beijing

Fan ZX, Brauning A, Thomas A, Li JB, Cao KF (2011) Spatial and temporal temperature trends on the Yunnan Plateau (Southwest China) during 1961–2004. Int J Climatol 31(14):2078–2090

Fischer T, Gemmer M, Liu LL, Su BD (2011) Temperature and precipitation trends and dryness/wetness pattern in the Zhujiang River Basin, South China, 1961–2007. Quatern Int 244(2):138–148

Guan H, Wilson JL, Xie HJ (2009) A cluster-optimizing regression-based approach for precipitation spatial downscaling in mountainous terrain. J Hydrol 375(3–4):578–588

Gutierrez JM, Cofino AS, Cano R, Rodriguez MA (2004) Clustering methods for statistical downscaling in short-range weather forecasts. Mon Weather Rev 132(9):2169–2183

IPCC (2007) An assessment of the intergovernmental panel on Climate Change. Cambridge University Press, Cambridge

IPCC (2013) Climate Change 2013: the physical science basis, Chapter 2: observations: atmosphere and surface. http://ipcc.ch/report/ar5/wg1/, 2013

Li Z, Yan Z (2009) Homogenized China daily mean/maximum/minimum temperature series 1960–2008. Atmos Ocean Sci Lett 2(4):237–243

Li QX, Dong WJ, Li W et al (2010) Assessment of the uncertainties in temperature change in China during the last century. Chin Sci Bull 16:1544–1554

Li ZX, He YQ, Wang CF et al (2011) Spatial and temporal trends of temperature and precipitation during 1960-2008 at the Hengduan Mountains, China. Quatern Int 236:127–142

Liu S, Cheng P (2011) Characteristics of average air temperature and extreme air temperature changes in Urumqi region for the past 50 years. J Arid Land Resour Environ 25(6):138–146

Lu AG (2009) Impacts of global warming on patterns of temperature change in China. J Mt Sci 6(4):405–410

Qi L, Wang YQ (2012) Changes in the observed trends in extreme temperatures over China around 1990. J Clim 25(15):5208–5222

Ren G et al (2005) Recent progresses in studies of regional temperature changes in China. Clim Environ Res 10(4):701–716

Shao QQ, Sun CY, Liu JY et al (2009) Impact of urban expansion on meteorological observation data and overestimation to regional air temperature in China. Acta Meteorologica Sinica 64(11):1292–1302

Sun X, Lin Z, Cheng X, Jiang C (2008) Regional features of the temperature trend in China based on empirical mode decomposition. J Geogr Sci 18(2):166–176

Tang G, Ren G (2005) Reanalysis of surface air temperature change of the last 100 years over China. J Arid Land Resour Environ 10(4):791–798

Tang HY, Zhai PM (2005) Comparison of variations of surface air temperatures in eastern and western China during 1951 similar to 2002. Chin J Geophys Chin Ed 48(3):526–534

Tu Q, Deng Z, Zhou X (2000) Studies on the regional characteristics of air temperature abnormal in China. Acta Meteorologica Sinica 3:288–296

Wang SJ, Zhang XL (2012) Long-term trend analysis for temperature in the Jinsha River Basin in China. Theor Appl Climatol 109(3–4):591–603

Wang QX, Fan XH, Qin ZD, Wang MB (2012) Change trends of temperature and precipitation in the Loess Plateau Region of China, 1961–2010. Glob Planet Chang 92–93:138–147

Yan ZW, Li Z, Li QX, Phil J (2010) Effects of site change and urbanisation in the Beijing temperature series 1977–2006. Int J Climatol 30(8):1226–1234

Yang X, Din W, Liu M, Zhou W (2011) Change characteristics of temperature in eastern Hexi Corridor in recent 50 years. J Arid Land Resour Environ 25(8):76–81

Yi X, Yin Y, Li G, Peng J (2011a) Temperature variation in recent 50 years in the Three-River Headwaters Region of Qinghai Province. Acta Geograph Sin 66(11):1451–1465

Yi RH, Ai LK, Ma ZG, Shiyomi M (2011b) Forty-eight-year climatology of air temperature and precipitation changes in Xilinhot, Xilingol steppe (Inner Mongolia), China. Grassl Sci 57(3):168–172

Zhao C, Wang Y, Ding Y, Yang BS, Yao SX (2011) Spatial-temporal variations of temperature and precipitation in Northern China in recent 50 years. Plateau Meteorog 2:385–390

Zhao P, Jones PD, Cao LJ et al (2014) Trend of surface air temperature in eastern China and associated large-scale climate variability over the last 100 years. J Clim 27(12):4693–4703. doi:10.1175/ JCLI-D-13-00397.1

Zheng XB, Luo YX, Zhao TL et al (2012) Geographical and climatological characterization of aerosol distribution in China. Sci Geogr Sin 32(2):265–272
Acknowledgments
This work is financially supported by Projects of National Natural Science Foundation of China (Grant number 41105074 and 41275108), the Open Research Fund of Key Laboratory of Digital Earth Science, Center for Earth Observation and Digital Earth, Chinese Academy of Sciences (grant number 2011LDE010), and the Scientific Research Fund of Henan Polytechnic University (grant number B2011-038).
About this article
Cite this article
Jinming, F., Yonghe, L. & Zhongwei, Y. Analysis of surface air temperature warming rate of China in the last 50 years (1962–2011) using k-means clustering. Theor Appl Climatol 120, 785–796 (2015). https://doi.org/10.1007/s00704-014-1216-x
Received:

Accepted:

Published:

Issue Date:
Keywords
Tibetan Plateau

Tarim Basin

Aerosol Optical Depth

Sichuan Basin

Hexi Corridor