Abstract
This paper studies the characteristics of snow cover variations for the Tibetan Plateau (TP) region (25°-45°N, 65°-105°E). The TP region's daily snow cover data are a subset of the Interactive Multisensor Snow and Ice Mapping System (IMS) 24 km-by-24 km snow cover dataset for the entire Northern Hemisphere. A database of the daily snow cover for the TP region was developed from February 4, 1997–March 15, 2012. Thus, an animation of the TP snow cover was made as a data product of this research. The maximum percentage snow cover (67 %) occurred on February 6, 2008 and the minimum (0.5 %) on September 1, 2009. The average snow cover is 16 %. The seasonal cycle of the monthly TP snow cover reaches maximum in January (about 37 %) and minimum in August (2 %). The trend of the snow cover reduction is 4.0 % per decade, with a total reduction of 5.7 % from February 4, 1997 to March 15, 2012. The Hilbert–Huang Transform and Fourier spectral analyses indicate the existence of a cycle of TP snow cover having a period of 2–3 years. The histogram and higher statistics moment analyses imply that the positive skewness favors more spring snowstorms than spring droughts and the sharp peakedness at the climatology indicates the snow cover predictability by climate normals.
Access options
Buy single article
Instant access to the full article PDF.
US$ 39.95
Tax calculation will be finalised during checkout.
Subscribe to journal
Immediate online access to all issues from 2019. Subscription will auto renew annually.
US$ 119
Tax calculation will be finalised during checkout.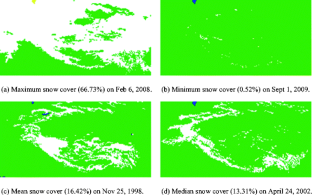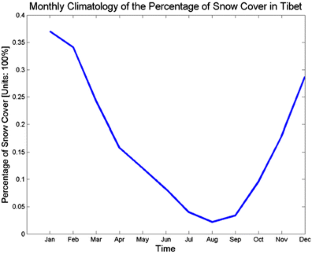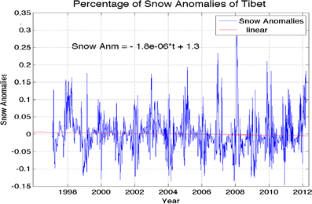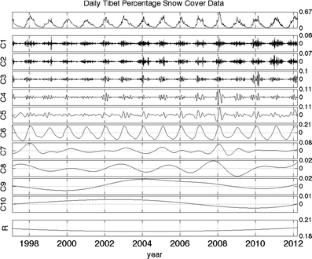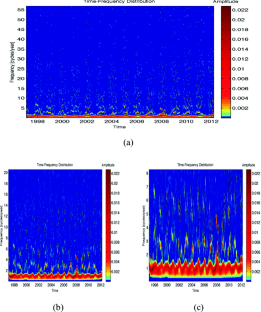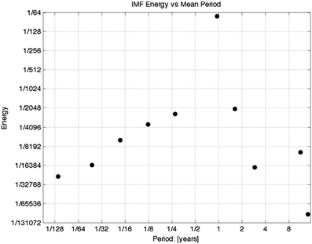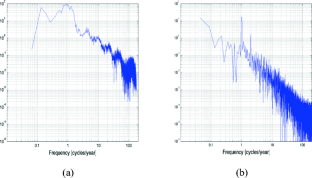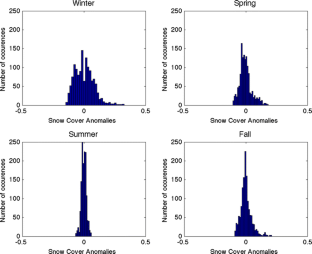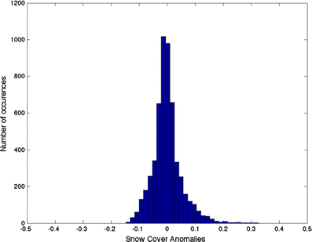 References
Grafarend EW, Krumm FW (2006) Map projections: cartographic information systems. Springer, New York, 712 pp

Hu J, Hopping KA, Bump JK, Kang S, Klein JA (2013) Climate change and water use partitioning by different plant functional groups in a grassland on the Tibetan Plateau. PLoS One 8(9):e75503. doi:10.1371/journal.pone.0075503

Huang NE, Shen SSP (eds) (2005) Hilbert–Huang transform and its applications. World Scientific, Singapore, 360 pp

Huang NE et al (1998) The empirical mode decomposition and the Hilbert spectrum for nonlinear and non-stationary time series analysis. Proc Roy Soc London Series A 454:903–999

Huang B, Hu ZZ, Kinter JL III, Wu Z, Kumar A (2012) Connection of stratospheric QBO with global atmospheric general circulation and tropical SST. Part I: methodology and composite life cycle. Climate Dynam 38(1–2):1–23

Kang S, Xu Y, You Q, Flügel WA, Pepin N, Yao T (2010) Review of climate and cryospheric change in the Tibetan Plateau. Environ Res Lett 5(1):015101

Li Q, Xue Y (2010) Simulated impacts of land cover change on summer climate in the Tibetan Plateau. Environ Res Lett 5(1):015102

National Ice Center (NIC) (2008) IMS daily Northern Hemisphere snow and ice analysis at 4 km and 24 km resolution. Boulder, CO: National Snow and Ice Data Center. http://dx.doi.org/10.7265/N52R3PMC

Peixdto JP, Oort AH (1992) Physics of climate. American Institute of Physics, New York, 520 pp

Pu ZX, Xu L (2009) MODIS/Terra observed snow cover over the Tibet Plateau: distribution, variation and possible connection with the East Asian Summer Monsoon (EASM). Theor Appl Climatol 97:265–278

Pu Z, Xu L, Salomonson VV (2007) MODIS/Terra observed seasonal variations of snow cover over the Tibetan Plateau. Geophys Res Lett 34:L06706

Qian Y, Flanner MG, Leung LR, Wang W (2011) Sensitivity studies on the impacts of Tibetan Plateau snowpack pollution on the Asian hydrological cycle and monsoon climate. Atmos Chem Phys 11:1929–1948

Shen SSP, Shu T, Huang NE, Wu Z, Karl TR, Easterling DR (2005) HHT analysis of the nonlinear and non-stationary annual cycle of daily surface air temperature data. In: Huang NE, Shen SSP (eds) Hilbert–Huang transform and its applications. World Scientific, Singapore, pp 187–210

Shen SSP, New D, Smith TM, Arkin PA (2012) Hilbert–Huang transform analysis of the global average monthly precipitation. Adv Adap Data Anal 4(3):1250018

Tang Z, Wang J, Li H, Yan L (2013) Spatiotemporal changes of snow cover over the Tibetan Plateau based on cloud-removed moderate resolution imaging spectroradiometer fractional snow cover product from 2001 to 2011. J Appl Remote Sens 7(1):073582–073582

Wang Y, He Y, Hou S (2007) Analysis of the temporal and spatial variations of snow cover over the Tibetan Plateau based on MODIS. J Glaciol Geocryol 29:855–861

Wu Q, Zhang T (2008) Recent permafrost warming on the Qinghai-Tibetan Plateau. J Geophys Res 113:D13108. doi:10.1029/2007JD009539

Wu Z, Huang NE (2009) Ensemble empirical mode decomposition: a noise-assisted data analysis method. Adv Adap Data Anal 1(01):1–41

Wu Z, Li J, Jiang Z, Ma T (2012) Modulation of the Tibetan Plateau snow cover on the ENSO teleconnections: From the East Asian summer monsoon perspective. J Climate 25(7):2481–2489

Yao T, Thompson L, Yang W, Yu W, Gao Y, Guo X, Yang X, Duan K, Zhao H, Xu B, Pu J, Lu A, Xiang Y, Kattel DB, Joswiak D (2012) Different glacier status with atmospheric circulations in Tibetan Plateau and surroundings. Nat Clim Chang 2:663–667

Zhang Y, Li T, Wang B (2004) Decadal change of the spring snow depth over the Tibetan Plateau: the associated circulation and influence on the east Asian summer monsoon. J Climate 17(14):2780–2793

Zhang G, Xie H, Yao T, Liang T, Kang S (2012) Snow cover dynamics of four lake basins over Tibetan Plateau using time series MODIS data (2001–2010). Water Resour Res 48(10):W10529
Acknowledgments
This study was supported in part by the US National Oceanographic and Atmospheric Administration (Award No. EL133E09SE4048) and the US National Science Foundation (Awards No. AGS-1015926 and AGS-1015957). T. Yao was supported by National Science Foundation of China (Award No. 41190081). The suggestions from the anonymous reviewer have improved the clarity of this paper.
About this article
Cite this article
Shen, S.S.P., Yao, R., Ngo, J. et al. Characteristics of the Tibetan Plateau snow cover variations based on daily data during 1997–2011. Theor Appl Climatol 120, 445–453 (2015). https://doi.org/10.1007/s00704-014-1185-0
Received:

Accepted:

Published:

Issue Date:
Keywords
Tibetan Plateau

Snow Cover

Empirical Mode Decomposition

Snow Cover Area

Hilbert Spectrum