Abstract
The National Climatic Data Center's climate divisional dataset (CDD) is commonly used in climate change analyses. This dataset is a spatially continuous dataset for the conterminous USA from 1895 to the present. The CDD since 1931 is computed by averaging all available representative cooperative weather station data into a single monthly value for each of the 344 climate divisions of the conterminous USA, while pre-1931 data for climate divisions are derived from statewide averages using regression equations. This study examines the veracity of these pre-1931 data. All available Cooperative Observer Program (COOP) stations within each climate division in Georgia and Louisiana were averaged into a single monthly value for each month and each climate division from 1897 to 1930 to generate a divisional dataset (COOP DD), using similar methods to those used by the National Climatic Data Center to generate the post-1931 CDD. The reliability of the official CDD—derived from statewide averages—to produce temperature and precipitation means and trends prior to 1931 are then evaluated by comparing that dataset with the COOP DD with difference-of-means tests, correlations, and linear regression techniques. The CDD and the COOP DD are also compared to a divisional dataset derived from the United States Historical Climatology Network (USHCN) data (USHCN DD), with difference of means and correlation techniques, to demonstrate potential impacts of inhomogeneities within the CDD and the COOP DD. The statistical results, taken as a whole, not only indicate broad similarities between the CDD and COOP DD but also show that the CDD does not adequately portray pre-1931 temperature and precipitation in certain climate divisions within Georgia and Louisiana. In comparison with the USHCN DD, both the CDD and the COOP DD appear to be subject to biases that probably result from changing stations within climate divisions. As such, the CDD should be used judiciously for long-term studies of climate change, and past studies using the CDD should be evaluated in the context of these new findings.
Access options
Buy single article
Instant access to the full article PDF.
US$ 39.95
Tax calculation will be finalised during checkout.
Subscribe to journal
Immediate online access to all issues from 2019. Subscription will auto renew annually.
US$ 119
Tax calculation will be finalised during checkout.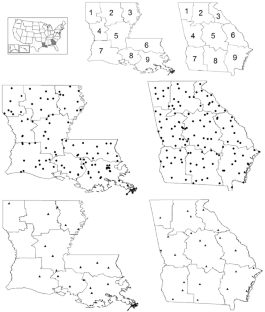 Notes
1.

The publication titles of the Georgia and Louisiana sections of the annual summaries by the Weather Bureau of the US Department of Agriculture changed during the study period. Publication titles included Climate and Crop Service, Climatological Service, and Climatological Data. Original scanned copies of these publications are available through the NCDC.
References
Abatzoglou JT, Redmond KT, Edwards LM (2009) Classification of regional climate variability in the state of California. J Appl Meteorol Climatol 48:1527–1541

Allard J, Keim BD (2006) Spuriously induced temperature trends in the Southeast United States. Theor Appl Climatol 88:103–110

Allard J, Keim BD, Chassereau JE, Sathiara D (2009) Spuriously induced precipitation trends in the Southeast United States. Theor Appl Climatol 96:173–177

Easterling DR, Karl TR, Mason EH, Hughes PY, Bowman DP (1996) United States Historical Climatology Network (U.S. HCN) Monthly temperature and precipitation data. ORNL/CDIAC-87, NDP-019/R3. Carbon Dioxide Information Analysis Center, Oak Ridge National Laboratory, U.S. Department of Energy, Oak Ridge

Easterling DR, Karl TR, Lawrimore JH, Del Greco SA (1999) United States Historical Climatology Network daily temperature, precipitation, and snow data for 1871–1997. ORNL/CDIAC-118, NDP-070. Carbon Dioxide Information Analysis Center, Oak Ridge National Laboratory, U.S. Department of Energy, Oak Ridge

Easterling DR, Wallis TWR, Lawrimore JH, Heim RR Jr (2007) Effects of temperature and precipitation trends on U.S. Drought. Geophys Res Lett 34: doi:10.1029/2007GL031541

Guttman NB, Quayle RG (1996) A historical perspective of U.S. climate divisions. Bull Am Meteorol Soc 77:293–303

Hughes PY, Mason EH, Karl TR, Brower WA (1992) United States Historical Climatology Network daily temperature and precipitation data. ORNL/CDIAC-50, NDP-042. Carbon Dioxide Information Analysis Center, Oak Ridge National Laboratory, U.S. Department of Energy, Oak Ridge

IPCC (2007) In: Solomon S, Qin D, Manning M, Chen Z, Marquis M, Averyt KB, Tignor M, Miller HL (eds) Climate change 2007: the physical science basis. Contribution of Working Group I to the Fourth Assessment Report of the Intergovernmental Panel on Climate Change. Cambridge University Press, Cambridge

Karl TR, Metcalf LK, Nicodemus ML, Quayle RG (1983) Statewide average climate history. historical climatology series 6–1, National Climatic Data Center, 23–39 pp. per state [Available from National Climatic Data Center, 151 Patton Ave., Asheville, NC 28801]

Karl TR, Williams CN Jr, Quinlan FT (1990) United States Historical Climatology Network (HCN) Serial temperature and precipitation data. ORNL/CDIAC-30, NDP-019/R1. Carbon Dioxide Information Analysis Center, Oak Ridge National Laboratory, U.S. Department of Energy, Oak Ridge

Karl TR, Quayle RG, Groisman PY (1993) Detecting climate variations and change: new challenges for observing and data management systems. J Clim 6:1481–1494

Keim BD, Wilson A, Wake CP, Huntington T (2003) Are there spurious temperature trends in the United States Climate Division database? Geophys Res Lett 30: doi:10.1029/2002GL016295

Keim BD, Fisher MR, Wilson AM (2005) Are there spurious precipitation trends in precipitation trends in the United States Climate Division database? Geophys Res Lett 32: doi:10.1029/2004GL021985

LaDochy S, Medina R, Patzert W (2007) Recent California climate variability: spatial and temporal patterns in temperature trends. Clim Res 33:159–169

Leathers DJ, Grunstein AJ, Ellis AW (2000) Growing season moisture deficits across the Northeastern United States. Clim Res 14:43–55

McCabe GJ, Clark MP (2005) Trends and variability in snowmelt runoff in the Western United States. J Hydrometeorol 6:476–482

McRoberts DB, Nielsen-Gammon JW (2011) A new homogenized climate division precipitation dataset for analysis of climate variability and change. J Appl Meteorol Climatol 50:1187–1199

Menne MJ, Williams CN Jr, Vose RS (2009) The United States historical climatology network monthly temperature data—version 2. Bull Am Meteorol Soc 90:993–1107

Menne MJ, Williams CN Jr, Vose RS (2013) United States Historical Climatology Network (USHCN) Version 2.5 Serial Monthly Dataset. Carbon Dioxide Information Analysis Center, Oak Ridge National Laboratory, Oak Ridge

Muller RA, Keim BD, Hoff JL (1990) Application of climatic divisional data to flood interpretations: an example from Louisiana. Phys Geogr 11:353–362

Quinlan FT, Karl TR, Williams CN Jr (1987) United States Historical Climatology Network (HCN) serial temperature and precipitation data. NDP-019. Carbon Dioxide Information Analysis Center. Oak Ridge National Laboratory, U.S. Department of Energy, Oak Ridge

Rogers J (2013) The 20th century cooling trend over the Southeastern United States. Clim Dyn 40:341–352

Seager R, Tzanova A, Nakamura J (2009) Drought in the Southeastern United States: causes, variability over the last millennium, and the potential for future hydroclimate change. J Clim 22:5021–5045

Svoboda M, LeComte D, Hayes M, Heim R, Gleason K, Angel J, Rippey B, Tinker R, Palecki M, Stooksbury D, Miskus D, Stephens S (2002) The drought monitor. Bull Am Meteorol Soc 83:1181–1190

Vose RS, Applequist S, Squires M, Durre I, Menne MJ, Williams Jr CN, Fenimore C, Gleason K, Arndt D (2014) Improved historical temperature and precipitation time series for U.S. climate divisions. J Appl Meteorol Climatol, in press, doi:10.1175/JAMC-D-13-0248.1

Wells N, Goddard S, Hayes MJ (2004) A self-calibrating palmer drought severity index. J Clim 17:2335–2351

Wolter K, Allured D (2007) New climate divisions for monitoring and predicting—climate in the U.S. Intermt West Clim Summ 5:1–6
About this article
Cite this article
Allard, J., Thompson, C. & Keim, B.D. How robust is the pre-1931 National Climatic Data Center—climate divisional dataset? Examples from Georgia and Louisiana. Theor Appl Climatol 120, 323–330 (2015). https://doi.org/10.1007/s00704-014-1175-2
Received:

Accepted:

Published:

Issue Date:
Keywords
Total Annual Precipitation

National Climatic Data

Climate Division

Coop Station

Weather Station Data