Abstract
Climate plays a crucial role in controlling vegetation distribution and climate change may therefore cause extended changes. A coupled biogeography and biogeochemistry model called BIOME4 was modified by redefining the bioclimatic limits of key plant function types on the basis of the regional vegetation–climate relationships in China. Compared to existing natural vegetation distribution, BIOME4 is proven more reliable in simulating the overall vegetation distribution in China. Possible changes in vegetation distribution were simulated under climate change scenarios by using the improved model. Simulation results suggest that regional climate change would result in dramatic changes in vegetation distribution. Climate change may increase the areas covered by tropical forests, warm-temperate forests, savannahs/dry woodlands and grasslands/dry shrublands, but decrease the areas occupied by temperate forests, boreal forests, deserts, dry tundra and tundra across China. Most vegetation in east China, specifically the boreal forests and the tropical forests, may shift their boundaries northwards. The tundra and dry tundra on the Tibetan Plateau may be progressively confined to higher elevation.
Access options
Buy single article
Instant access to the full article PDF.
US$ 39.95
Tax calculation will be finalised during checkout.
Subscribe to journal
Immediate online access to all issues from 2019. Subscription will auto renew annually.
US$ 119
Tax calculation will be finalised during checkout.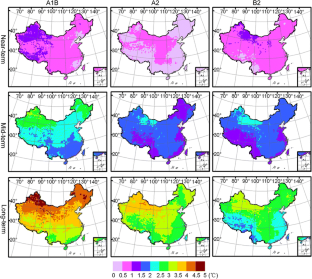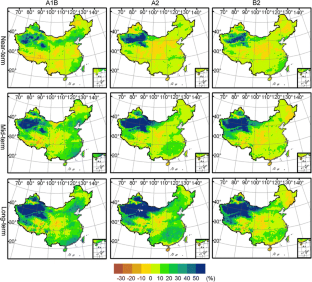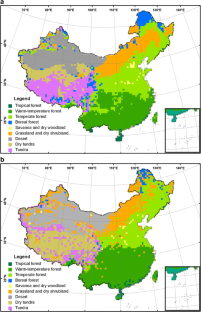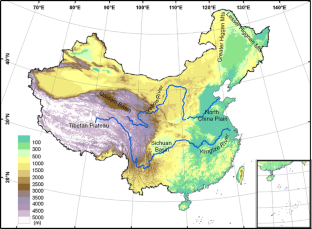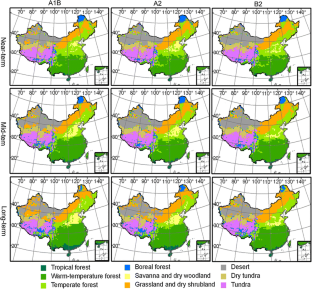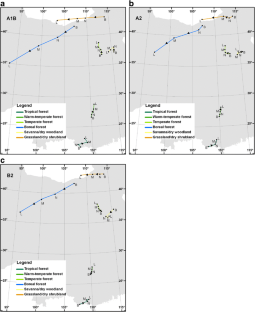 References
Cox PM, Betts RA, Collis M, Harris PP, Huntingford C, Jones CD (2004) Amazonian forest dieback under climate-carbon cycle projections for the 21st century. Theor Appl Climatol 78:137–156

CVEC, CAS (The China Vegetation Editorial Committee, Chinese Academy of Sciences) (1980) Vegetation of China. Science, Beijing

CVAEC, CAS (The China Vegetation Atlas Editorial Committee, Chinese Academy of Sciences) (2001) Atlas of China vegetation (1:1,000,000). Science, Beijing

Davis MB, Botkin DB (1985) Sensitivity of cool-temperate forests and their fossil pollen record to rapid temperate change. J Quat Sci 23:327–340

Harrison SP, Prentice IC (2003) Climate and CO2 controls on global vegetation distribution at the last maximum: analysis based on palaeovegetation data, biome modelling and palaeoclimate simulation. Glob Change Biol 9:983–1004

Hart JF (1954) Central tendency in areal distribution. Econ Geogr 30:48–59

Haxeltine A, Prentice IC (1996) BIOME3: an equilibrium biosphere model based on ecophysiological constraints, resource availability and competition among plant functional types. Global Biogeochem Cycles 10:693–709

Hitz S, Smith J (2004) Estimating global impacts from climate change. Global Environ Change 14:201–218

Huntley B (1990) European vegetation history: palaeovegetation maps from pollen data—13000 yr BP to present. J Quat Sci 5:103–122

IPCC (2007) Climate change 2007: the physical science basis. In: Solomon S, Qin D, Manning M, Chen Z, Marquis M, Averyt KB, Tignor M, Miller HL (eds) Contribution of Working Group I to the Fourth Assessment Report of the Intergovernmental Panel on Climate Change. Cambridge University Press, Cambridge

Jiang DB, Zhang Y, Lang XM (2011) Vegetation feedback under future global warming. Theor Appl Climatol 106:211–227

Jones R, Noguer M, Hassell D, Hudson D, Wilson S, Jenkins G, Mitchell J (2004) Generating high resolution climate change scenarios using PRECIS. Met Office Hadley Centre, Exeter

Kaplan JO (2001) Geophysical applications of vegetation modeling. Ph.D. dissertation, Lund University, Lund, Sweden

Kaplan JO, Bigelow NH, Prentice IC, Harrison SP, Bartlein PJ, Christensen TR, Cramer W, Matveyeva NV, McGuire AD, Murray DF, Razzhivin VY, Smith B, Walker DA, Anderson PM, Andreev AA, Brubaker LB, Edwards ME, Lozhkin AV (2003) Climate change and arctic ecosystems II: modeling, paleodata-model comparisons, and future projections. J Geophys Res 108:1–12

Lindroth A, Grelle A, Morén AS (1998) Long-term measurements of boreal forest carbon balance reveal large temperature sensitivity. Global Change Biol 4:443–450

Loarie SR, Duffy PB, Hamilton H, Asner GP, Field CB, Ackerly DD (2009) The velocity of climate change. Nature 462:1052–1055

Miao C, Duan Q, Yang L, Borthwick AGL (2012) On the applicability of temperature and precipitation data from CMIP3 for China. PLoS One 7(9):e44659. doi:10.1371/journal.pone.0044659

Monserud RA, Leemans R (1992) Comparing global vegetation maps with the Kappa statistic. Ecol Model 62:275–293

Nemani RR, Keeling CD, Hashimoto H, Jolly WM, Piper SC, Tucker CJ, Myneni RB, Running SW (2003) Climate-driven increase in global terrestrial net primary production from 1982 to 1999. Science 300:1560–1563

Ni J (2011) Impacts of climate change on Chinese ecosystems: key vulnerable regions and potential thresholds. Reg Environ Change 11(Suppl 1):S49–S64

Ni J, Herzschun U (2011) Simulating biome distribution on the Tibetan Plateau using a modified global vegetation model. Arct Antarct Alp Res 43(3):429–441

Ni J, Sykes MT, Prentice IC, Cramer W (2001) Modeling the vegetation of China using the process-based equilibrium terrestrial biosphere model BIOME3. Global Ecol Biogeogr 9:463–479

Prentice IC (1986) Vegetation response to past climatic variation. Vegetatio 67:131–141

Piao SL, Ciais P, Friedlingstein P, de Noblet-Duconudre N, Cadule P, Viovy N, Wang T (2009) Spatiotemporal patterns of terrestrial carbon cycle during the 20th century. Global Biogeochem Cy 23, GB4026. doi:10.1029/2008GB003339

Prentice IC, Bartlein PJ, Webb T (1991) Vegetation and climate change in eastern North America since the last glacial maximum. Ecology 72:2038–2056

Prentice IC, Cramer W, Harrison SP, Leemans R, Monserud RA, Solomon AM (1992) A global biome model based on plant physiology and dominance, soil properties and climate. J Biogeogr 19:117–134

Shi YF, Li JJ, Li BY (1998) Uplift and environmental changes of the Tibetan Plateau in the late Cenozoic. Guangdong Science and Technology Press, Guangzhou (In Chinese)

TCNARCC (Taskforce on China's National Assessment Report on Climate Change) (2011) China's national assessment report on climate change. Science, Beijing

Wang H, Ni J, Prentice IC (2011) Sensitivity of potential natural vegetation in China to projected changes in temperature, precipitation and atmospheric CO2. Reg Environ Change 11:715–727

Weng ES, Zhou GS (2006) Modeling distribution changes of vegetation in China under future climate change. Environ Model and Assess 11:45–48

Wilmking M, Juday GP, Barber VA, Zald HSJ (2004) Recent climate warming forces contrasting growth responses of white spruce at treeline in Alaska through temperature thresholds. Global Change Biol 10:1724–1736

Wilson K, Newton A, Echeverr C, Weston C, Burgman M (2005) A vulnerability analysis of the temperate forests of south central Chile. Biol Conserv 122:9–21

Wu SH, Yin YH, Zhao DS, Huang M, Shao XM, Dai EF (2010) Impact of future climate change on terrestrial ecosystems in China. Int J Climatol 30:866–873

Wu ZF (2003) Assessment of eco-climatic suitability and climate change impacts of broad-leaved Korean pine forest in northeast China. Chinese J Appl Ecol 14:771–775 (in Chinese)

Xiong W, Conway D, Lin ED, Holman I (2009) Potential impacts of climate change and climate variability on China's rice yield and production. Clim Res 40:23–35

Xu YL (2004) High resolution climatic scenarios in China based on RCM from the Hadley Center. Clim Change Newslett 3:6–7 (in Chinese)

Yue TX, Fan ZM, Chen CF, Sun XF, Li BL (2011) Surface modeling of global terrestrial ecosystems under three climate change scenario. Ecol Model 222:2342–2361

Zhang SH, Peng GB, Huang M (2004) The feature extraction and data fusion of regional soil textures based on GIS techniques. Clim Environ Res 6:65–79 (in Chinese)

Zhang XS, Yang DA (1993) A study on climate–vegetation interaction in China: the ecological model for global change. Coenoses 8:105–119

Zhang XS, Vegetation Map of China Editorial Committee, Chinese Academy of Science (2007) Vegetation map of China and its geographic pattern: illustration of the vegetation map of the People's Republic China (1:10,000,000). Geographical Publishing House, Beijing (in Chinese)

Zhao DS, Wu SH, Yin YH, Yin Z-Y (2011) Vegetation distribution on Tibetan Plateau under climate change scenario. Reg Environ Change 11:905–915

Zhao DS, Wu SH, Yin YH (2013a) Responses of terrestrial ecosystems' net primary productivity to future regional climate change in China. PLoS One 8(4):e60849. doi:10.1371/journal.pone.0060849

Zhao DS, Wu SH, Yin YH (2013b) Dynamic responses of soil organic carbon to climate change in the Three-River Headwater region of the Tibetan Plateau. Clim Res 56:21–23

Zhao MS, Neilson PR, Yan XD, Dong WJ (2002) Modeling the vegetation of China under changing climate. J Geogr Sci 57:28–38 (in Chinese)
Acknowledgments
This study was supported by the Strategic Priority Research Program of the Chinese Academy of Sciences (XDA05090308), National Basic Research Program of China (2011CB403206), and National Natural Science Foundation of China (40901058). We thank Prof. Yinlong Xu from Institute of Environment and Sustainable Development in Agriculture, Chinese Academy of Agriculture Sciences, for providing climate scenario data. We appreciate two anonymous reviewers for their insightful comments on an earlier version of this manuscript.
About this article
Cite this article
Zhao, D., Wu, S. Responses of vegetation distribution to climate change in China. Theor Appl Climatol 117, 15–28 (2014). https://doi.org/10.1007/s00704-013-0971-4
Received:

Accepted:

Published:

Issue Date:
Keywords
Tibetan Plateau

Tropical Forest

Boreal Forest

Vegetation Distribution

Biome Type