Abstract
Mountain observatories around the world are unique sites for monitoring and investigating variations, trends, forcings and feedbacks in the climate system, which are of utmost interest for understanding global climate change. From the small number of these research platforms, Sonnblick Observatory (Austrian Alps) stands out because of its long time series dating back to 1886 at an elevation of 3,100 m a.s.l. The paper describes the contribution of mountain observatories to climatology by the example of Sonnblick Observatory. The observatory's scientific evolution is summarised, starting from the original idea of upper air atmospheric measurements to its recent role as an atmospheric background station and interdisciplinary research site.
Access options
Buy single article
Instant access to the full article PDF.
US$ 39.95
Tax calculation will be finalised during checkout.
Subscribe to journal
Immediate online access to all issues from 2019. Subscription will auto renew annually.
US$ 119
Tax calculation will be finalised during checkout.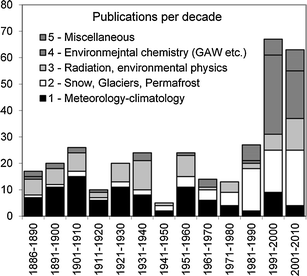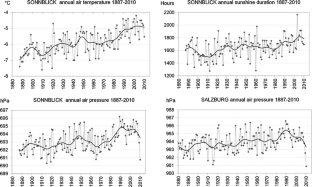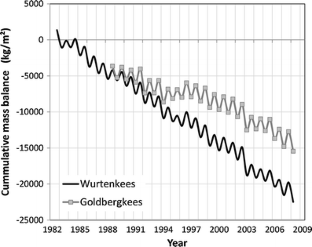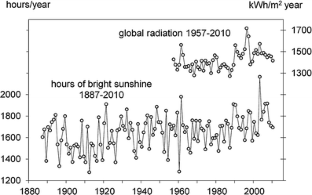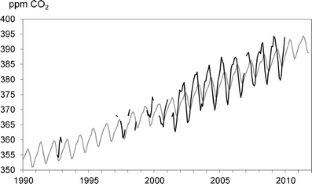 References
Albrecht F (1927) Wolkenuntersuchungen und Rauhreifuntersuchungen auf dem Sonnblick im Sommer 1926. Jahresber Sonnblickvereins 35:25–29

Auer I, Böhm R, Mohnl H (1993) Climate change on Sonnblick—a multi elemental approach to describe climate change using a centennial data set. Proc. 73rd AMS Annual Meeting, 8th Conf Appl Climatol 249–252

Auer I, Böhm R, Leymüller M, Schöner W (2002) Das Klima des Sonnblicks (The climate of Sonnblick, German with English figure captions). Österreichische Beiträge zu Meteorologie und Geophysik 28: 304 pages, Vienna

Auer I, Böhm R, Jurkovic A, Lipa W, Orlik A, Potzmann R, Schöner W, Ungersböck M, Matulla C, Briffa K, Jones PD, Efthymiadis D, Brunetti M, Nanni T, Maugeri M, Mercalli L, Mestre O, Moisselin JM, Begert M, Müller-Westermeier G, Kveton V, Bochnicek O, Stastny P, Lapin M, Szalai S, Szentimrey T, Cegnar T, Dolinar M, Gajic-Capka M, Zaninovic K, Majstorovic Z, Nieplova E (2007) HISTALP—historical instrumental climatological surface time series of the Greater Alpine Region. Int J Climatol 27:17–46. doi:10.1002/joc.1377

Böhm R, Mohnl H (1987) Statistische Analysen der Schneehöhen im Gebiet des Hohen Sonnblicks—Ein Beitrag zu Fragen der Gletscherschwankungen. Z Gletscherk Glazialgeol 23:47–63

Böhm R, Auer I, Schöner W, Hagen M (1998) Long alpine barometric time series in different altitudes as a measure for the 19th/20th century warming. 8th Conf. on Mountain Meteorology, 3–7 August 1998 Flagstaff, Arizona. AMS Boston

Böhm R, Auer I, Schöner W (2011) Labor über den Wolken–die Geschichte des Sonnblick Observatoriums. Böhlau, Wien-Köln, Weimar, 380 pages

Brantner B, Fierlinger H, Puxbaum H, Berner A (1994) Cloudwater chemistry in the subcooled droplet regime at Mount Sonnblick (3106 m a.s.l., Salzburg, Austria). Water Air Soil Pollut 74(3):363–384

Chimani B, Böhm R, Matulla C, Ganekind M (2011) Development of a long-term dataset of solid/liquid precipitation. Adv Sci Res 6: 39–43. http://www.adv-sci-res.net/6/39/2011/asr-6-39-2011.html

Cohen DR (2009) The storm lab: meteorology in the Austrian Alps. Sci Context 22:463–486

Conrad V (1901) Über den Wassergehalt der Wolken. Denkschriften Wiener Akademie 73:115

Efthymiadis D, Jones PD, Briffa K, Auer I, Böhm R, Schöner W, Frei C, Schmidli J (2006) Construction of a 10-min-gridded precipitation data set for the Greater Alpine Region for 1800–2003. J Geophys Res 111:d01105. doi:10.1029/2005jd006120

Elster J, Geitel H (1892) Beobachtungen des atmosphärischen Potentialgefälles und der ultravioletten Sonnenstrahlung. Sitzungsberichte der k. Akademie Wissenschaften IIa 101:703–856

Elster J, Geitel H (1893) Beobachtungen betreffend die absorption des ultravioletten Sonnenlichtes in der Atmosphäre. Meteorol Z 10:41–49

Exner FM (1903) Messungen der Sonnstrahlung und der nächtlichen Ausstrahlung auf dem Sonnblick. Meteorol Z 20:409

Fuzzi S, Wagenbach D (eds) (1997) Cloud multi-phase processes and high alpine air and snow chemistry. Vol. 5 of the EUROTRAC-series transport and chemical transformation of pollutants in the troposhere. Springer, Berlin, 286 Seiten

Hann J (1866) Zur Frage über den Ursprung des Föhn. Z Österr Ges Meteorol 1:257–263

Hann J (1887) Nordföhn auf der Südseite der Hohen Tauern. Meteorol Z 4:72

Hann J (1891) Studies of air pressure and temperature on summit on Sonnblick. Nature 44:112

Hann J (1900) Täglicher Gang und Dauer des Sonnenscheins auf dem Sonnblick 1887-1900. Jahresber Sonnblickvereins 9:3–34

Hess VF, Mathias O (1928) Untersuchungen der Schwankungen der kosmischen Ultragammastrahlung auf dem Sonnblick (3100 m) und in Tirol. Sitzungsberichte der Akademie der Wissenschaften in Wien. Mathematisch-naturwissenschaftli-che Klasse, Abt. IIa, 137: 327–349

Hitzenberger R, Berner A, Giebl H, Drobesch K, Kasper-Giebl A, Loeflund M, Urban H, Puxbaum H (2001) Black carbon (BC) in alpine aerosols and cloud water-concentrations and scavenging efficiencies. Atmos Environ 35:5135–5141

Hübl A (1911) Die stereophotogrammetrische Aufnahme des Goldberggletschers im August des Jahres 1909. 19ter Jahresbericht des Sonnblick Vereins: 1–9

Ivy-Ochs S, Kerschner H, Maisch M, Christl M, Kubic PW, Schlüchter CH (2009) Latest Pleistocene and Holocene glacier variations in the European Alps. Quat Sci Rev 28:2137–2149

Keeling CD, Piper SC, Bacstow RB, Wahlen M, Whorf TP, Heimann M, Mejer HA (2001) Exchanges of atmospheric CO2 and 13CO2 with terrestrial biosphere and oceans from 1978 to 2000, Global aspects, SIO Reference Series 1–6. Scripps Institution of Oceanography, San Diego, p 88

Koboltschnig G, Schöner W (2009) Modellierung der Eis-und Schneeschmelze in vergletscherten Einzugsgebieten. Mitteilungsblatt Hydrographischen Dienstes Österr 86:93–107

Koboltschnig G, Schöner W, Holzmann H (2007) Extensive hydrological monitoring of a small, highly glacierized watershed in Hohe Tauern region, Austrian Alps. Glacier mass balance changes and meltwater discharge (selected papers from sessions at the IAHS Assembly in Foz do Iguaçu, Brazil, 2005). IAHS Publ 318:1–10

Lichtenecker N (1936) Neuere Gletscherstudien in der Sonnblickgruppe. Jahresber Sonnblickvereins 44:13–37

Limbeck A, Puxbaum H (2000) Dependence of in-cloud scavenging of polar organic aerosol compounds on the water solubility. J Geophys Res-Atmos 105:19857–19867

Penck A (1897) Gletscherstudien im Sonnblickgebiete. Zeitschrift des D. u. 0. Alpenvereins 28:52–71

Pernter JM (1888) Messungen der Ausstrahlung auf dem Hohen Sonn-blick. Sitzungsberichte der Mathematisch-Naturwissenschaftlichen Klasse der k. u. k. Österr Akademie Wissenschaften 1562–1586

Puxbaum H, Tscherwenka W (1998) Relationships of major ions in snow fall and rime at Sonnblick observatory (SBG, 3106 m) and implications for scavenging processes in mixed clouds. Atmos Environ 32:4011–4020

Reitner J, Häusler H, Bichler M, Reindl M (2011) First presentation of new studies on late Pleistocene—early Holocene moraines in the Sonnblick region (Sonnblick Workshop 2011). ZAMG, Vienna

Richter E (1888) Die Gletscher der Ostalpen. J. Engelhorn, Vienna, 306 pages

Schmidt W (1907) Über die Messung der terrestrischen Refraktion auf dem Hohen Sonnblick. Meteorol Z 24:512–514

Schöner W, Auer I, Böhm R (2000) Climate variability and glacier reaction in the Austrian eastern Alps. Ann Glaciol 31:31–38

Schöner W, Hynek B, Böhm R, Binder D, Koboltschnig G, Holzmann H (2009) Glazialhydrologisches Monitoring im Bereich des Rauriser Sonnblicks (Hohe Tauern, Österreich). [Glaciohydrological monitoring in the region of the Rauriser Sonnblick (Hohe Tauern, Austria)]. Österr Wasser Abfallwirtschaft 61:1–8

Simic S, Weihs P, Vacek A, Kromp-Kolb H, Fitzka M (2008) Spectral UV measurements in Austria from 1994 to 2006: investigations of short- and long-term changes. Atmos Chem Phys 8:7033–7043

Simic S, Fitzka M, Kromp-Kolb H (2009) Überblick über 15 Jahre spektraler UV- und Gesamtozonmessungen am Hohen Sonnblick. In: Tagungsband ÖAW-Sonnblicksymposium 2009: 28–38

Slupetzky H, Slupetzky N (1995) Betref des Wachsthums der Kletscher und Kälterwerdung des Klimas. Salzburger Geographische Materialien 23: 42 Seiten

Steinhauser F (1938) The meteorology of Sonnblick (in German: Die Meteorologie des Sonnblicks. I. Teil–Beiträge zur Hochgebirgsmeteorologie nach Ergebnissen 50jähriger Beobachtungen des Sonnblick Observatoriums, 3106 m). Sonnblick Verein (ed.), Kommissionsverlag Julius Springer, Wien

Steinhilber F, Beer J, Fröhlich C (2009) Total solar irradiance during the Holocene. Geophys Res Lett 36:L19704. doi:10.1029/2009GL040142

Steinmaurer R (1930) Registrierbeobachtungen der Hess'schen kosmischen Ultrastrahlung auf dem Sonnblick im Juli 1929. Jahresber Sonnblickvereins 38:7–20

Trabert W (1892) Die Wärmestrahlung der atmosphärischen Luft. Meteorol Z 9:41–46
Additional information
This paper was presented at the international conference, "Climate Change in High Mountain Regions—from Understanding of the Past to Modelling of the Future", 28 August to 1 September 2011, Salzburg, Austria.
About this article
Cite this article
Schöner, W., Böhm, R. & Auer, I. 125 years of high-mountain research at Sonnblick Observatory (Austrian Alps)—from "the house above the clouds" to a unique research platform. Theor Appl Climatol 110, 491–498 (2012). https://doi.org/10.1007/s00704-012-0689-8
Received:

Accepted:

Published:

Issue Date:
Keywords
Total Ozone

Sunshine Duration

Solid Precipitation

Glacier Retreat

Global Atmosphere Watch