Abstract
This study analyzes the total ozone column (TOC) variability over the Iranian plateau (Esfahan) from 1978 to 2011. Results show that the annual average of TOC in Esfahan tends to decrease with time, which is strongly dependent on the season, with maximum values during the winter–spring months (more than 2.2 %/decade). By applying a defined threshold that includes the TOC monthly −2σ, it is found that the maximum occurrence of low ozone events (LOEs) tends to be more frequent in the second half of year with about four-fifth of the observed LOEs (last summer, autumn, and early winter). During two cases of LOE, the tropopause height (TH) was uplifted ~2–4 km with temperature of 10 °C colder than the long-term mean, and the synoptic pattern was characterized by high-pressure systems in UTLS region. The extreme LOEs were consistent with the horizontal transport of ozone-poor air toward the Iranian plateau and vertical advection in UTLS region. The former mechanism plays a primary role in formation of extreme LOEs based on the observed TOC reductions during previous days over the source regions (Sahara desert and Himalaya region). Day-to-day variations of maximum UV index during LOEs show that by a decrease in TOC ~14 %, while the aerosol optical depth (AOD) in the cloudless condition reach their lowest rates (lower than 0.3), UV radiation exceeds very high and extreme levels in late winter and mid-spring, respectively.
Access options
Buy single article
Instant access to the full article PDF.
US$ 39.95
Tax calculation will be finalised during checkout.
Subscribe to journal
Immediate online access to all issues from 2019. Subscription will auto renew annually.
US$ 119
Tax calculation will be finalised during checkout.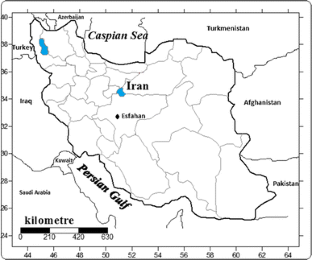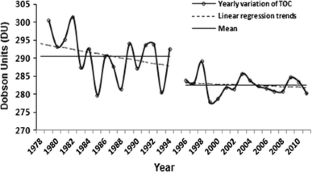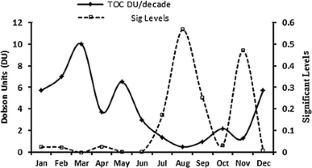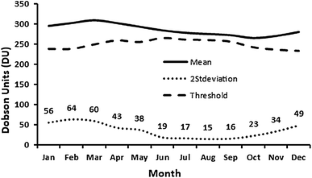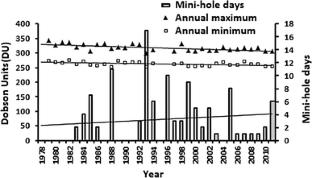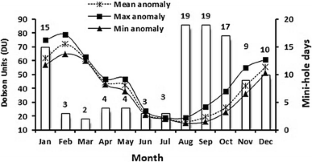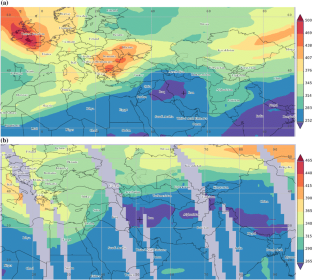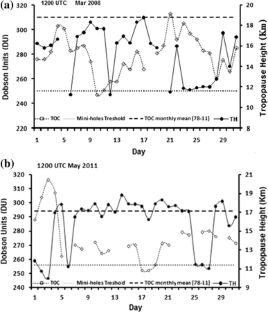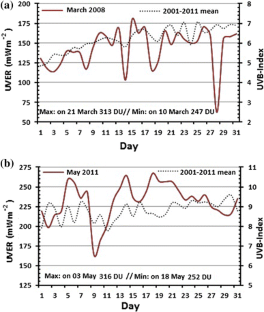 Notes
1.

Environmental Protection Agency.

2.

National weather service.
References
Ajtic J, Connor BJ, Randall CE, Lawrence CE (2003) Antarctic air over New Zealand following vortex breakdown in 1998. Geophysicae 21:2175–2183

Alados I, Gomera MA, Foyo-Moreno I, Alados-Arboledas L (2007) Neural network for the estimation of UV erythemal irradiance using solar broadband irradiance. Int J Climatol 27:1791–1799

Anton M, Cancillo L, Serrano A, Vaquero JM, Garcia JM (2007) Ozone mini-hole over southwestern Spain during January 2004: influence over ultraviolet radiation. Geophys Res 34:1–5

Barriopedro D, Anton M, Garcia JA (2010) Atmospheric blocking signatures in total ozone and ozone miniholes. J Clim 23:3967–3983

Bojkov R, Balis D (2001) Characteristics of episodes with extremely low ozone values in the northern middle latitudes 1957–2000. Ann Geophys 19:797–807

Canada J, Esteve AR, Marin MJ, Utrillas MP, Tena F, Martinez-Lozano JA (2008) Study of erythemal, UV (A + B) and global solar radiation in Valencia (Spain). Int J Climatol 28:693–702

Chandra S, Varotsos CA (1995) Recent trends of the total column ozone: implications for the Mediterranean region. Int J Remote Sens 16(10):1765–1769

Chandra S, Varotsos C, Flynn LE (1996) The mid-latitude total ozone trends in the northern hemisphere. Geophys Res Lett 23(5):555–558

Dobson GMB, Harrison DN, Lawrence L (1929) Measurements of the amount of ozone in the Earth's atmosphere and its relation to other geophysical conditions. Proc R Soc Lond Ser A 110:660–693

Draxler R, Rolph G (2003) HYSPLIT (Hybrid Single-Particle Lagrangian Integrated Trajectory). NOAA Air Resources Laboratory: Silver Spring, MD, Model access via NOAA ARL READY Website (http://www.arl.noaa.gov/ready/hysplit4.html)

Efstathiou MN, Varotsos CA, Singh RP, Cracknell AP, Tzanis C (2003) On the longitude dependence of total ozone trends over middle-latitudes. Int J Remote Sens 24(6):1361–1367

Ganguly ND, Tzanis C (2011) Study of stratosphere-troposphere exchange events of ozone in India and Greece using ozonesonde ascents. Meteorol Appl 18:467–474

Hadjinicolaou P, Pyle J (2004) the Impact of arctic ozone depletion on northern middle latitudes: interannual variability and dynamical control. J Atmos Chem 47:25–43

Hoinka K, Claude H, Kohler U (1996) On the correlation between tropopause pressure and ozone above central Europe. Geophys Res 23:1753–1756

Hommel R, Eichmann KU, Aschmann J, Bramstedt K, Weber M, von Savigny C, Richter A, Rozanov A, Wittrock F, Khosravi F, Bauer R, Burrows JP (2014) Chemical ozone loss and ozone mini-hole event during the Arctic winter 2010/2011 as observed by SCIAMACHY and GOME-2. Atmos Chem Phys 14:3247–3276

Hood LL, Soukharev BE (2005) Interannual variation of total ozone at northern midlatitudes correlated with stratospheric EP flux and potential vortices. J Atmos Sci 62:3724–3740

Hudson RD, Andrade MF, Follette MB, Frolov AD (2006) The total ozone field separated into meteorological regimes—part II: northern hemisphere mid-latitude total ozone trends. Atmos Chem Phys 6:5183–5191

Iwao K, Hirooka T (2006) Dynamical quantifications of ozone minihole formation in both hemispheres. J Geophys Res 111:D02104. doi:10.1029/2005JD006333

James PM (1998) A climatology of ozone mini-holes over the northern hemisphere. Int J Climatol 18:1287–1303

Kilifarska NA (2012) Climate sensitivity to the lower stratospheric ozone variations. J Atmos Solar Terr Phys 90–91:9–14

Koch G, Wernli H, Schwierz C, Staehelin J, Peter T (2005) A composite study on the structure and formation of ozone miniholes and minihighs over central Europe. Geophys Res Lett 32:L12810. doi:10.1029/2004GL022062

Krzyscin J (2002) Long-term changes in ozone mini-hole event frequency over the northern hemisphere derived from ground-based measurements. Int J Climatol 22:1425–1439

Martinez-Lozano JA, Utrillas MP, Nunez JA, Tamayo J, Marin MJ, Esteve AR, Canada J, Moreno JC (2011) Ozone mini-holes Valencia (Spain) and their influence on the UV erythemal radiation. Int J Climatol 31:1554–1566

McKinlay AF, Diffey L (1987) A reference action spectrum for ultraviolet induced erythema in human skin. CIE J 6:17–22

McPeters R, Bhartia P, Krueger A, Herman J, Wellemeyer C, Seftor C, Jaross G, Torres O, Moy L, Labow G, Byerly W, Taylor SL, Swisser T, Cebula RP (1998) Earth probe total ozone mapping spectrometer (TOMS) data products user's guide. NASA Technical Publication, Greenbelt

McPeters R, Kroon M, Labow G, Brinksma E, Balis D, Petropavlovskikh I, Veefkind JP, Bhartia PK, Levelt PF (2008) Validation of the aura ozone monitoring instrument total column ozone product. J Geophys Res 113(D15S14):1–9

Newman PA, Lait LR, Schoerbel MR (1988) The morphology and meteorology of southern hemisphere Spring total ozone mini-hole. Geophys Res Lett 15:923–926

Ningombam ShS (2011) Variability of sunspot cycle QBO and total ozone over high altitude western Himalayan regions. J Atmos Solar Terr Phys 73:2305–2313

Orsolini Y, Limpasovan V (2001) The North Atlantic oscillation and occurrence of ozone mini-holes. Geophys Res Lett 28:4099–4102

Orsolini Y, Eskes H, Hansen G, Hoppe U, Kylling A, Kyrö E, Notholt J, van Der A, von der Gathen P (2003) Summertime lowozone episodes at northern high latitudes. Q J R Meteorol Soc 129:3265–3275

Rieder HE, Staehelin J, Maeder JA, Peter T, Ribatet M, Davison AC, Stübi R, Weihs P, Holawe F (2010) Extreme events in total ozone over Arosa – Part 1: application of extreme value theory. Atmos Chem Phys 10:10021–10031

Rolph GD (2003) Real-time Environmental Applications and Display system (READY). NOAA Air Resources Laboratory, Silver Spring. Website http://www.arl.noaa.gov/ready/ hysplit4.html)

Salby ML, Callaghan PF (1993) Fluctuations of total ozone and their relationships to stratospheric air motions. J Geophys Res 98:2715–2727

Santer BD et al (2003) Contributions of anthropogenic and natural forcing to recent tropopause height changes. Science 301:479–483

Seman N, Teitelbaum H, Basdevant C (2002) A very deep ozone minihole in the northern hemisphere stratosphere at mid-latitudes during the winter of 2000. Tellus 54A:382–389

Shariepoure Z (2012) Vertical ozone and temperature distributions above Isfahan station. In: The 15th Geophysical Conference of Iran 15–17 May

Sola Y, Lorent J (2011) Impact of two Low ozone event on surface solar UV radiation over Northeast of Spanish. Int J Climatol 31:1724–1734

Son SW, Polvani MP, Waugh DW, Birner T, Akiyoshi H, Garcia RR, Gettelman A, Plummer DA, Rozanov E (2009) The impact of stratospheric ozone recovery on tropopause height trends. J Clim 22:429–445

Stick C, Krüger K, Schade N, Sandmann H, Macke A (2006) Episode of unusual high solar ultraviolet radiation over central Europe due to dynamical reduced total ozone in May 2005. Atmos Chem Phys 6:1771–1776

Varotsos C (2002) The southern hemisphere ozone hole split in 2002. Environ Sci Pollut Res 9(6):375–376

Varotsos C, Cartalis C, Vlamakis A, Tzanis C, Keramitsoglou I (2004) The long-term coupling between column ozone and tropopause properties. J Clim 17(19):3843–3854

Varotsos CA, Cracknell AP, Tzanis C (2012) The exceptional ozone depletion over the Arctic in January–March 2011. Remote Sens Lett 3(4):343–352

Werner R, Valev D, At Atanassov, Kostadinov I, Petkov B, Giovanelli G, Stebel K, Petritoli A, Palazzi E, Gausa M, Markova T (2009) Ozone mini-hole observation over the Balkan Peninsula in March 2005. Adv Space Res 43:195–200

World Meteorological Organization (WMO) (1957) Meteorology a three-dimensional science: second session of the commission for aerology. WMO Bulletin IV(4):134–138

WMO (1992) International Meteorological Vocabulary WMO/OMM/BMO—No. 182, Second edn. Secretariat of the World Meteorological Organization, Geneva, p 784

WMO (1998) Scientific Assessment of ozone depletion. Report No. 44. Global Ozone Research and Monitoring Project, Geneva, Switzerland

WMO/UNEP (2003) Scientific assessment of ozone depletion. Report No. 47. WMO Global Ozone Research and Monitoring Project

World Meteorological Organization (WMO) (2014) Scientific Assessment of ozone depletion; 2014. Report No. 56. Global Ozone Research and Monitoring Project, Geneva, Switzerland

Ziemke JR, Chandra S, Herman J, Varotsos C (2000) Erythemally weighted UV trends over northern latitudes derived from Nimbus 7 TOMS measurements. J Geophys Res 105(D6):7373–7382
Additional information
Responsible Editor: S. T. Castelli.
About this article
Cite this article
Mousavi, S.S., Farajzadeh, M., Rahimi, Y.G. et al. Climatic variability of the column ozone over the Iranian plateau. Meteorol Atmos Phys 129, 309–320 (2017). https://doi.org/10.1007/s00703-016-0474-9
Received:

Accepted:

Published:

Issue Date:
Keywords
Ozone

Aerosol Optical Depth

World Meteorological Organization

Total Ozone Column

Ozone Monitoring Instrument