Abstract
Background
Radiosurgery is a well-established treatment for vestibular schwannomas (VSs), but it is often difficult to identify which tumors will respond to treatment. We sought to determine whether pretreatment or posttreatment tumor apparent diffusion coefficient (ADC) values could predict tumor control in patients undergoing Gamma Knife radiosurgery (GKRS) and whether these values could differentiate between cases of pseudoprogression and cases of true progression in the early posttreatment period.
Methods
We retrospectively identified patients who underwent GKRS for solid VSs between June 2008 and November 2016 and who had a minimum follow-up of 36 months. Pretreatment and posttreatment minimum, mean, and maximum ADC values were measured for the whole tumor volume and were compared between patients with tumor control and those with tumor progression. In patients with early posttreatment tumor enlargement, ADC values were compared between patients with pseudoprogression and those with true progression.
Results
Of the 44 study patients, 34 (77.3%) demonstrated tumor control at final follow-up. Patients with tumor control had higher pretreatment minimum (1.35 vs 1.09; p = 0.008), mean (1.80 vs 1.45; p = 0.004), and maximum (2.41 vs 1.91; p = 0.011) ADC values than patients with tumor progression. ADC values did not differ between patients with pseudoprogression and those with true progression at early posttreatment follow-up.
Conclusions
ADC values may be helpful in predicting response to GKRS in patients with solid VSs but cannot predict which tumors will undergo pseudoprogression. Patients with higher pretreatment ADC values may be more likely to demonstrate posttreatment tumor control.
Access options
Buy single article
Instant access to the full article PDF.
US$ 39.95
Tax calculation will be finalised during checkout.
Subscribe to journal
Immediate online access to all issues from 2019. Subscription will auto renew annually.
US$ 119
Tax calculation will be finalised during checkout.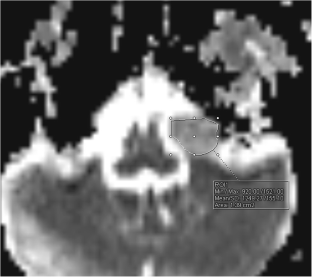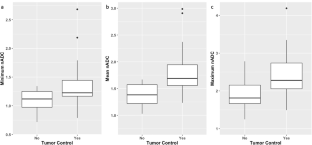 References
1.

Boari N et al (2014) Gamma Knife radiosurgery for vestibular schwannoma: clinical results at long-term follow-up in a series of 379 patients. J Neurosurg 121(Suppl):123–142

2.

Bowden G et al (2017) Cystic vestibular schwannomas respond best to radiosurgery. Neurosurgery 81(3):490–497

3.

Camargo A et al (2017) Pretreatment ADC values predict response to radiosurgery in vestibular schwannomas. AJNR Am J Neuroradiol 38(6):1200–1205

4.

Chuang CC et al (2012) Use of apparent diffusion coefficients in evaluating the response of vestibular schwannomas to Gamma Knife surgery. J Neurosurg 117(Suppl):63–68

5.

Elson A et al (2015) Evaluation of absolute and normalized apparent diffusion coefficient (ADC) values within the post-operative T2/FLAIR volume as adverse prognostic indicators in glioblastoma. J Neurooncol 122(3):549–558

6.

Frisch CD et al (2017) Stereotactic radiosurgery for cystic vestibular schwannomas. Neurosurgery 80(1):112–118

7.

Guo AC et al (2002) Lymphomas and high-grade astrocytomas: comparison of water diffusibility and histologic characteristics. Radiology 224(1):177–183

8.

Hayhurst C, Zadeh G (2012) Tumor pseudoprogression following radiosurgery for vestibular schwannoma. Neuro Oncol 14(1):87–92

9.

Huang CF et al (2010) Apparent diffusion coefficients for evaluation of the response of brain tumors treated by Gamma Knife surgery. J Neurosurg 113(Suppl):97–104

10.

Johnson S et al (2019) Long term results of primary radiosurgery for vestibular schwannomas. J Neurooncol 145(2):247–255

11.

Khattab MH et al (2020) Longitudinal radiographic outcomes of vestibular schwannoma in single and fractionated stereotactic radiosurgery: a retrospective cohort study. J Neurol Surg B Skull Base 81(3):308–316

12.

Kim JH et al (2017) Predictive factors of unfavorable events after gamma knife radiosurgery for vestibular schwannoma. World Neurosurg 107:175–184

13.

Klijn S et al (2016) Gamma Knife radiosurgery for vestibular schwannomas: evaluation of tumor control and its predictors in a large patient cohort in The Netherlands. J Neurosurg 124(6):1619–1626

14.

Kshettry VR et al (2015) Incidence of vestibular schwannomas in the United States. J Neurooncol 124(2):223–228

15.

Mardor Y et al (2004) Pretreatment prediction of brain tumors' response to radiation therapy using high b-value diffusion-weighted MRI. Neoplasia 6(2):136–142

16.

Marston AP et al (2017) Pretreatment growth rate as a predictor of tumor control following Gamma Knife radiosurgery for sporadic vestibular schwannoma. J Neurosurg 127(2):380–387

17.

Mindermann T, Schlegel I (2014) How to distinguish tumor growth from transient expansion of vestibular schwannomas following Gamma Knife radiosurgery. Acta Neurochir (Wien) 156(6):1121–1123

18.

Nagano O et al (2008) Transient expansion of vestibular schwannoma following stereotactic radiosurgery. J Neurosurg 109(5):811–816

19.

Ostrom QT et al (2019) CBTRUS statistical report: primary brain and other central nervous system tumors diagnosed in the United States in 2012-2016. Neuro Oncol 21(Suppl 5):v1–v100

20.

Plotkin SR et al (2009) Suggested response criteria for phase II antitumor drug studies for neurofibromatosis type 2 related vestibular schwannoma. J Neurooncol 93(1):61–77

21.

Pollock BE (2006) Management of vestibular schwannomas that enlarge after stereotactic radiosurgery: treatment recommendations based on a 15 year experience. Neurosurgery 58(2):241–248 discussion 241-8

22.

Sasaki M et al (2008) Variability in absolute apparent diffusion coefficient values across different platforms may be substantial: a multivendor, multi-institutional comparison study. Radiology 249(2):624–630

23.

Watanabe S et al (2016) Stereotactic radiosurgery for vestibular schwannomas: average 10-year follow-up results focusing on long-term hearing preservation. J Neurosurg 125(Suppl 1):64–72

24.

Wu CC et al (2017) Magnetic resonance imaging characteristics and the prediction of outcome of vestibular schwannomas following Gamma Knife radiosurgery. J Neurosurg 127(6):1384–1391
Acknowledgments
The authors sincerely thank Megan Griffiths, ELS, for providing editorial assistance.
Ethics declarations
Ethics Approval
All procedures performed in studies involving human participants were in accordance with the ethical standards of the institutional and/or national research committee (name of institute/committee) and with the 1964 Helsinki declaration and its later amendments or comparable ethical standards. For this type of study, formal consent is not required.
Conflict of interest
All authors certify that they have no affiliations with or involvement in any organization or entity with any financial interest (such as honoraria; educational grants; participation in speakers' bureaus; membership, employment, consultancies, stock ownership, or other equity interest; and expert testimony or patent-licensing arrangements), or non-financial interest (such as personal or professional relationships, affiliations, knowledge, or beliefs) in the subject matter or materials discussed in this manuscript. Non-relevant disclosures include the following: Varun R. Kshettry is a consultant for Integra LifeSciences and Stryker Corporation; Pablo F. Recinos is a consultant for Stryker Corporation.
Additional information
Publisher's note
Springer Nature remains neutral with regard to jurisdictional claims in published maps and institutional affiliations.
This article is part of the Topical Collection on Tumor – Schwannoma
A portion of this work was presented as an oral presentation at the North American Skull Base Society 29th Annual Meeting on February 17, 2019, in Orlando, FL.
About this article
Cite this article
Soni, P., Potter, T., Poturalski, M. et al. Pretreatment ADC predicts tumor control after Gamma Knife radiosurgery in solid vestibular schwannomas. Acta Neurochir (2021). https://doi.org/10.1007/s00701-021-04738-x
Received:

Accepted:

Published:
Keywords
Acoustic neuroma

Apparent diffusion coefficient

Gamma Knife

Progression

Pseudoprogression

Radiosurgery