Abstract
Background
The Miethke Sensor Reservoir sits within a ventriculoperitoneal shunt system to give a reading of the pressure within the shunt. This information can guide the management of hydrocephalus patients who present frequently with headaches.
Methods
We reviewed a cohort of 12 patients who underwent implantation of a Sensor Reservoir to assess how the management of their symptoms changed over a 4-year period.
Results
When comparing the group before the Sensor Reservoir and after the Sensor Reservoir insertion, there was a 75% reduction in number of CT head scans (P<0.05), 100% reduction in episodes of ICP monitoring (P<0.05), 55% reduction in number of X-ray shunt series, and a 50% reduction in acute presentation to hospital with shunt-related symptoms. The number of clinic attendances increased by 44%. In addition, cost analysis showed a saving of £6952 per patients over the 2-year period following Sensor Reservoir insertion as a result of reduced admissions and investigations. Complications were seen in 3 patients—two patients developed shunt-related infections, and 1 patient underwent shunt revision due to a proximal shunt obstruction. Seventy-five percent of patients showed an improvement in their symptoms at the end of the 4-year period.
Conclusion
Implantation of a Sensor Reservoir in shunt patients with chronic headaches can reduce the number of investigations and hospital admissions and guide management resulting in a clinical improvement.
We're sorry, something doesn't seem to be working properly.
Please try refreshing the page. If that doesn't work, please contact support so we can address the problem.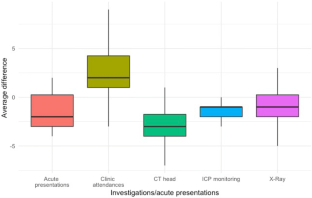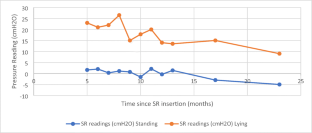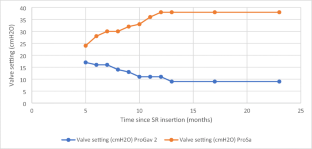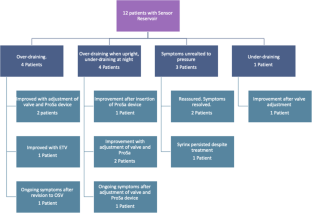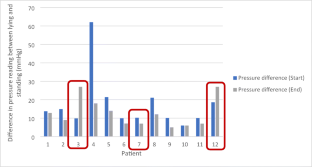 Abbreviations
SR:

Sensor Reservoir

ICP:

Intracranial pressure
References
1.

Andresen M, Hadi A, Petersen LG, Juhler M (2014) Effect of postural changes on ICP in healthy and ill subjects. Acta Neurochir 157:109–113

2.

Antes S, Stadie A, Müller S, Linsler S, Breuskin D, Oertel J (2018) Intracranial pressure–guided shunt valve adjustments with the Miethke Sensor Reservoir. World Neurosurg 109:642–650

3.

Antes S, Tschan CA, Heckelmann M, Breuskin D, Oertel J (2016) Telemetric intracranial pressure monitoring with the Raumedic Neurovent P-tel. World Neurosurg 91:133–148

4.

Antes S, Tschan CA, Kunze G et al (2014) Clinical and radiological findings in long-term intracranial pressure monitoring. Acta Neurochir 156:1009–1019

5.

Barami K, Sood S (2016) The cerebral venous system and the postural regulation of intracranial pressure: implications in the management of patients with cerebrospinal fluid diversion. Childs Nerv Syst 32:599–607

6.

Barber JM, Pringle CJ, Raffalli-Ebezant H, Pathmanaban O, Ramirez R, Kamaly-Asl ID (2016) Telemetric intra-cranial pressure monitoring: clinical and financial considerations. Br J Neurosurg 31:300–306

7.

Chapman PH, Cosman ER, Arnold MA (1990) The relationship between ventricular fluid pressure and body position in normal subjects and subjects with shunts. Neurosurgery 26:181–189

8.

Dimitriou J, Levivier M, Gugliotta M (2016) Comparison of complications in patients receiving different types of intracranial pressure monitoring: a retrospective study in a single center in Switzerland. World Neurosurg 89:641–646

9.

Freimann FB, Schulz M, Haberl H, Thomale UW (2013) Feasibility of telemetric ICP-guided valve adjustments for complex shunt therapy. Childs Nerv Syst 30:689–697

10.

Fritsch MJ, Arouk W (2017) Telemetric pressure monitoring: the role in the clinical management of hydrocephalus. Fluids Barriers CNS 14(Suppl 1):A26

11.

Garton HJL, Kestle JRW, Drake JM (2001) Predicting shunt failure on the basis of clinical symptoms and signs in children. J Neurosurg 94:202–210

12.

Guyot LL, Dowling C, Diaz FG, Michael DB (1998) Cerebral monitoring devices: analysis of complications. Intracranial Press Neuromonitoring Brain Injury 71:47–49

13.

Kiefer M, Antes S, Schmitt M, Krause I, Eymann R (2011) Long-term performance of a CE-approved telemetric intracranial pressure monitoring. Conf Proc IEEE Eng Med Biol Soc 2011:2246–2249

14.

Koskinen LD, Grayson D, Olivecrona M (2013) The complications and the position of the Codman MicroSensor™ ICP device: an analysis of 549 patients and 650 Sensors. Acta Neurochir 155:2141–2148

15.

Lilja-Cyron A, Kelsen J, Andresen M, Fugleholm K, Juhler M (2018) Feasibility of telemetric intracranial pressure monitoring in the neuro intensive care unit. J Neurotrauma 35:1578–1586

16.

Mallucci CL, Jenkinson MD, Conroy EJ, Hartley JC, Brown M, Dalton J, Gamble C (2019) Antibiotic or silver versus standard ventriculoperitoneal shunts (BASICS): a multicentre, single-blinded, randomised trial and economic evaluation. Lancet 394:1530–1539

17.

Müller S, Freimann FB, Brelie C, Rohde V, Schatlo B (2019) Test-retest reliability of outpatient telemetric intracranial pressure measurements in shunt-dependent patients with hydrocephalus and idiopathic intracranial hypertension. World Neurosurg 131:74–80

18.

Norager NH, Lilja-Cyron A, Bjarkam CR, Duus S, Juhler M (2018) Telemetry in intracranial pressure monitoring: sensor survival and drift. Acta Neurochir 160:2137–2144

19.

Norager NH, Lilja-Cyron A, Hansen TS, Juhler M (2019) Deciding on the appropriate telemetric intracranial pressure monitoring system. World Neurosurg 126:564–569

20.

Oertel JMK, Huelser MJM (2019) Telemetric home monitoring of intracranial pressure—where are we now. Acta Neurochir 161:1603–1604

21.

Paff M, Abrams D, Muhonen LW (2018) Ventriculoperitoneal shunt complications: a review. Interdisc Neurosurg 13:66–70

22.

Pople IK, Muhlbauer MS, Sanford RA, Kirk E (1995) Results and complications of intracranial pressure monitoring in 303 children. Pediatr Neurosurg 23:64–67

23.

Reddy GK, Bollam P, Caldito G (2014) Long-term outcomes of ventriculoperitoneal shunt surgery in patients with hydrocephalus. World Neurosurg 81:404–410

24.

Reddy GK, Bollam P, Shi R, Guthikonda B, Nanda A (2011) Management of adult hydrocephalus with ventriculoperitoneal shunts: long-term single-institution experience. Neurosurgery 69:774–781

25.

Rekate HL (1993) Classification of slit-ventricle syndromes using intracranial pressure monitoring. Pediatr Neurosurg 19:15–20

26.

Rekate HL (2008) Shunt-related headaches: the slit ventricle syndromes. Childs Nerv Syst 24:423–430

27.

Rekate HL, Kranz D (2009) Headaches in patients with shunts. Semin Pediatr Neurol 16:27–30

28.

Sainz LV, Hockel K, Schuhmann MU (2017) Chronic overdrainage syndrome: pathophysiological insights based on ICP analysis: a case-based review. Childs Nerv Syst 34:401–408

29.

Schmitt M, Kiefer M, Antes S, Eymann R (2012) Detection of hidden pseudotumour cerebri behind Chiari 1 malformation: value of telemetric ICP monitoring. Childs Nerv Syst 28:1811–1813

30.

Spirig JM, Frank MN, Regli L, Stieglitz LH (2017) Shunt age-related complications in adult patients with suspected shunt dysfunction. A recommended diagnostic workup. Acta Neurochir 159:1421–1428

31.

Stone JJ, Walker CT, Jacobson M, Phillips V, Silberstein HJ (2013) Revision rate of pediatric ventriculoperitoneal shunts after 15 years. J Neurosurg Pediatr 11:15–19

32.

Tavakoli S, Peitz G, Ares W, Hafeez S, Grandhi R (2017) Complications of invasive intracranial pressure monitoring devices in neurocritical care. Neurosurg Focus 43(5):E6

33.

Thompson SD, Thorne LD, Toma AK, Watkins LD (2016) Telemetric monitoring of ICP within a shunt system. A single centre experience including the first in vivo comparison versus conventional intraparenchymal monitoring. Fluids Barriers CNS 14(suppl 1):A26

34.

Volovici V, Huijben JA, Ercole A, Stocchetti N, Dirven CMF, Jagt M, Steyerberg EW, Lingsma HK, Menon DK, Maas AIR, Haitsma I (2018) Ventricular drainage catheters versus intracranial parenchymal catheters for intracranial pressure monitoring-based management of traumatic brain injury: a systematic review and meta-analysis. J Neurotrauma 36:988–995

35.

Wu Y, Green NL, Wrensch MR, Zhao S, Gupta N (2007) Ventriculoperitoneal shunt complications in California. Neurosurgery 61:557–563
Acknowledgements
The authors would like to acknowledge Mr Saurabh Sinha for his critical appraisal of this study, Ms Sally-Ann Collins who provided and cared for study patients, and Mr Mark Sutherland for statistical support.
Ethics declarations
This article does not contain any studies with human participants or animals performed by any of the authors.
Conflict of interest
All authors certify that they have no affiliations with or involvement in any organization or entity with any financial interest (such as honoraria; educational grants; participation in speakers' bureaus; membership, employment, consultancies, stock ownership, or other equity interest; and expert testimony or patent-licensing arrangements), or non-financial interest (such as personal or professional relationships, affiliations, knowledge, or beliefs) in the subject matter or materials discussed in this manuscript.
Additional information
Publisher's note
Springer Nature remains neutral with regard to jurisdictional claims in published maps and institutional affiliations.
This article is part of the Topical Collection on CSF Circulation
About this article
Cite this article
Bjornson, A., Henderson, D., Lawrence, E. et al. The Sensor Reservoir—does it change management?. Acta Neurochir (2021). https://doi.org/10.1007/s00701-021-04729-y
Received:

Accepted:

Published:
Keywords
Hydrocephalus

Ventriculoperitoneal shunt

Sensor Reservoir